The Peace Memorial Park
A park that promotes the eternal world peace.
More restaurants
Area Map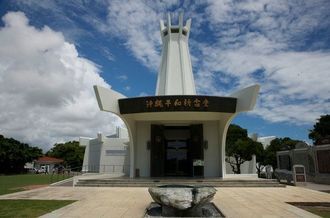 The Peace Memorial Park is located in the Mabuni Hill area of Itoman City; the southern part of the island where the final battle in Okinawa took place during the World War II. The battle of Okinawa was the only ground battle during the World War II where soldiers as well as civilians fought on the Japanese soil. 240 thousands lives were lost in the battle. All the names of those who perished during the battle of Okinawa including Japanese soldiers, Okinawa civilians, and foreign solders including the American soldiers are inscribed on the "Cornerstone of Peace" monument where bereaved families and many school students on excursions are seen on the site. Wartime photographs and objects are displayed at the Peace Memorial Museum.
The park is playing an important role to promote the message of the eternal peace to the world.
Address
The Peace Memorial Park
444, Mabuni, Itoman-shi, Okinawa
Access from major landmarks
Naha Airport - Okinawa Peace Memorial Park
From Naha Airport to Asahibashi Station
Eleven minutes (via Yui Rail)
From Naha bus terminal to Okinawa Peace Memorial Park
Forty-five minutes (via bus)
Articles near The Peace Memorial Park
Learn more about the local culinary scene to get ready for your Japan trip.
Here are the articles to introduce the best restaurants near The Peace Memorial Park.
+ View more
- Close