Genkyu-en
The great garden in the Edo Period, colorfully illuminated in fall.
More restaurants
Area Map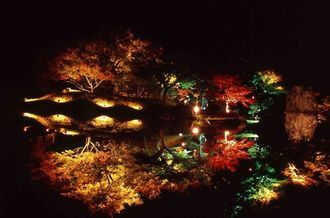 The construction of the garden had started in 1677 and completed in 1679, Genkyu-en, aka Keyaki Goten, was a villa of Hikone Castle. It is designated as a National Scenery Beauty. At present, the garden is called Genkyu-en and the building is called Rakurakuen. Genkyu-en is a stroll-garden with a central pond with 9 bridges over islands and promontories in the pond. The best season to visit is fall -- red and yellow leaves reflected on the pond's surface are magnificent. Especially the annual Floodlighting Show in fall is worth a trip.
Address
Genkyu-en
3, Konkicho, Hikone-shi, Shiga
Access from major landmarks
Osaka station - Gen-Miyazono
From Osaka station to Hikone Station
One hour seventeen minutes (via JR Tokaido Line new Rapid)
From Hikone Station to Gen-Miyazono
Approx. Ten minutes by walk

Attractions near Genkyu-en
Whether it will be your fist visit to Japan or you're already an experienced connossieur, our guide to things to see and places to go in Japan will cover all what you might need to know.
Destinations
Landmarks