Dewa Sanzan
Three mountains, three gods. A valuable shrine maintaining the syncretism of Shinto and Buddhism.
More restaurants
Area Map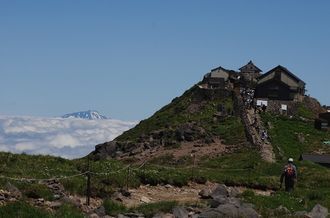 Mt. Haguro is in the east of Tsuruoka City, and 20 km away from the mountain there are two more mountains, Gassan and Yudonosan which are collectively called the Three Mountains of Dewa. On Mt. Haguro there are many valuable assets including Sanjin-Gosaiden which is a registered important cultural property and a five-storied pagoda which is a national treasure five-storied pagoda. The main shrine of Gassan Shrine is on the summit of Gassan. There is no shrine building put on Yudonosan as the mountain itself is seen as the object of worship.Though the mountains are serving to Shinto gods, they also have been respected as a training site of Japanese mountain asceticism-shamanism, making it a valuable shrine retaining the ambience of the syncretism of Shinto and Buddhism.
Address
Dewa Sanzan, the Three Mountains of Dewa
7, aza-Toge, Haguromachitouge, Tsuruoka-shi, Yamagata (Dewa Sanzan Shrine)
Access from major landmarks
Tsurugaoka station - Mt. haguro
From Tsurugaoka station to Haguro mountain top
Fifty minutes (via Shonai Kotsu bus)

Articles near Dewa Sanzan
Learn more about the local culinary scene to get ready for your Japan trip.
Here are the articles to introduce the best restaurants near Dewa Sanzan.
+ View more
- Close