Yamadera
A famous temple where Matsuo Basho wrote a haiku poem.
More restaurants
Area Map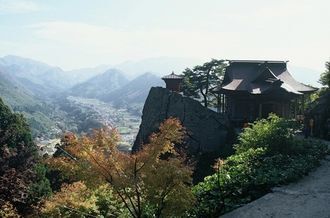 One of the most famous haiku poets in Japan, Matsuo Basho travelled around Japan in the early Edo Period and wrote a traveler's journal "Oku-no-hosomichi." The most famous poem in the journal, "How still it is here - Stinging into the stones, The locusts' Trill" was written here at Risshakuji temple, a.k.a. "Yamadera." The temple was established by Jikaku Daishi (great teacher) of Tendai sect about 1,100 years ago. Visitors enter the temple from the entrance at the bottom of the mountain and climbing up the 1,015 steps to the summit. On the way to the summit, there are multiple spots worth taking your time such as Konpon-Chudo that is a registered national important intangible cultural asset and Semi-zuka where Matsuo Basho buried his poem written on a strip of fancy paper. On the summit you can enjoy a beautiful town view from the Kaizan-do, a registered prefectural cultural asset.
Address
Yamadera
4456, Yamadera, Yamagata-shi, Yamagata
Access from major landmarks
From Yamagata Station - Yamadera Station
Twenty minutes (via JR Senzan Line)

Articles near Yamadera
Learn more about the local culinary scene to get ready for your Japan trip.
Here are the articles to introduce the best restaurants near Yamadera.
+ View more
- Close