Recipe for Memorable Dining Experience: Perfect Harmony of Space and Dishes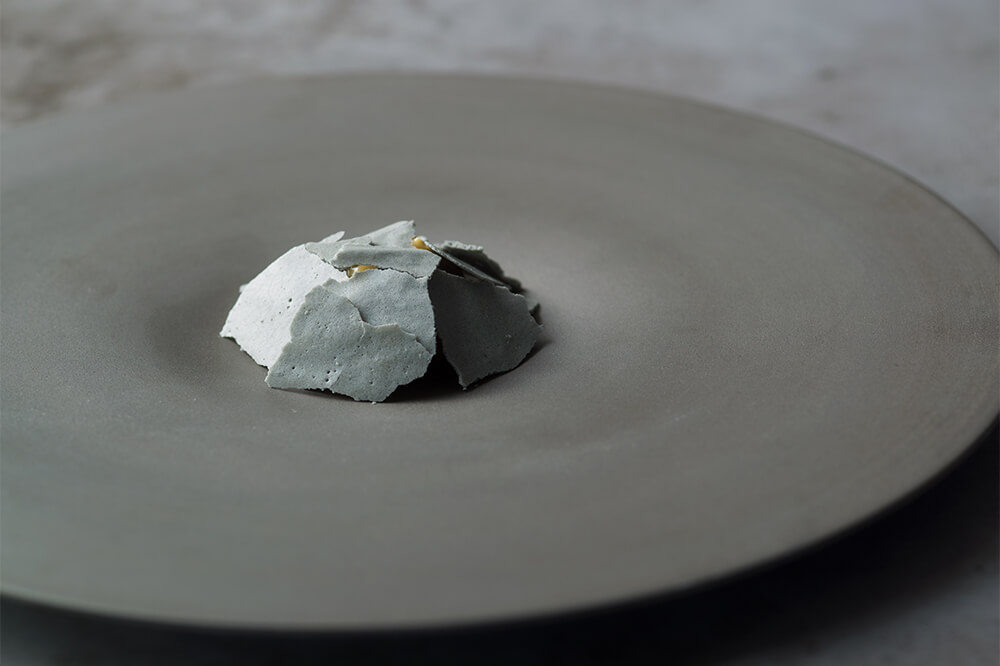 ––The gray interior and The spécialité of Ode leave a strong impression. Were you determined about the main color in the first place?
Although not particularly decided from the start, I envisioned the key color of interior design to be achromatic. This will invite the guest to fully focus on their meals. I originally favored the color gray, and the architect approved it to be designed that way. Along with the interior decoration, I was planning to create an original plate for the spécialité with Kamachi Toho, who are excellent producers of Arita porcelain. When I was asked, "What will be your spécialité?" I was yet to be determined. However, I vaguely pictured a meal using ingredients entirely with no spare; for instance, my idea was to utilize the bone and head of blueback in a dish, which are usually left over after the fillet is cooked. I knew bone parts of the fish would be gray when mixed with a blender and grilled with meringue. That's when I came up with an idea of synchronizing spécialité with the gray interior. Since nobody has done this, I figured that my pursuit would be an interesting one.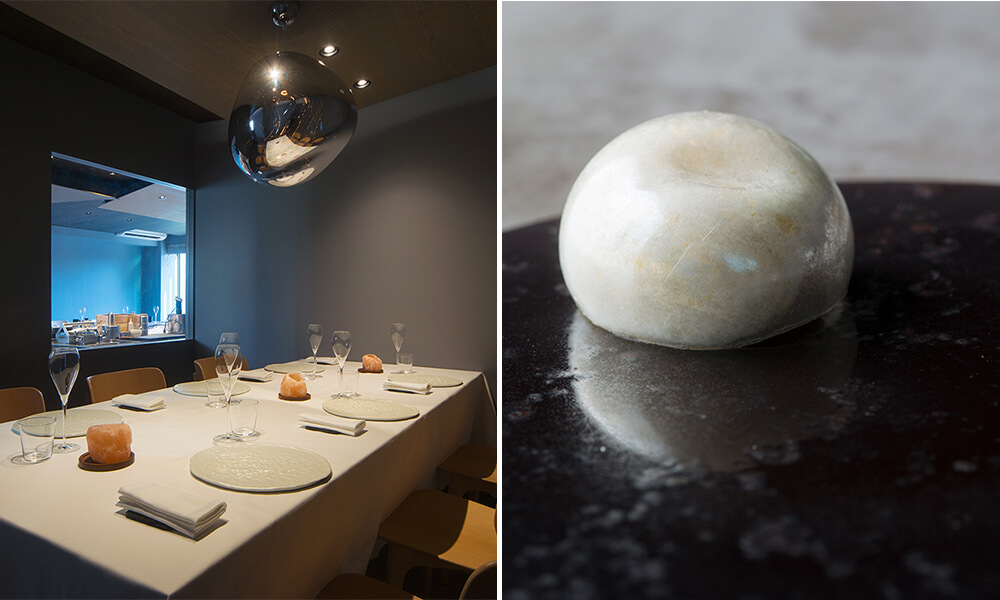 –– Unification of The interior and dish is a very interesting idea.
Initially, my culinary goal was to create unity on one plate with various ingredients. Space too, is included in this unity. Different materials such as mortar, wood, and stainless steel form a building when seen as one. Under this theory, I am conscious of space and meals existing in the same unity. Because I want the guests to enjoy their meals in a great atmosphere, I compose the space with color, furniture and music with all the things that I relish. My anticipation was a balanced world with harmonious dish and space.
  For instance, this dessert was inspired by the Tom Dixon lighting in the private room. This again, was born from my consciousness of unity in space and dishes. I believed that the dining experience will linger on in one's memory if what they see and eat are emphasized with uniform color.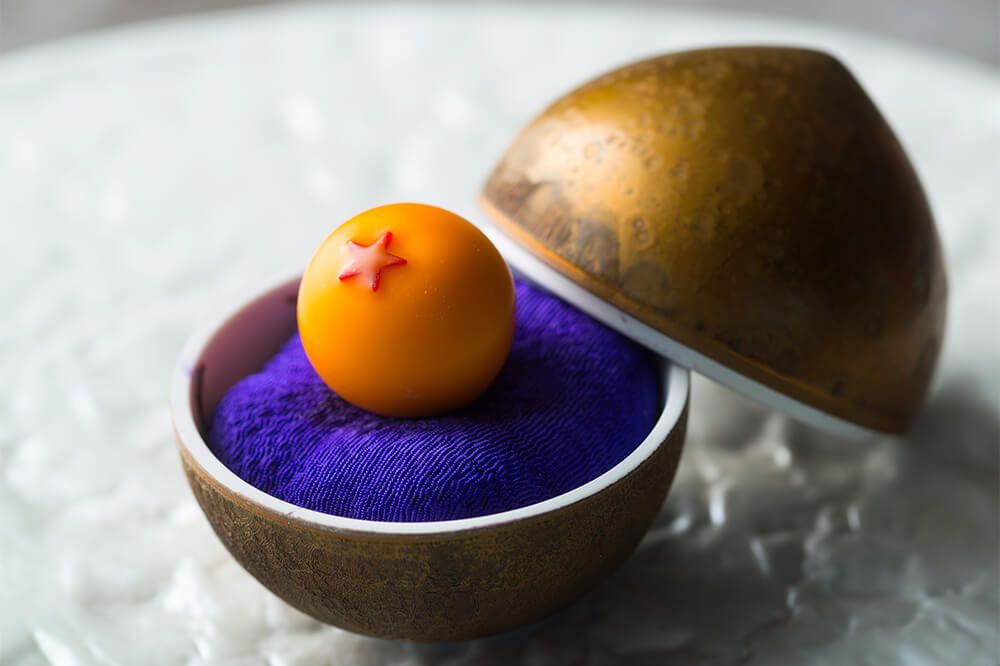 –– The spécialité, dessert and amuse-bouche "Drag_n Ball" are all instantly recognized as Chef Namai's dishes. Were you seeking to create meals that everybody recognizes as yours?
Certainly, I aimed to create dishes that will be recognized as Ode's. We are living in the age of social media, and the presentation of a dish will walk by itself via internet. People would see a picture and travel around the world for it, so I was keenly aware of delivering images. Nevertheless, I did not have a clear image upon creating dishes. Rather than grasping a clear image, it was more about having fun in creating, and interesting dishes would come out naturally.
  As mentioned earlier, the dish and interior inspired me the shape of the spécialité and I concocted them with the wild ingredients that I loved, combining them with tartar sauce of Ozaki beef. As for the "Drag_n Ball," I was experimenting on making a sphere with lobster bisque and cacao. From that, a beautiful orange sphere was born. The kitchen was vibrant with ideas such as "It sure looks like a Drag_n Ball," "How about drawing a star on it?" and "How about a cushion?" Such playful minds completed this dish. As a result, male customers in their 30s and 40s were very entertained.
–– Interesting! I feel that color and texture are created thoroughly in detail.
I try to include the least visual information. Other senses will be enhanced as the visual information is scraped off. Under the spécialité exists a hidden red raw meat. I imagined the sudden red meat will invoke voluptuousness. Also, people tend to like secrets (laughs). On top of that, I consider textures deeply. Dishes are constructed in layers, and I want my guests to taste them all at once. The texture will organize rhythm, and as one bites, the vertical tone peeks in, while solid element arranges an accent. I make the dish imagining what will happen inside the mouth.
From a Musician to Chef. Turning Point in Karuizawa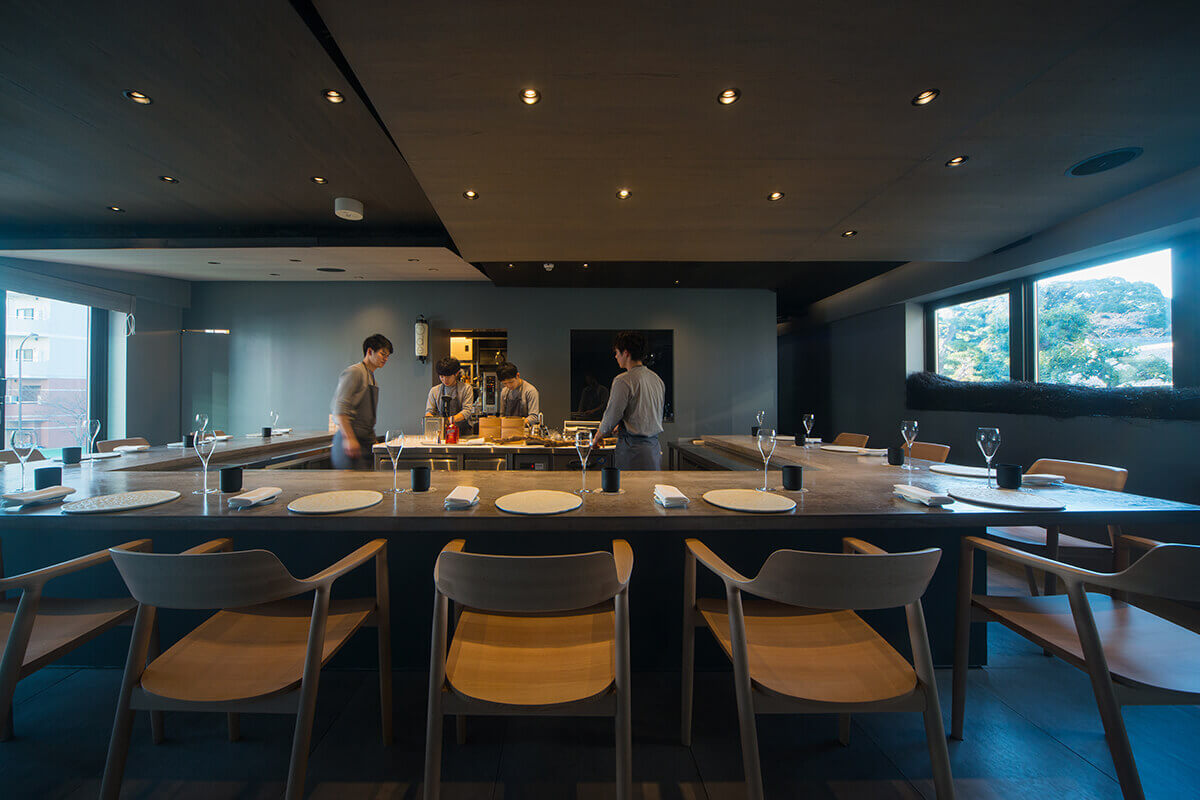 –– Your choice of words is that of a musician, and in fact, I heard you were one in the past. Why did you become a chef?
My pursuit of the culinary career began late. I was in law school and wanted to become a local official, but failed the entrance exam. I worked for a company after graduating, but I couldn't give up on my dream.
  My interest for music amplified after the Rolling Stones concert, and ever since, I was in love with roots music that the band was inspired by. After quitting my job, I started performing in a live house located in the haven of roots music, Funabashi, Chiba. The owner was a chef of French cuisine, and my interest for cooking expanded as I helped him. I then remembered the time my mother―who was a great cook―inviting her friends over for a meal and her friends loved it. I thought, "Cooking is fascinating." As I proceeded my career as a musician, I've acquainted with others who are much better than me―and the number of them was akin to stars. I began questioning my existence in the musician's world and realized that I might have a chance to shine humbly in the culinary world. That's how I became a chef.
–– That's a big decision. Why did you choose French cuisine?
As I said, the live house owner who supported me was a former French chef and my interest in French cuisine intensified. I started working at Restaurant J after I acquired the fundamentals of cooking in various restaurants. The big turning point came when I moved to MASAA's with my coworker, Masahito Ueki. Back in Tokyo, procuring ingredients were as easy as calling a supplier. However, in Karuizawa, just that amounts to a tremendous work. You see, we had to go to the farm field in order to obtain vegetables.
  From this experience, my prejudice regarding the so-called "seasonal ingredients" vanished. According to the season, the size and taste of a same vegetable differ from your image, so you really have to think through multifariously. Moreover, unique local ingredients such as herb, river fish, and mushroom could be procured in Karuizawa. Obviously, you feel more attached to things you get by your hands and I understood what it means to produce agricultural products.
Conveying Messages from an Ideal Restaurant that Chef Namai Created from Scratch
–– After taking over MASSA's, you changed the name to Heureux and played as a chef. Thereafter, you established CHIC peut-etre.
As I was engrossed in Karuizawa, I told Chef Ueki that I will stay. At Heureux, I met the owner of CHIC peut-etre and he invited me to his project of opening a restaurant in Tokyo. The only thing that the owner wished for was to make a casual bistro-like restaurant with decent meals. Returning to Tokyo for the first time in five years, I was given freedom of doing whatever I like―in fact, I even decided the name of the restaurant by myself. At that time the trend of Paris was neo-bistro where chefs would serve gastronomy in bistro. That was exactly what I wanted to do. For that reason, I named it CHIC peut-etre with a message that it might be chic. I had something akin to Septime in Paris in my mind―guests enjoying appetizers and wine while waiting for the main dish. On the other hand, I had to contemplate on the operation, as there were only one chef and staff.
–– What made you establish your restaurant?
While working at CHIC peut-etre, I wanted to take a further step. Above all, I wanted to create an ideal restaurant from scratch. A year and half had passed after the decision, and finding the property took only two months.
–– Did you have a concept for your restaurant?
I was determined to make dishes with Japanese ingredients, as I did not have experiences training in France. I not only wanted to entertain the Japanese customers but also attract the foreigners to visit Japan for my restaurant―so using Japanese ingredients to concoct Japanese French cuisine was essential. There are great producers in Japan, and I wanted to convey that to my customers.
  Thus, I use Japanese ingredients which are very traceable―such as past suppliers, introduced producers, and those who directly visit to sell. 'Ode' is a lyric poem often expressing exalted or enthusiastic emotion. I named this place envisioning a restaurant that conveys series of poems where various messages of the chef's passion, dishes and producer's spirit will be communicated.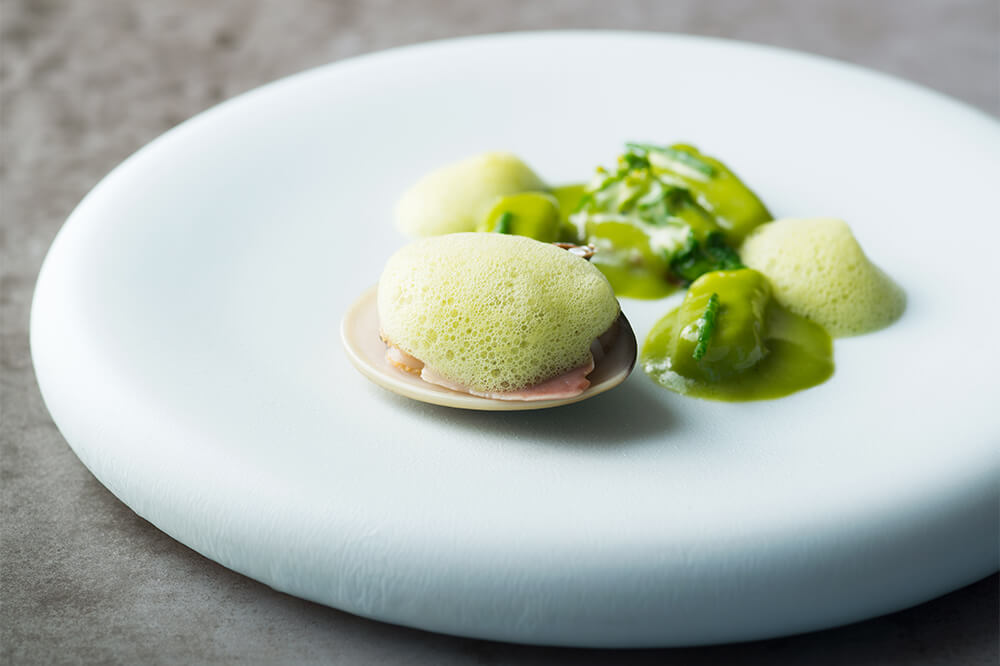 ––What would you like to do in the future?
Now that I have my dream restaurant, I would like to contribute to the whole gourmet scene by enlarging the number of connoisseurs. Just as I liked to dig deeper into the roots in music, I like to delve into cuisine. Renovating after understanding the roots and creating dishes with a sense of the present day is what I want. There can never be a same trend. Thus, I feel that it is crucial to flexibly incorporate new things and create it in a way that will fit the present. Regardless of your age, what matters the most is your sensibility. I would feel old if I could no longer appreciate new things. Thus, I would like to have my sensibility high no matter how old I am.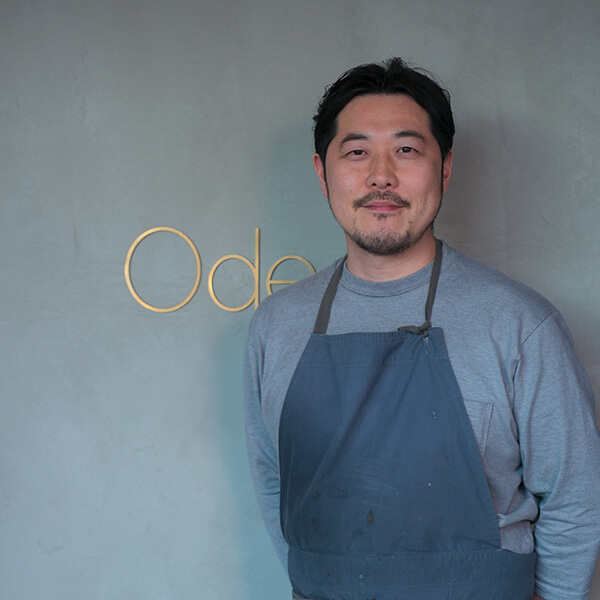 Learn More
Previous Interviews