Treasure Earned in Japan: A Robust Team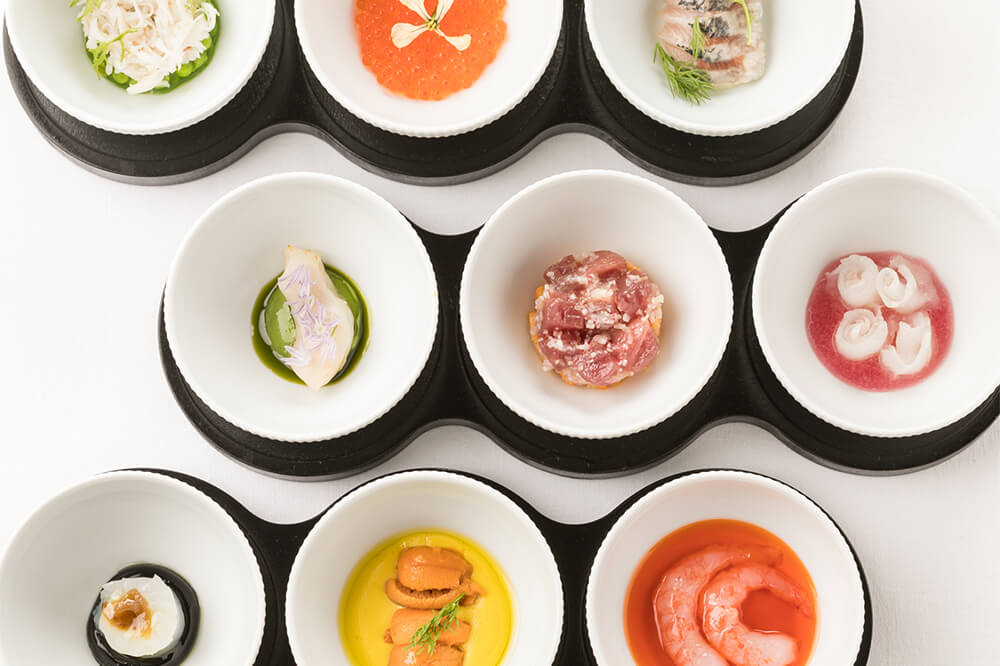 ––How many years have you been a chef of Bvlgari Il Ristorante - Luca Fantin in Japan?
Eight years have passed, and it's my ninth year (the interview conducted in 2018). Indulging in this wonderful project in front of me drove me through these years. I have grown both as a professional and an individual. Fortunately, I was able to build a long-term team, and though I am the leader, I obviously cannot do everything by myself. Blessed with this team, the restaurant had received a high reputation.
––Congratulation on being the 28th place on Asia's 50 Best Restaurants 2018! How do you feel about it?
It was an honor. I didn't expect making it so high up there and it was an invaluable experience. Although this doesn't mean the rise in paychecks and reduced work hours, it became a big new motivation for my team. They must have felt recompensed for all their hard works.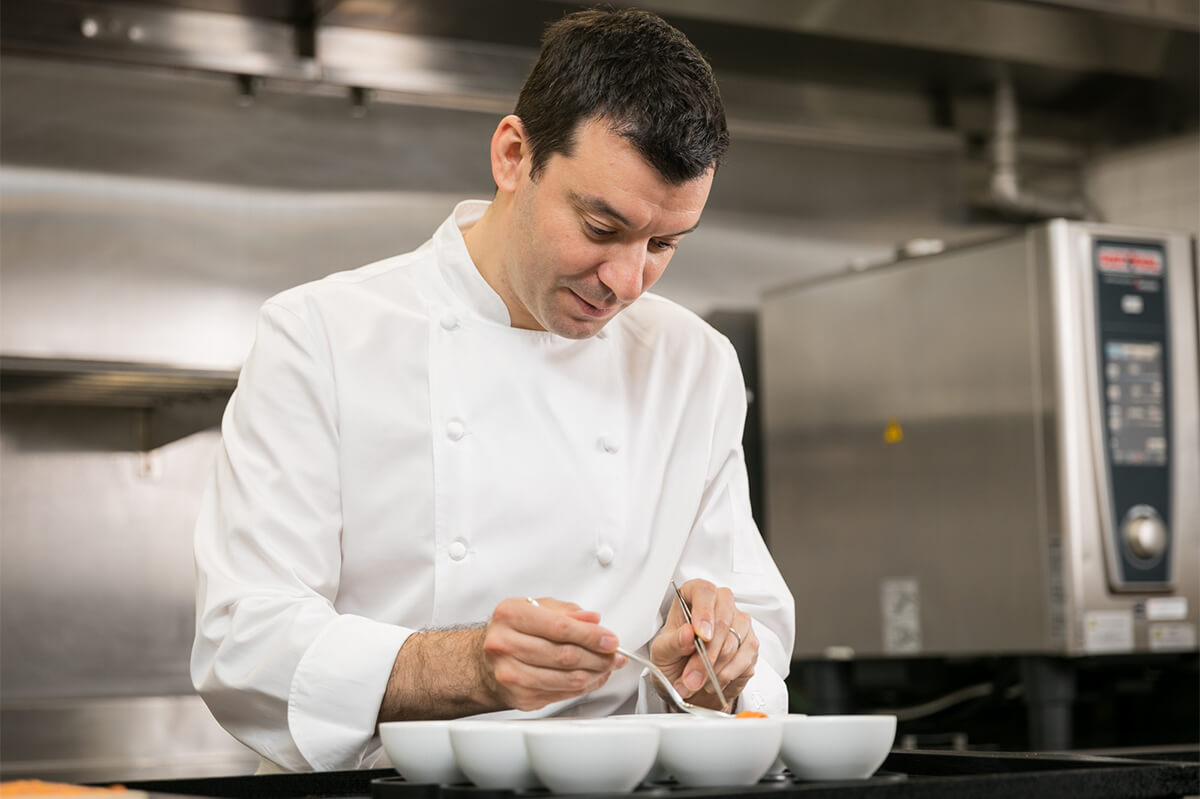 ––What were the difficulties you encountered in Japan?
First, it was the cultural difference. I felt complexity in delivering information accurately. The Japanese scarcely express how they feel. Even when they agree face-to-face, there are occasions where their actual opinions are quite the contrary. This way of communicating was the first hardship I faced. We overcame it by working together and sharing my knowledge and techniques. When I was young, you had to follow certain steps to talk to a chef. First, you had to speak through someone, and then via a bit higher-ranked chefs. In comparison, I eat the same staff meals with my team and communicate with them directly. Whenever I have time, I spend time with my team. In fact, I spend more time with the team than with my family. That's how our intimacy grew.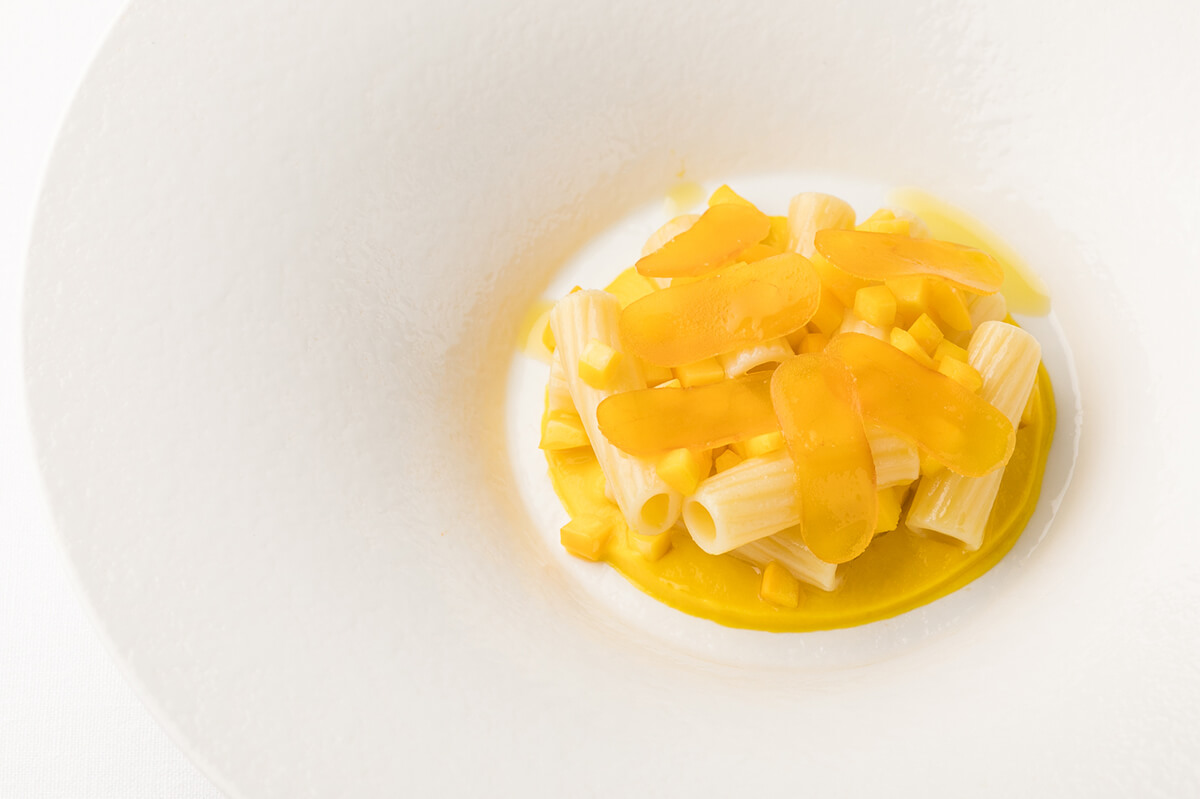 Fate Has Chosen the Culinary Path for Me
––Why did you choose chef as your career?
One of the reasons would be I liked eating since childhood. My first experience of working at a restaurant was when I was 13 years old. It was my last year in middle school, and I wanted a moped. Born in a thrifty family, my wish was rejected and my father advised me to get a part-time job instead which I did. And I actually bought a moped! Thereafter, from 14 years old, I was in culinary school for 5 years.
––What did you do after graduating from school?
I was granted my first opportunity of working at a haute two-star restaurant when I was 18 years old. That was the beginning of my culinary career. Right after graduating, I joined the first-star restaurant in Mantua. The restaurant no longer exists, but this was where I met chef Massimo Ferrari. As an inexperienced chef, I learned that depending on the types of cuisine, the quality differs greatly. This restaurant was where skilled chefs composed the dishes sincerely. Watching the chefs, they became my role model.
––Was this the beginning of your pursuit in gastronomy instead of the casual trattoria?
Yes. However, to tell you the truth, I was in the midst of a crossroad. I had two paths ahead of me: a professional chef or a professional rugby player. To be honest, I wanted to be the latter. However, fate has chosen the culinary path for me. Due to a motorcycle accident, I was hospitalized for 6 months, and was unable to play rugby permanently.
  However, I feel that rugby and cooking are quite alike. For example, in both trainings, you have to brush up your techniques and learn day by day. Whether you are in a field or in a kitchen, you are always in a game. Practice is crucial, and victory is achieved when the guest is satisfied. Moreover, what matters the most is teamwork, because no matter how precise an image you have, you cannot drive through the goal without the support of your team.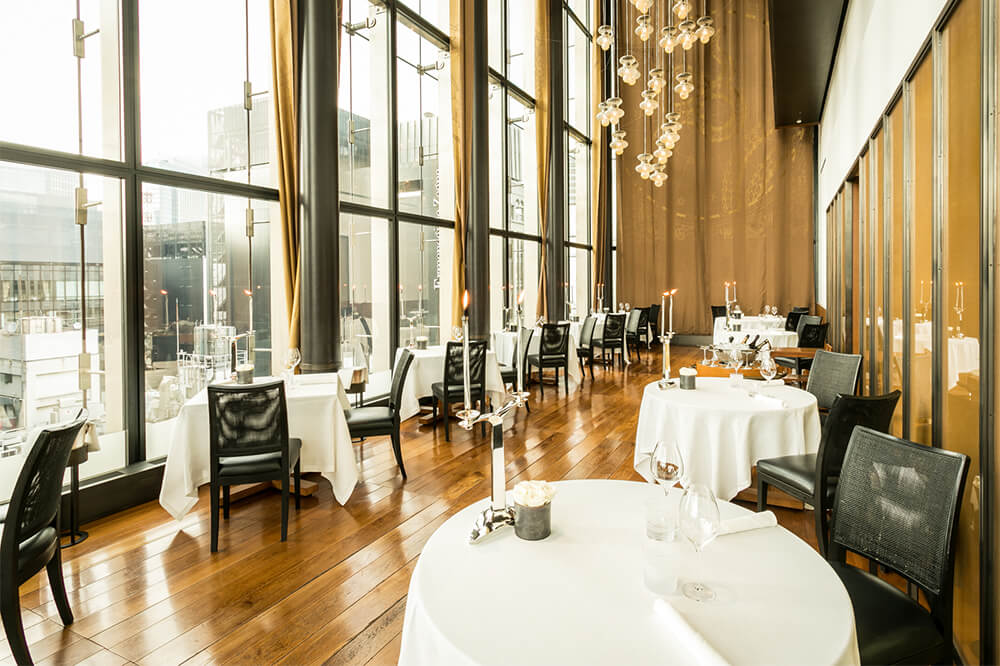 ––After your experience in Italy, you also trained at Akelare in Spain and at Ryugin in Japan for 3 months. What was your motivation?
I wanted to absorb new culinary techniques and the mind process of other chefs. For improvement, I wanted to experience as many things as possible. Italians would put it, "to have more suitcases" and I was willing to do anything that would become my strength. Spain interested me, because there was an incoming trend of gastronomy at that time.
––Where did you get the idea of working at Ryugin?
I first encountered Chef Yamamoto from Ryugin at the World Cuisine Society. How he handled the fish was just remarkable. As an Italian chef I had great respect for Japanese chefs. Mr. Yamamoto handled conger eel, and X-rayed it to explain its bone structure.
  I next came across Mr. Yamamoto when I interned at Mugaritz. Through a Japanese chef, I asked him if I could work at his restaurant. Though I was not even aware of where Japan is, I couldn't stop myself.
The Change After Experiencing Japan
––After working at Ryugin, you returned to your home country and joined La Pergola. Why did you choose this restaurant?
With an ambition to undertake the role of sous-chef at a three-star restaurant, I had four interviews. However, as a 26-year-old, to be entrusted in such a high position at a renowned restaurant was tough. The only chef that gave me a positive reply was La Pergola's Chef Heinz Beck. "I can't promise you the position immediately, but I will give you an answer after you work for a month. After a month, my wish was granted.
––What did you learn in La Pergola?
The importance of taste and how to concoct ingredients. Chef Beck was very uncompromising about them. Creativity means nothing without taste. This is the fundamental. Young chefs nowadays have wide range of fancy techniques such as espuma and smoke. However, such chefs often overlook the importance of taste. After all, the only reason that La Cime's Chef Fujio Yasuhiro―whom I played the role of mentor on S.Pellegrino Young Chef 2018―won the title was because he made the most delicious dish. Everyone must have felt that from their first bite.
  What Chef Heinz Beck used to ask me was, "are you cooking for the chef, or are you cooking for the customer?" You'll want to boast your culinary techniques and knowledge if you are cooking for the professional. However, taste is what comes first for the customers. "Which of them will make the restaurant full?" The answer is obvious.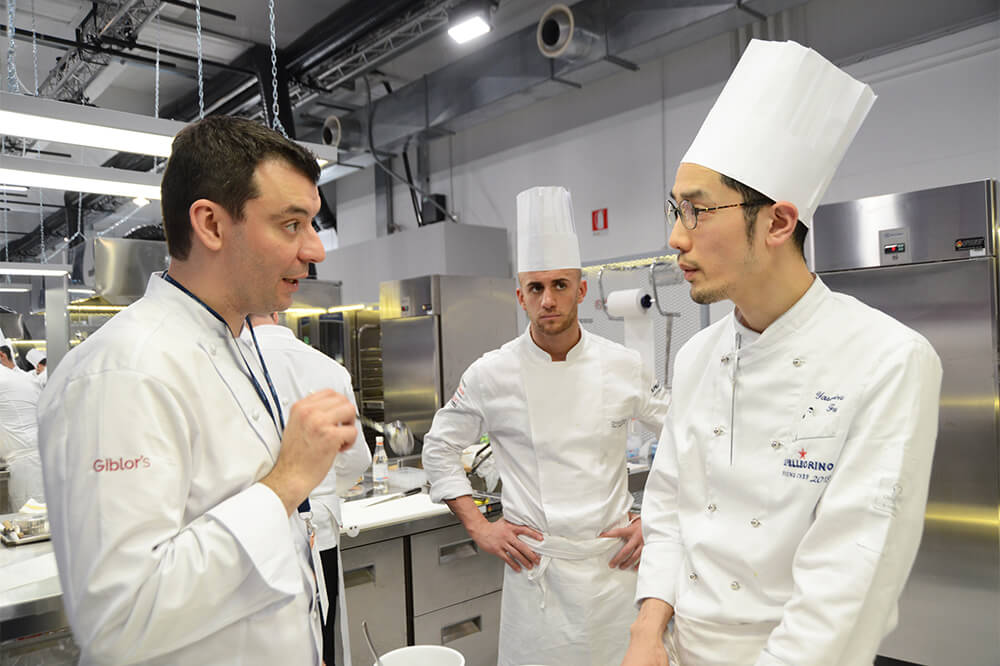 ––After La Pergola, you finally became the head chef of Bvlgari Il Ristorante.
It was right after I worked three years in La Pergola. This opportunity came in just when I wanted to advance in my career. Honestly, I was anxious about moving to Japan, but I was still 30. Even if I failed, I could come back after a year or so. Since then, I have been in Japan for almost a decade, and I genuinely feel I have grown as a person.
––Did you have a clear image of what menus to create from the beginning?
First, I procured ingredients from Italy. However, I felt something missing out after using them. Searching for an answer, I went to various restaurants in Japan, and realized how rich and tasty their ingredients are. That was the turning point, and I started to pay more attention to Japan. For instance, after hearing a good review, I would carry myself all the way to a little town in Miyazaki Prefecture, and observe how ingredients are grown and where fishing takes place. My culinary view broadened and I discovered new ingredients each season. It took about two years to decide the use of Japanese ingredients. After the decision, my skills developed greatly.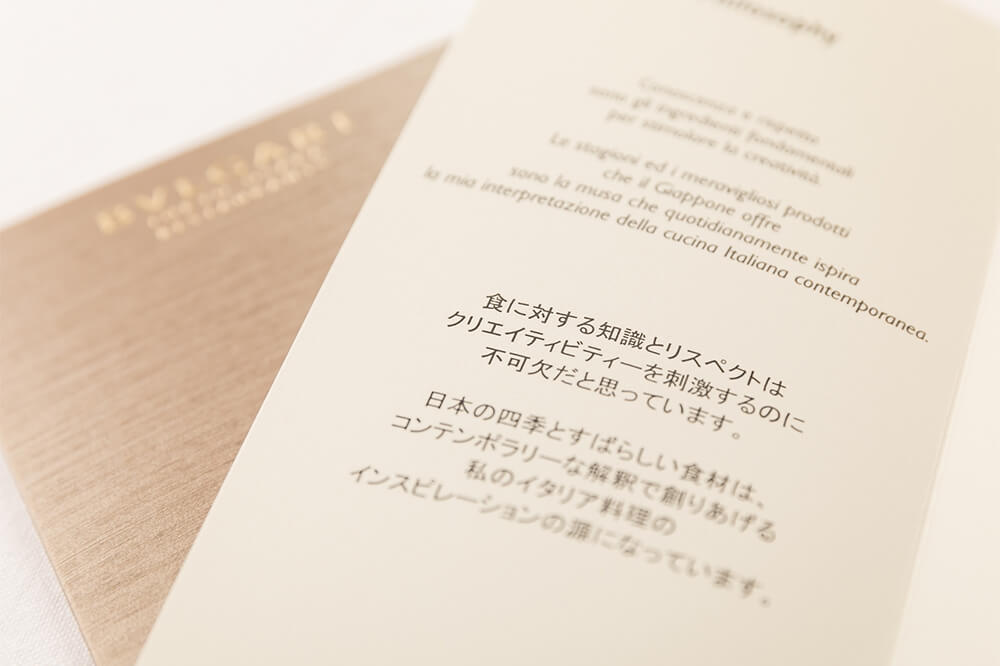 Journey of Pursuit Never Ends
––Although you use Japanese ingredients, I felt your dishes are based on traditional Italian cuisine.
Even though my style is contemporary Italian, the traditional taste is preserved. My style is established in this direction. The majority of Japanese people think Italian cuisine is trattoria or pizzeria. My contemporary Italian is quite different from them, and yet there certainly is the essence of Italian cuisine.
––Do you have any set rules upon creating your contemporary Italian cuisine?
Though I don't have a set rule, I only use ingredients that would be found in an Italian. I do not dare to go beyond Italian cuisine, so seasonings such as soy sauce and mirin (sweet rice wine) are excluded. For instance, Italian rice is used for the risotto. If there were Carnaroli rice in Japan, it would be incorporated in the dishes, but there is none. As for the pasta, I feel Italian ones are better, so I use the Italian ones.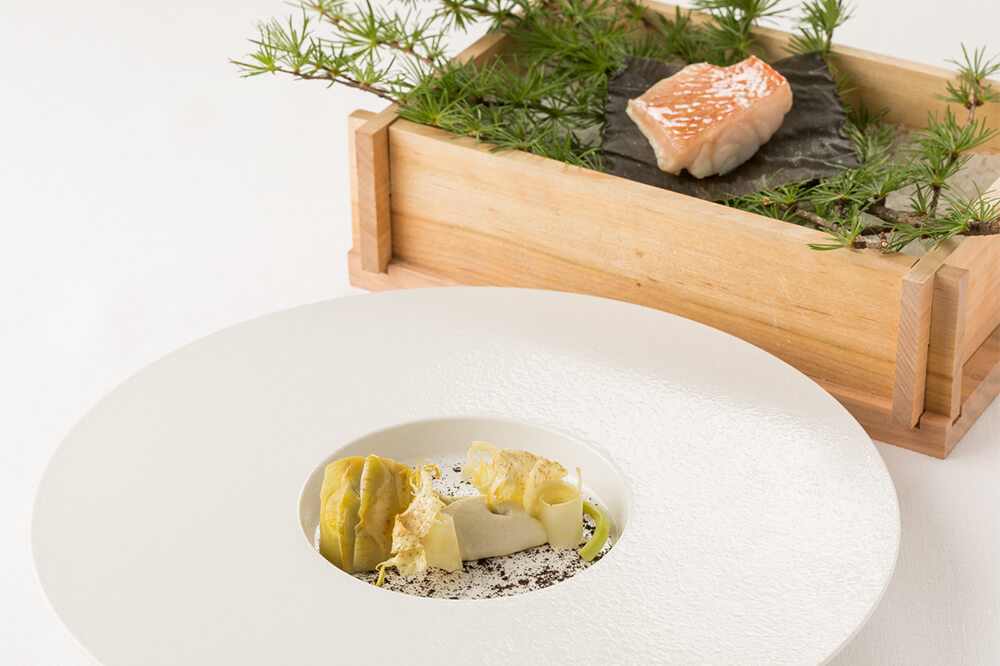 ––How are the new dishes created?
Right now, we have a creative team composed of two chefs. They review the past dishes and innovate them. The salt-baked Shortspine Thornyhead is one of the examples. The idea of salt crusting the fish in a box was born in this team. This kind of creative process never ends.
––Salt crusting is a very interesting idea.
Cooking fish with a salt crust is a typical Italian culinary method during summer. Even when the fish is different, it is salt-crusted. With that Italian method in mind, the fish is baked with the pine branch for fragrance in a box of the cherry blossom tree. Usually in Italy, salt crust is served with a side dish, and for that, Variation of Artichoke was born. This artichoke is Japanese, and is used for purees, pickles, or chips.
––Do you get those inspirations and ideas on a daily basis?
Yes, every day, especially when I am travelling. For me, being on the plane is very relaxing, because there are no phone calls. I take notes of my ideas, and shape them once I return. When I was young, there were times when my dreams gave me inspiration, but not anymore. Maybe my mind is always occupied with other things (chuckles).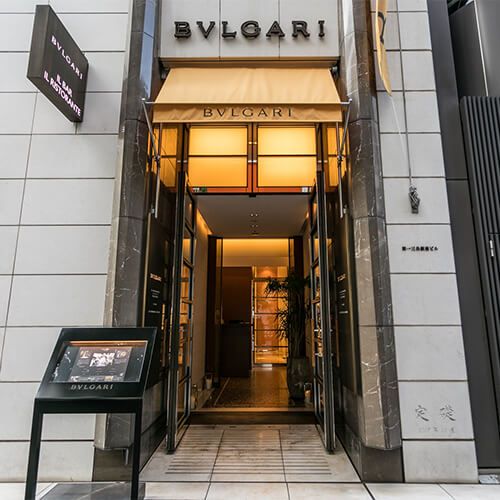 Learn More
Previous Interviews