Memories of Chef Aoki's Father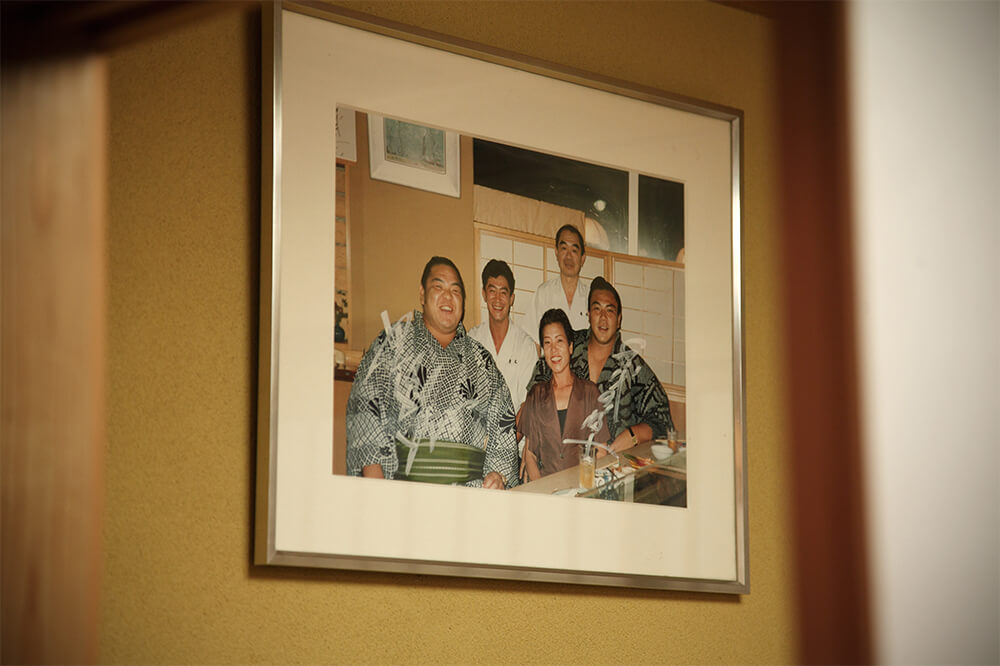 ―May I ask you about your father, who helped you establish your style of sushi?
My father was a strict man. Although I have trained under him for about a year, he had never allowed me to even use knives. He did everything by himself. Apparently, that was his teaching style: learn and steal by observing. Likewise, during my two years of training at Yoshino, the only preparation I was allowed to do was deboning mackerel. Telling my father about this, the only piece of advice he gave me was, "Watch and learn."
―Your father originally worked at Nakata in Tokyo and established his restaurant in Kyoto. Did you see any hardships in your father?
Watching my father work, not being able to have holidays during New Year seemed to be tough. Kyoto during New Year is very busy and he only had the New Year's Day off. Because there were no fish available in Kyoto, we had to go to Osaka Prefecture. However, my father was optimistic about Kyoto because he thought we could learn many things that cannot be learned in Tokyo. For instance, he learned where to get good ingredients and was able to compare the quality of fish in Kyoto and Tokyo. However, tuna can only be acquired in Tokyo. Because locals in Kyoto were unfamiliar with the fish, it did not sell well. My father loved tuna, so he used to say he wanted to sell more tuna sushi in Kyoto.
Expanded Worldview during College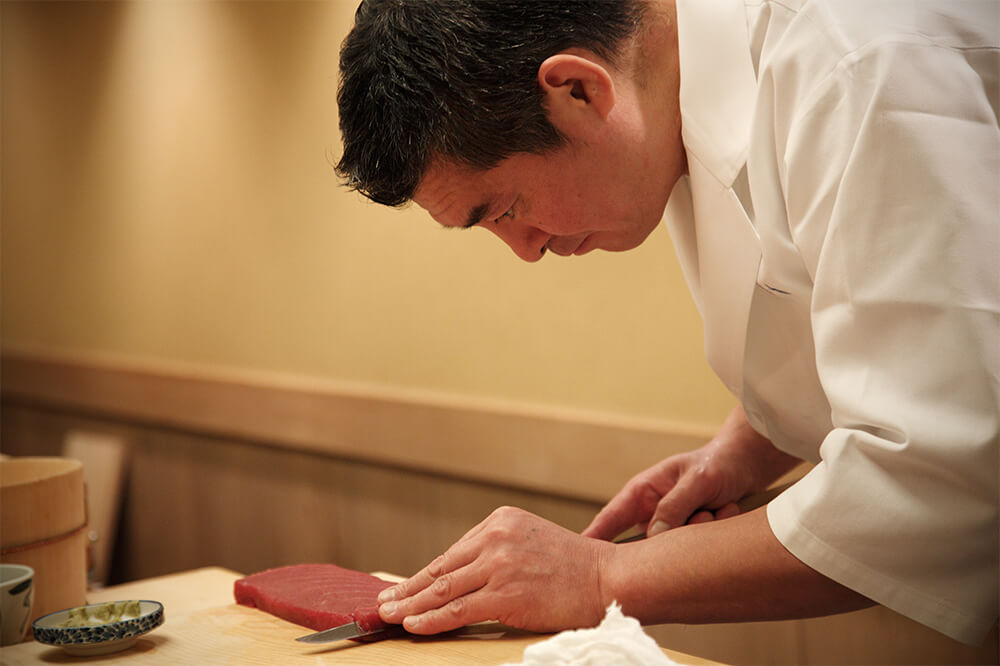 ―What were you like as a child?
I was a child who spent his time outside collecting insects and crystals. I used to take lessons such as calligraphy, abacus, and go to cram school, but none worked out for me. Above all the extracurricular activities, the only thing that I continued was judo.
―How long did you do judo?
From elementary third grader to college. In high school, I had to learn judo at my teacher's house, and to be honest, I had a terrible time. Though a generous man, he was so strict when it comes to practice that I thought of running away a couple of times. However, it is thanks to judo that I was able to enter college.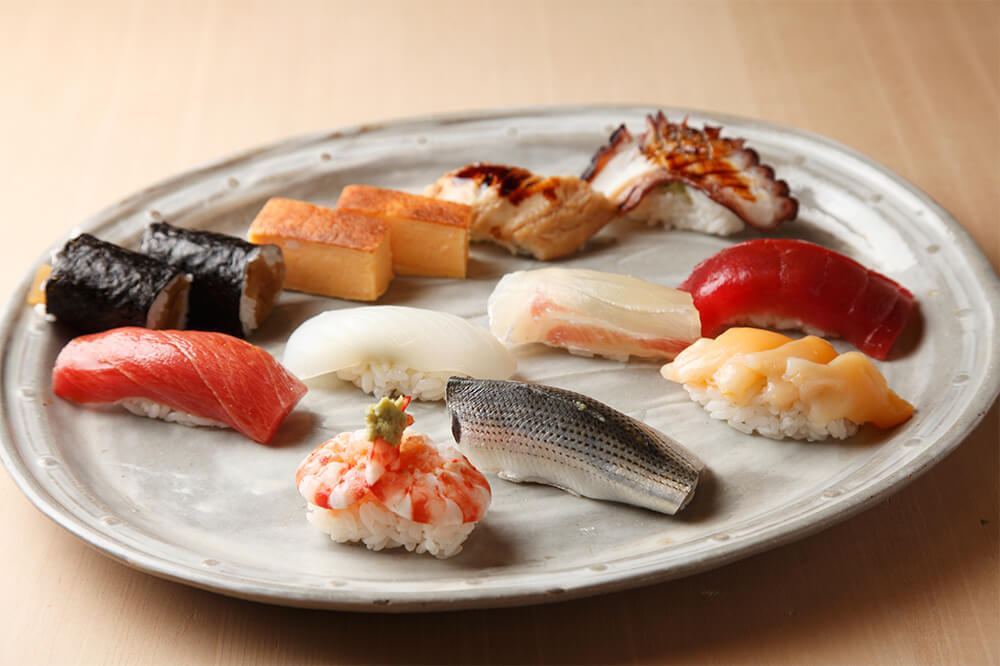 ―Were your college years dedicated to judo?
I did judo well until high school years, but college judo was on a much higher level. It is because of my experience in college judo that I feel many difficulties easy today. At the training camp, freshmen are in charge of the kitchen, and we made meals for more than a hundred members. Seniors used to give me a hundred yen privately for my specialty, fried rice.
―When you entered college, were you uncertain about your future career?
Once, I thought of becoming a sushi chef right after middle school, but fortunately, I was able to advance to high school and college through judo. When I was thinking about whether or not I should go to college, my father insisted on me entering. Regarding my career, my professor in college suggested the educational field. However, I was determined to become a sushi chef ever since I was a child, so I declined the option.
Learning Food Diversity in the United States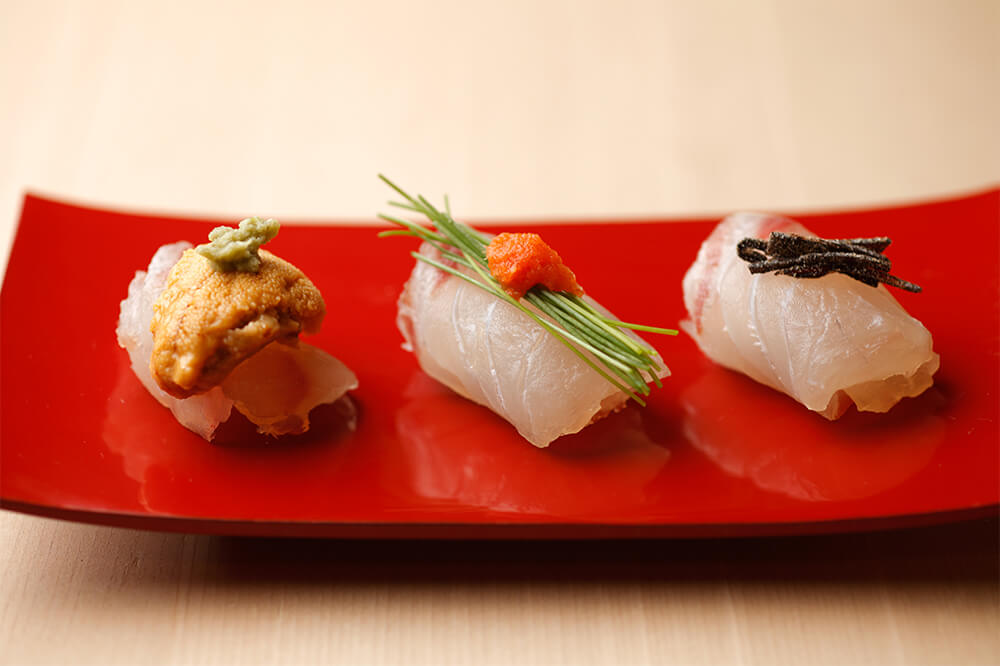 ―You experienced studying at a sushi restaurant in the United States for a year. Were you determined to work at a sushi restaurant upon returning?
Yes, I told my father that before I started my training, I would like to study abroad. However, tantalized by all the enjoyment in the U.S. such as nightclubs and museums, I asked my father if I could continue my training there. And boy, was I scolded (chuckles).
―Did your view on sushi alter after this experience?
Yes, I learned quite a lot from this experience. I decided to use worldwide ingredients. 80% of my cuisine sticks to Edomae tradition and I try creative things for the remaining 20%.
―After returning, you started training in Yoshino. In your training, did you make sushi?
I wasn't allowed to. I cleaned the restaurant for many hours and observed. The restaurant had two floors: the first floor is the kitchen and the second floor is for the customers. I was never allowed to set my feet on the second floor.
―Was your training like that for two whole years?
For the most part. After finishing the training at Yoshino, I started training at my father's restaurant in Kojimachi. Even under my father, I was not allowed to do a thing for a year. After a year, I was permitted to use leftovers for practice.
―So your training at Kojimachi was like that?
Yes. In Kojimachi, I was never allowed to serve sushi to my guests. After moving to Ginza, I made vinegared rice (shari) and started serving that to the guests for the first time. During that time, my father fell ill. Therefore, I started to feel responsible for the restaurant.
The Death and Legacy of the Sushi Master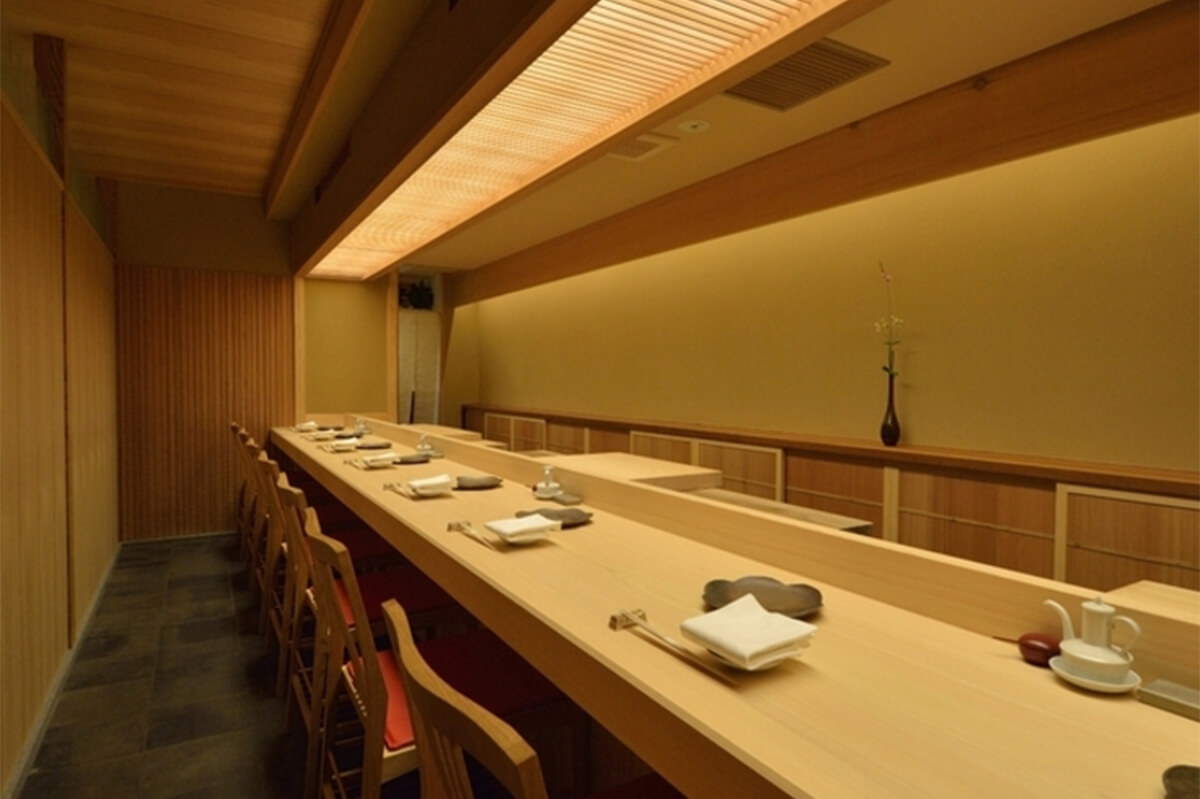 ―Your father passed away one year after relocating the restaurant from Kyoto to Ginza, Tokyo. How did you cope with that?
My father, who was my role model, has passed away, and I felt I had more to learn from him. I've realized that the real training had just begun. Out of their worries, the regular customers we had in Kyoto had visited my restaurant.
―You had the support of your father's guests.
Yes. Not only that, the sushi chefs who worked under my father in Kyoto kindly told me to reach them anytime when needed. Actually, I asked them many times and learned a lot of things.
The Characteristic of Chef Aoki's Sushi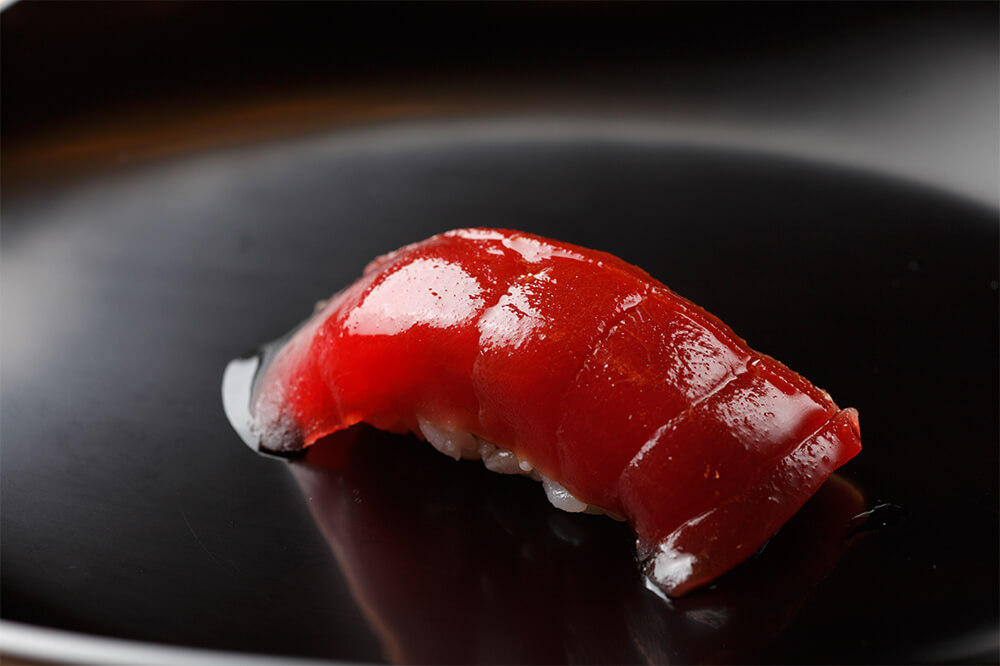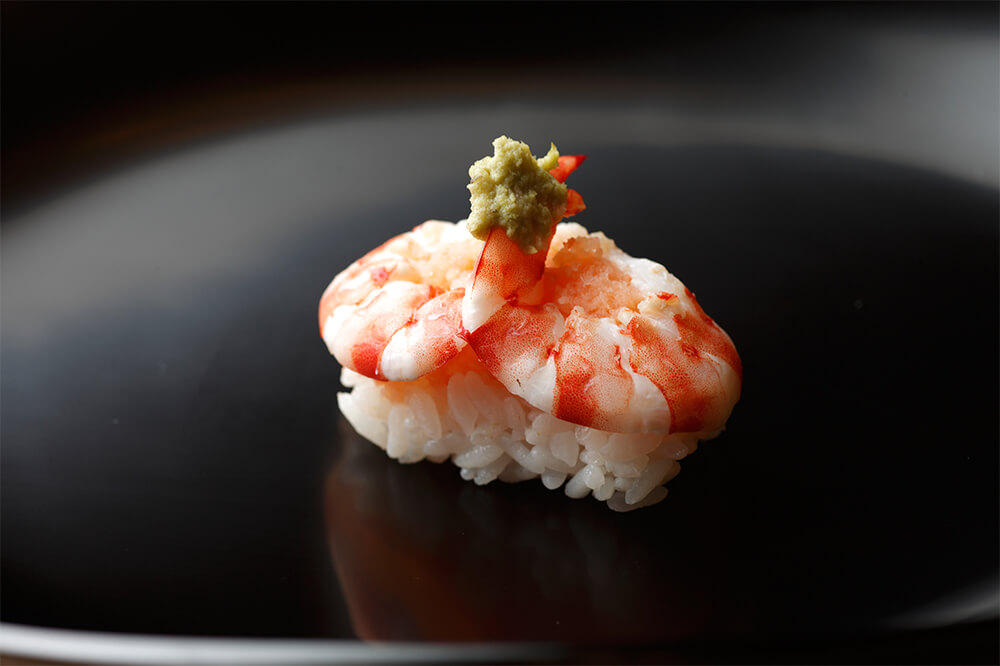 ―What is the characteristic of your sushi?
I constantly procure the best-quality fish. Even in days when the guests do not come, I stick to that rule.
―Amazing! How about your vinegared rice?
The way I make the vinegared rice is quite simple. I don't use red vinegar for my rice, and I serve rather stiff and body-temperature sushi. I use rice from Niigata Prefecture, as their rice is tasty even when it's cold. Most sushi restaurants do not use Niigata rice, but vinegared rice is in the best quality when it is neither hot nor cold. That's why Niigata rice is great with sushi.
Message to the Guests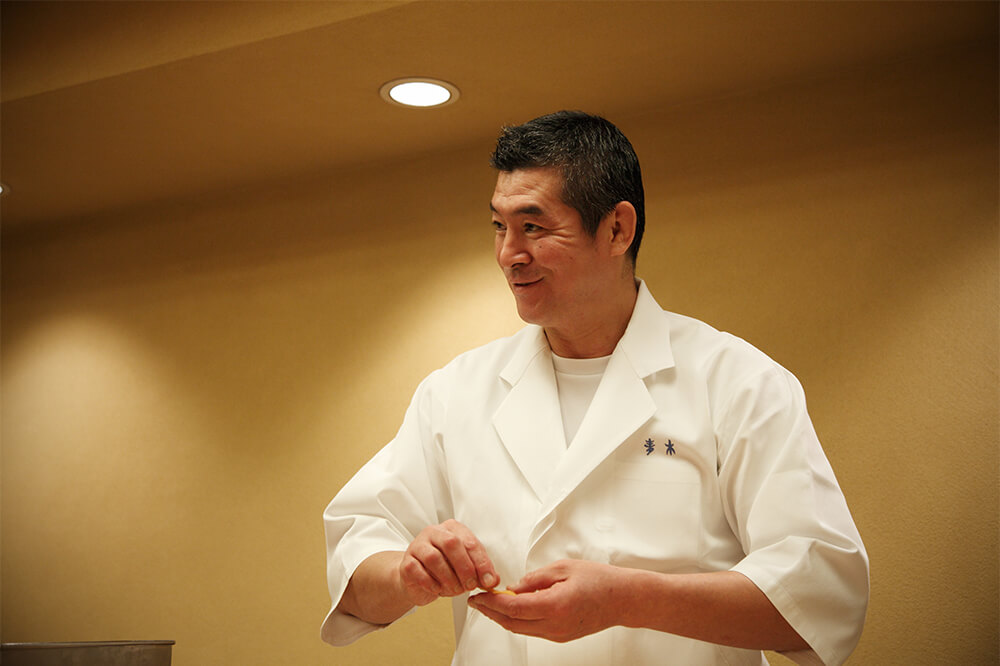 ―From the sushi master's view, do you have any manners that you want the guests to know about?
The guests should not enter with the smell of perfumes and cigarettes. Plus, I would like the guests to maintain the appropriate relationship―not too friendly. My father taught me never to be too friendly with the guests and to maintain a chef-customer relationship.
*Please note that this restaurant has relocated, and the interior design and dishes may differ from before.
Address: 4F, No.3 Iwatsuki Bldg., 6-7-7 Ginza, Chuo-ku, Tokyo
Open:[Lunch]12:00 pm - 2:00 pm /[Dinner]5:00 pm - 10:00 pm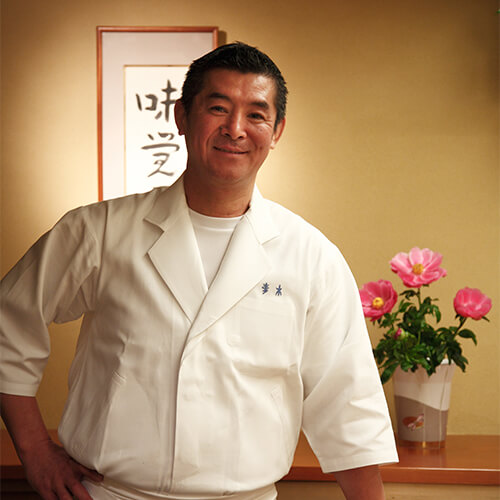 Previous Interviews