Chef Taniguchi at [Levo], who is fascinated with Toyama,
creates [Toyama Gastronomy] that can only be found in Toyama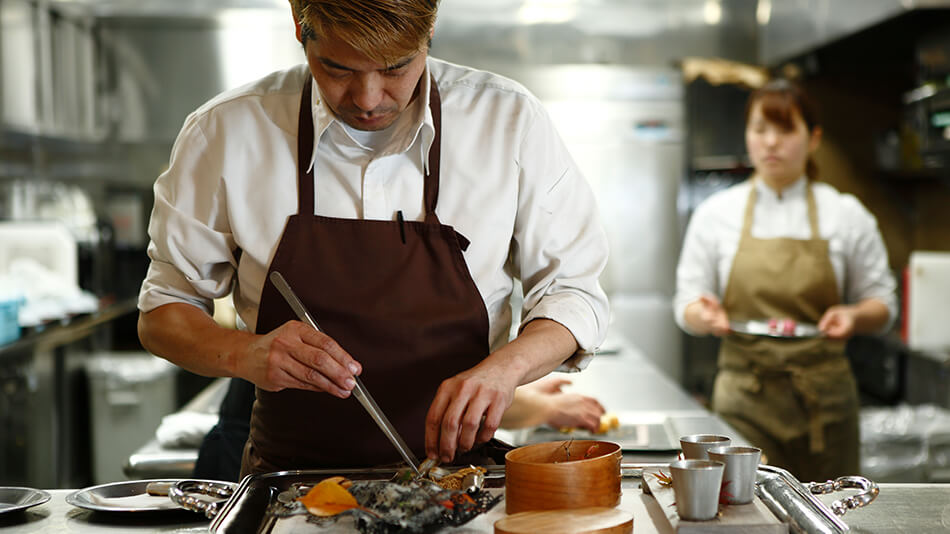 The name of the restaurant [Levo] is from [revolution], that exactly applies to their strikingly beautiful and innovative course. This restaurant, the main dining of the hotel [River Retreat Garaku] along the Jinzu River in Toyama, is created by the new thoughts of Chef Eiji Taniguchi, who is fascinated with Toyama.
The word [revolution] applies not only to his avant-garde dishes, but also to his innovative attempts to [transmit the total charms of Toyama]. Actually, Chef Eiji Taniguchi is originally from Hyogo prefecture which is nothing with Toyama. Then why is he fascinated with Toyama that much? By finding the answers to this question, you will be able to find the real value of the dishes served at Levo, and the power of Toyama.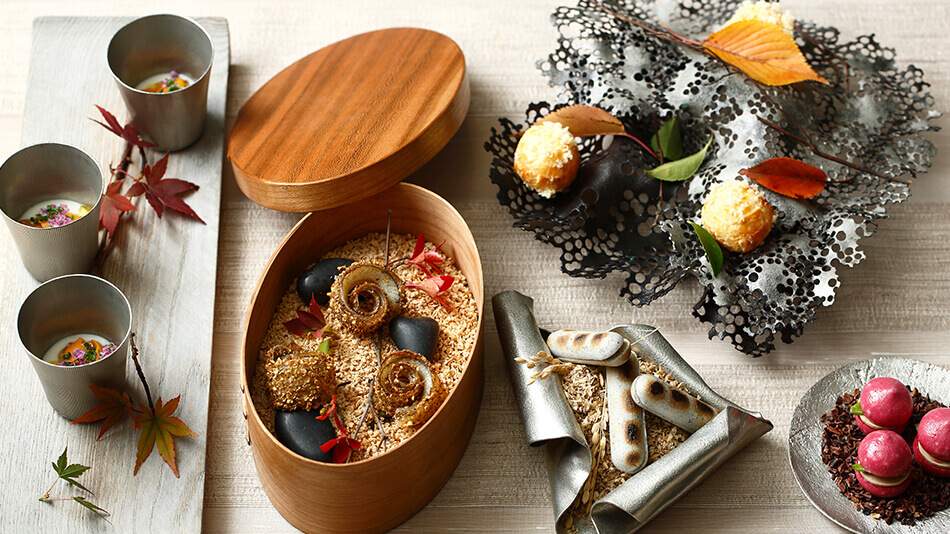 Various lovely foods served on tableware with fine works. Scattered leaves add the atmosphere of nature in late autumn. These 5 plates are amuse-bouche of [Levo] served as starters of the course. Each dish impressively brings out the original powers of ingredients and the essence of deliciousness. When you taste these beautiful dishes that stimulate your curiosity, the original tastes of the local ingredients from Toyama directly spread in your mouth. Even after swallowing them, you can bask in their long-lasting afterglow. Almost all of these tableware are also crafted by artisans from Toyama; which means that the entire presentation, not only the foods, is [made in Toyama].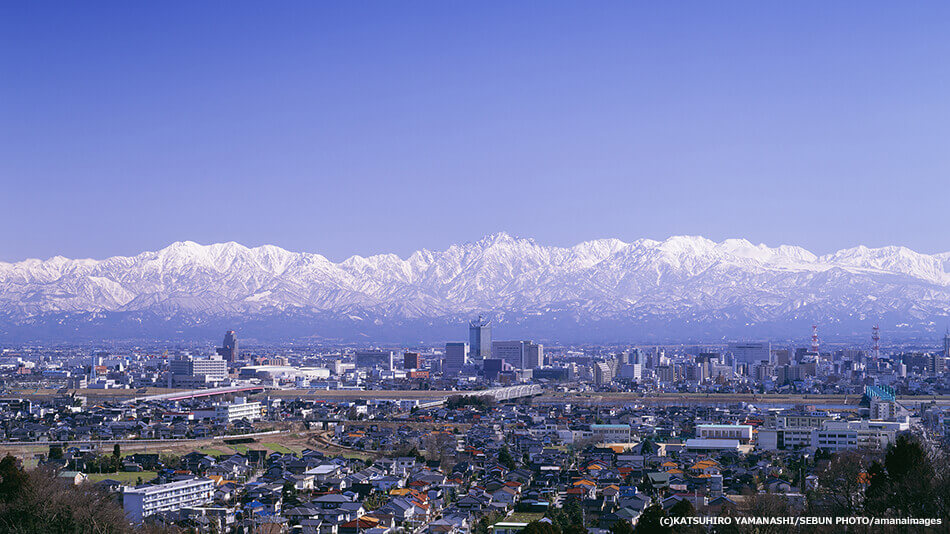 Chef Taniguchi's career started about 20 years ago, from a hotel in Kobe city. By being recognized for his talent by the executive chef, he also went to France to train at [Bernard Loiseau Organization] that inherits the genealogy of the late chef genius. Then Chef Taniguchi's destiny dramatically changed when he was selected as a chef of [Bernard Loiseau], the main dining of [River Retreat Garaku] when it opened 8 years ago. After completing the 3-year contract with the restaurant, he was offered a position of a chef at their affiliated restaurant in Kobe. Surprisingly, however, he wanted to stay in Toyama. No one expected it.
[For the first time in my life, I wanted to keep cooking here, as it was meaningful to cook here. At the hotel in Kobe, ingredients were delivered by food suppliers. In Toyama, however, distances from all producers are very close. I can see their faces, and how they farm the ingredients. I can transform these lives into my cuisine, which fascinates me a lot. When I worked at Loiseau for 3 years, I really enjoyed it.]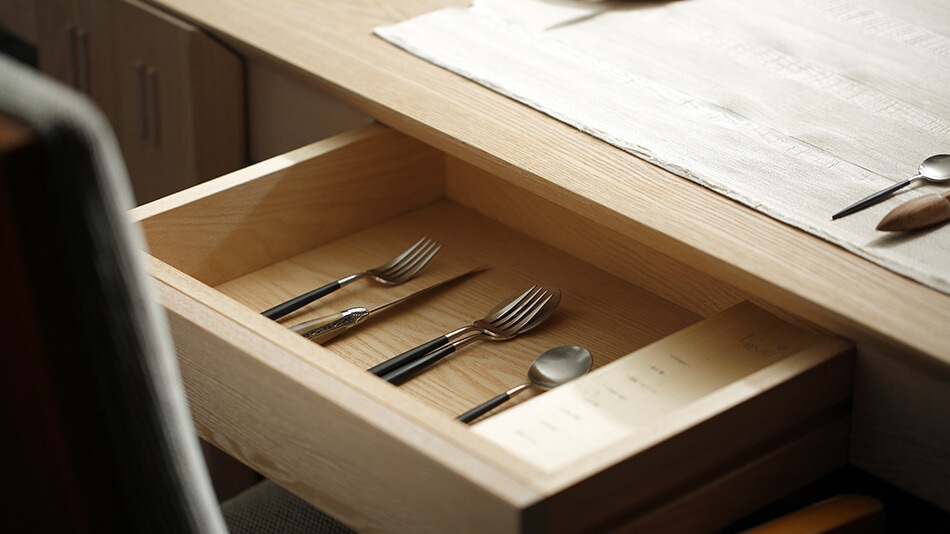 When the restaurant was decided to be reborn as [Levo], Chef Taniguchi started his new challenges to express the land of Toyama that fascinated him.
To dispatch his cuisine from Toyama, he thought that it would be great for everything used to be made in Toyama, including plates, tables, place mats, wine, and sake. He spent 1 year to prepare for the opening. [Such an idea hit me because I met many wonderful producers, breweries, and artisans in 3 years. They showed me their workshops and manufacturing sites, each of which impressed me a lot. I was also sure to be able to upgrade my own dishes using their tableware.]
Among them, the large plain wood table was an especially big investment. However, the table matches the interior of the restaurant reminiscent of stratum, and is useful to directly give the impression of [dispatched from Toyama].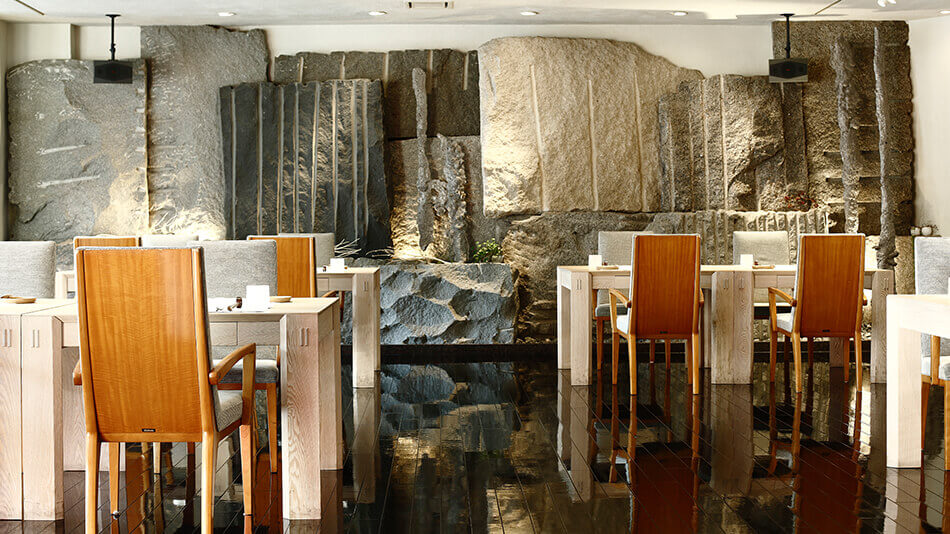 Seeking for the cuisine that can only be created and tasted in Toyama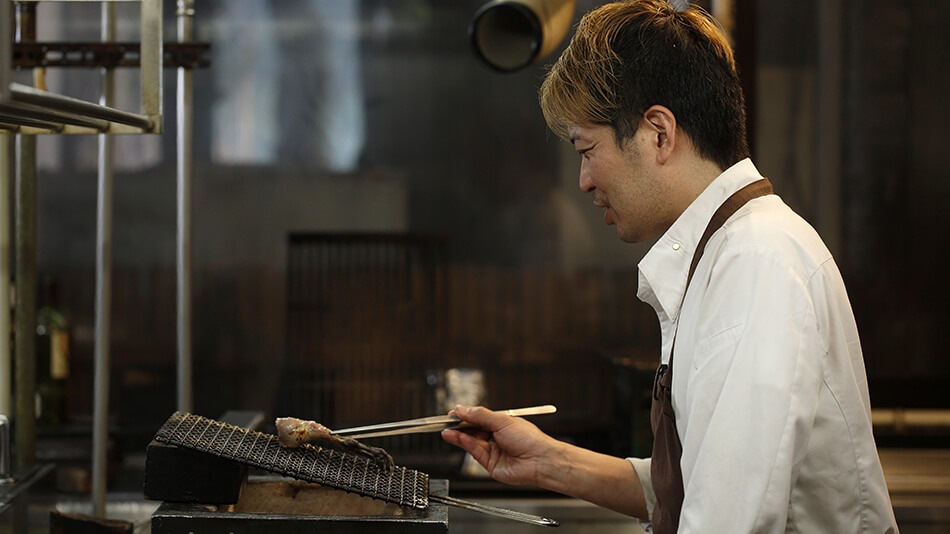 3 and half years have passed after its new beginning as Levo …
We asked Chef Taniguchi about his changes and evolutions, after the years facing ingredients and environment in Toyama his way.
Chef Taniguchi said, [3 years ago, I used about 60% of ingredients from Toyama. Currently, I can say that 95% is from Toyama. The more I know the local ingredients, the more I am fascinated with their power. I use minimum preparation to bring out their original tastes to their maximum. Also, when I request certain vegetables from the producers, they are stimulated with my requests and produce better vegetables. In such mutual interaction, vegetables are getting much better. That is one of the best parts that cannot be realized in big cities].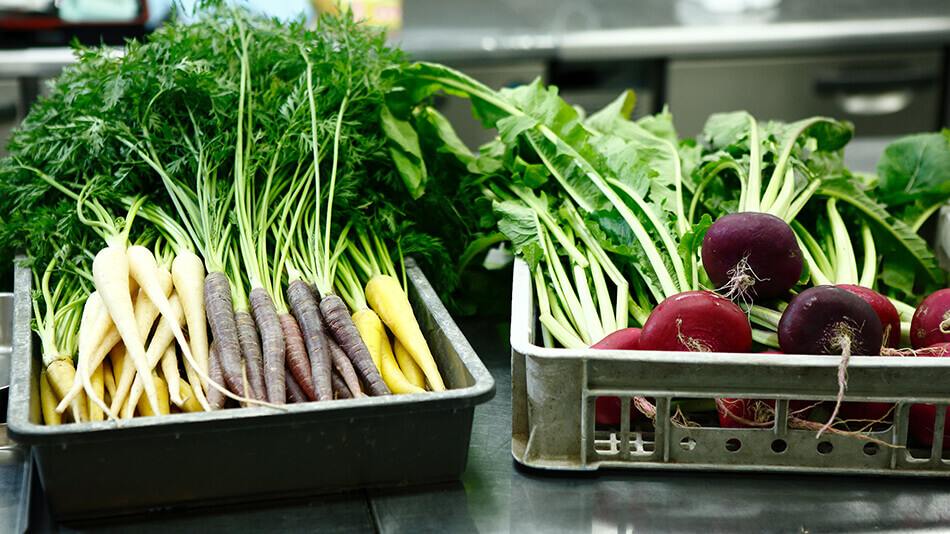 Some of such vegetables are five color carrots shown in the photo. These carrots with a surprisingly rich taste are produced by the neighbor farmer [Doyuuno]. The red turnips in the right are a native Japanese species. This species has been passed down in the Okuhida area. Currently, only a small amount is produced on top of a mountain in Toga village, not to be crossbred with other species. Such vegetables are available only in Toyama. [Even the situation about fish has been better these 3 years. A fish store used to deliver me the fish caught the day before, but from this year, I go to Shikata Fish Port in the middle of Toyama Bay every day, to stock fish by facing the fishermen directly. I bring these fish back to the kitchen and process with a technique called Shinkeijime (an original Japanese technique that keeps the fish meat fresh by making the fish braindead).] That also can only be realized in this location close to the sea. The quality of the fish served at this restaurant is much higher than others in big cities.
From tableware to food. Various inspirations from the land of Toyama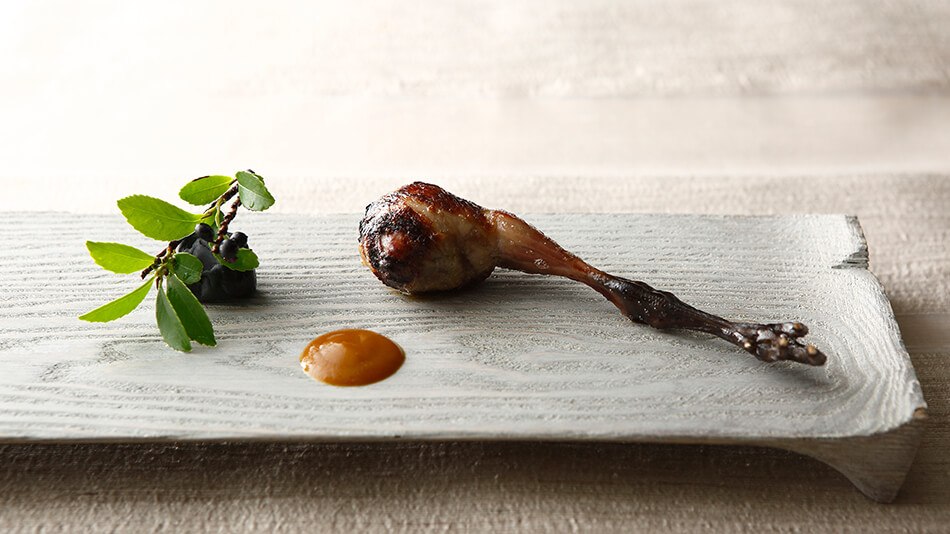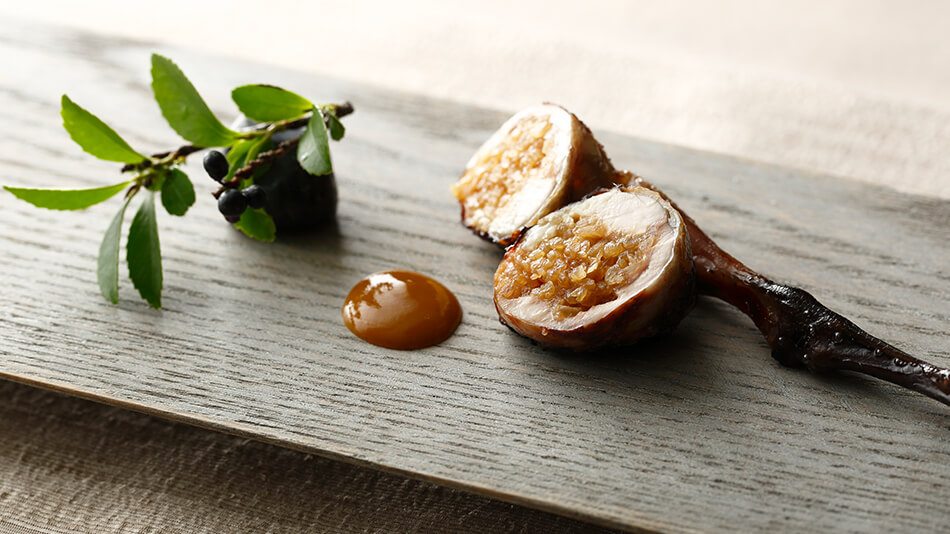 Some dishes have been created through interactions between the producers. [Levo Chicken] is one of their specialties that was born when Chef Taniguchi visited a poultry farm and saw around 45 day-old baby chickens that were half the size of their parents. When he saw these baby chickens in their growing phase, he strongly felt like grilling them.
To create this dish, he cuts open the tender and juicy thigh, and fills with the burned sake rice, from the bottom of the steaming pot, that was made in the course of brewing process of the renowned sake [Masuizumi Daiginjo] in Toyama. The exquisite chicken is grilled slowly using glowing embers to add a good aroma, after putting home-made raw sake from Toga village, near from the restaurant, on its surface. When you hold the chicken thigh and dig into it, you can fully enjoy its exquisite taste spreading in your mouth, with the sake rice that has absorbed the savory taste of the chicken and its fresh meat juice. There is also a reason for using the sake rice. To make ginjo-grade sake, protein of the rice is abraded and therefore it is no longer too sweet and can bring out the taste of the fon-de-volaille-based sauce. Such a dish can only be created in this area of Toyama.