[Masuda Shuzo]: This sake company is the leader of the recreation of Iwase-machi that attracts artisans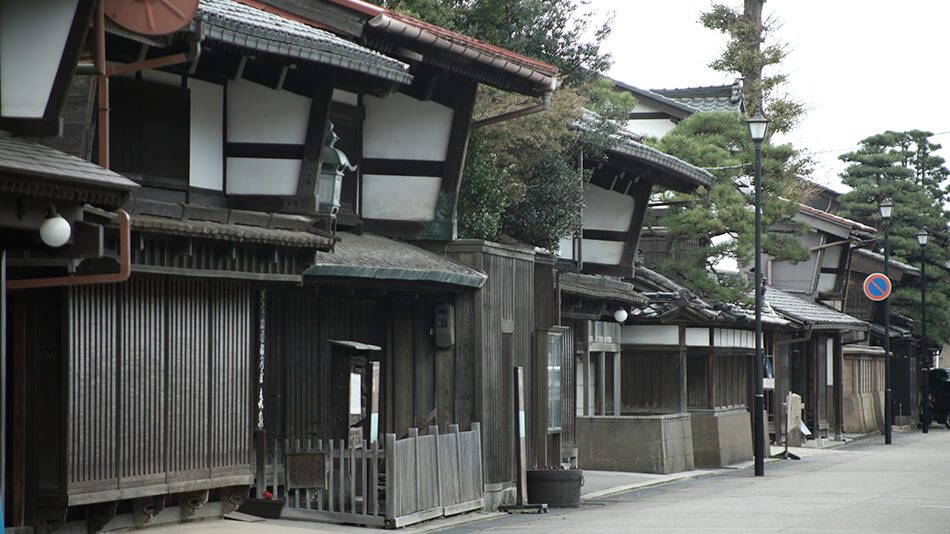 Merchant houses with projecting lattices and wooden fences stand in a row in Iwase-machi. When walking around the town with an atmosphere of the good old days in the Edo period, you can find many shops strongly dispatching the culture of Toyama, such as liquor shops, soba (buckwheat noodles) restaurants, confectioneries, and workshops. A brewery of the renowned sake [Masuizumi] is one of them. This shop, in the middle of the town, has more than 100 years of history. Under the eaves in front of their main building, an orb made of trimmed Japanese cedar branches is hung indicating that [new sake is now available]. It is Mr. Ryuichiro Masuda, the fifth generation of this brewery, who started to recreate Iwase-machi.
Recreation of Iwase-machi, which prospered from kitamae-bune (cargo ships sailing the Sea of Japan) during the Edo period through the Meiji period
Mr. Masuda says, [Iwase-machi prospered as a port of call for kitamae-bune with its proud, elegant culture from the Edo to Meiji periods. However, the town became desolate with the times. When I was urged to do something, a western winery style hit in my mind. Delicious food and alcohol, and culture will attract people. Brewing high-quality sake (Japanese alcohol) is not enough for breweries like us. We should dispatch the entire culture related to sake, such as the delicious local cuisine and crafts]. He promptly renovated the old buildings in the town one by one, to revive the appearances of the old time, then invited tenants. The commemorable first tenant was a soba restaurant. At the same time, he invited the artisans from Toyama to move to Iwase-machi. They liked the spirit and idea of Mr. Masuda, and agreed to move to Iwase-machi one after another, to dispatch their creations from galleries and workshops in those renovated houses. The recreation project, started in 2004, is almost finished. Iwase-machi has been splendidly reborn as the place to dispatch cultures of Toyama.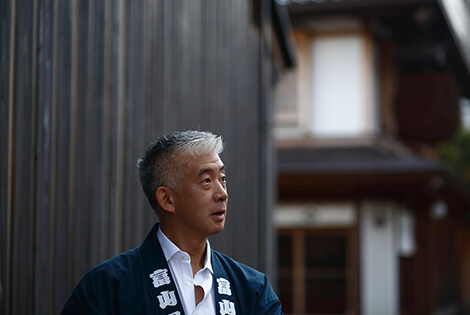 The brewing philosophy of Masuda Shuzo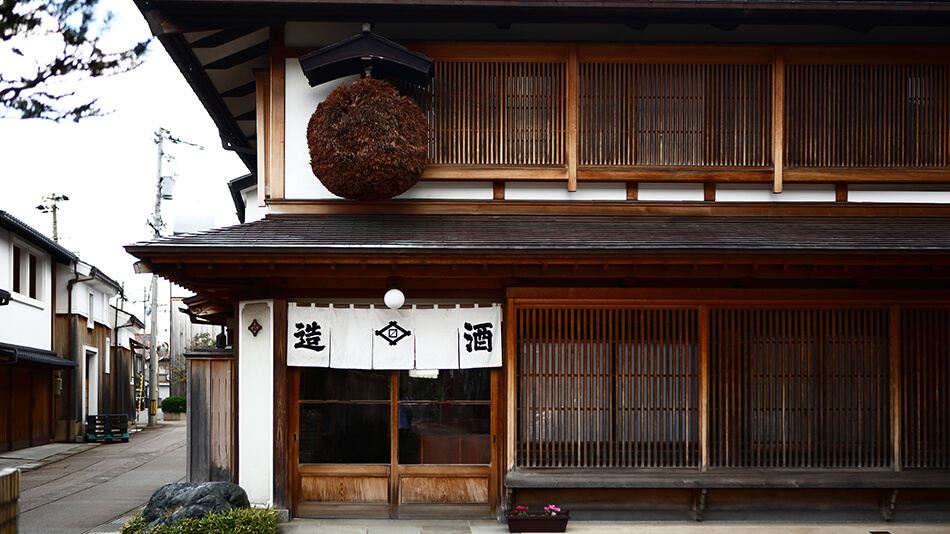 Mr. Masuda devotes himself into brewing sake every day, in order to create exquisite sake that can be recognized by the world. He believes the most important fundamental of Iwase-machi is to create high-quality products. He showed us his brewery located in the middle of the town. First, he showed us the room that produces rice-malt, one of the most important ingredients in brewing sake. On that day, a young man was watching rice-malt. He said that he was going to France to brew sake next year. He has collected money through Crowdfunding to build a brewery in Camargue, France. He is currently accumulating experiences by visiting unique breweries throughout Japan before his departure. Even through this episode, you can see the wide network of Mr. Masuda inside and outside Japan, and that he is making efforts to develop Iwase-machi. Flexible and ambitious Mr. Masuda says, [Though it is fundamental to strictly follow the tradition, I would like to bring out the potentials of sake, by trying all possibilities, such as brewing sake with wine barrels and using champagne yeast]. His philosophy is backed by his extensive knowledge of delicious foods and alcohol from all over the world. From Toyama, he always takes the world into account.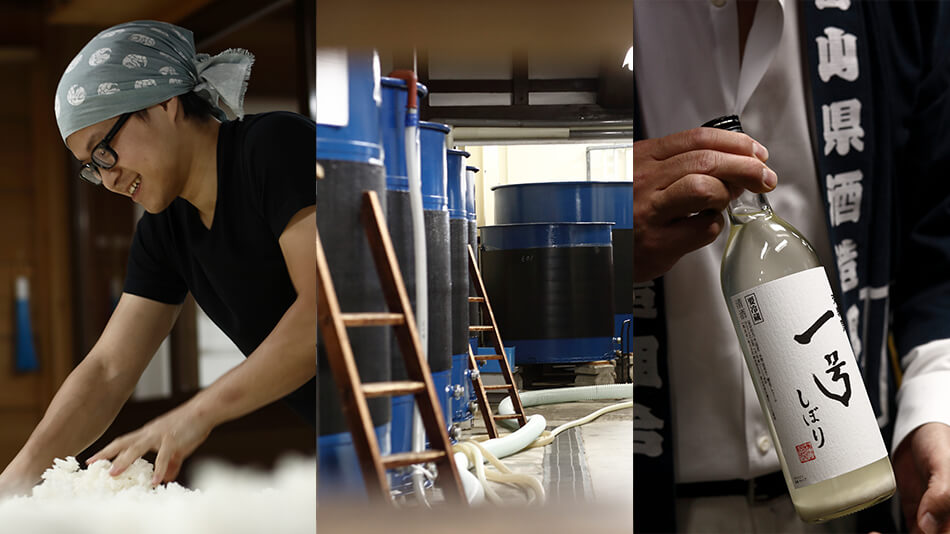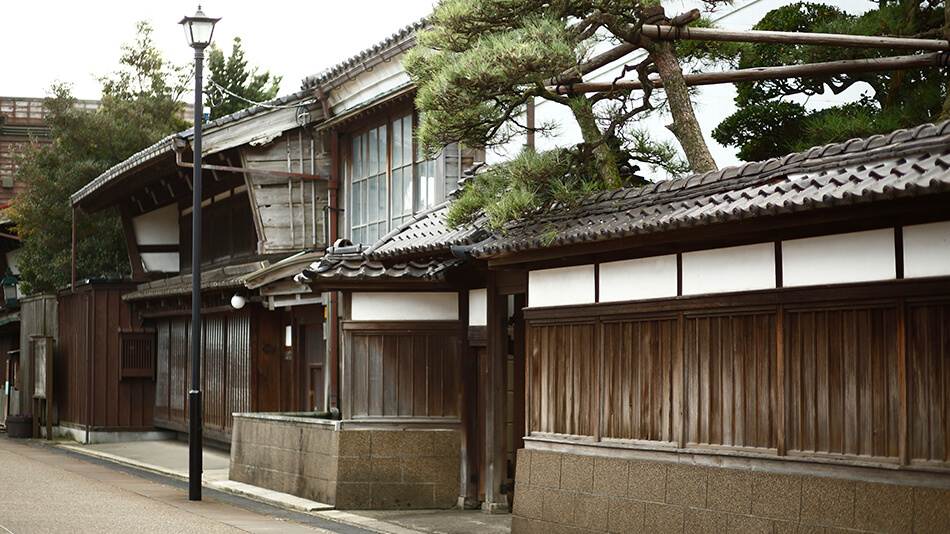 Artisans who have gathered to Iwase-machi (1): Mr. Taizo Yasuda, a glass artisan creating attractive glass works with protean colors and patterns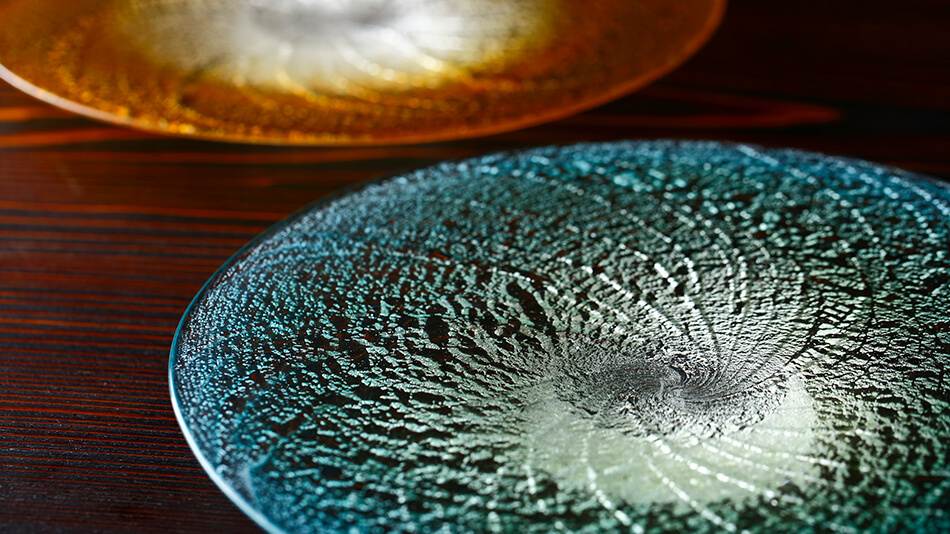 Many artisans creating hand-made art works have decided to move to Iwase-machi, as they sympathized with the idea of Mr. Masuda to recreate the town. One of the first artisans was Mr. Taizo Yasuda, a glass artisan. The long history of glass art in Toyama was started to produce medical bottles. With such a long history, Toyama City Institute of Glass Art was established 25 years ago. Mr. Yasuda was one of the first students there. Currently, he works actively as one of the leaders in the glass art field in Japan. Being fascinated with Venetian glass, he is good at using delicate techniques including lace patterns. Being attracted by his splendid sense and techniques, Mr. Masuda invited him to Iwase-machi. Mr. Yasuda's workshop is in the corner of the warehouses of the residence of the Mori family, a rich prospering merchant of the Meiji period. Mr. Yasuda also has a gallery in a building that was used by a Kaisen donya (wholesaler in port). The delicate patterns and shades of his works go extremely well with modern [Toyama Gastronomy]. The plates shown in the photo above are used at [Cave Yunoki] to show a seating position to the guests.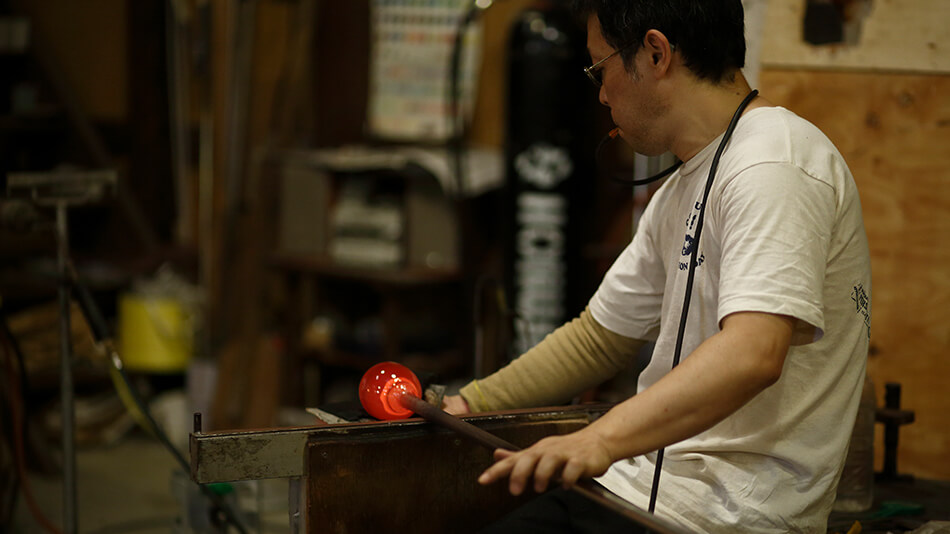 Artisans who have gathered to Iwase-machi (2): Mr. Gaku Shakunaga devotes himself in creating one of a kind tableware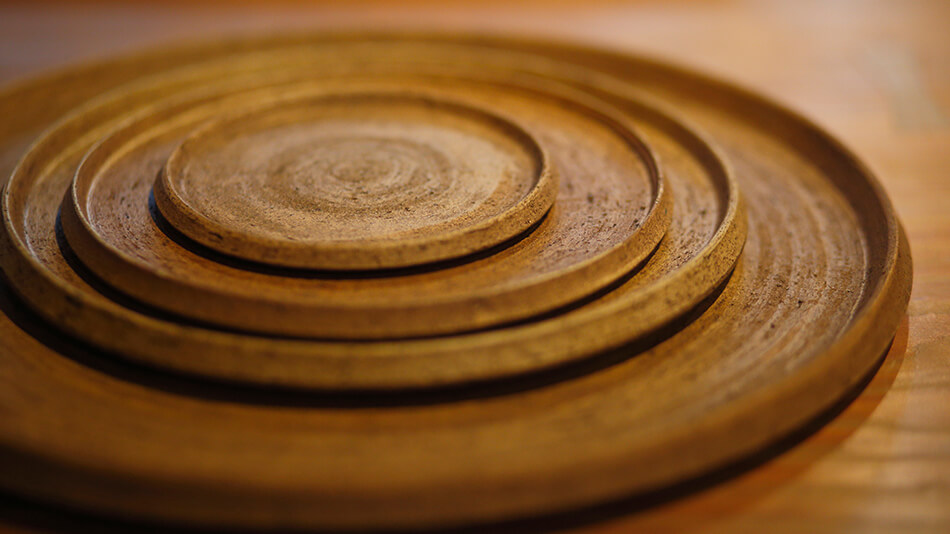 The second artisan is Mr. Gaku Shakunaga, a potter. His tableware used at [Levo], the restaurant introduced in the first half, gathered attention and took the world by storm. Though his family has run a pottery in the outskirt of Tateyama from generation to generation, he was fascinated by three-dimensional shapes, exceeding the frame of the family business, and studied at the sculpture department of Tokyo University of the Arts. In his university days, however, he realized the charms of soils, and went back to his hometown to start creating potteries there, with an ambition to add a new page to the history of pottery that had already been completed 400 years ago. Mr. Masuda invited him to Iwase-machi, where he established a one of a kind style with a rough atmosphere reminiscent of growth rings, leather-like texture, etc. after seeking for totally new textures and atmospheres without copying anyone. [I like cooking and eating. I think it is very important to create truly splendid tableware.] His way of thinking is similar to the philosophy of Mr. Masuda; [knowing delicious foods is important to brew delicious sake]. Now many chefs visit his gallery in Iwase-machi to order their original tableware from him. It is exactly what Mr. Masuda dreamed, to dispatch cultures from Iwase-machi.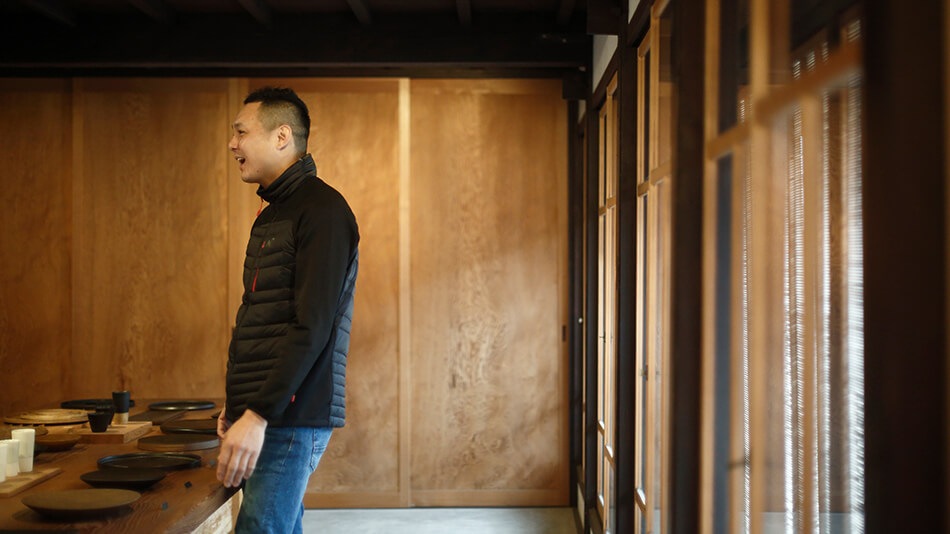 Many artisans currently create their works in Iwase-machi, including Mr. Yasuda, the glass artisan introduced above, Mr. Shakunaga, and other lacquer artisans, sculptors, etc. Now many chefs visit their galleries in Iwase-machi to order their original tableware. It is exactly what Mr. Masuda dreamed, to dispatch cultures from Iwase-machi.