Appearance of restaurant
Nearest stations
JR Yamanote Line - Mejiro Station

Tokyo Metro Yurakucho Line - Edogawabashi Station
Main Bar Le Marquis
メインバー 「ル・マーキー」
Cuisine

Dining Bar,Dining bar
Average price

5,000 JPY
Open

6:00 pm - 12:00 am (last order )

Closed

none
Address (for taxi driver )

東京都文京区関口2-10-8 ホテル椿山荘東京 2F

map
Phone Number
English services

Unknown.
Credit cards accepted

American Express / Diners Club / MasterCard / Visa
Features

Smoking allowed

*Please add a special request for inquiries regarding smoking/non-smoking.
Other restaurants in Gokoku-ji, Tokyo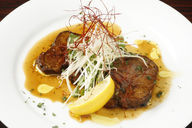 Ikebukuro, Tokyo

Dining Bar,Dining bar / Gyutan (beef tongue) / Italian / General
Articles of Ikebukuro
Learn more about the local culinary scene to get ready for your Japan trip.
Here are the articles to introduce the best restaurants in Ikebukuro.
+ View more
- Close