Fukui
Mountains, sea, and clean streams.
Perfect combination of rich nature and ease of living.
More restaurants
Fukui Area Map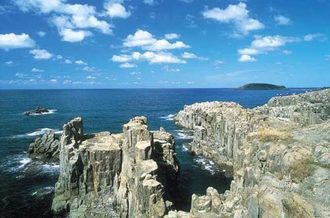 Fukui is known for its rich nature represented by the green mountains and clear streams. The prefecture is always ranked high in many liveability researches. It is facing the Sea of Japan but the climate is relatively warm and the amount of snowfall is not heavy, making it easier to live. Among a variety of marine products caught in the Sea of Japan, the Echizen-gani crab is the most famous local specialty. It is not widely known, but most of the fossils discovered in Japan are found in Katsuyama city in Toyama, and the area has become known as the "country of dinosaurs." You can also enjoy many other attractive sightseeing spots including a sheer cliff of Tojinbo and a national treasure Eiei-ji temple.
Access from major landmarks
Kansai Airport, Fukui station
From Kansai Airport to Shin-Osaka station
Forty-eight minutes (via JR limited express Haruka)
From Shin-Osaka station to Fukui station
One hundred thirteen minutes (via JR limited express Thunderbird)
Attractions in Fukui