Shimokitazawa
A town of theater, music, old-clothes, and taverns,
generating an atmosphere of unique culture.
More restaurants
Area Map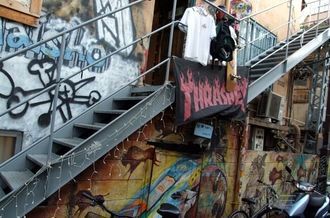 Shimokitazawa used to be widely known as a town of young competing theater companies, but recently it's becoming more well-known as a town of sundries and old-clothes, attracting fashion savvy young people. The town is always lively with full of young people who look for originality, knowing they can obtain stylish old-clothes with affordable price starting from less than 1,000 JPY. However, in the twilight, Shimokitazawa turns to be a town of music, theater, and taverns. Small live music clubs are filled with singing voice, comfortable coffeehouses and bars near small theaters and in a maze of intriguing, narrow streets invite you with their glowing lights. Shimokitazawa presents you a precious time with live music and booze.
Address
Shimokitazawa station
2-20-1, Shimokitazawa, Setagaya-ku, Tokyo
Access from major landmarks
From Tokyo station to Shinjuku station
・Fifteen minutes (via JR Chuo Line Rapid)
From Shinjuku station to Shimokitazawa station
・seven minutes (via Odakyu Line express train)
Attractions near Shimokitazawa
Whether it will be your fist visit to Japan or you're already an experienced connossieur, our guide to things to see and places to go in Japan will cover all what you might need to know.
Destinations
Articles of Shimokitazawa
Learn more about the local culinary scene to get ready for your Japan trip.
Here are the articles to introduce the best restaurants in Shimokitazawa.
+ View more
- Close