Naruko Hot Spring Village
The home of hot springs with 1,000 years of history, a joy of hot spring hopping.
Area Map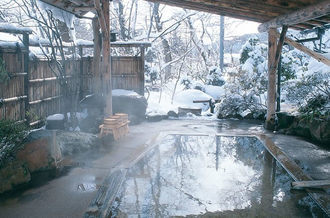 Naruko Hot Spring Village consists of five hot springs; Naruko, Higashi Naruko, Kawatabi, Nakayamadaira, and Onikobe hot springs. You can try nine hot spring types at here in Naruko, out of totally eleven existing types in Japan. Therefore you should take advantage of the opportunity and visit as many hot springs as possible -- a hot spring ticket is available. Naruko is also famous for Kokeshi dolls, traditional wooden dolls, and you can see the manufacturing process or experience Kokeshi-making at workshops. Please stop at a kokeshi workshop between hot springs hopping.
Address
Naruko Onsen Station
2-2, yumoto, Naruko Onsen, Osaki-shi, Miyagi
Access from major landmarks
Sendai station - Naruko Onsen station
From Sendai station to Furukawa Station
Thirty minutes (via JR Shinkansen Yamabiko)
From Furukawa Station to Naruko Onsen station
Sixty-four minutes (via JR rikuuto Line)