Himeji Castle
The world-class white castle boasting its beauty
with cherry blossoms in the spring and red leaves in the fall.
More restaurants
Area Map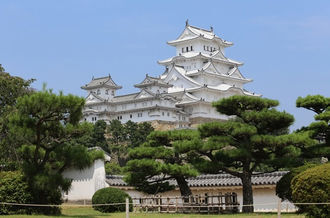 In 1993, the castle was registered as the first World Heritage in Japan. It is one of the most famous existing castles and widely recognized in the world. With its bright white plaster walls, it is also called "Hakuro-jo (white egret castle)." With its unique and unparalleled history of experiencing no war/no fire for 400 years, every buildings including the donjon, turrets and gates are in a very good state of preservation, making it an invaluable cultural heritage and conveying the original elegant feature in the past to the present time. In March, 2015, the preservation/repairing construction work was completed and reopened for public. With a variety of tour routes provided now, you can choose the best route that meets your needs to experience the reborn castle. The Japanese-style garden "Kouko-en" that give you a beautiful scenery with Himeji Castle as the background is popular, too. In the cherry blossoms and red leaves seasons, the night view of the castle lit brightly by floodlighting is breathtakingly beautiful.
Address
68, Honmachi, Himeji-shi, Hyogo
Access from major landmarks
Sannomiya Station to Himeji station
・From Sannomiya Station to Himeji station
・Forty minutes (via JR Tokaido Main Line new rapid train)
・Exit Himeji station, Twenty minutes walk
Articles near Himeji Castle
Learn more about the local culinary scene to get ready for your Japan trip.
Here are the articles to introduce the best restaurants near Himeji Castle.
+ View more
- Close