Okunoin
A sanctuary where Kukai trained hundreds of years ago.
More restaurants
Area Map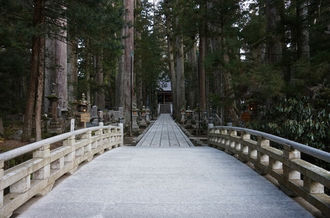 Okunoin, literally the inner sanctuary, is located in the valley between Mt. Tenziku and Mt. Mani, which are part of 8 peaks of Mt. Koya (Koyasan), It is one of the holiest sites in the Koyasan faith and Kukai, a.k.a. Kobo Daishi, is believed to be there for the ongoing training even now. Pilgrimage usually started from Ichi-no hasi, the first bridge, 2km east from The Danjo Garan, other holy site, through to The Gobyo, Kobo-Daishi's shrine. There are more than 200,000 stone monuments including cenotaphs and gravestones of the historic icons such as Takeda Shingen and Oda Nobunaga. Ancient cryptomeria trees up to 1,000 years old are lining the path that exude spiritual atmosphere. Visitors are not allowed to eat, smoke or chat during the pilgrimage. They just put themselves in a solemn air.
Address
Okunoin
550, Koyasan, Koya-cho, Ito-gun, Wakayama
Access from major landmarks
Wakayama Station - Koyasan Station
From Wakayama Station to Hashimoto Station
One hour minutes (via JR Wakayama Line)
From Hashimoto Station to Gokurakubashi Station
Forty minutes (via Nankai Koya Line express)
From Gokurakubashi Station to Koyasan Station
Five minutes (via Nankai Koyasan Cable)

Attractions near Okunoin
Whether it will be your fist visit to Japan or you're already an experienced connossieur, our guide to things to see and places to go in Japan will cover all what you might need to know.
Landmarks