When people talk about Fukuoka ramen, connoisseurs immediately understand that they are actually referring to Hakata, a Fukuoka city ward. A typical bowl of Hakata ramen starts with the soup broth, comprised of gelatinous stock made with bones from every part of the pig, creating a rich, bold flavor and distinctive, meaty aroma. The thin, straight noodles are served at a firm al dente due to their shorter cooking time, and as people in old Hakata could attest, one helping is never enough!

As ramen is so ubiquitous in Fukuoka, with a shop on nearly every corner, how do you distinguish between the average and the extraordinary? Here are 5 shops that rise above the fray, each rightfully considered the best ramen in Fukuoka.


Hakata Ikkousha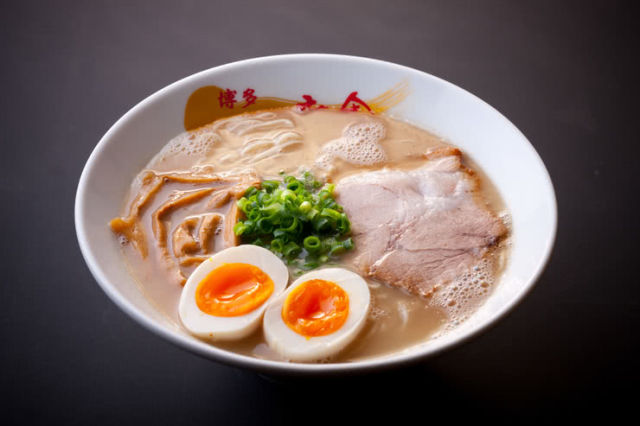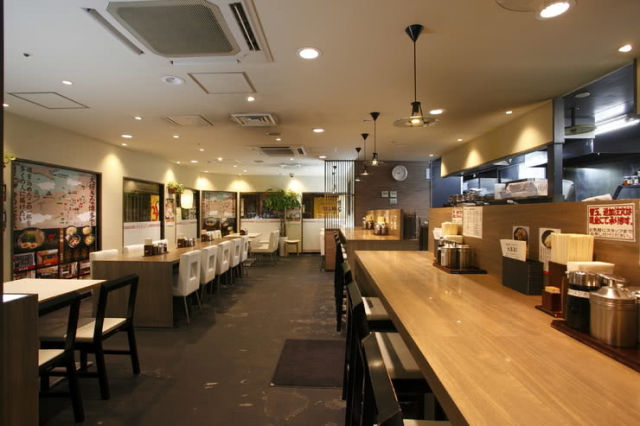 Ikkousha is one of the most successful Hakata ramen chains in Fukuoka, thanks to its chef Kosuke Yoshimura, who pioneered a new kind of tonkotsu ramen that captures traditional flavors without being greasy. Kyushu pork bones are first parboiled to eliminate any gamey taste or odor; then both bones and soup alike are changed frequently to regulate the flavor. This process extracts a rich essence from the bones without the usual fattiness. Yoshimura puts an extreme level of care and attention into every element of his ramen. Even the water level of the broth is adjusted each day based on factors like the day's temperature and humidity. The most distinctive feature of the ramen here is the microfoam bubbles of rendered pork fat that add richness and sweetness to the soup without weighing it down.
Dinner:
900 JPY /
Lunch:
900 JPY
Hakata Chuka Soba Marugen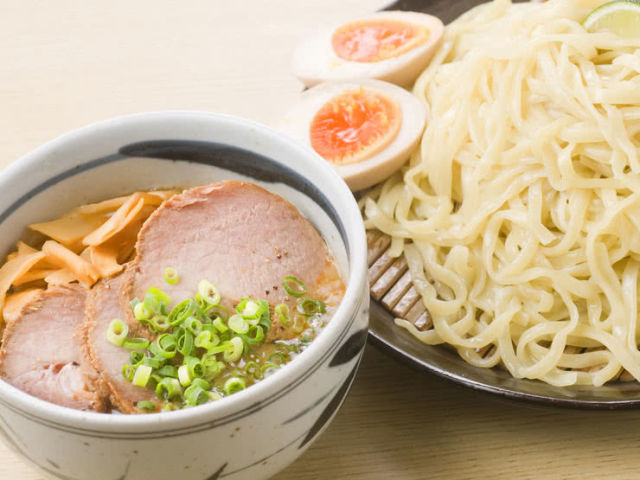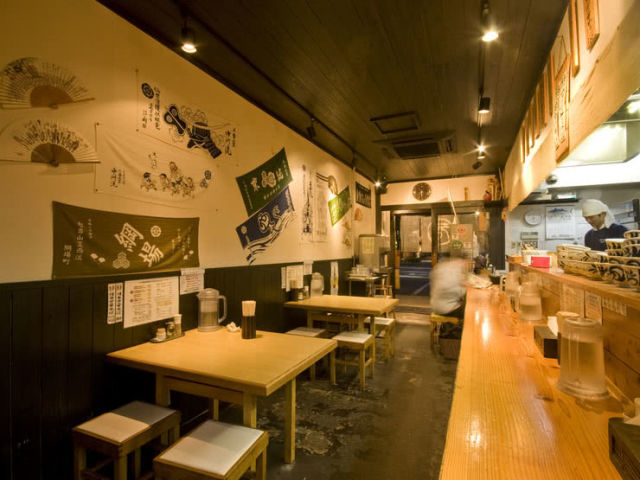 At Hakata Chuka Soba Marugen, you'll find a truly original fusion of traditional Japanese seafood broth and tonkotsu pork bone broth. The blending of two soups creates a striking contrast between the delicate flavor of the seafood soup and the rich savory tonkatsu broth. This non-traditional approach to Hakata ramen may be due to Chef Yoshitaka Suzuki's training in western and Italian restaurants—Suzuki is a Fukuoka native who left Kyushu until a fateful bowl of ramen inspired him to return home and open his own Hakata-style ramen shop. Come experience his dedication to the craft, and leave with a full stomach.
Dinner:
700 JPY /
Lunch:
700 JPY
Read More
Hakata Issou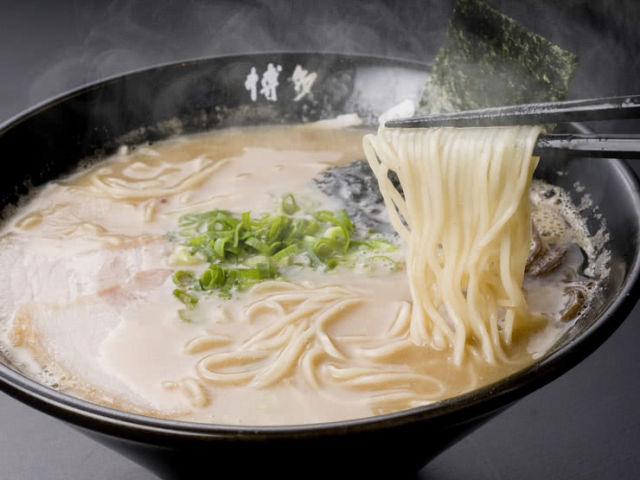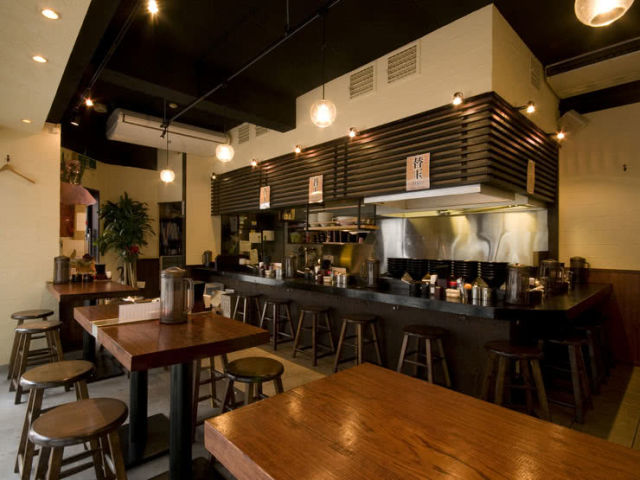 Hakata Issou is a family affair run by Chef Masahito Yamada and his younger brother. As reflected in their motto "Our soup has an impact, without being too rich," balance is key to maintaining the subtle flavor of their soup. Continuously transferring the broth between three large stock pots eventually results in perfect regulation of all the ingredients among them, creating a tasty nirvana that seems effortless despite the painstaking process involved. Aside from using fresh produce from the Kyushu area, including soy sauce brewed locally in Fukuoka and spring onions from nearby Itoshima, Hakata Issou's exquisite Fukuoka ramen broth includes pork bones from domestic Japanese pork, miso, and even sake, paired with their own original
hiramen
(buckwheat) noodles.
Dinner:
800 JPY /
Lunch:
650 JPY
Hakata Issou Nakasu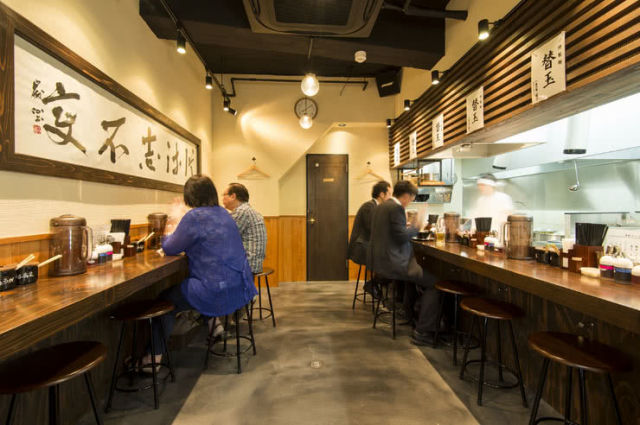 The second Yamada family venture, opened in May of 2015, is also well worth your time and attention. The Nakasu location carries on the Yamada tradition of using only domestic pork bones in a rich, multi-layered soup, again featuring their trademark hiramen noodles.
Dinner:
 800 /
Lunch:
800
Sumiyoshi Ramen Taiko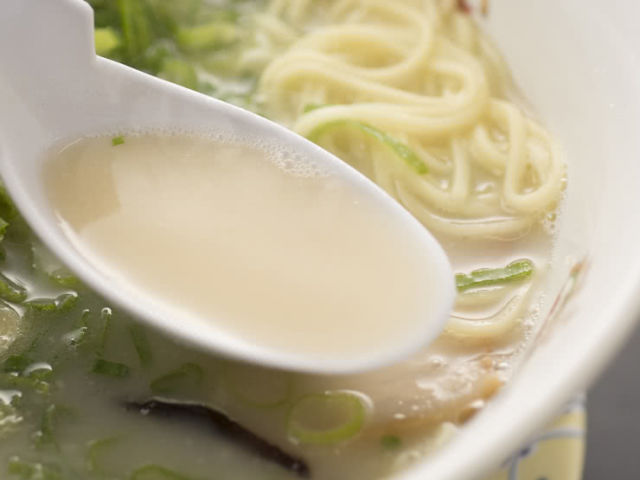 Sumiyoshi Ramen Taiko prides itself on the freshness of its ingredients, culled largely through the efforts of second-generation chef Yoshinori Hiraoka, who sources his ingredients from local farms with which he has long-standing relationships. The specialty here is the
negi yama
ramen (Mountain of Scallions ramen), a tonkotsu ramen piled high with freshly harvested scallions that provide a flavorful counterpoint to the tender slices of char siu. The broth has a milky appearance and light creamy taste that, due to the refreshing bite of the scallions, is not at all fatty. The long, straight noodles are a bit thicker than regulation Hakata ramen noodles, thus allowing for more of the scallions to cling to the noodles as you eat.
Dinner:
800 JPY /
Lunch:
800 JPY
Fukuoka Ramen: A Brief History of the Craft
Fukuoka prefecture, located on the northern tip of Kyushu, is probably best known as one of Japan's "Big Three" ramen centers. Fukuoka faces the ocean on three of its shores, and it's this seaside atmosphere that gave birth Fukuoka ramen, which as was mentioned above is actually Hakata ramen. In the bustling seaside merchant town of old Hakata, life moved at a brisk pace and people wanted their ramen fast. Hakata ramen shops began to boil pork bones at a high temperature to make their soups quickly and slimmed down their noodles for a faster cook time. These two elements became the literal backbone of Hakata's renowned tonkotsu, or pork bone, ramen today.
For the Best Cuisine in Fukuoka
Of course, discovering the best ramen in Fukuoka is only the beginning of your journey—there are other epicurean mainstays in Fukuoka that may also put your taste buds in a delicious bind.Whether you're visiting from overseas or living in Japan, Savor Japan is the place to be if you're a passionate gourmand looking for high-quality restaurants featuring dedicated chefs who are passionate about their trade. After browsing the news, reviews and more about this burgeoning culinary gem of the east, you may even feel compelled to taste the goodness for yourself.
Disclaimer: All information is accurate at time of publication.
Publish-date: Aug 09 2017 Update-date: Aug 06 2019