From Nagano to Tokyo—Dishes Expressing Japan with "Less is More" Philosophy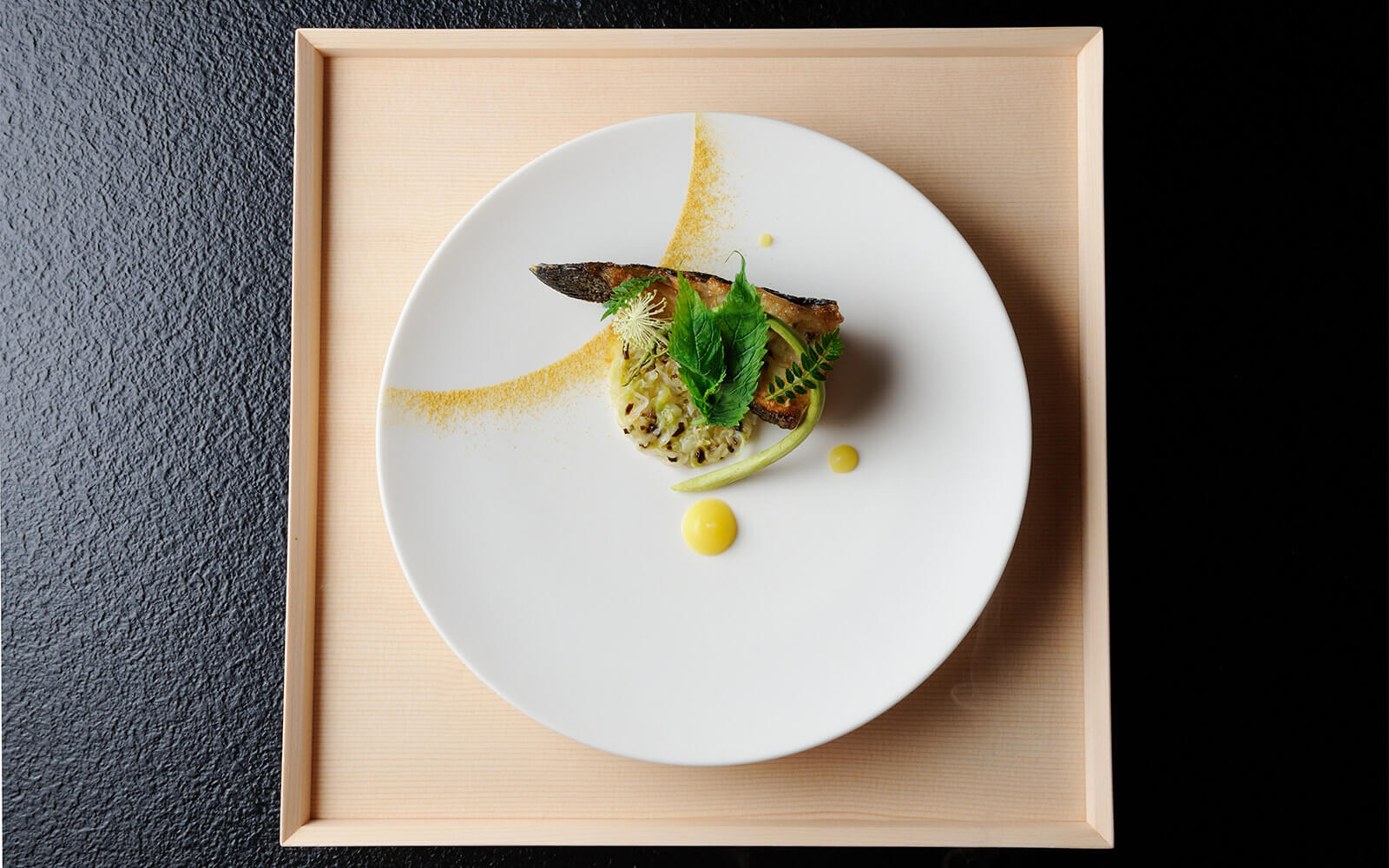 ––When you were transferred to HOSHINOYATokyo from Bleston Court Yukawatan in Karuizawa (Nagano Prefecture), what concept did you have in mind for the dishes?
To be honest, I was unable to decide the concept. The theme expanded exponentially from 'Shinshu' to 'Japan.' "What is uniquely Japanese?" was the question I asked myself every day. I tried pondering this during my daily visits to Tsukiji and Ota markets in Tokyo, but the vast options available perplexed me even more. With so many tantalizing alternatives available from all over the world, I could not find what was truly necessary for my dishes. I felt contradictory in present Japan. Instead of using Italian vegetables, I was interested in using traditional Japanese vegetables. However, procuring and obtaining them were quite difficult. I was tormented in the beginning by the fact that I could not envision a menu.
––Everything being readily available due to advanced distribution seems like it would be an advantage of Tokyo, but you perceived it as a disadvantage.
In Karuizawa, I was aspiring to do what cannot be done in Tokyo. Thus, I came up with the idea of "water gibier," utilizing the natural bounty located in the mountains around Shinshu, where the pure water springs can be found. This is one example of limiting oneself into using only wonderful ingredients that have existed since ancient Japan. From that point forward, I decided to be more selective with the vast amount of available Japanese ingredients. Therefore, I limited myself to only use the ingredients that are truly Japanese. Japan is a treasure trove of great ingredients. However, natural and authentic ingredients are so scarce. With that in mind, I developed the fundamental concept of NIPPON Cuisine—preparing dishes with only native Japanese ingredients.
–– Is that a resistance toward a world that is seemingly full of ingredients?
Partly, yes. Shortly after the opening, I chose ingredients that seemed to represent Japan—such as wagyu beef. However, even that is artificial as the cows are carefully bred to be succulent. I started to feel intimacy towards ingredients that are blessings of Mother Nature. Presumably, our origin dates back to the Jomon Period. Authentic Japanese ingredients are what have existed from back then—the use of only fish and wild grasses. Regarding these two, natural ingredients can be procured. A restaurant in Tokyo that prepares dishes purely with fresh fish and vegetables/wild grasses by reliable producers instead of the market—I thought this would make an interesting restaurant. Since then (interview conducted in 2017), the meals consist of mainly wild grasses and wild fish.
French Cuisine that Can Only Be Made by a Japanese Chef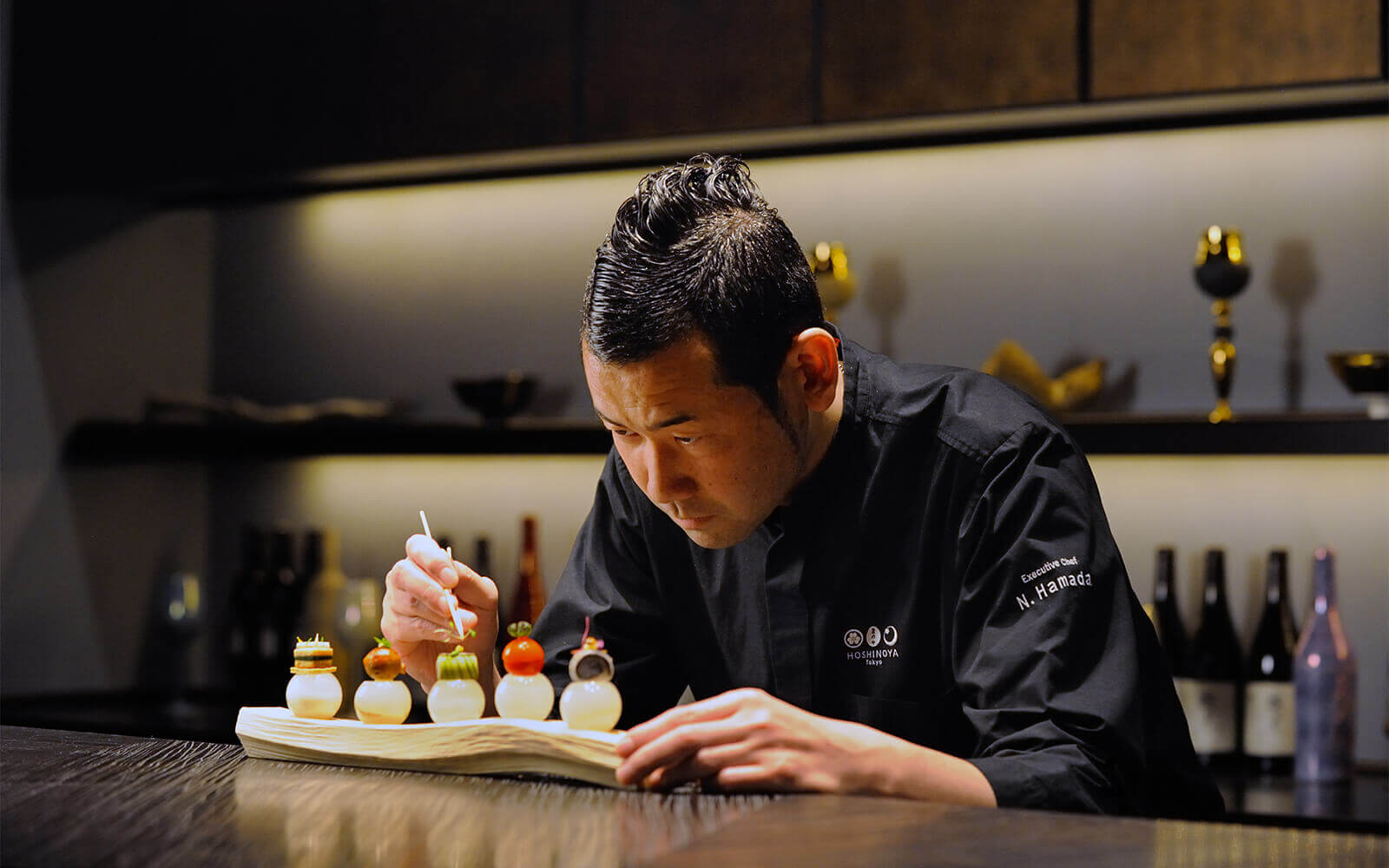 ––Only natural ingredients such as fish and wild grasses—it seems you made rather a difficult decision.
When you think about it, those are truly native Japanese ingredients together with wild gibier. And some gibier are depending on the season. In Bleston Court Yukawatan, only river fish were used for the course meals. However, great river fish can only be caught in rural areas, and Tokyo cannot compare to that. Therefore, I decided to use fish specifically caught in the ocean. I told Mr. Maeda from the reputable Sasue Maeda Fish Store in Yaizu, Shizuoka Prefecture that I am creating dishes only with fish, and he encouraged me to pursue this route. Since there already are restaurants, such as sushi shops that succeeded only using fish, I made my mind to pursue courses within the limitation of fish. Applying a constraint will narrow your focus, allowing contemplation of the cooking process, culinary technique and sauce to proceed to the deepest level. As contemplation deepens, the dishes become more sophisticated. Even though it was only a beginning, my vision broadened more and more.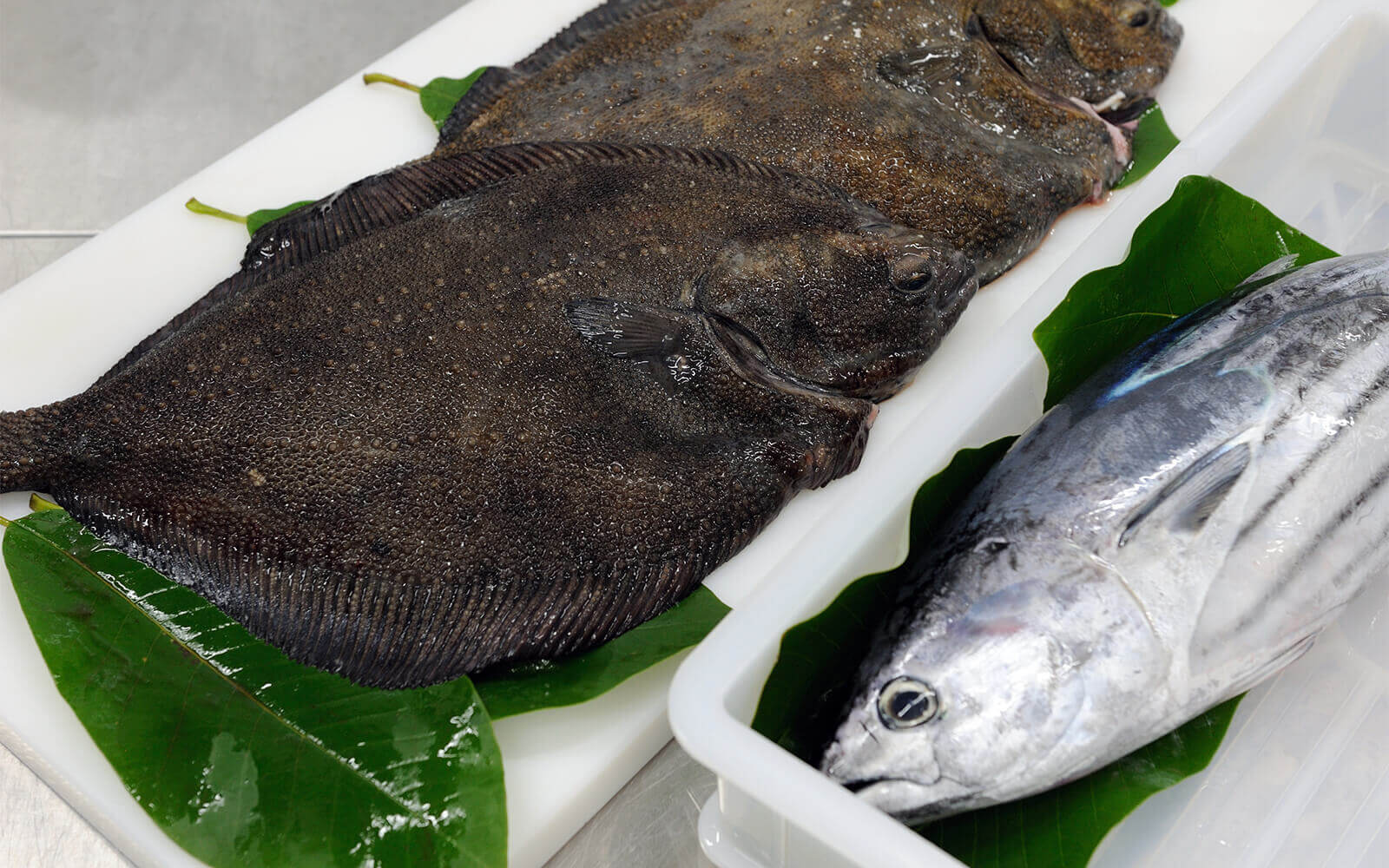 ––It seems that your dishes have changed a little bit since your days in Bleston Court Yukawatan. Dishes such as Bonito Marinated in Shuto (Fermented bonito entrails), have a distinctly Japanese air about them.
I do not think in terms of genre of the cuisine. Shuto (酒盗) is akin to sauce made from the entrails. In Europe, people usually eat and make sauces out of meat entrails, but not from fish. However, Japanese people make it from fish, right? Shuto is a sauce made from fermented bonito entrails—in my mind this sauce is not Japanese cuisine, but "NIPPON Cuisine (a term advocated by the chef)," which is an extension of French cuisine. [Bonito Boudin Noir] is a boudin noir of bonito fish meat infused with pork blood. I made the dish boudin, since my image of bonito is "blood of the ocean."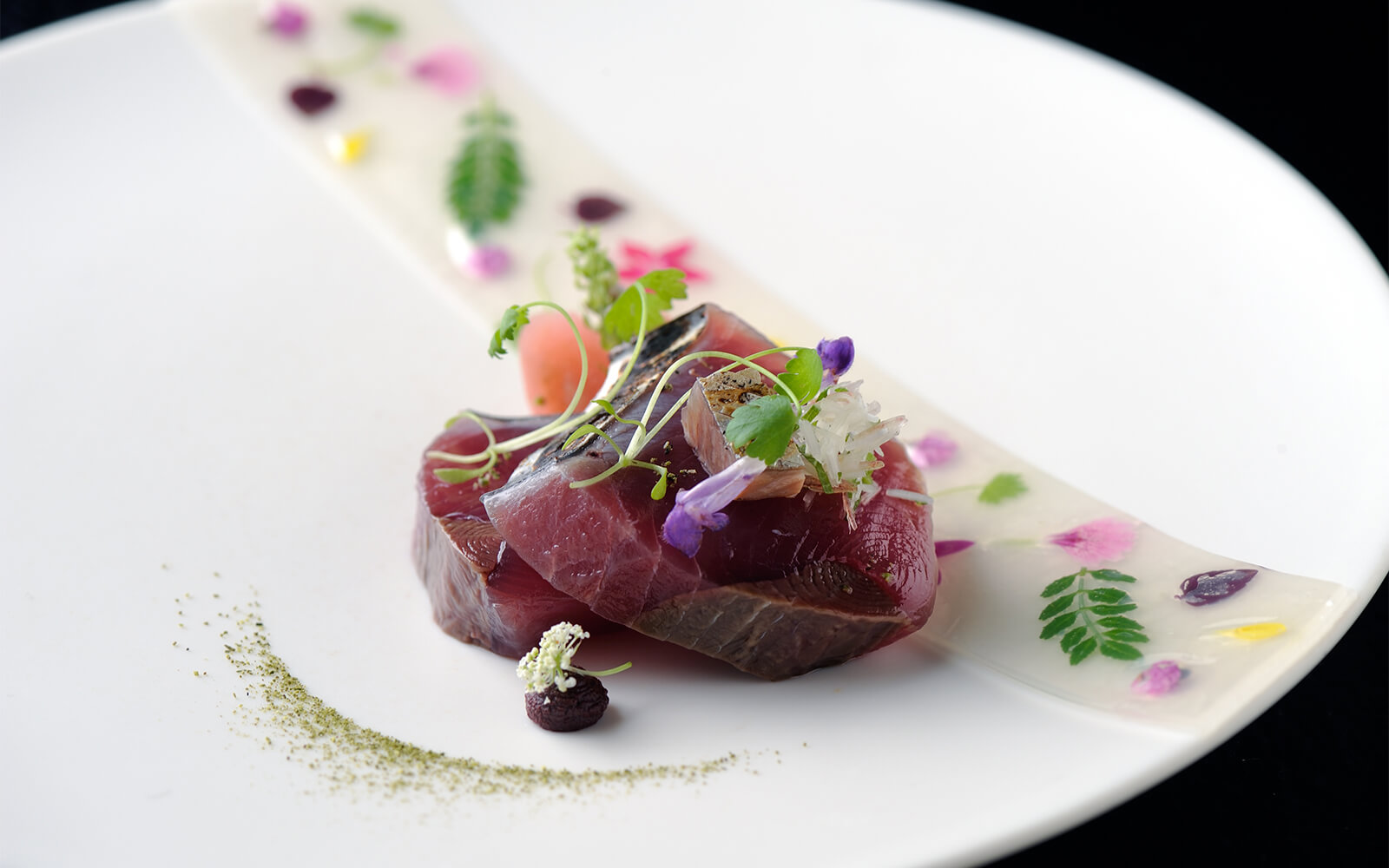 Furthermore, I incorporate unique food culture of Japan into my dishes. The Six Stones (pronounced 'ishi' in Japanese) at Bleston Court Yukawatan is now called "*Five Intention (also pronounced 'ishi')." While the concept serving amuse-bouche as a mini-course individually remains the same, ancient Japanese food culture of "Five Flavors (sour, sweet, bitter, salty, and umami)" is expressed.

*In the English menu, it is named "Five Flavors of Delight"
––Shark-skin flounder is used for the main course. This is an unusual fish to be used for cooking.
My hometown is a port town in Tottori Prefecture, where fish is delicious. I grew up eating wild fish which are often compared to the so-called 'high-class' fish. Nevertheless, this type of fish are expensive and thus overfished, whereas the 'low-grade fish' with no given value are thrown back. Here, I felt a contradiction with the present-day conception of food. My mission was to shed light on these lesser-known fish varieties and add value by using them. The flounder used in the main course is truly delicious with abundant collagen. After arranging meuniere, Japanese bird cherry Bearnaise sauce and wild vine sprout are added, and the scent is created with yuzu citrus steam.
Enriching the Value of What Should Be Left Behind in Japan for Future Generations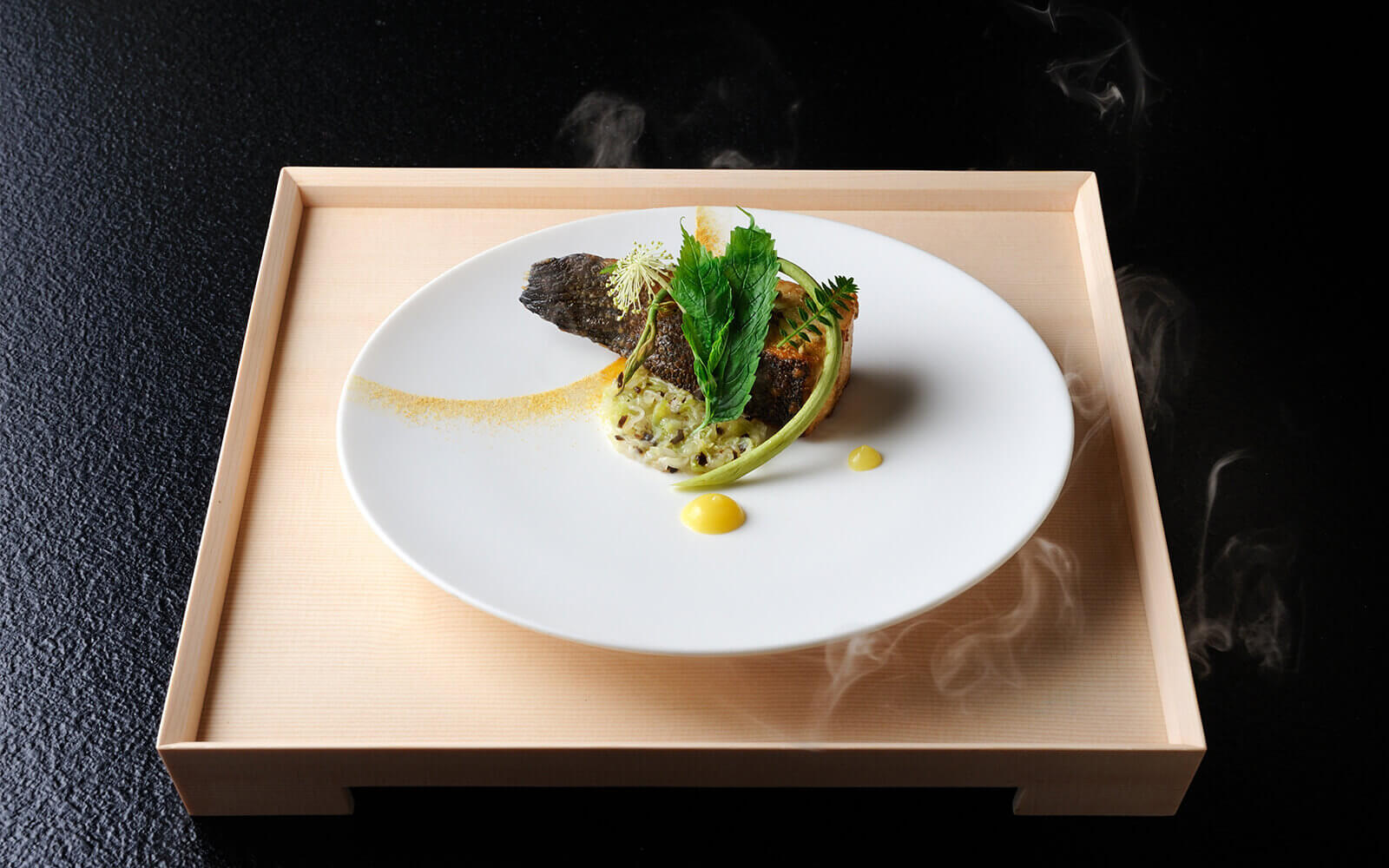 ––I was quite impressed by the presentation of steam resembling Urashima's casket from the old tale as I removed the lid. Is each plate made to match the meals?
This presentation of the box was used for Bocuse d'Or International Gastronomic Competition where I won the first place in the fish plate category. The arrangement was made by Hinoki Kogei, a furniture shop I had known for a long time. Applying their expertise was a huge success as pure plain wood plates are world-renowned products of Japan. It is a technique that Japan should be proud of because it is truly unique. I would like our foreign guests to try and copy their use. The concept of HOSHINOYATokyo is a "ryokan (traditional Japanese-style hotel) in a tower," and I am very conscious of it. The potter Ryota Aoki—a friend of mine since the Bleston Court Yukawatan days—has also contributed to the formulation of the concept of this restaurant. Since the restaurant is situated underground, he made several ceramics with a texture that seems as if it arose from the ground.
––What kind of a chef would you like to become in the future?
Looking to the future decades and centuries with a broader perspective, I must think of my position—not from the criteria of what tastes good or bad, but on what is in front of me. Vegetables that are unique to Japan are gradually being eradicated with issues such as problems with the seeds and the shrinking pool of farming successors. We have to use those kinds of ingredients and preserve their existence willingly—I am consistently conscious of that. As a chef, I would like to create dishes that will linger on in this world. In the past, people used to communicate through food. However, today, such expression is gone. I would like to communicate through dishes as our ancestors did, and create dishes that will remain relevant.