"White Pork Cutlet" Invented During Tough Unpopular Days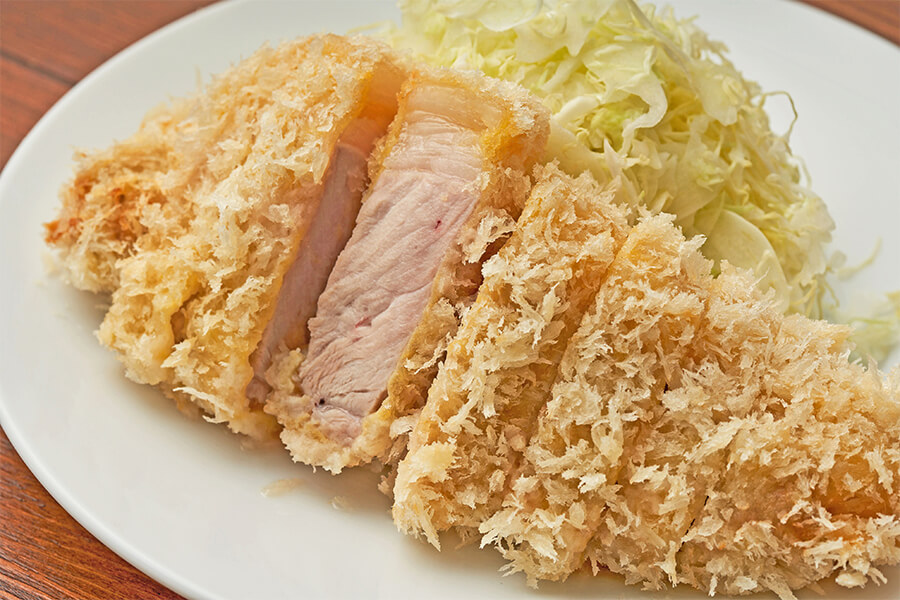 ―Chef Mitani, what was your initial motivation for starting Narikura, a renowned Tonkatsu restaurant that every Tonkatsu-connoisseur acknowledges?
Actually, I was first employed at a department store company after graduating from college. Never had I imagined myself starting a Tonkatsu restaurant. However, working in a department store involved a lot of interaction with others ―often over drinks ―and I couldn't cope with that since I can't drink much. Discussing this issue with my father, I was introduced to a Tonkatsu restaurant named "Enraku" owned by my uncle, and decided to work there. Eleven years on, I have learned the fundamentals of Tonkatsu at this restaurant.
―After training, did you establish your restaurant right away?
Though I quit Enraku to become independent, the property that I had chosen was not available after all. Changing the plan, I figured I might as well cultivate myself at other restaurants. From then on, I worked at a Tonkatsu chain restaurant for two months and a kushiage (deep-fried skewers) restaurant for a year, to learn about a deep-fried cuisine that will attract customers who want great pairing with their alcohol .Then, at a kappo (traditional Japanese cuisine) restaurant that I worked for approximately a year, I learned about the different ways to use panko breadcrumbs, as well as how to interact with customers sitting at the counter seats. Finally, I worked at a Tonkatsu restaurant for half a year, and it was the first time I deep-fried Tonkatsu again in two years (laugh) .
―Then you established your restaurant Narikura in Takadanobaba, Tokyo, in August, 2018. Tell me about the story behind your success!
Honestly at first, customers scarcely came, so I had many slow days. I pondered whether I should lower the quality of meat or use cheaper breadcrumb or lard to mitigate the costs for ingredients that will be disposed. However, I couldn't. If I do that, the Tonkatsu that I make would be far from my concept of deliciousness. If I ever decide to change ingredients, it would be for the better, not cheaper. In this way, I honed what I thought was scrumptious.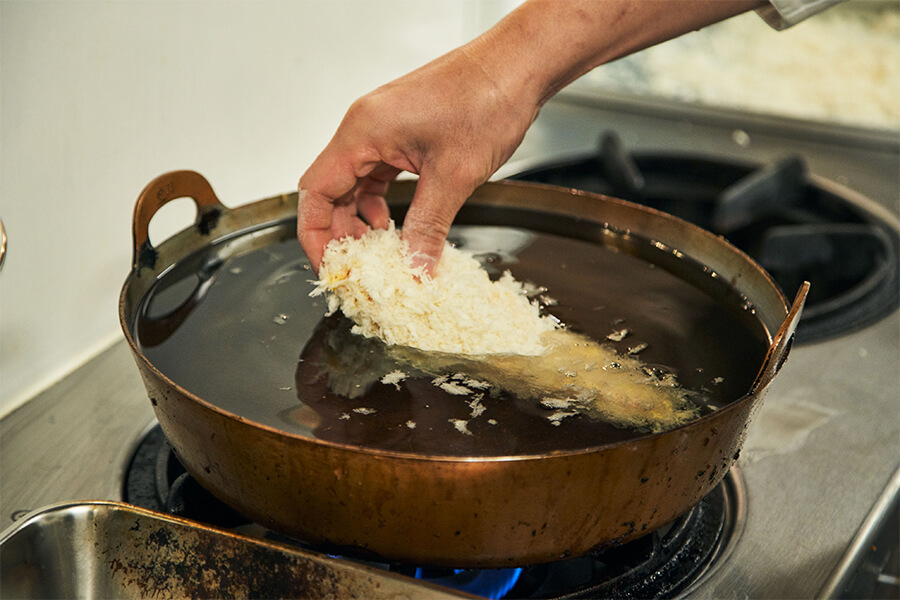 ―So you've consistently refined the quality diligently, even when there were no customers?
I had time, as the seats were open. I repeatedly experimented with Tonkatsu, changing the heat little by little. I found out that when the temperature is suddenly set higher, the heat only enters the outside of the meat, leaving the inside pink. In other words, the heat inflicted on the meat is not equal. To execute an equal amount of heat, I fried Tonkatsu with low temperature for a longer time instead of with high temperature. Having to do that countless times, I established a style where I fry the Tonkatsu slowly for a longer time. It took approximately three years until the Tonkatsu became what it is today, and it became popular in the fourth and fifth year.
―After achieving huge success, you've temporarily closed Narikura after nine years from its opening because of relocation. I remember a long line in the final days.
Thankfully, yes. On days before relocation, I distributed numbered tickets to keep the line shorter, only to find a line of people waiting for the ticket. At 7 p.m., I told this customer who was waiting in line, "Sorry, we're closed for today," and he answered "I'm waiting for tomorrow's ticket." I was surprised by the ardent fans who would wait from the night before.
―So popular! What is the secret for your success?
Even though the restaurant was empty in the beginning, I persisted in pursuing my ideal taste. Perhaps the customers gradually accepted my Tonkatsu. I feel grateful for that.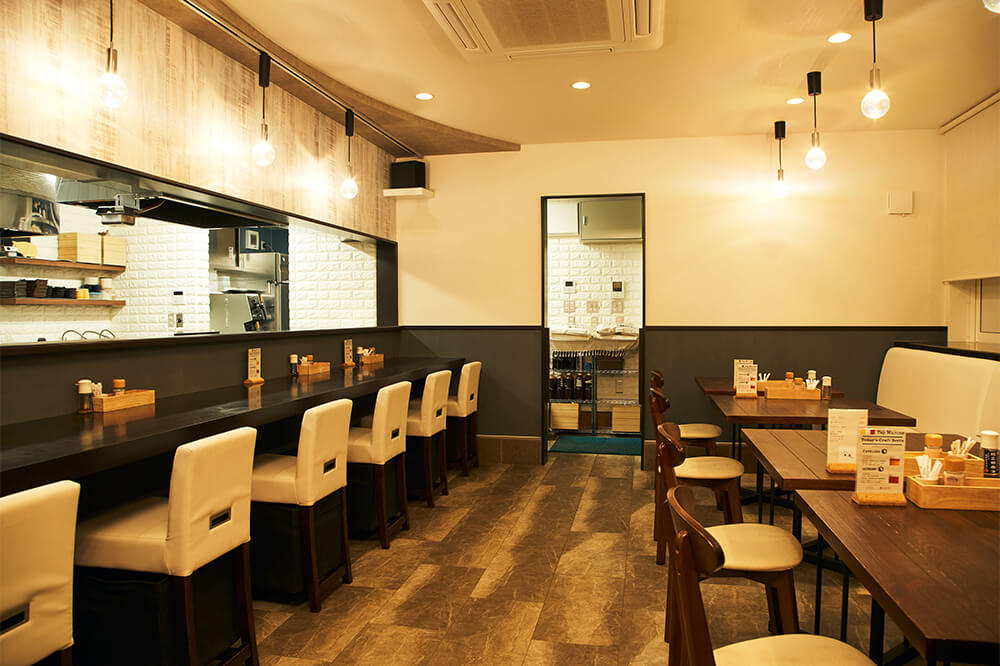 The Key of Tonkatsu: the Batter
―The frying is done at a temperature so low you cannot hear it from the table. Why do you fry it in such a way?
There are various reasons for that. First, when you heat the oil in a high temperature, it gets oxidized. To prevent that, the heat must be raised gradually. Second―as I mentioned earlier―to equally heat the meat. Moreover, heating it slowly prevents the moisture from getting away, preserving its succulency. When you fry at a high temperature, the breadcrumbs and the egg membrane covering the meat are distanced, and the juiciness gets away. Finally, to prevent the panko breadcrumbs from absorbing oil. Frying at about 110°C for twenty minutes―letting out the moisture slowly―that's when you get a light batter without absorbing oil.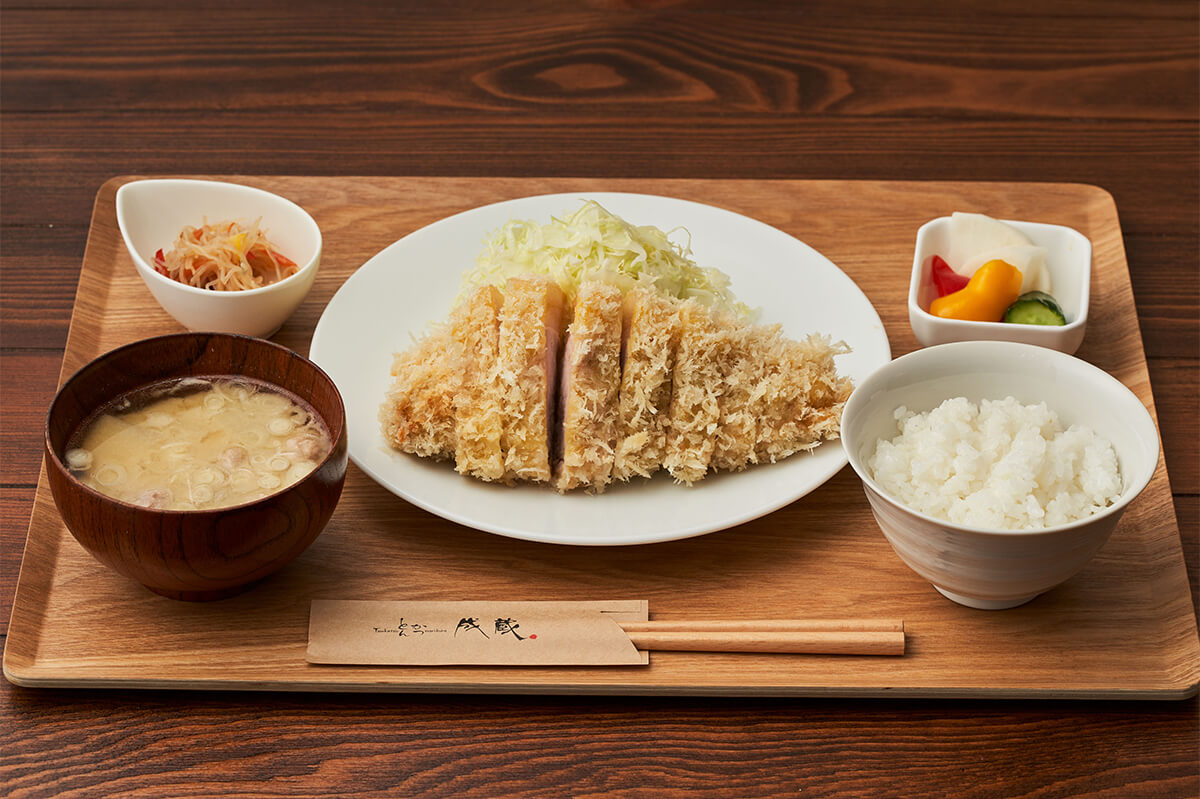 ―That's why the batter melted so softly in my mouth!
When you eat Tonkatsu, the first thing your tongue recognizes is the coating batter. For this reason, what I value the most is the texture of the coatings. Originally, I used different panko breadcrumbs, but in Takadanobaba days, a sales person from "Kyoei Food" came. First, I turned down his offer, but when I used it for a try, it's sharpness and crispness standed out. It was my ideal texture: the batter fades away instantly as it enters the mouth, and the flavor of meat comes instantly. Kyoei Food arranges the roughness of panko breadcrumbs just for Narikura.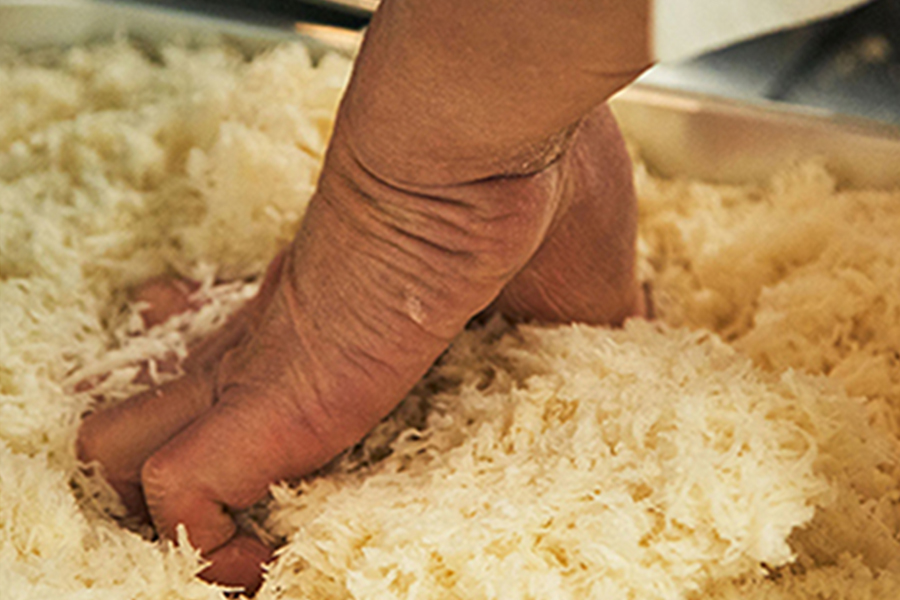 ―Secret of Narikura's gentleness in Tonkatsu lies in its coating. Still, why is it so crispy even though it is fried in oil for a long time at low temperature?
Actually, there's also a secret in the lard. The special oil from mesentery instead of backfat is used. The characteristic of this oil is that it is hard to heat and takes a long time to cool. While it is hot, the oil is smooth. Thus, it can be fried lightly, because it deflects the oil greatly. After oil is deflected, remaining heat will enter the meat gently. It's like making roast beef.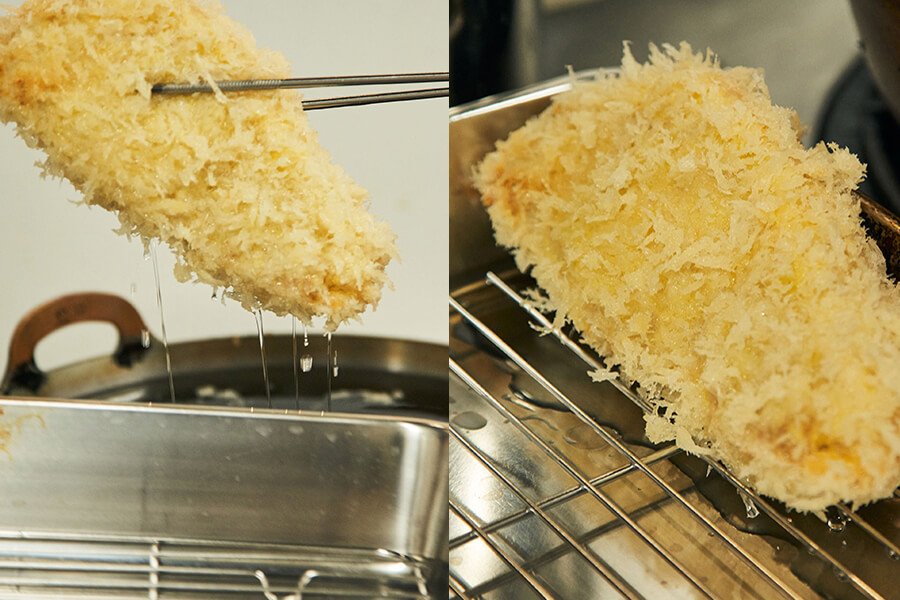 ―Chicken Breast Strip Cutlet is also popular. How can it be so fluffy and juicy?
I employ the method that I learned from Yakitori (Chicken Skewer) restaurant. By marinating the chicken in a salted water and letting it suck the moisture, drying is prevented with strong taste remaining. Even when eaten without seasoning, it has a taste, and can be bitten without much force.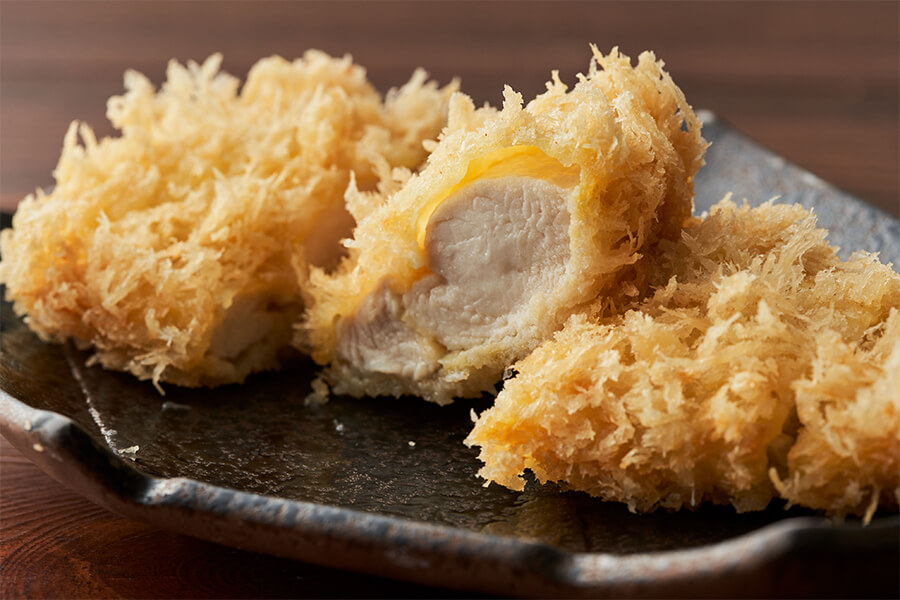 Wishing to Spread the Deliciousness of Tonkatsu to the World
―Why did you move your restaurant to Minami-Azabu, letting go of the popular Takadanobaba branch?
I figured I can entrust the Takadanobaba branch to my apprentice who was wishing to become independent. As long as the restaurant holds up the name of Narikura, which is from my name―Mitani Seizo (the Chinese Character 成蔵 can be read both Narikura and Seizo)―all the frying had to be done by me, and during the open hours, I wouldn't let my apprentice do it. He was planning to start his own restaurant in his hometown Gunma Prefecture in March, 2021, so I wanted to create a place where he can prepare for that. Right now, the Takadanobaba store is succeeded to him with the same restaurant name written in Hiragana. In addition, I wanted to manage a restaurant in a calmer place.
―So it was for your apprentice. Did you have any concerns over moving your restaurant from central Tokyo to a place rather unpopulated, letting go of the renowned restaurant in Takadanobaba?
I was very concerned. The first morning in Minami-Asagaya, I couldn't see any lines from the window. An hour before the opening, still no lines. I regretted that I did not advertise the reopening at all (laughs). Today, we have a total of 48 customers each for day and night, but after three days since reopening, there were only about twenty customers each.
―Less than half of the customers you have today! No wonder you were concerned.
However, on the first Saturday, there were about fifty customers. I was relieved by the gatherings, but the restaurant is now located in a residential area. I gave out the tickets for waiting, but it didn't work well. Thus, I only accept booked customers right now.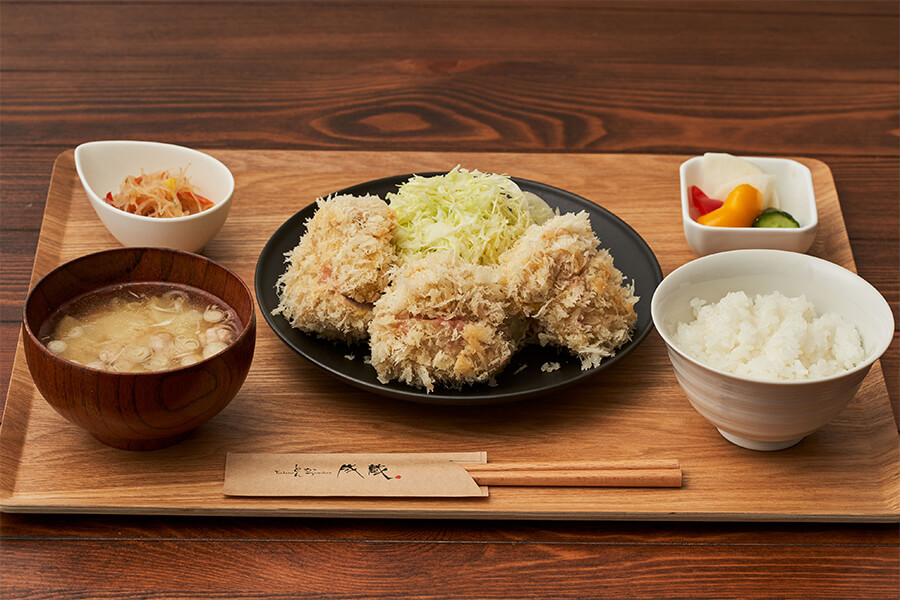 ―Several months have passed since the reopening, and I believe you are more relaxed than the beginning. What would you like to do in the future?
Though I don't have a clear goal, more and more foreign customers are visiting my restaurant. That made me anticipate opening a restaurant overseas, because Tonkatsu is yet to be known among those outside of Japan. There are customers from abroad who remove all the coatings and those who don't eat the fatty parts even though they ordered Loin Tonkatsu. I would love to spread the recognition of Tonkatsu through my restaurant in the future.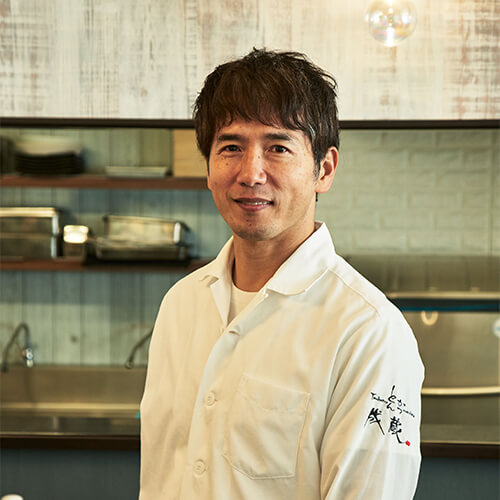 Learn More
Previous Interviews