Hiroshima
Two world heritage sites and a wide range of local foods
More restaurants
Hiroshima Area Map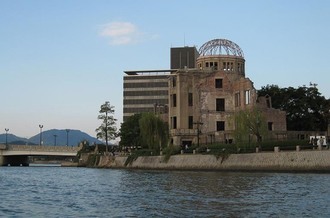 Japan is the only country that was the victim of nuclear bombing. Hiroshima is an icon of the tragic event with the A-Bomb Dome registered as a world cultural heritage site, telling the world of the importance of peace. If you are in Hiroshima, we suggest to visit the site and pray. A-Bomb Dome is not the sole symbol of Hiroshima. Another symbol of Hiroshima, also a world cultural heritage site, is Itsukushima Shrine which is famous for the red shrine gateway in the middle of the sea. There are also many attractive places to visit such as the breathtakingly beautiful Taishakukyo Ravine and Kintaikyo Bridge, one of the Japan's three most beautiful bridges. You can also enjoy a wide range of good local foods.
Access from major landmarks
Kansai International Airport - Hiroshima station
From Kansai Airport to Shin-Osaka station
Forty-eight minutes (via JR limited express Haruka)
From Shin-Osaka station to Hiroshima station
Ninety-four minutes (via JR Shinkansen Nozomi)
Attractions in Hiroshima
Whether it will be your first visit to Hiroshima or you're already an experienced connoisseur, our guide to things to see and places to go in Hiroshima will cover all what you might need to know.
Destinations
Landmarks