Danjo Garan
The center of Koyasan faith, representing the world of mandala
with important towers and halls.
More restaurants
Area Map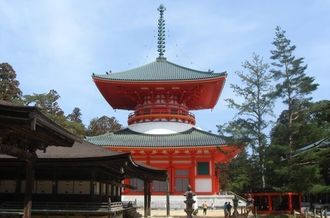 This is the first place where Kukai, a.k.a. Kobo Daishi, the founder of Shingon esoteric Buddhism, began developing the Koyasan area into a temple precinct. Kobo Daishi set Danjo Garan as the center of Pagodas and halls based on the idea of Shingon esoteric Buddhism. When you trail the course, you first go through the central gate, the Kondo is at the center of your vision and go counter-clock wise, Rokkyokeizoh, Sannohto, Western stupa, Great pagoda, Aizendo, Hudoudo are placed. This formation of the pagodas and halls represents the world of mandala, the Buddhist visual schema of the enlighten mind preached by Dainichi Buddha, Cosmic Buddha. It is the holiest site of the faith equivalent with Okunoin, the Inner sanctuary. We recommend you to trail the pilgrimage course according to the designated order.
Address
Danjo Garan
132, Koyasan, Koya-cho, Ito-gun, Wakayama
Access from major landmarks
Wakayama Station - Koyasan Station
From Wakayama Station to Hashimoto Station
One hour minutes (via JR Wakayama Line)
From Hashimoto Station to Gokurakubashi Station
Forty minutes (via Nankai Koya Line express)
From Gokurakubashi Station to Koyasan Station
Five minutes (via Nankai Koyasan Cable)

Attractions near Danjo Garan
Whether it will be your fist visit to Japan or you're already an experienced connossieur, our guide to things to see and places to go in Japan will cover all what you might need to know.
Landmarks