The Tokugawa Mausoleum
A beautifully decorated mausoleum standing in dead silence.
More restaurants
Area Map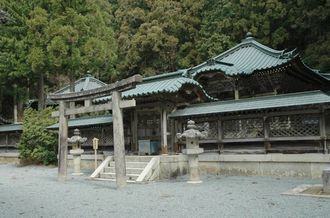 The Tokugawa Mousoleum is located in the northward from the holiest site in Koyasan, the Danjo garan and enshrined the first shogun of the Edo government, Tokugawa Ieyasu and the second shogun Hidetada . It was founded by the third shogun Iemitsu with respect to the predecessors. Ieyasu and Hidetada are in rest in halls which are designated as important cultural properties. Those halls were built for square shape with 6m on the side, and one-story by using the traditional building technique called Ichiju-hokeitsukuri. With copper-covered roofs, minutely-carved sculptures and decorated metal fittings make the halls glamorous. Chinese style cusped gables are projected from their fronts, which expressed the absolute power of the Tokugawa family then. Their imposing structures and splendid beauty are well worth visiting.
Address
The Tokugawa Mausoleum
682, Koyasan, Koya-cho, Ito-gun, Wakayama
Access from major landmarks
Wakayama Station - Koyasan Station
From Wakayama Station to Hashimoto Station
One hour minutes (via JR Wakayama Line)
From Hashimoto Station to Gokurakubashi Station
Forty minutes (via Nankai Koya Line express)
From Gokurakubashi Station to Koyasan Station
Five minutes (via Nankai Koyasan Cable)

Attractions near The Tokugawa Mausoleum
Whether it will be your fist visit to Japan or you're already an experienced connossieur, our guide to things to see and places to go in Japan will cover all what you might need to know.
Landmarks