Sendai, the capital of Miyagi prefecture, is located on the northeastern coast of Japan. The area offers some of the best scenery in Japan, with gorgeous mountains to the west, and Matsushima Bay on the Pacific Ocean to the east—one of the top three most scenic locations in the country. But home not only stunning scenery, the food of the region is also fantastic.


Although the Tohoku region was heavily impacted by the 2011 earthquake, Sendai has recovered in recent years and is once again a leading seafood-producing area of Japan. Matsushima Bay is particularly famous for its oysters, while the Sendai Central Fish Market specializes in bigeye (ahi) tuna, and the nearby Sanriku sea is teeming with local fish and seafood. There are also several delicious local varieties of rice, including sasanishiki and hitomebore, which make sushi from this region some of the best in Japan.

9 Sendai Restaurants to Sample Some of the Region's Finest Sushi
Sushidokoro Koya Kokubun-cho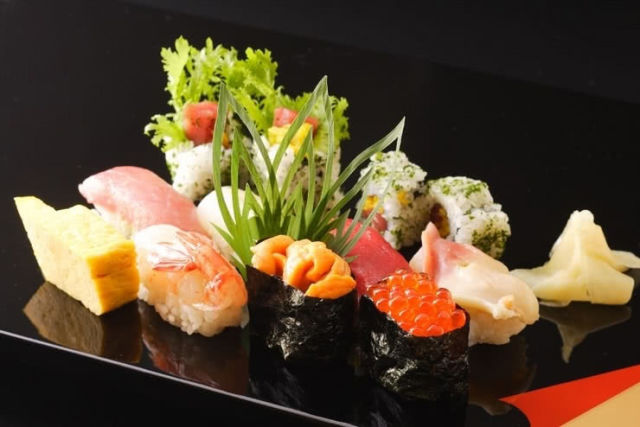 At the Kokubun-cho location of Sushidokoro Koya, enjoy unbeatable seafood fresh from the market every morning. The tuna here varies by the season, from Pacific bluefin tuna to Southern bluefin tuna and Tachi tuna from the Sanriku sea available at the beginning of fall. But whatever the variety of tuna, the chef takes great pride in choosing only the highest quality fish to offer customers. In addition to sushi and sashimi, they also offer 40-50 kinds of local sake from around the greater Tohoku area.
Dinner: 5,000 JPY
Date no Shunsai Miwatei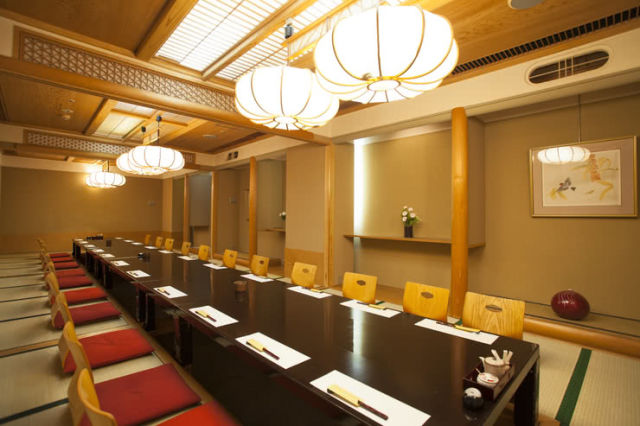 Date no Shunsai Miwatei offers a taste of local seafood and vegetables in an elegant setting. Customers can savor traditional Japanese cuisine at ease, thanks to the shop's hori-kotatsu, a type of low table with space underneath to freely stretch one's legs. Their "Master Omakase" course features a colorful and brilliant assortment of Miyagi prefecture specialities, including delectable sashimi, tempura, seasonal dishes, and roast beef tongue made with local Miyagi beef.
Dinner: 3,800 JPY / Lunch: 1,300 JPY
Kokorozukushi Inase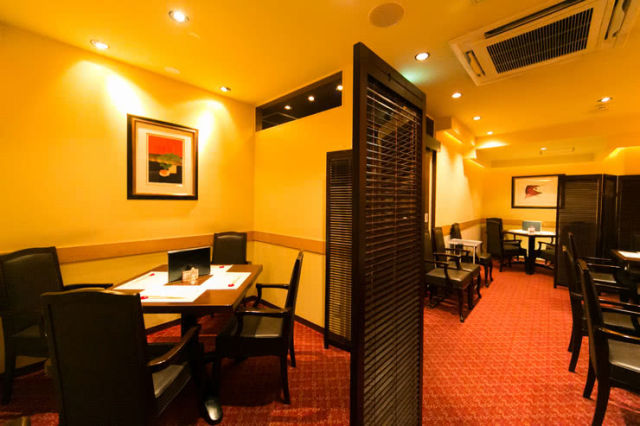 Refined service and exceptional fish set the sushi apart at Kokorozukushi Inase, where the chef's skillful technique draws out the best flavors from every ingredient. Their fish is caught in the bountiful waters of the Sanriku sea and then prepared and beautifully arranged with thoughtfulness, every plate showing off the chef's handiwork. Kokorozukushi Inase places importance not only on the food but on the atmosphere, allowing every guest to relax within the calm space of the restaurant.
Dinner: 6,000 JPY
Kosetsu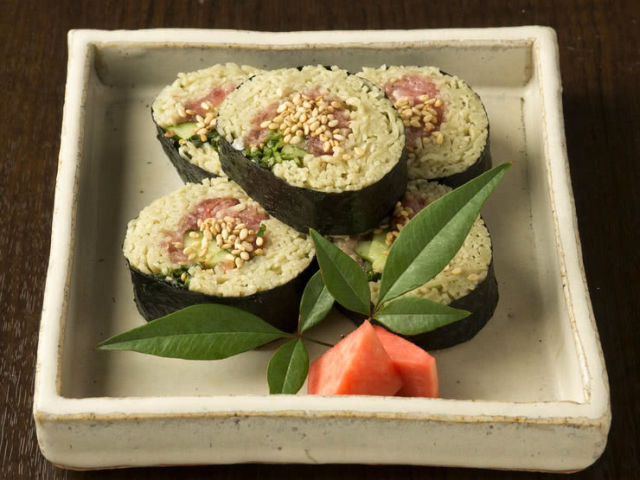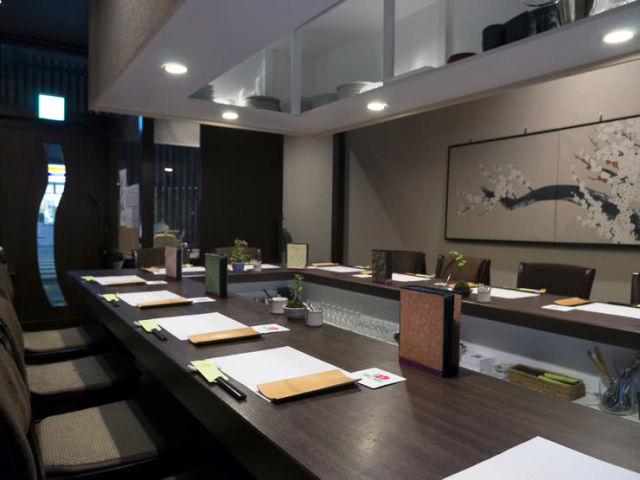 At this soba (buckwheat noodle) specialty shop Kosetsu, enjoy Miyagi area seafood with traditional Japanese soba noodles. Their original house dish "Buckwheat Noodle Sushi" is uniquely irresistible, featuring a well-matched combination of buckwheat noodles pickled in vinegar with cucumber, white sesame, and flavorful seared skipjack tuna. Kosetsu's rolled egg omelette is made with the same dashi broth as their excellent noodles, giving it an airy, fluffy texture. Enjoy it with a bit of refreshing grated daikon radish.
Dinner: 4,300 JPY / Lunch: 1,300 JPY
Seafood Sharikyu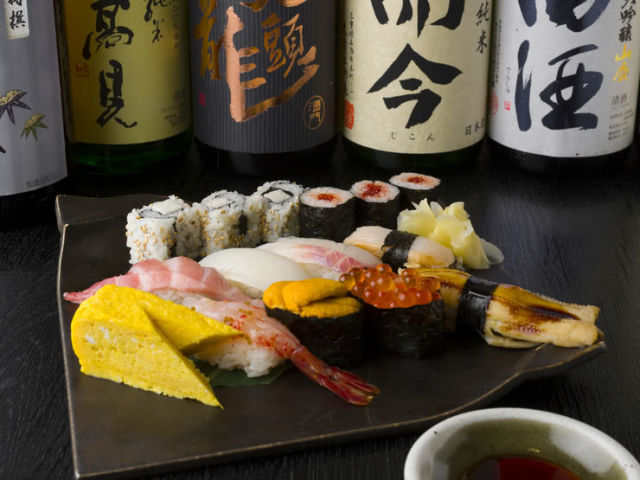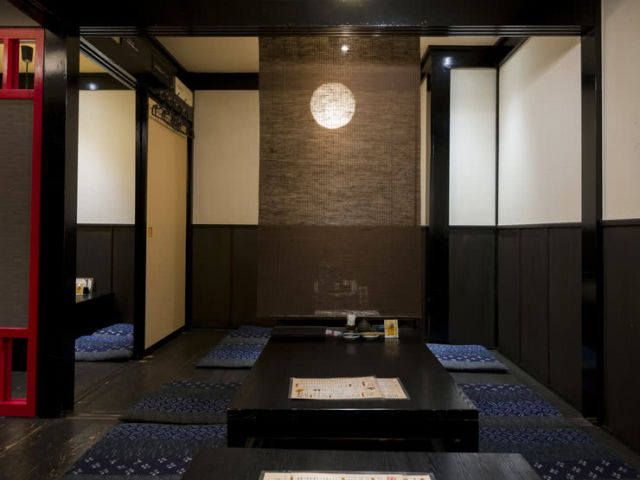 Visit Seafood Sharikyu for sushi that provides a taste of the flavors of the season. Their seafood recommendations vary depending on the catch of the day. Enjoy items such as kinka saba sashimi (sliced, raw kinka mackerel), a fresh, fatty fish with no odor, or moka-no-hoshi (sliced salmon shark heart), a delicacy of the Miyagi region. Their anko-gimo (monkfish liver) with ponzu citrus soy dressing is also highly recommended. It's made using monkfish from Ishinomaki, a large port city east of Sendai, freshly caught at the harbor each morning.
Dinner: 7,000 JPY
Takeshin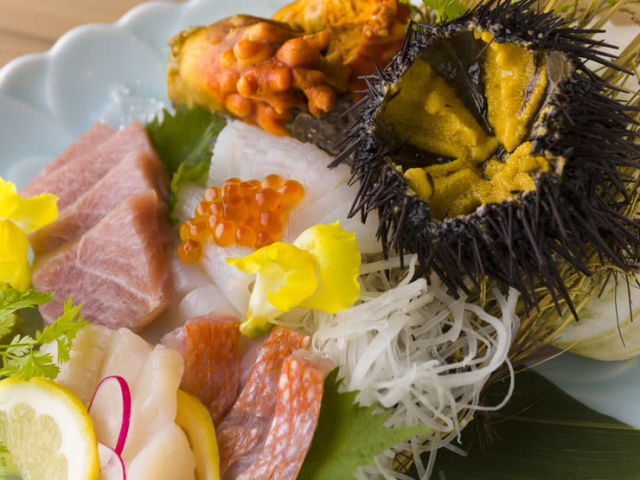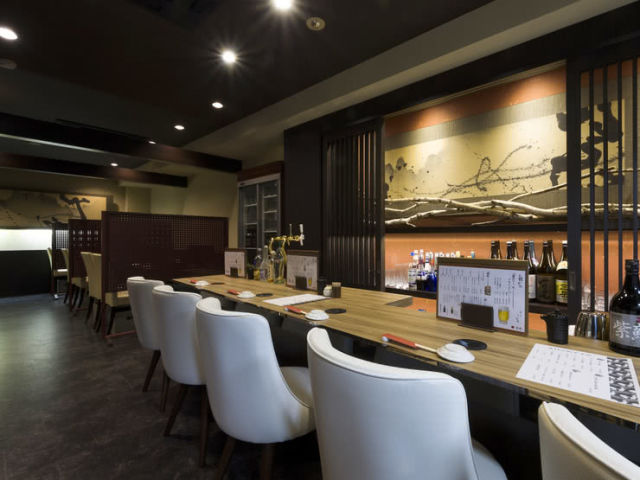 Enjoy traditional Japanese cuisine in the welcoming atmosphere of Takeshin. Their assorted sashimi plate changes daily, with the head chef personally going to the market to put together an assortment of the best and freshest fish of the day. Takeshin is also known for its clam ramen, based on specialty ramen from the Tsugaru region in northern Tohoku. It's a lightly seasoned salt-flavor ramen made with large Yamato clams harvested from Juusan Lake in Aomori Prefecture. The clam extract used to make the ramen has a flavor that is highly addictive.
Dinner: 5,000 JPY
Sohonke Yamako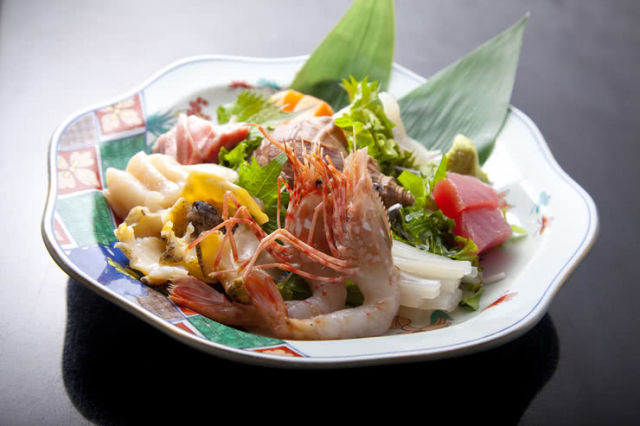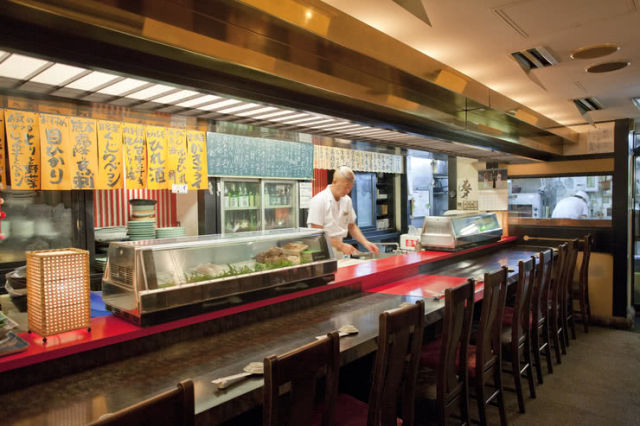 At Sohonke Yamako, the chef—a native of Hokkaido—brings the fresh flavor of seafood to life, using ingredients carefully selected based on the season and the area in which they are produced. Enjoy their signature dish, "Seafood Chawanmushi" (steamed egg custard) made with luxurious sea urchin, or try the assorted seasonal sashimi (sliced raw fish) platter for vibrant, in-season flavors. This dish uses fish freshly caught in the coastal waters of Hokkaido and nearby Ishinomaki. The food is beautifully arranged, making it a feast for the eyes.
Dinner: 6,000 JPY
Aquarium Sushi Dining Kizuna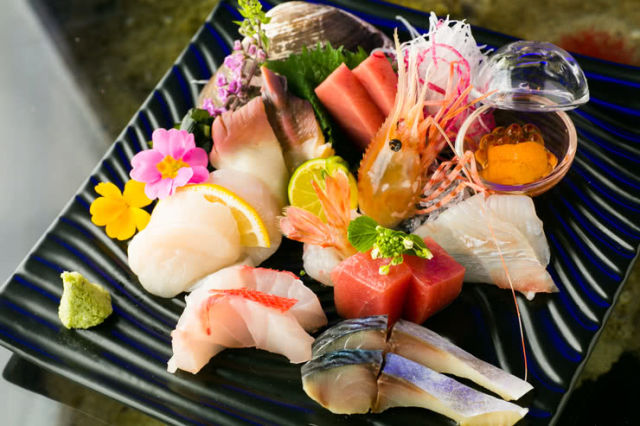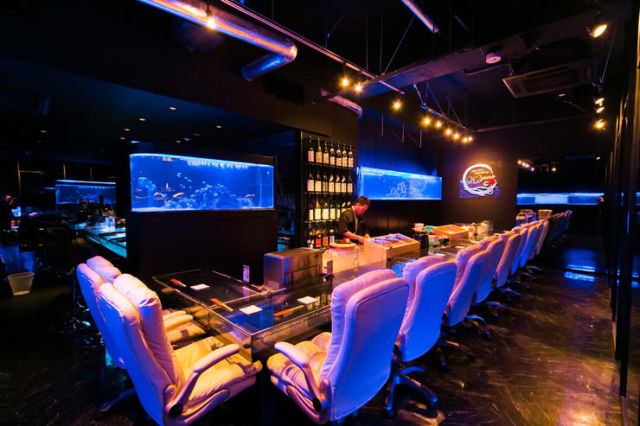 Aquarium Sushi Dining Kizuna sources local seafood products such as conger eel, flounder, and abalone fresh from Ishinomaki city and prepares them with the sushi-making expertise of more than ten years' experience. Every sushi roll is prepared with careful attention to the correct balance between the rice and the fish. Don't miss their nigiri sushi roll platter for a selection of the best natural fish and shellfish around, from the much sought after under-belly cut of bluefin tuna, to rich conger eel broiled in a slightly sweet sauce.
Dinner: 4,000 JPY / Lunch: Varies
Sushidokoro Koya Sendai Ekinaka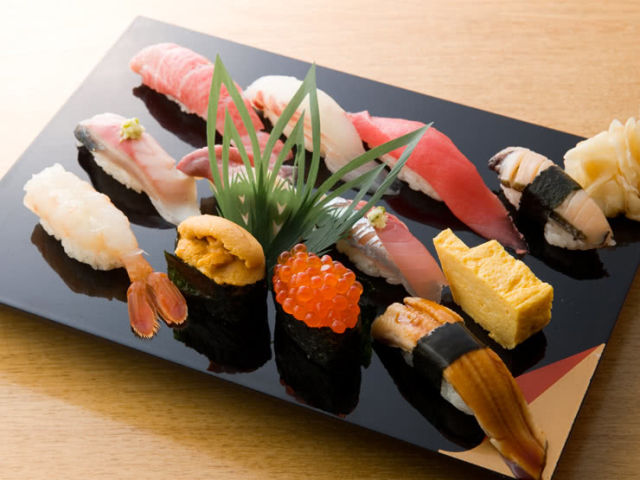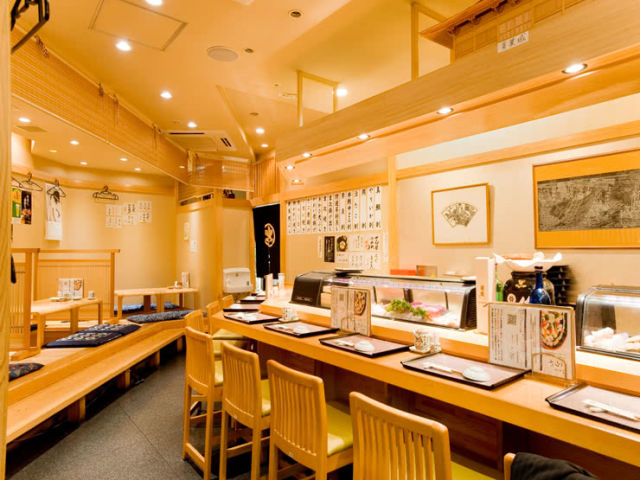 Those passing through Sendai Station--whether coming or going—should be sure to pay a visit to this branch of Sushidokoro Koya located within the station gates. Their signature dish, the "Masamune" platter, features four sushi staples along with seven seasonal offerings made with fresh local seafood. The restaurant staff visit the fish market each morning to select the most appealing seafood that pairs well with their local sakes from around Miyagi prefecture and the Tohoku area.
Dinner: 5,000 JPY / Lunch: 1,000 JPY
Allow Savor Japan to Guide You to the Finest Sendai Sushi Restaurants
Sendai is blessed with an abundance of high quality seafood from the many excellent fishing ports throughout the nearby region. This part of the Tohoku area has largely recovered from the 2011 earthquake and is eager to entice back visitors with the outstanding sushi it has to offer. For the most
extensive guide to Sendai sushi restaurants
, look no further than Savor Japan. Savor Japan—come for the news and reviews, and stay for the food.
Disclaimer: All information is accurate at time of publication.
Publish-date: Aug 09 2017 Update-date: Aug 06 2019