Heianjingu Shrine
Beautiful and magnificent shrine building that
has retained the ambience of ancient Kyoto for 1,200 years.
More restaurants
Area Map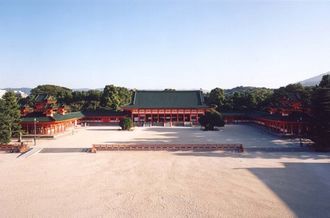 Heianjingu Shrine was built in 1895 to celebrate the 1,100th year anniversary of the transfer of the ancient capital to Heian-kyo. Kanmu and Komei emperors are enshrined here. Daigoku-den and Otenmon gate, built at the foundation, are beautiful architectures in vivid vermilion. Special and regular festivals are held, and at the annual Jidai Festival held on October 22, the parade looks like a gorgeous picture scroll. 12,000 accessories, costumes and ritual utensils are real ones, recreated by the highest level of the traditional craftsmanship, reviving the 1,000 years of the Kyoto culture. The Shin'en gardens surrounding the precinct of 30,000m2 (7.4 acres) are representative gardens of the Meiji Period. You can enjoy the weeping cherry in the spring, irises in the summer, red leaves in the fall and snowy landscape in the winter - whenever you visit the shrine, you find the beauty of the season.
Address
97 Okazakinishiten'nocho, Sakyo-ku, Kyoto
Access from major landmarks
Kyoto Station - Heianjingu Shrine
・Approx. 5 minutes from Kyoto Station to Karasumaoike Station via Karasuma Municipal Subway Line
・Approx. 5 minutes from Karasumaoike Station to Higashiyama Station via Tozai Municipal Subway
・10 minutes walk from Higashiyama Station
Attractions near Heianjingu Shrine
Whether it will be your fist visit to Japan or you're already an experienced connossieur, our guide to things to see and places to go in Japan will cover all what you might need to know.
Destinations
Landmarks
Articles near Heianjingu Shrine
Learn more about the local culinary scene to get ready for your Japan trip.
Here are the articles to introduce the best restaurants near Heianjingu Shrine.
+ View more
- Close
Videos
SAVOR JAPAN merged with Cozy Japan, a travel information site on November 28, 2017.