Appearance of restaurant
Nearest stations
Kobe Municipal Subway Seibu Line - Ikawaya Station - 2-minute walk
occhio del tifone
occhio del tifone
Cuisine

Western / French,Western / Italian,Western / Pizza / Italian,Italian/French
Average price

Dinner: 3,000 JPY / Lunch: 1,600 JPY
Open

[ Monday ~ Wednesday,Friday ~ Sunday,Holidays,Day Before Holidays] Lunch 11:00 am - (last order 2:00 pm)
[ Monday ~ Wednesday,Friday ~ Sunday,Holidays,Day Before Holidays] Dinner 5:00 pm - (last order 10:00 pm)

Closed

Thursday
Address (for taxi driver )

兵庫県神戸市西区前開南町1-7-6グランシティKOBE III

map
Phone Number
English services

Unknown.
Credit cards accepted
Features

Lunch / No smoking / Child friendly / Counter seating available / course meals
Other Western / French,Western / Italian,Western / Pizza restaurants in Nishi-ku, Hyogo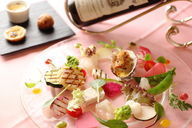 West Kobe / Miki , Hyogo

French,Italian/French / General / French / Western Sosaku (creative)
Articles of West Kobe/Miki
Learn more about the local culinary scene to get ready for your Japan trip.
Here are the articles to introduce the best restaurants in West Kobe/Miki .
+ View more
- Close