A trip to Japan is great opportunity to enjoy some high-quality Japanese beers!
The following is an introduction of the attractive features of Japanese beer, Japan's beer culture, and the proper way to enjoy beer in Japan, along with a list of establishments recommended by the popular beer manufacturer Suntory where it is possible to drink meticulously crafted premium beers.
Attractive features of, and the proper way to enjoy Japanese beer
How about enjoying
some delicious Japanese beers?
In recent years, Japanese alcoholic beverages such as sakes and whiskeys have been garnering attention around the world. Meanwhile, in addition to these, Japan also produces some outstanding beers that feature world-class quality and brewing technologies, and these are definitely not to be overlooked.
The main types of Japanese beers are pilsners and lagers, and these tend to have a rich yet refreshing flavor that is a favorite among many beer enthusiasts.
How about drinking some Japanese beers in a style that is unique to Japan?
Enjoying high-quality foam!

One distinctive characteristic of Japanese draft beers is the creaminess of their foam. For Japanese people, frothy foam is sign that a beer is of high quality. As such, in Japan, glasses and beer taps that enable the precise formation of a head of foam are especially popular. Beer heads are attractive not only because they give the beer a good texture, but also because they help prevent the beer from losing its carbonation, and thus, they ensure that each glass of beer stays refreshing down to the last drop.

Toasting with chilled mugs!

In Japan, it is common to drink beer in grand style from beer mugs that have a handle and are made of thick glass! The serving size is usually 400 to 500 ml, which is slightly less than a British pint, and enthusiastically gulping down beer that has a good kick to it is encouraged! Also, Japanese people like to drink beer that is ice cold, so in some cases even the beer glasses are chilled. Beer that has been poured into chilled mugs and is at the perfect temperature tastes amazing, and is great for a toast to start off a fun time with friends!

Pairing beer with food!

Japan is known for having outstanding cuisine, and while many beer enthusiasts may feel that "beer alone is enough," during a trip to Japan, pairing beer with Japanese cuisine, which has been registered on UNESCO's Intangible Cultural Heritage list, and other foods skillfully crafted by the people of Japan is highly recommended! Japan is surrounded by water and has many mountainous areas, so its food culture is supported by rich natural settings and varies greatly from one region to another. Thus, traveling around Japan and trying various foods that go well with beer can be a lot of fun.
Introduction of popular premium beers
Suntory's "The Premium Malt's"
– a beer that can only be made in Japan that is the go-to for experiencing a premium Japanese beer
When trying Japanese beers, the higher end "premium beers," which are made from carefully selected ingredients using meticulous brewing methods, are especially recommended. Among these, Suntory's "The Premium Malt's" is very highly recommended.

The Premium Malt's is an outstanding beer that brewers have crafted with passion based on the dream of "creating the best beer in the world." It is made from Japanese tennensui (high-quality groundwater) and carefully selected malt and hops using Suntory's expert craftsmanship, and features amazingly creamy foam and a rich flavor. It is thus a premium beer that is not to be missed.
The Premium Malt's

This is a pilsner characterized by a distinctive flowery aroma and deep rich flavor. It has a deliciousness that is captivating from start to finish.

Lager

The Premium Malt's <Kaoru> Ale

This is an ale characterized by a refreshing aroma and rich and fruity flavor. It can be considered a "Japanese ale" since it has a delicate taste that has been designed to pair well Japanese cuisine.

Ale


STOP! Under 20 Drinking
establishments that serve The Premium Malt's
100
Select Establishments

Check out these popular establishments that are meticulous about beer!
The common places in Japan for casually enjoying beer include not only restaurants, bars, and pubs, but also Japanese-style pubs called "izakaya." It is an amazing experience when establishments like these have The Premium Malt's on tap and serve it in chilled beer glasses, with this beer's distinctive foam carefully formed into perfect beer heads. During a trip to Japan, visiting various regions and exploring establishments where it is possible to enjoy delicious beer together with delicious foods that go well with beer, is highly recommended!
Search establishments by
area

Search by type of
establishment
Izakaya

"Izakaya" are Japanese-style pubs that can now be found around the world, and in Japan as well, these are still the best places to go in order to have a fun time while enjoying delicious alcoholic beverages and foods at bargain prices! While Japanese people are usually considered to be on the quiet side, they often become very talkative and jovial when drinking alcoholic beverages, and this type of opening up over drinks is expressed with the word "nominication," which is a combination of the Japanese word for "drink" (nomu) with "communication." Izakaya usually have extensive food menus, and items are served on small plates for low prices. At many izakaya, it is possible to order simply by pointing to photos on the menu, and trying a variety of foods that look like they go well with beer is highly encouraged!

Cafes & bars

There are many Japanese cafe chains, unique and stylish cafes on street corners, and other such establishments that serve their own carefully selected lineups of premium beers and craft beers. At such cafes, beer is served throughout the day, so customers can be seen enjoying beer not only during lunchtime but also in the mornings on holidays! The foods that go well with beer that are served at these establishments consist mainly of simple dishes that appeal to the Western palate, such as pastas, dry-cured hams, and salads, so if one has grown tired of Japanese cuisine, stopping by a cafe that serves beer is a nice option. Meanwhile, many bars in Japan have televisions so they are excellent places for watching sports.

Sports bar

A large variety in offering food menu is the great feature of Sports Bar in Japan. And not only you can enjoy a moment at the counter seats, but also at the spacious sofa seat relaxing while savoring the house's proud specialty foods. Plus, these restaurants are often open until very late at night to broadcast live sports games from all over the world. Let's get excited and be thrilled, watching the big screens in the Japanese Sports Bar.
Check it out!
Proper way to enjoy izakaya
Japanese people are commonly viewed as being shy, and the perfect places for doing away with this notion and showing that Japanese people are friendly and outgoing are "izakaya" Japanese-style pubs.
"Sumimasen!" when ordering, "Toriaezu nama!" for first round, and "Kanpai!" to say "Cheers!"

People in Japan love beer. As such, in Japan it is common to order a round of beers immediately upon arriving at an izakaya before even looking at the menu. Enjoying a round of delicious premium beers as quickly as possible after arriving at an izakaya is highly recommended, and this is done by saying "Sumimasen!" (Excuse me!) to a server upon arriving at one's table, followed by the common expression "Toriaezu nama!" (We'd like to start off with a round of draft beers!). Once one has loosened up a bit after having a delicious beer or two, Japanese people at neighboring tables may try to initiate a conversation! In such cases, it is good to first of all say without hesitation "Kanpai!" (Cheers!) and then to drink from one's beer mug!

The following video introduces the proper way to enjoy izakaya in Japan. Please check it out!

Making reservations online to alleviate concerns regarding whether English service is provided and whether English menus are available

The number of foreign tourists visiting Japan has been increasing, and in response to this, more and more izakaya have been preparing English translations of their menus. Even so, still only a limited number of izakaya have an English menu. In light of this situation, it is convenient to use online reservation websites. Most of the establishments posted on the online reservation website Savor Japan have menus in multiple languages and staff whose can provide service in multiple languages. As such, exploring establishments on the Savor Japan website is an excellent option for visitors who are hoping to enjoy delicious beer without having to worry about language barriers.

Are advance reservations needed for large groups?

Before and after rugby matches and other large sporting events, establishments tend to become very crowded, especially those in the vicinity of stadiums. In such situations, it tends to be a good idea to make reservations at an establishment in advance, particularly when one will be visiting together with a large group of people. Savor Japan is an especially good website for doing this since it is possible to make reservations in English!

How about drinking beer while enjoying a tour of a brewery?
There are breweries throughout Japan, so when traveling around the country, stopping by various breweries can be a fun option for beer enthusiasts.
At these factories, it is possible to learn about the manufacturing processes for premium beers and to try a variety of beers free of charge.
Please share your delicious and fun experiences on Instagram using the hashtag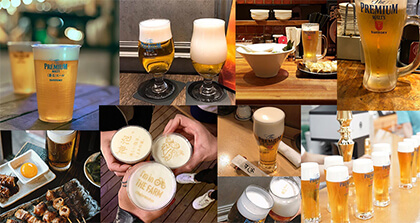 Rugby fans—don't miss these bars! For that pre- and post-match premium Japanese beer 100 Select Establishments