Akiyoshidai
The karst plateau from time immemorial.
More restaurants
Area Map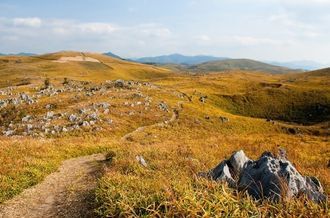 Akiyoshidai Plateau is located to the west from the center of Yamaguchi prefecture. It is one of the largest karst plateaus in Japan, measuring 17km from east to west, and 8km from north to south. The plateau is a National Park and a designated Special Natural Monument. In ancient times, Akiyoshidai was a coral reef. Since then, the karst has been shaped for more than 350 million years through development of limestone caves and depressions called dolines. Still today, many fossils like coral and clinoids are discovered, showing the history since time immemorial. At the southern foot of the plateau is the opening of one of the largest limestone caves in Japan, Akiyoshido.
Address
Akiyoshidai
Akiyoshidai Shuho-cho Mine-shi, Yamaguchi
Access from major landmarks
From Shin-yamaguchi Station to Akiyoshido
Forty-three minutes (via Bocho bus to Akiyoshido)

Articles near Akiyoshidai
Learn more about the local culinary scene to get ready for your Japan trip.
Here are the articles to introduce the best restaurants near Akiyoshidai.
+ View more
- Close