Mt. Hakkoda (Hakkodasan)
Superb view from the ropeway. Famous for the colorful foliage in fall.
More restaurants
Area Map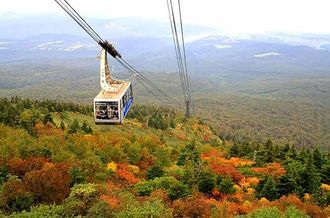 Mount Hakkoda that sits in the south of Aomori city is famous for its colorful foliage in fall, turning the whole mountain into red. The main peak is not very high (1,585m) but it is counted as one of the one hundred top mountains of Japan for its beautiful shape formed by a series of peaks. The ropeway takes you from the foot to the summit in just ten minutes -- it is highly recommended to take it because you can enjoy the magnificent view from the peak without hard climbing. Also you can enjoy a number of historic hot springs around the area including Sukayu, Sarukura, and Hakkoda hot springs where you can ease your fatigue after a hard day's sightseeing.
Address
Hakkoda ropeway station
1, Kansuizawa, Arakawa, Aomori-shi, Aomori
Access from major landmarks
From Aomori station, Hakkoda ropeway station
One hour twenty-five minutes (via JR bus, Oirase, Mizuumi)
Articles near Mt. Hakkoda (Hakkodasan)
Learn more about the local culinary scene to get ready for your Japan trip.
Here are the articles to introduce the best restaurants near Mt. Hakkoda (Hakkodasan).
+ View more
- Close