Publish-date: Dec 08 2017 Update-date: May 30 2019
Like and Share us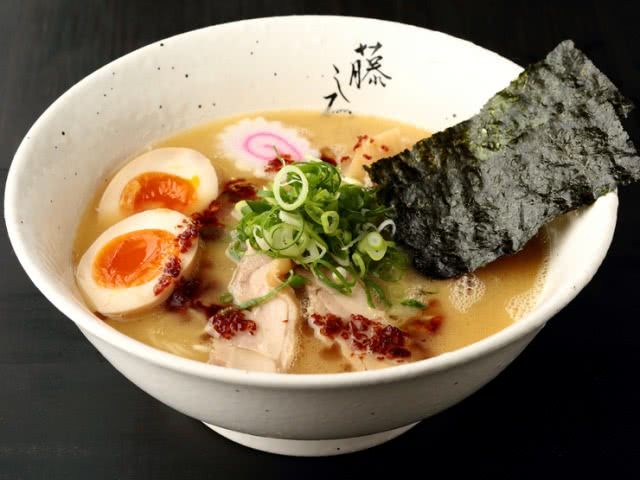 Though its origins lie in China, ramen is a noodle dish that evolved in Japan. Over the years, regional flavors were born - such as salt, miso, and soy sauce - and the dish is now considered to be a soul food dish for the Japanese. This article introduces 16 outstanding restaurants in the ramen battleground of Tokyo.
1. Fujishiro
Fujishiro is a cozy ramen restaurant with just 10 seats at the counter. It takes pride in its soup, which gets its flavors purely from the ingredients, with no artificial seasonings added. The rich soup is derived from a stock that uses a whole chicken, chicken bones, and roasted beef, with additional dashi (broth) that's made from dried young sardines and homemade flavored oil. The owner's recommended dish is the [Hojun Tori Paitan Ajitama Ramen], which has a fantastic soup that is not too light and has deep and rich umami (Japanese savory taste). It is so good that you'll want to drink it up to the last drop! The restaurant also serves tsukemen noodles that you can enjoy by dipping them into a rich sauce.
Fujishiro
2. Fukutoku
This is a restaurant where you can enjoy both ramen and Chinese food. It serves a variety of ramen, including those with soy sauce, miso, spicy, and salt flavors, but its most popular dish is the [Tokyo Shitamachi Ramen]. The soup is made with a stock of pork, chicken, vegetables, and seafood, with a homemade soy sauce added to it. The medium-thick curly noodles go well with the soup. The [Yasai Miso Ramen], with vegetables and a soup made with a miso sauce that uses a variety of miso, is also recommended. The [Daikon-oroshi de Taberu Gyoza] - juicy dumplings served with plenty of daikon oroshi (grated daikon radish), soy sauce, and vinegar - is another must-try.
Fukutoku
3. AFURI Ebisu
This restaurant derives its name from Mt. Afuri in Kanagawa Prefecture. The soup served here is made with natural spring water from the foot of Mt. Afuri, domestic whole chickens, seafood, and pot herbs. To make it, everything from the weather to the humidity, heat level, and time is carefully calculated. The [Yuzu Shio Ramen], which is made by adding a salt sauce and yuzu scent to the soup, is the restaurant's signature dish. You can also find salt-flavored [Shio Ramen] and soy-flavored [Shoyu Ramen] without yuzu, as well as [Irodori Yasai no Vegan Ramen], which doesn't use any animal products.
AFURI Ebisu
4. Menya Raijin
This is a restaurant that specializes in [Hokkaido Miso Ramen], allowing you to enjoy the flavor of miso ramen from Hokkaido while in Tokyo. Its ramen is distinguished by thick and chewy curly noodles, along with a miso-based soup that has as much presence as the noodles. The soup has lard in it, so it stays hot till the end and the flavors are not diminished. The [Gekikara Miso Ramen], which has a blend of habanero peppers and sansho (strong Japanese pepper) from Sichuan Province in China, is one of its signature dishes. Both the [Hokkaido Miso Ramen] and [Gekikara Miso Ramen] come with chashu (pork slices) that has been cooked until it is almost melting.
Menya Raijin
5. Maruyo
Maruyo is a ramen restaurant where you can enjoy [Hakata Ramen] from Fukuoka, distinguished by its pork bone soup. The restaurant's signature soup that is made every morning is rich and creamy, and goes well with the light and thin noodles. There are sugarless noodles available on request (for an additional fee). A popular dish is the [Ajitama Ramen], which has a soft-boiled egg that has been cooked in sauce. The [Curry Tsukemen] dipping noodles, made with spices from India, is not too spicy and popular among foreign customers. Drinks are half off during the happy hour, which is between 5:00 pm - 7:00 pm. There is a wide selection of a la carte items as well.
Maruyo
6. Hakata Ramen Kazu
This is another restaurant where you can enjoy authentic Hakata-style ramen. The soup that requires hours for cooking has a deep flavor and fresh aftertaste. The key to the flavor is the straight noodles procured from Fukuoka, which mix well with the special soup, creating a fabulous balance. The restaurant's signature dish is the [Tokusei Kazu Ramen] that comes with fantastic chashu cooked in a sweet and rich sauce, as well as a flavored soft-boiled egg. There is a homemade chili oil available, so add as much spiciness as you like. The Fukuoka specialty, [Hakata Hitokuchi Gyoza], is a plate of bite-size gyoza (dumplings) that are juicy and full of umami.
Hakata Ramen Kazu
7. Senri Ichimen
This is a restaurant that serves authentic Chinese cuisine, prepared by a Chinese chef who trained in China. They also offer a variety of ramen at reasonable prices. The restaurant's interior has a light and comfortable atmosphere, making it feel like a cafe. The most recommended ramen dish is the [Tonkotsu Ramen]. It comes with a rich soup that gets its deep flavor from cooking over 10 ingredients, such as chicken bones and pork bones, for over 3 hours. The [Gyokai Tsukemen], with a sauce that maximizes the umami of seafood and super thick noodles that are perfect for picking up the sauce, is also recommended.
Senri Ichimen
8. Ganso Sapporo-ya Aoyama Branch
Ganso Sapporo-ya is a ramen restaurant that's owned by a noodle manufacturer. The noodles are, of course, made in-house, and are firm and chewy. The noodles used at this restaurant have just the right thickness to soak up the soup. The soup is simple, but full of the umami from the dashi, and is available in miso, salt, and soy sauce flavors. The [Noko Shiro-miso Ramen], with a soup made from white miso and homemade flavored minced meat, is a popular menu dish. The [Gyokai Tsukemen], with thick noodles and a dipping soup with the umami of bonito, is another outstanding dish.
Ganso Sapporo-ya Aoyama Branch
9. Bangaichi Hyakkendana
This is a restaurant that's popular for their rich miso soup from Asahikawa in Hokkaido, which is rare in Tokyo. The [Tokusei Miso Ramen], made with an original miso blend, is an outstanding dish that's prepared by frying plenty of vegetables - such as carrots, bean sprouts, and garlic chives - and then adding soup to them. The [Shoyu Butter Corn] ramen with a light soy sauce-based soup, to which sweet corn and butter are added, is also popular. Everything from the soup, to the flavored bamboo shoots and chashu is homemade!
Bangaichi Hyakkendana
10. Jingu
This is a restaurant that opened in July 2017. The secret to the popularity of their ramen is the rich pork bone-based soup with the umami of vegetables. The essence of pork bone (shin and thighs) and momiji (chicken feet) are boiled out by cooking them for 12 hours. This made into a viscous soup, with sweet and mild flavors added using potatoes and onions. The medium-thick curly noodles go perfectly with the soup. The [Kara Ramen] - which adds fried garlic and ginger to the rich soup, topping it with red pepper and sansho - is another must-try. It is an outstanding dish that is not only spicy, but rich and even sweet, thanks to the vegetables.
Jingu
11. Ittetsu Ramen
This is a restaurant that serves both sets and a la carte Chinese dishes. It offers a wide variety of items, including more than 10 different types of ramen. Some flavors include [Shoyu] (soy sauce), [Shio] (salt), and [Miso]. They also have [Yasai Tanmen] - a healthy ramen with plenty of vegetables, and [Gokubuto Tsukemen] that has umami from seafood. The [Shoyu Ramen] can be ordered as part of a satisfying set menu that includes gyoza and fried rice. There is also a full lineup of a la carte dishes, including the chef's recommendation, [Tamago to Kikurage no Itame] (stir fried eggs and cloud ear mushrooms), [Lebanira Itame] (fried liver and garlic chives), [Hoikoro] (twice cooked pork), and [Mapo Tofu].
Ittetsu Ramen
12. Tonchin Ikebukuro Main Branch
This is a restaurant where you can enjoy [Tokyo Tonkotsu Ramen], which is always fresh and handmade. The soup is made with pork bone stock, to which soy sauce has been added to bring out the umami. Pork, chicken, and vegetables are added to the stock and slow-cooked to create a rich yet light soup. The noodles are medium-thick curly noodles that are made with a specially mixed flour. All of the toppings were chosen to balance well with the soup, and the noodles are homemade. In addition to their [Tokyo Tonkotsu Ramen] and [Tokyo Tonkotsu Tsukemen], they also offer [Uoton Ramen], wherein fish dashi is added to pork bone-based soup.
Tonchin Ikebukuro Main Branch
13. Sandaime Tsukimiken
Sandaime Tsukimiken is a ramen restaurant that has its main branch in Hokkaido. Its flavor has stayed the same since it was founded. The spectacular [Miso Ramen], which the restaurant prides itself on, comes in a soup made with a miso sauce that has been fermented for 3 - 7 days. The rich sauce has wonderful umami, which is realized by mixing red and white miso together, along with around 30 different vegetables and fruits as secret ingredients. They also have [Shoyu Ramen], which has a rich soy sauce-based soup that's been cooked for hours using the sauce left from cooking chashu, as well as other seasonal menu items. The restaurant is part of a large food court, so it is convenient for those with children.
Sandaime Tsukimiken
14. Chinese Restaurant Lotus Moon Shin Marunouchi Building
This restaurant is located in a building that is directly connected to Tokyo Station. Here, you can enjoy creative cuisine that adds flavors from Shanghai, Beijing, Canton, and Sichuan to Zhejiang cuisine, which is one of the Eight Culinary Traditions of Chinese cuisine. Its specialty is the [Tantanmen] (Dan Dan Noodles), which comes in 3 different flavors: the standard [Shiro] (white), the [Kuro] (black) with sansho peppers added to a black sesame soup, and the [Aka] (red) with a red sesame soup and plenty of red pepper. Other popular menu items include the [Yawaraka Hinadori no Tokusei Negi-shoyu] - consisting of domestic young chicken that's been steamed for a long time with Jinhua pork and pot herbs - and the [Teppan Futo Gyoza], which is a dish of grilled dumplings with juicy fillings that are wrapped in chewy wrappers.
Chinese Restaurant Lotus Moon Shin Marunouchi Building
15. Takumiya
Takumiya prides itself on its firm, homemade noodles and soup stock made from more than 30 different ingredients. The rich and delicate soup - made from pork and chicken bones, dried ingredients like kombu (seaweed), vegetables, fruits, and herbs - has the umami of scallops melted into it. There is a wide selection of ramen, including the [Shoyu Ramen Ajitama-nose], which is made with a special soy sauce that has been selected from among numerous kinds in Japan, the light [Umeshio Ramen Ajitama-nose] that's served with umeboshi (pickled plum), and the smooth [Goma Ramen] that has grated nuts like sesame in it.
Takumiya
Special Entry: Ramen Chain Rairaitei
Rairaitei is a ramen chain with fans around the country. The secret to its popularity is the [Kyoto-fu Shoyu-aji no Torigara Soup], which is a Kyoto-style soy sauce-flavored soup made from chicken bone stock. Though it has fat floating on the top, it still feels light in the mouth. The flavor was derived from the desire to create a ramen that a wide range of customers would enjoy, regardless of age or gender. The noodles are thin and mix well with the soup. You can decide the firmness of the noodles, how much soy sauce and fat to put in, and whether you want fatty or lean chashu, ensuring that you can get a bowl that suits your taste. In addition to ramen, there are a la carte dishes that go well with sake, as well as dim sum.
Ramen Chain Rairaitei
Disclaimer: All information is accurate at time of publication.