Publish-date: Apr 26 2019 Update-date: Jan 30 2020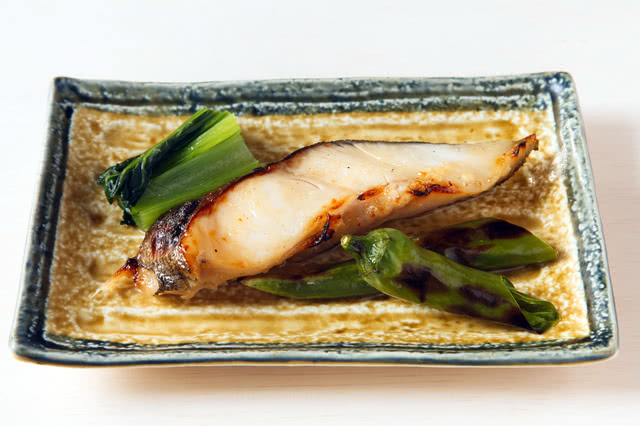 As an island country, Japan has a wealth of seafood. In supermarkets, you can find a range of fish that changes according to the season. Most Japanese people have childhood memories of home-cooked meals made with these fish. This article will introduce some popular fish-based home-cooked dishes that are now part of Japanese culture. At the end, you'll find a list of some restaurants serving delicious meals made with fish as well.

1. Buri Daikon (Radish and Japanese Amberjack)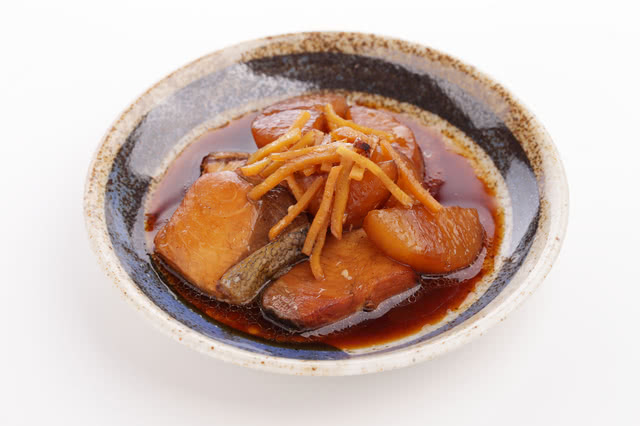 Buri Daikon is a dish made with daikon (Japanese white radish) and the leftover cuts of Japanese amberjack. These ingredients are stewed together with dashi (broth) and seasonings like soy sauce and sugar. Though originally from Toyama Prefecture, it's become a familiar flavor in households all over Japan. The radish that absorbs the flavors of the seasonings and the firm texture of the fatty winter fish make this a satisfying winter staple. Japanese amberjack is a "shusseuo," which means that it is a type of fish whose name changes as it grows. It's often eaten for good luck during celebrations, and in parts of Toyama it's still a custom to gift Japanese amberjack to the family a woman has married into.

2. Saba no Miso-ni (Miso-Stewed Mackerel)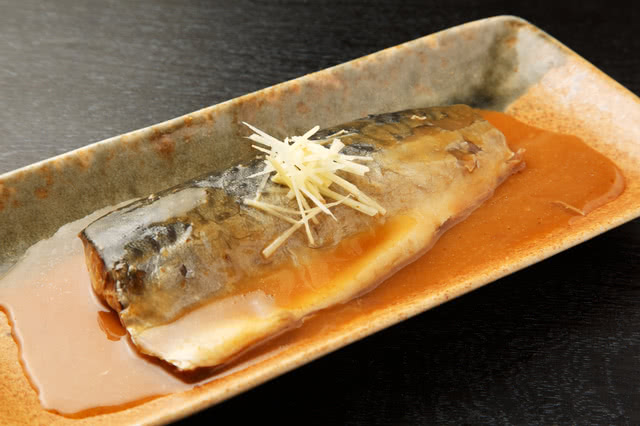 Saba no Miso-ni is a stewed dish made with slices of mackerel, miso, sugar, ginger, and other ingredients. This dish is such a staple that it would probably be the first to come to mind for many Japanese people if you asked them to name a mackerel recipe. The rich flavor of the miso that forms the base of the dish matches perfectly with rice. Mackerel contains plenty of EPA (eicosapentaenoic acid), which is said to lower neutral fats in the blood as well as subcutaneous and visceral fats. This has made it very popular among Japanese women in recent years as a diet food! Canned mackerel is also so popular that it's sometimes hard to find in stores.

3. Kinmedai no Nitsuke (Stewed Golden-Eye Snapper)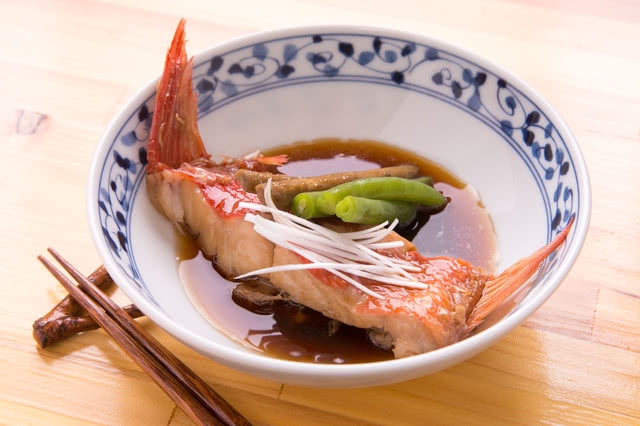 This is a famous dish from Izu in Shizuoka Prefecture. It's made by stewing golden-eye snapper, a high-grade fish, with soy sauce and sugar. Golden-eye snapper is a white fish, but it still contains a good amount of fat. This lends the broth a delicious savory flavor when stewed on low heat. The refined umami (Japanese savory taste) and the soft texture of this fish make it hard to stop eating. Its few bones and soft flesh also make this fish easy for children and the elderly to eat. For celebrations, it's sometimes served with the head and tail still attached.

4. Gindara no Saikyo-Yaki (Japanese Bluefish Grilled with Saikyo Miso)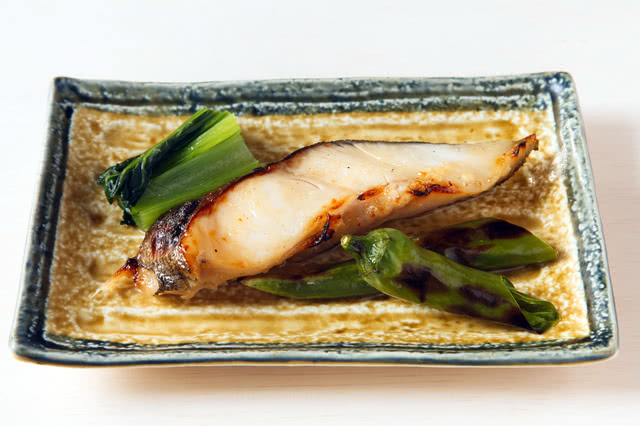 This dish is made with slices of Japanese bluefish that are marinated in saikyo miso (a type of white miso paste made in Kyoto), mirin (sweet cooking wine), and sake (Japanese alcohol) and then grilled. Japanese bluefish contains a lot of fat, similar to the fatty "toro" cut of tuna, so it's sometimes called "white fish toro". This fish is so soft that it falls apart when picked up with chopsticks, and the white miso paste lends it an elegant aroma. This fish is in season from autumn to winter, but you can also find it frozen year round. Japanese bluefish is very high in vitamin A and is said to be good for preventing illness.

5. Buri no Teriyaki (Japanese Amberjack Broiled in Sweet Soy Sauce)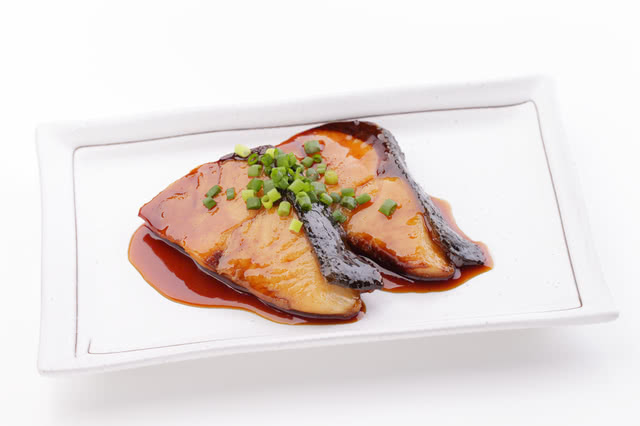 This famous Japanese dish is made by grilling Japanese amberjack with a savory teriyaki marinade made from soy sauce, sugar, sake, and mirin. It is so familiar to Japanese people that many associate teriyaki with either chicken or Japanese amberjack. The marinade blends with the fatty fish, turning it into an irresistible treat that's shiny and crispy on the outside, but fluffy on the inside. It'll definitely whet your appetite!

6. Karei no Nitsuke (Stewed Flounder)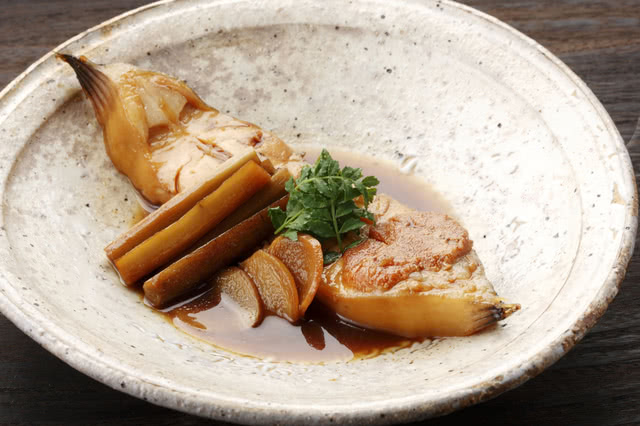 This dish is made with flounder stewed in a sweet and salty sauce made from soy sauce, sugar, and mirin. This white fish takes on the flavor of the sauce and melts in the mouth. Even though flounder is called "karei" in Japanese, there are actually over 40 types of flounder that can be caught in Japan! Different varieties of flounder are in season at different times of the year, which means that flounder can be enjoyed year-round. This is a healthy home-cooked dish that's low in fat.

Zefu (Hirose-dori / Japanese Cuisine)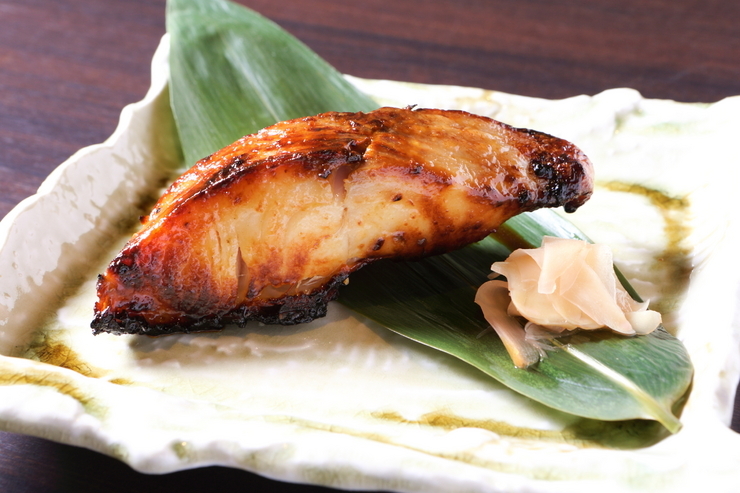 Zefu is a restaurant that focuses on using local and seasonal ingredients and serves Japanese dishes made with fresh fish. The welcoming interior made of wood has semi-private rooms divided by partitions. A popular item on the menu is [Thick-cut Gindara no Saikyo-Yaki] (1,600 JPY). This satisfying dish is grilled perfectly with miso made in-house. Natural wine that pairs well with Japanese cuisine is available by the glass, with prices starting from 700 JPY. A variety of sake sourced mainly from the Tohoku region is also available.

Zefu
Open
: [Sunday, National Holidays] 5:00 pm - 12:00 am (L.O. 11:30 pm)
[Monday - Thursday] 5:00 pm - 1:00 am (L.O. 12:30 am)
[Saturday, Sunday] 5:00 am - 3:00 am (L.O. 2:30 am)
Closed
: None
Average price
: 5,500 JPY
Address
: 2F, Umehara Bldg., 2-1-20, Kokubun-cho, Aoba-ku, Sendai-shi, Miyagi
Map
More Details
 Reservation 
Genshiyaki Hibachi (Shinjuku / Izakaya)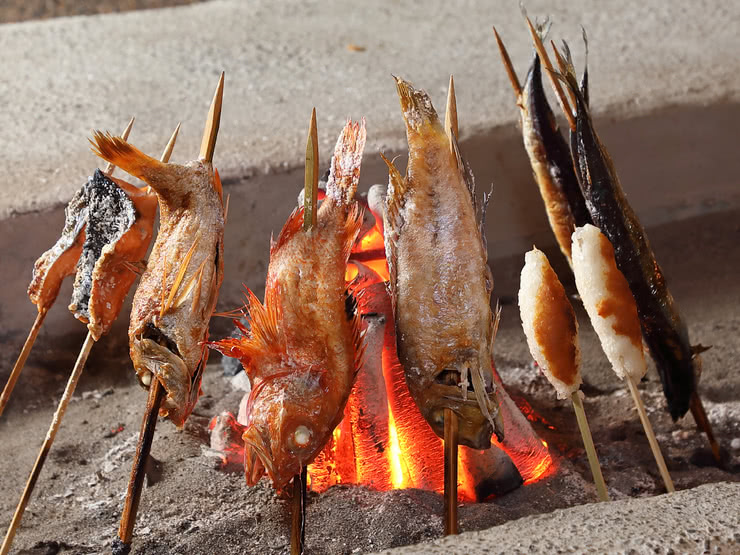 The sound of charcoal cracking and popping resonates through Genshiyaki Hibachi's quiet interior. You can spend quality time either at the counter seats by the bar that features a lineup of sake or at the comfortable tatami mat seating. Make sure to try the [Genshi-Yaki], featuring a whole fish patiently grilled over charcoal. Crisp on the outside and soft on the inside, this dish has a wonderful salty flavor. The [Sea Urchin Cream Croquette] (1,200 JPY) is also recommended! Add 2,600 JPY to your order to enjoy a drink pairing menu consisting of either 5 types of sake or 3 types of sake and 2 types of wine.

Genshiyaki Hibachi
Open
:
Dinner 5:00 pm - 0:00 am (L.O. 11:00 pm) Please casually contact us for booking non-business hours, the whole restaurant, or others.
Closed
:
Irregular
Average price
:
[Dinner] 7,000 JPY
Access
:
5 minutes walk from Shinjuku Station
Address
:
3F, Kabukicho Shotengai Sinkokumiai Bldg., 1-19-3 Kabuki-cho, Shinjuku-ku, Tokyo
(
Map
)
More Details
 Reservation 
Sakana Ryori Rokkon (Yodoyabashi / Japanese Cuisine)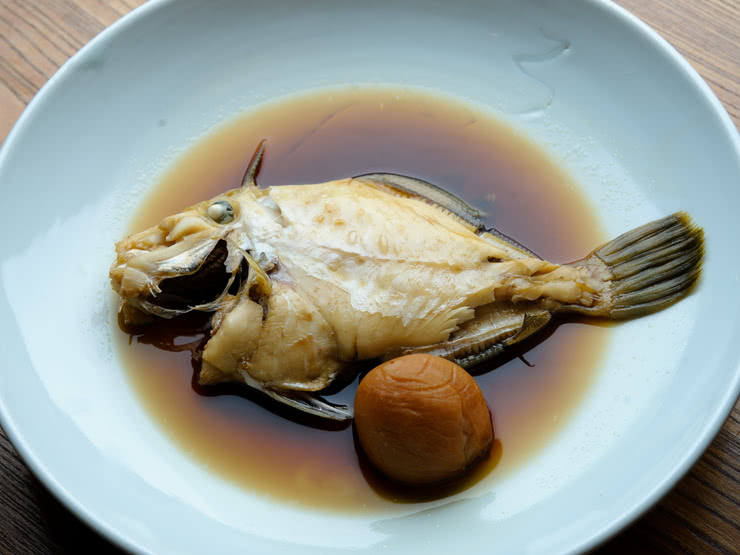 Sakana Ryori Rokkon is a Japanese restaurant with the motto "freshness has a flavor". Pass through the large white shop curtains at the entrance into a space full of Japanese style. This restaurant pays particular attention to the freshness of its ingredients, and sources seafood caught each morning from fishing ports around Japan. There is a wide variety of fish dishes here, including the exceptionally fresh [Special Sashimi Assortment] (3,000 JPY), the [Filefish Stewed in Soy Sauce] (from 1,200 JPY) made with the house soy sauce, and [Steamed Golden-Eye Snapper] (2,000 JPY). You can enjoy a wide lineup of drinks to match your meal as well, including varieties of shochu (another kind of Japanese alcohol) like barley, taro, or buckwheat.

Sakana Ryori Rokkon
Open
:
[Weekdays/Saturdays/Day Before Holidays/Holidays] Lunch 11:30 AM-2 PM (last order 1:50 PM) *Warning* [Lunch is not available for reservations]/Dinner 5 PM-11 PM (last order 10 PM)
Closed
:
Thursdays
Average price
:
[Dinner] 8,000 JPY / [Lunch] 1,000 JPY
Access
:
A five minute walk from Yodoyabashi Station's Midousuji Line. A ten minute walk from Osaka Station. A ten minute walk from Umeda Station. A three minute walk from Kitashinchi Station.
Address
:
1-1-15 Sonezaki Shinchi , Kita-ku, Osaka-shi, Osaka
(
Map
)
More Details
 Reservation 
Fuku (Kanazawa / Izakaya)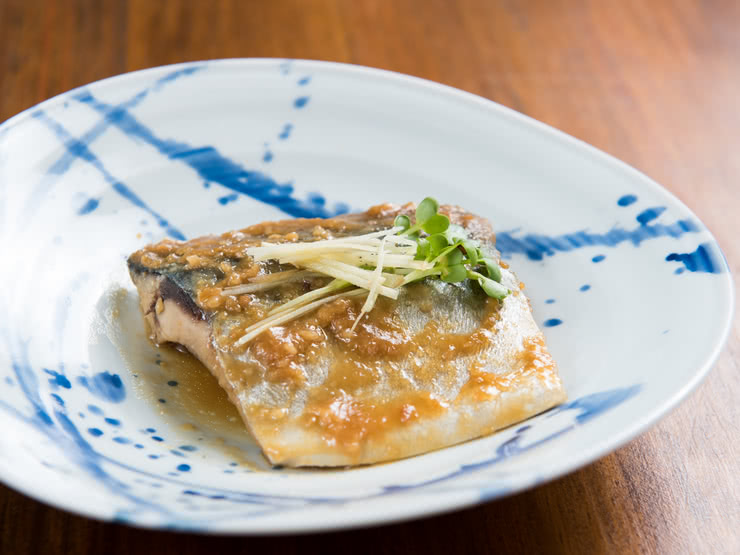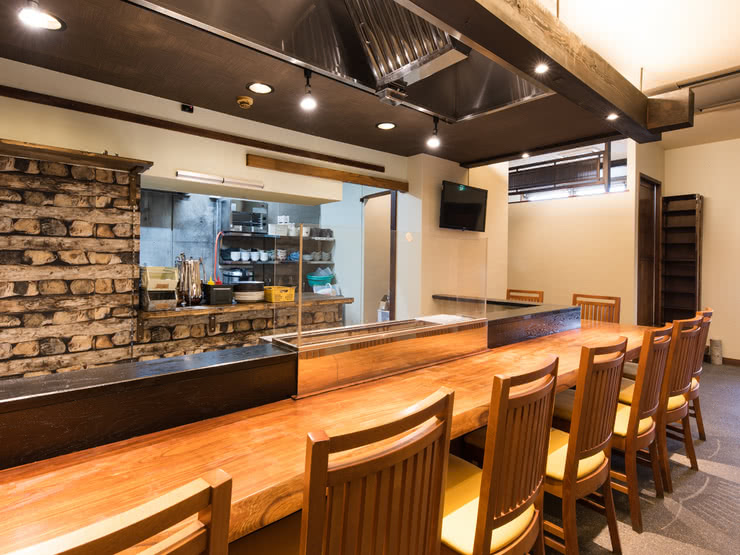 Fuku opened in February 2019, and it offers dishes skillfully made by a mother of a large family. The interior is full of touches by the owner's family and friends and overflows with warmth. You'll always be welcomed with a smile from the owner! You can enjoy the flavor of home cooking either at the cozy counter seats or in private rooms, which are a great choice for a relaxing meal with the whole family. You'll be able to enjoy a range of heartwarming dishes here, including family classics like the [Saba no Miso-ni] and [Nikujaga] (potato and meat stew), as well as [Grilled Spicy Beef Tendon] (1,600 JPY), made with a spice blend inherited from the chef's father.

Fuku
Open
: [Weekdays, Saturday, Day before National Holidays] Lunch 11:00 am - 2:00 pm, Dinner 5:30 pm - 11:30 pm (L.O. 10:30 pm)
Closed
: Sunday, National Holidays
Average price
: [Dinner] 3,500 JPY / [Lunch] 850 JPY
Address
: 1F, Saito Bldg., 5-6-18, Ekinishihon-cho, Kanazawa-shi, Ishikawa
Map
More Details
With that, this article on fish-based homestyle dishes and restaurants in Japan that serve fish dishes has come to an end. If there's a dish that looks good to you, why not visit a restaurant and sample it for yourself?

Disclaimer: All information is accurate at time of publication.