Update-date: Oct 31 2023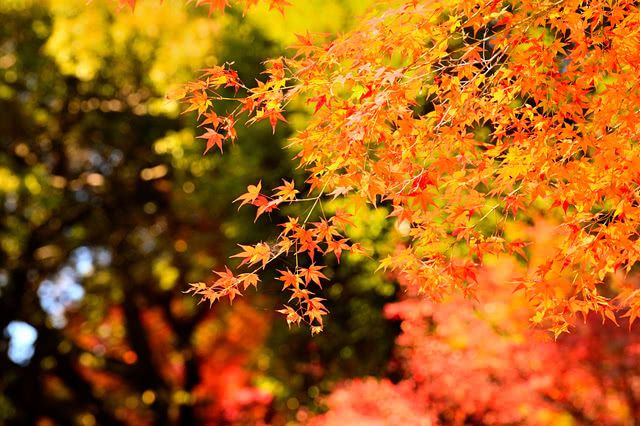 In Japan, autumn is known for its ever-changing tapestry of brilliant hues. While there are countless autumn foliage hotspots across Japan, this article will introduce those in the southern region of Kyushu. Owing to its unique climate, autumn in Kyushu extends well into early December, making it a haven for fall enthusiasts seeking to spend more time with their favorite season.
When is the Best Time For Autumn Foliage in Kyushu?
Situated in the southern part of Japan, Kyushu's autumn foliage can be enjoyed from late October through early December. This gives Kyushu a whole extra month of autumn splendor compared to places like Hokkaido in Japan's north, where the colors reach their peak in early November. So, if your travel plans don't line up with Japan's typical fall foliage timings, turn your gaze towards Kyushu!

Kyushu's autumn foliage can be enjoyed in an array of settings across its seven prefectures, from deep wilderness to tranquil city parks and temples and even luxurious hot spring resorts. This article will introduce two of the best spots in Kyushu for autumn foliage, plus a hot spring ideal for autumn!
Best Autumn Foliage Spots in Kyushu: Maizuru Park (Fukuoka City, Fukuoka)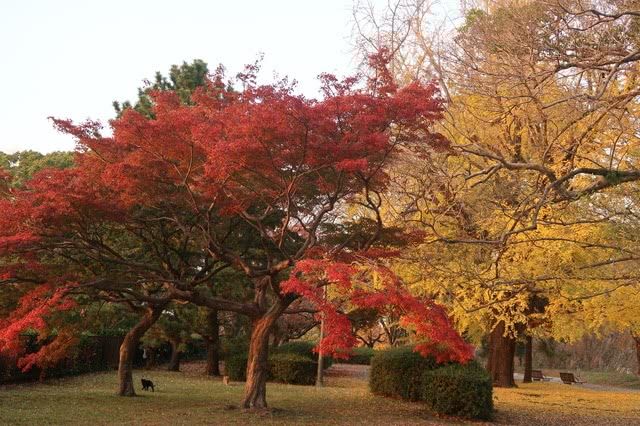 Maizuru Park is situated in the heart of Fukuoka City, just a 15-minute walk from Tenjin. Maizuru Park not only hosts the remnants of Fukuoka Castle but is also a great destination for a delightful city stroll. Throughout the year, Maizuru Park graces visitors with a vibrant display of flowers, including plum blossoms, cherry blossoms, wisteria, and hydrangeas.

Maizuru Park is most renowned for its enchanting cherry blossoms in the spring, but it also captivates with its resplendent autumn foliage. From early to late November, a breathtaking transformation takes place as a multitude of trees, including ginkgo, cherry, zelkova, and Japanese maple, transition into a gorgeous gradient of golden yellows and fiery reds.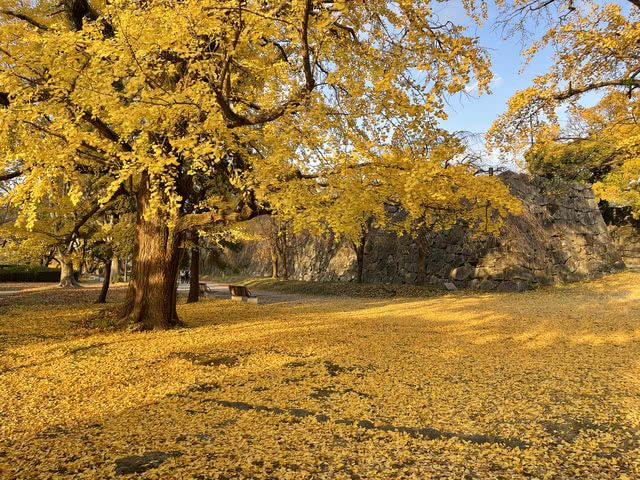 The most breathtaking display of autumn foliage at Maizuru Park is its giant ginkgo trees surrounding the Fukuoka Castle ruins. The fallen leaves transform the paths into a golden carpet, sure to inspire awe. For the best photo opportunities, be sure to head up the castle tower.
Best Autumn Foliage Spots in Kyushu: Takachiho Gorge (Takachiho Town, Miyazaki)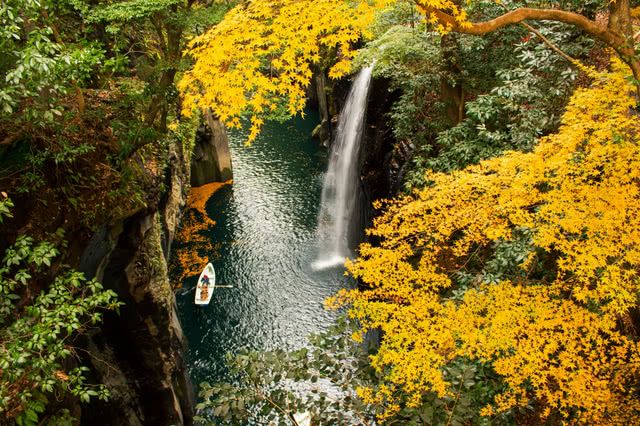 Miyazaki's mystical township of Takachiho is known as the abode of Japanese deities and is steeped in legends recounting Japan's very creation. Dominating the landscape is the iconic Takachiho Gorge, designated as a spot of national scenic beauty and a natural monument. The soaring cliffs of this V-shaped gorge reach staggering heights of 100 meters at their peak and maintain an average height of 80 meters throughout. It meanders gracefully for approximately 7 kilometers from east to west and was formed by the powerful volcanic forces of Mt. Aso.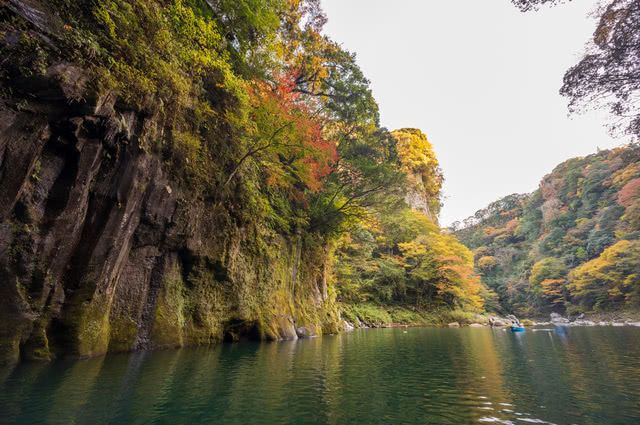 Maple trees cast gentle red hues reminiscent of a painting across the gorge from early to late November. To fully immerse yourself in this beauty, embark on a leisurely rowboat cruise through the gorge's river. While rowing, gaze upwards at the autumnal tapestry and find solace in the sheer intensity of nature. Once ashore, a fresh perspective awaits at the waterfall viewing platform, granting the perfect vantage point to admire the cascading foliage. Stick around after sunset to see the autumn leaves illuminated by the waterfall's nighttime light-up, which continues until 10:00 pm.
Kurokawa Onsen: Where Hot Springs and Autumn Beauty Align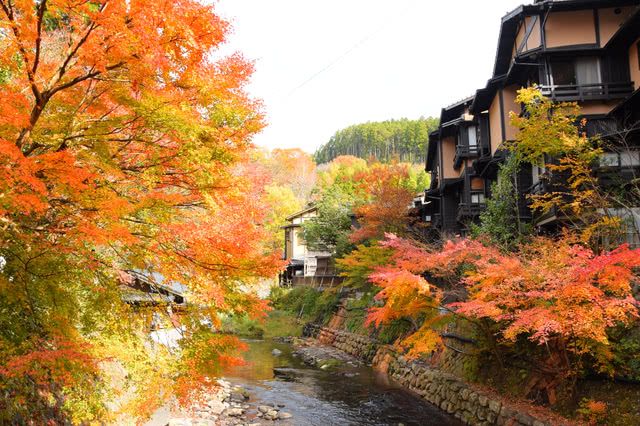 Japan's hot springs are a highlight for many tourists visiting the country. And what better way to enjoy them than under a canopy of autumn leaves? Kurokawa Onsen in Kumamoto Prefecture is where you'll find such a scene. Tucked between lush mountains, this idyllic isolated village is cleverly designed to feel like a single interconnected ryokan (traditional Japanese inn), and it undergoes a stark transformation with each season.

Kurokawa Onsen is home to around 30 ryokan, each boasting its own rustic outdoor hot spring bath that harmonizes with the natural surroundings. Be sure to grab an Onsen Hopping Pass, which grants access to any three open-air baths in town. And if you visit around late October, you'll be treated to radiant displays of fall foliage, which dress the streets and baths in dazzling colors sure to leave you spellbound.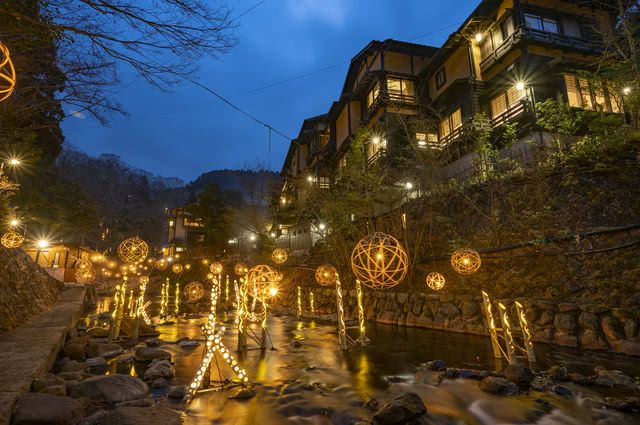 Even after the fall foliage season has concluded, the equally anticipated Yuakari festival takes over, which runs from mid-December to spring. The festival sees around 300 impressive spherical lanterns and two-meter-tall tube lanterns adorning the rivers, riverbanks, and streets of Kurokawa Onsen, casting an enchanting glow that seamlessly melds with the surroundings. These luminous gems come to life at dusk and finish at 10:00 pm.
Savoring Autumn with a Delectable Feast
After immersing yourself in the breathtaking autumn scenery of Kyushu, it's time to satiate your appetite with an unforgettable meal. Below are two recommended restaurants that are conveniently located near the autumn foliage viewing spots introduced in this article.
Ginza Tenichi (Hakata / Japanese Cuisine)
Tempura is a staple of Japanese cuisine. While it may be a simple dish consisting of deep-fried ingredients coated in a flour-based batter, the quality of tempura can vary significantly from one restaurant to another. Top-tier tempura has a perfectly crispy batter and lightly cooked, juicy fillings, which is a surprisingly difficult balance to achieve.

For those seeking out some of the best tempura in Japan, you'll find precisely this level of excellence at Ginza Tenichi Hakata. Its main restaurant is situated in Tokyo's Ginza district and boasts a long history dating back to 1930. Its Hakata branch has earned its own reputation by specializing in a diverse array of seasonal delicacies hailing from Kyushu, a region abundant in culinary treasures.

Highlights include conger eel from the waters of Tsushima and Maruju sweet potato from Kagoshima, which are brought to their peak potential by the honed talents of the chefs. If you're looking to indulge in a variety of flavors, the [Tenichi Zen] (3,960 JPY) platter is a superb choice, as it consists of seven tempura creations plus sashimi, salad, and more. Best of all, the prices here are a bit more budget-friendly compared to the main Ginza restaurant, letting you feast without guilt.

Pair your tempura with French white wine carefully selected by the Ginza restaurant's own sommelier. Or dive into the array of local sake plus the restaurant's own original sake produced in Akita Prefecture, all picked to enhance the flavors of tempura.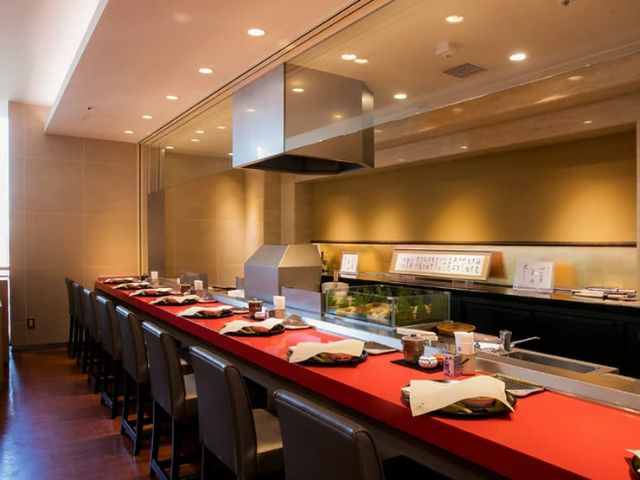 Both table and counter seating are available. Tables offer a more leisurely dining experience, while those seated at the counter can witness the talents of the chefs up close. The tempura is also served in batches, ensuring each piece comes freshly fried.
Ginza Tenichi
Open
:
11:00 am - 11:00 pm (L.O. 9:00 pm)
Closed
:
None
Average price
:
[Dinner] 5,000 JPY / [Lunch] 2,000 JPY
Access
:
Directly-connected to JR [Hakata Station]! On the 9th floor of JR HAKATA CITY AMU PLAZA HAKATA
Address
:
1-1 Hakataeki Chuogai, Hakata-ku, Fukuoka city, Fukuoka
Map
More Details
   Reservation   
Japanese Restaurant Ryo (Miyazaki / Japanese Cuisine)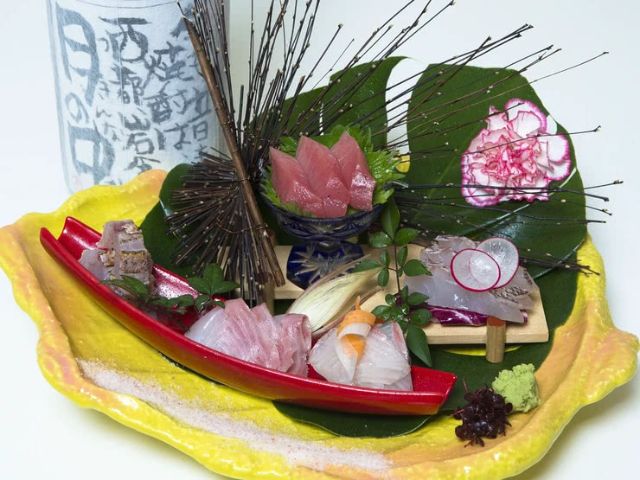 Japanese Restaurant Ryo specializes in authentic Japanese cuisine served in a casual setting. The owner, who honed their skills at renowned Japanese restaurants in Osaka, passionately weaves a variety of local ingredients from their home of Miyazaki into their dishes. One recommendation is the [Three Kinds of Assorted Fresh Fish] (1,710 JPY), which is a selection of sashimi from natural local fish from the morning's catch, best enjoyed with a pinch of salt instead of soy sauce.

You can also opt for other local delicacies such as [Miyazaki Beef A5 Grade Sukiyaki] (3,300 JPY), made from the rare and exquisite Miyazaki beef, or [Miyazaki Jidori Chicken Tataki] (830 JPY). As a final touch, the restaurant's distinctive plates were personally designed by the owners themselves and are a feast for the eyes.

Plus, the surprisingly affordable [2-Hour All-You-Can-Drink] (2,315 JPY) option is sure to further elevate your experience. It features a selection of 50 sake varieties from across Japan and an impressive collection of 190 Miyazaki shochu options, allowing you to compare and find your personal favorites.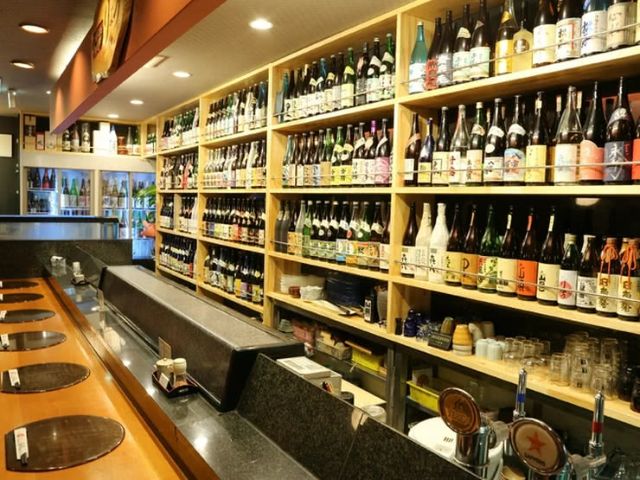 Japanese Restaurant Ryo is also careful to foster a comfortable and unpretentious atmosphere. On the first floor, the cozy counter provides a wonderful view of the bar, letting you enjoy your meal while observing the colorful lineup of beverages and making it easy to ask the staff for a recommendation. Meanwhile, the second floor contains private dining rooms, where you can relish your meal in a relaxed setting.
Japanese Restaurant Ryo
Open
:
[Weekdays, Saturday] 5:30 pm - 0:00 am (L.O. 11:30 pm)
Closed
:
Sunday
Average price
:
[Dinner] 4,000 JPY
Access
:
Aim for our white lantern on the Tachibanadori Avenue. A free pick up service is available by our staff if it is close
Address
:
3-1-24, Tachibanadori-nishi, Miyazaki, Miyazaki
Map
More Details
   Reservation   
The stunning autumn foliage of Kyushu can be enjoyed across many landscapes, from urban greenery to untouched wilderness and even amidst hot spring retreats. So, when planning your autumn visit to Japan, be sure to immerse yourself as much as possible in the mesmerizing world of Kyushu's fall.
Disclaimer: All information is accurate at time of publication.