Publish-date: Aug 27 2020 Update-date: Aug 31 2020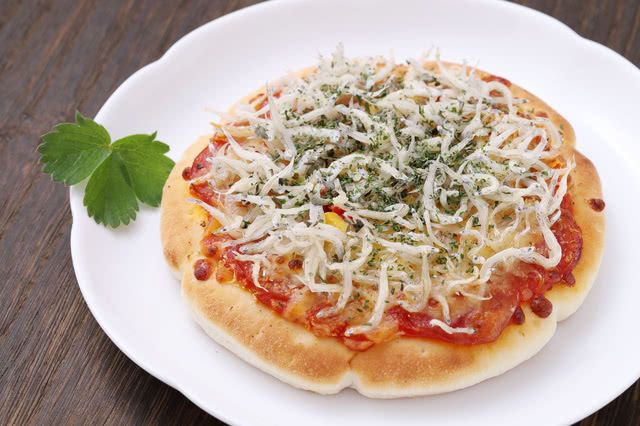 Many countries appreciate Italian food to the point that it ends up mixing with the local cuisine, creating new variations of the original Italian recipes. Japan is no exception—the country's love for Italian food shows through the many Italian restaurants you can find in almost every Japanese city as well as through the wide variety of interesting fusion dishes born from the inventiveness of Japanese chefs. In this article, an Italian living in Japan covers the history of Italian food in Japan, the types of "Italian" food you can find in Japan, and some great restaurants where you can try these fascinating fusion dishes for yourself!

The History of Italian Food in Japan
Although there is little evidence to distinguish exactly when Italian cuisine came to Japan, it is clear that the cuisine has had a long history in the country. Spaghetti has been on the menus of Japanese cafes as early as the 1920s, and "itameshi," a Japanese term that originally just referred to authentic Italian cuisine, had been in use for even longer than that.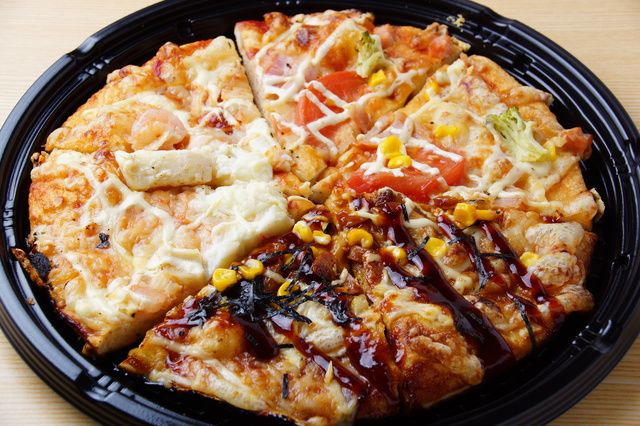 The cuisine has seen several spikes in popularity throughout history, with one of the more notable ones being during the American occupation in the 1940s, when many Italian-American soldiers stationed there craved for a taste of home. However, Italian cuisine didn't become widespread until the 1990s, when the decrease in popularity of French cuisine paved the way to the rise of Italian cuisine.

In the 1990s, Japan suffered from a prolonged recession due to the collapse of the economic bubble of the 1980s. As a result, residents started to take more notice of Italian cuisine, which was perceived as affordable and cheerful, a stark contrast to the formal and high-priced French cuisine. France-trained Japanese chefs shifted their interest to Italy, and the dishes that they came up with were a smashing success. Older generations liked the familiarity, while younger generations praised the foreign aspects of the dishes and inexpensive prices. This success eventually led to the evolution of the term "itameshi," which now refers to Italian dishes that have been infused with Japanese flavors and/or ingredients.

Italian cuisine's popularity has continued to this very day. It is now estimated that there are around 20,000 Italian restaurants just in Tokyo! Some are prized for their extreme authenticity, while others proudly offer high-quality itameshi.

5 Italian Dishes Remade in Japan That May Shock an Italian Native
1. Wafu Pasta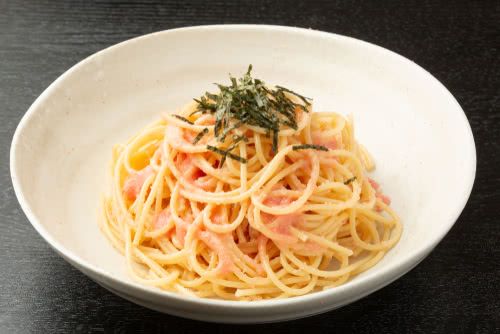 Wafu pasta refers to pasta dishes (most commonly spaghetti) that have been tweaked in some way, usually by adding Japanese ingredients, to take on Japanese flavors.

One of the most common ways of making wafu pasta is by adding Japanese seafood ingredients such as mentaiko (cod roe) or shirasu (whitebait). Seafood is a normal ingredient to add to pasta, so this shouldn't be too strange to most Italians. I personally enjoy mentaiko spaghetti as it reminds me of "pasta e bottarga," wherein pasta is eaten with a type of salted, cured fish roe commonly found in Sardinia, Italy.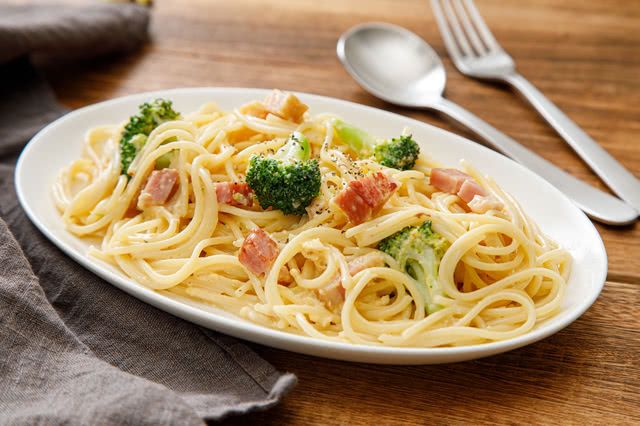 Wafu pasta also includes recipes that have significantly deviated from the Italian originals or that don't even exist in Italy!

One example of this is carbonara, a dish that exists in Japan but is barely recognizable to Italians. Unlike the Italian original that is made using pancetta, eggs, parmesan, and black pepper, the Japanese version involves generous amounts of cream, a lone raw egg on top, and sometimes even vegetables!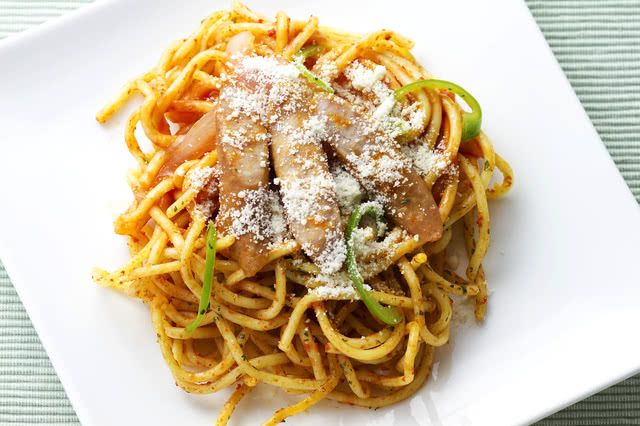 The most well-known wafu pasta dish in Japan, however, is the 
"
napolitan," which doesn't actually exist in Italy. Overcooked and made with ketchup, mushrooms, wieners, onion, green peppers, and tabasco sauce, it is probably the exact opposite of what an average Italian would consider to be good pasta, but it's definitely a unique dish that you ought to try when you're in Japan.
2. Wafu Pizza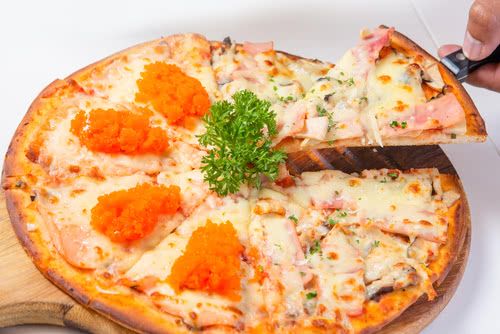 While there are many restaurants in Japan that prepare pizza in the authentic Italian way, this iconic Italian dish can often be found adjusted to Japanese tastes, with several unexpected ingredients that are not normally used in Italy making their appearance as toppings. This can range anywhere from typical Japanese ingredients all the way to orange, lemon, and onions on pizza!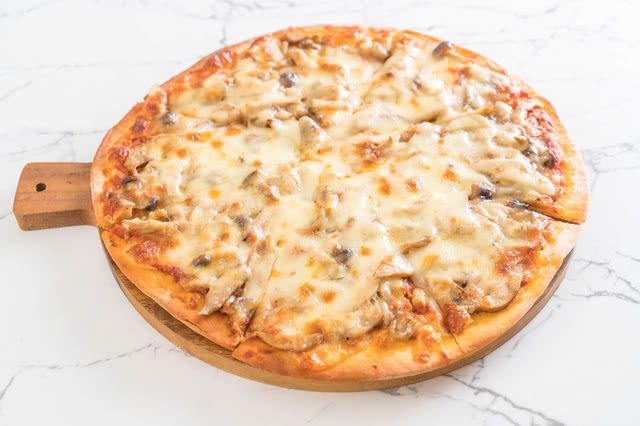 From an Italian point of view, one of the more bizarre ingredients you'll find on pizza here is miso. This fermented soybean paste is enjoyed in a great variety of dishes in Japan, but I'm still not sure how well it goes together with pizza. Below is an example of what it looks like. Another surprising addition is shirako, or cod milt. This has such a particular flavor that even Japanese people consider it an acquired taste!

Lastly, we can't talk about Japanese pizza without mentioning two of the most loved flavors in Japan: "teriyaki chicken" and "shrimp and mayo." The first topping consists of slices of chicken glazed in teriyaki sauce (a sauce made of soy sauce, mirin, and sugar). This gives the pizza a sweet and savory taste at the same time. The second, as the name suggests, combines shrimp and mayonnaise. Shellfish is often used as a pizza topping in Italy as well, but never coupled with mayonnaise, so it may seem strange to the average Italian!

3. Doria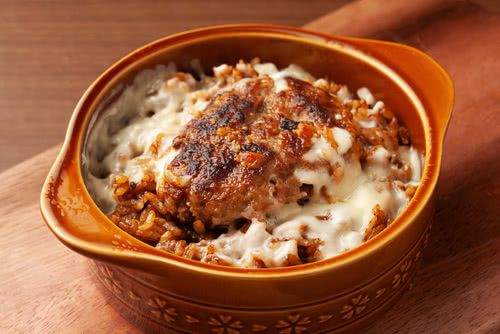 Doria is another itameshi dish that doesn't really exist in Italy, but can be found in the menus of many Italian restaurants here in Japan. It was actually invented in Japan in the 1930s by the chef of a hotel in Yokohama for some international guests!

It is a casserole dish with bechamel sauce, cheese, rice, and sometimes tomato sauce. It can be enjoyed with many toppings, with some of the most common being shrimp, vegetables, hamburger steak, and chicken.

Although doria is not an original Italian dish, I personally think it is delicious. It has a creamy texture that's reminiscent of Italian risotto, and the cheese is a really familiar flavor as well! I can easily see it gaining popularity in Italy if someone ever decides to export it.

4. Nama Ham Salad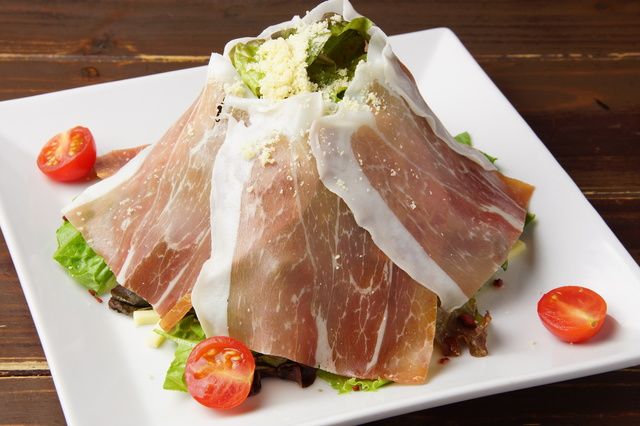 Among the many appetizers that Japan's Italian restaurants offer, you will often spot this item on the menu. "Nama" means raw in English, and true to form, this is basically a salad with prosciutto crudo (raw seasoned and dry-aged ham) on top. The salad itself is usually made with lettuce leaves and tomatoes, and a sprinkle of parmesan cheese is added on top for extra flavor.

As an Italian, I can totally understand why this dish is so popular in Japan. Prosciutto makes everything taste better! True, an Italian would usually never think of using prosciutto as a topping for salad, as you risk ruining its already delicious natural flavor with the salad dressing. Nevertheless, it's surprisingly delicious and a great way to sample prosciutto for cheap!

5. Gelato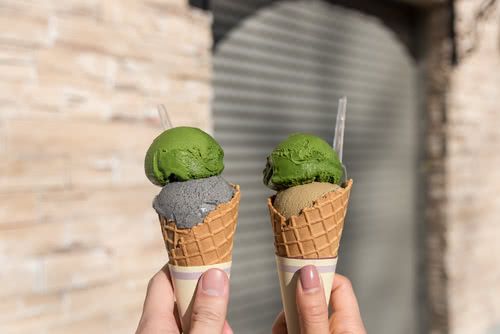 One thing Italians and the Japanese have in common is that they both acknowledge that no good meal is complete without a dessert.

Although milk wasn't a part of the traditional Japanese diet until the Meiji Era (1868-1912), the Japanese have embraced all the delicious offerings that can be made with milk, and over time have paired milk desserts from all over the world with traditional Japanese flavors to suit their own palate. Gelato is one such dish.

In Japan, you will find all sorts of unique flavors of gelato that you can't find elsewhere, such as matcha (roasted green tea), sweet potato, and even wasabi. Some of the flavors I was most surprised by was black sesame, which gave the gelato an unusual grey color, and soy sauce, which for some reason tasted like peanuts. It's amazing just how delicious some of these traditional Japanese flavors are, so definitely give them a taste!

5 Surprising Things About Japan's Italian Restaurants
1. Adding Spicy Oil or Parmesan to Dishes Where You Normally Wouldn't
When I first came to Japan, I was surprised by some of the manners and culture surrounding itameshi. For example, Italians would never add tabasco to a dish that doesn't originally have it in its recipe, and the same goes for parmesan! This is because Italians tend to be very fond of traditional recipes and hardly deviate from them.

2. Dipping Your Bread in Olive Oil
Another thing that may seem strange to an Italian native, but that many of the Italian restaurants in Japan offer as a side dish, is bread accompanied by olive oil. In Italy, you usually eat the bread as-is, without any oil, while waiting for the main dishes or use it to "fare scarpetta," which means mopping up the last bits of sauce on your plate.

3. Drinking Coffee or Hot Tea During the Meal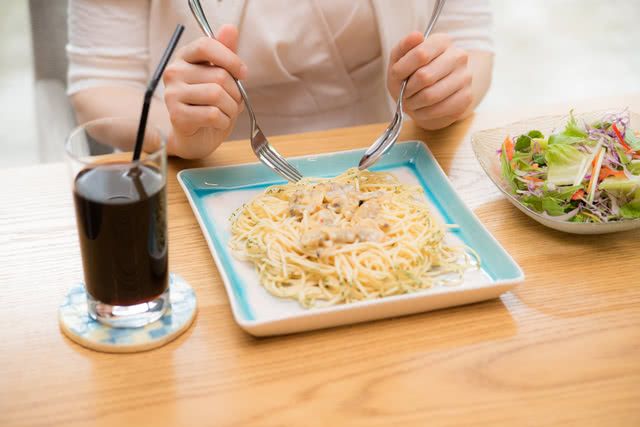 I was also surprised to see Japanese people drinking coffee (both hot and iced) and hot tea while having their meal. In Italy, people have these beverages together with food only during breakfast or a quick snack break. During lunch or dinner, Italians will usually wait until all the food is done to partake in beverages, which are never iced! I have to admit that I embraced this Japanese habit, and I now drink my cappuccino even while eating lunch if I feel like it.

4. Bagna Cauda Is Really Popular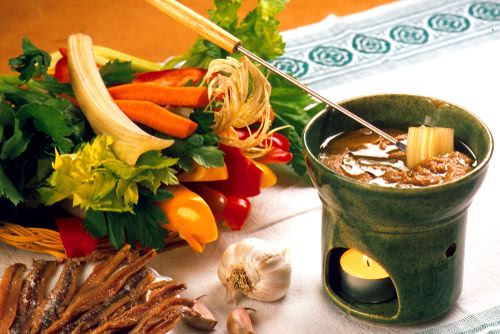 Japanese people's love for bagna cauda, a dish in which you dip raw or cooked vegetables into a sauce made from garlic and anchovies, was also surprising. This dish originated from my birthplace, Piedmont. Despite being an Italian dish, the majority of Italians have probably never tried it because it's rare to find in Italy and those who do try it often find the flavor a bit too strong for their tastes. In Japan, however, this dish is so popular that you can even buy the canned or dried version at normal supermarkets!

5. Sharing Your Pizza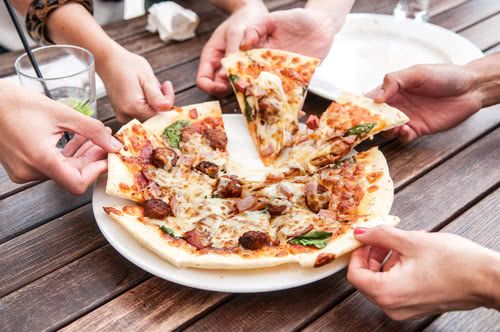 I saved the most interesting Japanese culinary habit for last. In Japan, you usually share one pizza with several other people. In Italy, however, the norm is to order one entire pizza for each person! Pizza in Italy is not meant for sharing unless it's a party, and even then, you can be sure that Italians will order far more pizza than they can actually eat to ensure everyone eats the equivalent of an entire pizza. While I have acquiesced to several Japanese culinary habits over my years of living in Japan, this is one habit that I will not budge on.

3 Delicious Italian Restaurants in Tokyo With a Japanese Twist
1. Ristorante Hamazaki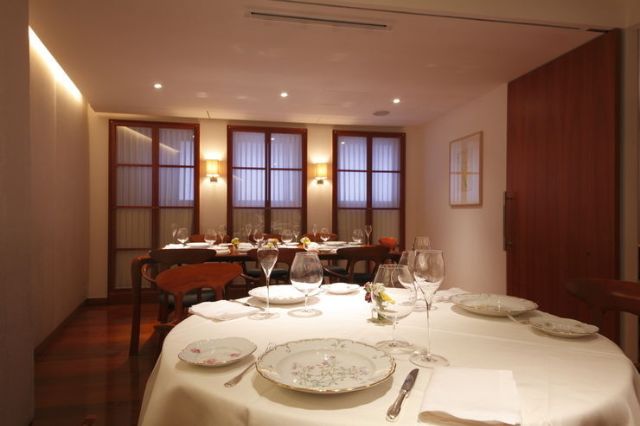 Chef Hamazaki, the owner of Ristorante Hamazaki, is fascinated by Italian cuisine and how it is able to draw out the flavors from each ingredient. After working in Mantua and Florence to learn the techniques of authentic Italian cuisine, he decided to open his own restaurant in Tokyo in 2001. He carefully selects fresh ingredients from all over Japan, working closely with producers and farms, to craft dishes that show both his love for Italian food and the charms of high-quality Japanese ingredients. The result is fusion cuisine with the best of both worlds.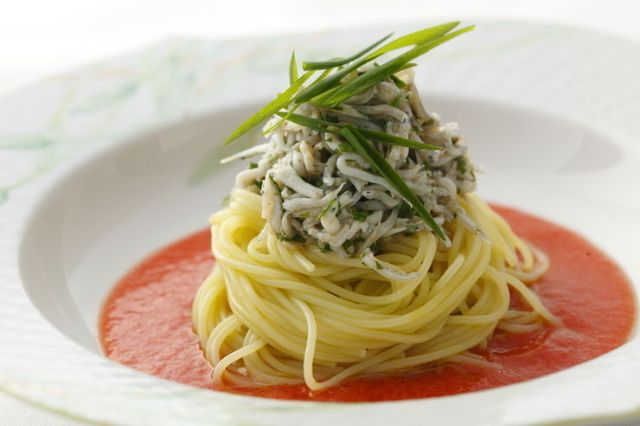 One amazing fusion dish to try from this fantastic restaurant is the Chilled Whitebait Capellini with Kochi Sweet Tomato Sauce. The oiliness of the olive oil drizzled over the super-fine noodles is beautifully combated by the fresh acidity and sweetness of the Japanese tomatoes and the refreshing taste of raw whitebait, a common ingredient found in Japanese cooking. You'll surely be left speechless by just how well the Japanese ingredients go together with this Italian dish!

Ristorante Hamazaki
Open
: [Weekdays, Saturday, National Holidays, Day before National Holidays] Dinner 6:00 pm - 9:30 pm (L.O. 9:30 pm)
[Thursday - Saturday] Lunch 12:00 pm - 2:00 pm (L.O. 2:00 pm)
Closed
:
Irregular
Average price
:
[Dinner] 18,000 JPY / [Lunch] 7,000 JPY
Access
:
10 minutes on foot from Tokyo Metro Omotesando Station A4 Exit/8 minutes on foot from Tokyo Metro Ginza Line Gaienmae Station
Address
:
1F, Sunlight Hill Aoyama, 4-11-13, Minami Aoyama, Minato-ku, Tokyo
Map
More Details
   Reservation   
2. Coconoma Season Dining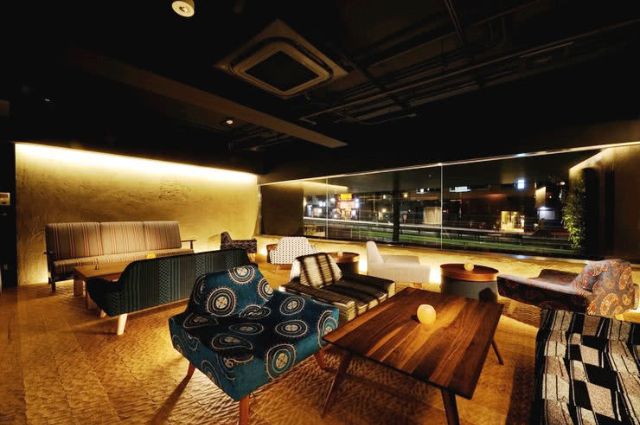 Coconoma Season Dining is a boon in the Italian-Japanese fusion world. With a veteran chef who has over 20 years of experience in the industry leading the way, you can be sure that they'll go all out to embody the good qualities of both Japanese and Italian cuisine in their dishes! Enjoy the best that they have to offer, made with seasonal and fresh Japanese ingredients, within a casual yet refined dining area that's been carefully designed to reflect Kyoto.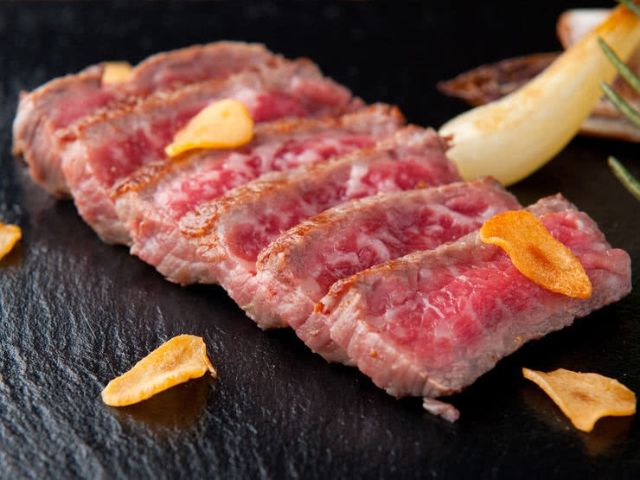 Among their extensive menu, the signature item to try is the Bistecca, or in English, Italian steak. This delicious menu item is made using Japanese beef sirloin from Kumamoto with a perfectly soft texture and beautifully balanced umami. However, if you prefer fish dishes, don't miss out on the Carpaccio Platter, which uses fresh fish bought directly from the Toyosu Fish Market. It's a great way to savor a variety of Japanese seafood!

Coconoma Season Dining
Open
: Breakfast 7:00 am - 10:00 am, Lunch 11:00 am - 2:00 pm (last order 2:00 pm), Cafe 2:00 pm - 6:00 pm, Dinner 6:00 pm - 1:00 am (last order 11:00 pm)
Closed
:
None
Average price
:
[Dinner] 4,500 JPY / [Lunch] 1,500 JPY
Access
:
6 minutes walk from Exit 2 of Roppongi Station on Hibiya line, or 8 minutes walk from Exit 5 of Nogizaka Station on Chiyoda line.
Address
:
1F, Hotel & Residence Roppongi, 1-11-6, Nishiazabu, Minato, Tokyo
Map
More Details
   Reservation   
3. Ristorante Honda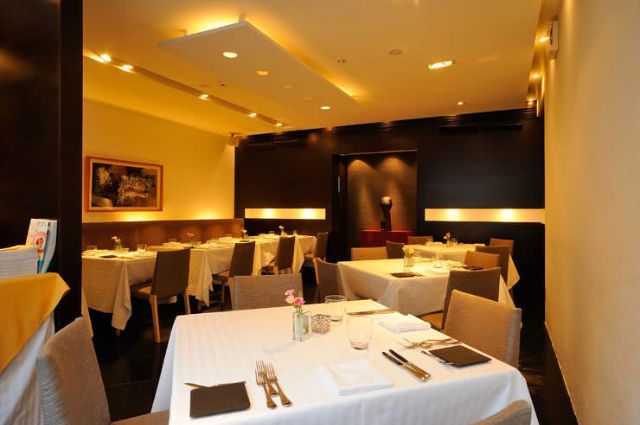 Ristorante Honda pays great attention to service, delighting guests with their relaxed and intimate atmosphere, refined interiors, and delicious food. If you're looking to celebrate a special event with a loved one, this is the restaurant to visit. The chef and owner here has trained in both France and Italy before, so he is knowledgeable on Italian cooking methods and has used this expertise to craft a menu that beautifully showcases Italian recipes and Japanese ingredients and techniques.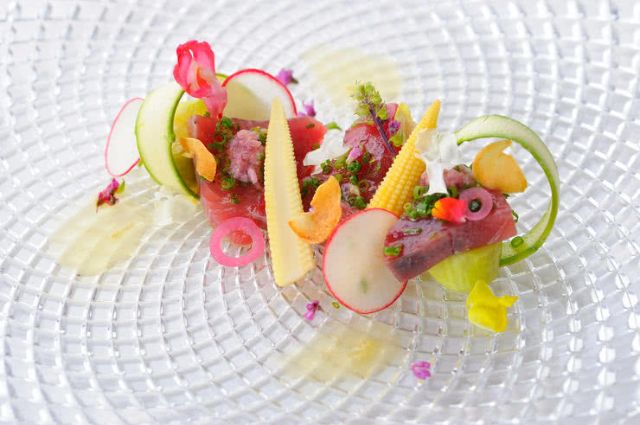 One of the restaurant's most popular dishes is their Early Bonito & Spring Eggplant Carpaccio with Ginger and White Balsamic Vinegar. Instead of using fish that one would find in a typical Italian carpaccio dish, the chef here has chosen to use Japanese bonito and local vegetables. It is a celebration of both food cultures, and offers a unique yet amazing taste that just can't be described in words.

Ristorante Honda
Open
:
[Tuesday - Sunday, National Holidays,  Day before National Holidays] Lunch 12:00 pm - 2:00 pm (L.O. 2:00 pm), Dinner 6:00 pm - 10:00 pm (L.O. 10:00 pm)
Closed
:
Mondays
Average price
:
[Dinner] 15,000 JPY / [Lunch] 5,000 JPY
Access
:
A 5-minute walk from exit 3 of Gaiemmae station. Turn right at Bell Commons, and we will be at the first building you see after turning right from the optician "Masunaga".
Address
:
1F, 2-12-35, Kita Aoyama, Minato-ku, Tokyo
Map
More Details
   Reservation   
After discovering the history and innovation surrounding Japan's delicious Italian cuisine, don't you feel like trying it for yourself? Grab the chance to try some of Japan's mouth-watering Italian-Japanese fusion dishes by exploring one of the restaurants we introduced in this article! Buon appetito!

Disclaimer: All information is accurate at time of publication.