Publish-date: Oct 31 2018 Update-date: Aug 06 2019
Like and Share us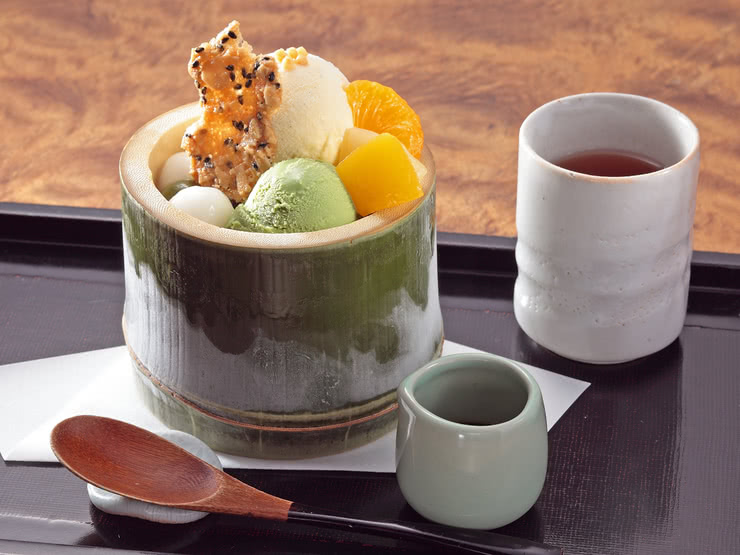 Sightseeing in Kyoto can mean a lot of walking, so why not take a break and treat yourself to a delicious dessert? Keep on reading to discover 15 cafes and restaurants in Kyoto that serve up the most delicious sweets!
1. PANCAKE ROOM (Kyoto)
This cafe known for its fluffy pancakes first opened in Kyoto's Kitayama district. A 2-minute walk from Kyoto Station, you'll find its very first store in Kyoto Tower. The most popular order is the [Classic Pancake], eaten with premium fresh cream and Canadian maple syrup. Its recipe was co-developed with one of Kyoto's long-established pastry shops, Chez La Mere. Other recommendations are the healthy [Pancake with Fresh Ham Salad], as well as the [Kyoto Pancake with "Matcha"] that is full of the flavors of Kyoto.
PANCAKE ROOM
2. Tsujiri Cafe (Kyoto)
Tsujiri Cafe
3. Tapioca Belize (Kyoto)
Tapioca Belize is a well-established cafe that brings together domestic tapioca pearls and Kyoto matcha. People like coming here to create their origianl tapioca drink by choosing from 3 different types of tapioca pearls (black tapioca, colored tapioca, and chocolate tapioca) and matching them to their chosen drink. The [Kyoto Matcha Milk Tea], a collaboration with an 1160-year-old store's matcha, comes especially recommended. In addition to the drinks, you'll also be able to enjoy crepes topped with tapioca, such as the [Kyoto Matcha Crepe].
Tapioca Belize
4. CAFE RESTAURANT Yayoi (Gion-shijo)
CAFE RESTAURANT Yayoi chirimen sansho (dried baby sardines with Chinese pepper) and tsukudani (food preserved in soy sauce and sugar). Wood-grained and stone table surfaces, as well as trendy accessories, make up the subdued, Japanese interior of the restaurant. The famous item to get here is the [Ochazuke-zen], which comes with Omi rice that is cooked in a stone pot only upon order, miso soup made with Shinshu miso, and several small dishes like chirimen sansho and tsukudani. Only a limited number of this menu item is served each day. For dessert, the [O-usu Sansho Cake], which is a matcha pound cake with a sansho accent, and the [Chacha Jelly Parfait] that is drizzled with matcha liqueur come highly recommended!
CAFE RESTAURANT Yayoi
5. Malebranch Kyoto Tower Sando branch (Kyoto)
Malebranch Kyoto Tower Sando branch is known for its koicha (rich matcha) desserts. Their [Cha no Ka], which are langues de chat that incorporates carefully selected Uji tea leaves, and [Nama Cha no Ka] in which koicha is added to make molten lava cake, are classic Kyoto desserts. The [Nama Cha no Ka Ice Pop] was made to emphasize the texture of [Nama Cha no Ka] and tastes heavenly when eaten with koicha foam. As this is limited to the Kyoto Tower branch, you'll definitely want to drop by if you're in the area. Treat yourself to a moment of bliss in the champagne gold and deep koicha green interior of this cafe!
Malebranch Kyoto Tower Sando branch
6. AUX BACCHANALES Kyoto (Karasuma)
Directly accessible from Karasuma Station! Aux Bacchanales Kyoto is an authentic French cafe with a chef who earned his skills studying in France. The warm and relaxing interior is reminiscent of a cafe you'd find in Paris. The [Bagna Cauda], made using seasonal vegetables, and [Quiche] are extremely popular. You'll also find handmade confectioneries lined up in a display case within the cafe. It also offers a wide variety of alcoholic drinks, paying extra attention to wine that goes well with French cuisine. Here, you can have authentic French cuisine at a reasonable price!
AUX BACCHANALES Kyoto
7. cafe&dining fleur Kyoto (Kyoto)
You'll want to keep coming back to this cafe and restaurant that's renowned for its pancakes, which are made with the thought of "providing a place where you can truly relax". Their popular standard menu has four types of pancakes: the [Fleur Pancake], which has a mild and simple yet addictive taste, chocolate banana, caramel nuts, and mixed berry. The [Chocolate Berry Cream Pancake] that comes with rich chocolate, strawberries, and fresh cream is only sold at the Kyoto branch and is a very popular choice.
cafe&dining fleur Kyoto
8. TOILO x TANITA CAFE Kyoto Branch (Kawaramachi)
OILO x TANITA CAFE Kyoto Branch was born through the collaboration of Tanita Cafe, which was developed by a company in the healthcare industry, and Toiro, a restaurant focused on vegetable and meat cuisine. Based on the concept of raising awareness of health and beauty through eating, the cuisine is made by putting together the knowledge of dietitians, vegetable specialists, and chefs. There are over 20 different types of desserts made using fresh vegetables and seasonal fruits, and the dessert set that comes with a drink and a generously sized parfait comes highly recommended!
TOILO x TANITA CAFE Kyoto Branch
9. Nishiki Ichiha (Kawaramachi)
This Japanese cafe is located in the famous Nishiki Market that is also known as "Kyoto's kitchen." In the back of the tea house that it's located in, you'll find a Japanese inner garden filled with emotive beauty. For those who'd like to enjoy the flavor of Uji matcha, get the [Japanese Tea and Seasonal Japanese Sweet] set. The [Nishiki Ichiha Fondue], wherein you may enjoy seasonal fruits dipped in matcha sauce, is another popular choice. The cafe provides an English menu, so no worries there! If you'd like, after spending some time at the cafe, visit the souvenir shop on the first floor as well.
Nishiki Ichiha
10.Salon de KANBAYASHI - Kanbayashi Shunsho Main Branch (Gion-shijo)
Located in the Important Preservation Districts for Groups of Traditional Buildings area, Salon de Kanbayashi - Kanbayashi Shunsho Main Branch is a Japanese cafe housed in a refurbished warehouse that was originally built in the Taisho era (1912 - 1926). Even now, the interior features the original plaster walls and beams, filling the space with a strong sense of Japanese history. In this cafe, only carefully selected tea leaves from Kanbayashi Shunsho Main Branch, a well-established tea store, are used. It is recommended to drink the mild [Sencha] (non-powdered green tea) with meals, and the powerful [Gyokuro] (high-quality green tea) after meals. You'll even be able to have the valuable experience of making your own tea here. To complement the tea, many people like to have the [Zenzai] (sweet red bean soup) or [Gateau Chocolat], which both incorporate matcha.
Salon de KANBAYASHI - Kanbayashi Shunsho Main Branch
11. cafe x dining Christopher Robin (Yamashina)
Cafe x Dining Christopher Robin is a health-conscious establishment that uses plenty of herbicide-free, organic vegetables purchased directly from farmers. You'll be able to spend your day here, from breakfast to dinner, within its simple and chic interior. The most popular choice is the [Premium French Toast] that has been soaked thoroughly for 24 hours. For those who'd like something a bit more filling, their lunch sets come highly recommended as well! For the main, you can choose from pasta, galette, or rice, and for an extra 300 JPY, you can choose from 3 different kinds of dessert to fill your belly!
cafe x dining Christopher Robin
12. Cucina Naturale F (Karasuma)
This Italian restaurant with the atmosphere of a getaway serves up a collaboration between Japanese and Western cuisine in a traditional Kyoto townhouse. The cuisine is made with raw food and macrobiotics in mind, accentuating the original taste of the ingredients. It offers choices such as gluten-free bread and pasta made using rice flour, which are very popular with customers. The [Raw Sweets Assortment] and [Cherry Tomato and Crown Daisy Genovese Pasta], which shows off the sweetness of tomatoes, are offerings on the unique menu that are made possible by the chef, who is an expert on raw food.
Cucina Naturale F
13. Dining + Cafe CALDA (Kizu)
Dining + Cafe CALDA is a welcoming cafe housed in a wooden home with a century of history. In the chic black residence, you'll find a spacious and relaxing interior. The [Homemade Cake], made using fertilized eggs from free-range chicken bred in the Yamato Highlands of Nara Prefecture, comes highly recommended! They have a wide range of dishes available, such as the [Seasonal Pasta] and the [Grilled Beef Steak] that's cooked in an oven at 180 degrees. If you order any dish that comes on a plate, you'll be able enjoy vegetables that have been picked locally that very morning!
Dining + Cafe CALDA
14. MICASADECO & CAFE KYOTO (Kawaramachi)
This cafe that has gathered quite a bit of popularity in Tokyo and Osaka has finally opened in Kyoto! MICASADECO & CAFE KYOTO has themed around "Art x Micasadeco." Located in a century-old Kyoto townhouse with an outward appearance that screams of old Japan, the interior is a wonderful space with walls painted with a contemporary shade of pink. In this astonishing space, you can treat yourself to the fluffy [Ricotta Cheese Pancakes], ["Matcha" Fluffy], and [Coconuts Pancake] that comes with a rich coconut-flavored cream.
MICASADECO & CAFE KYOTO
15. Yukinosita Kyoto Main Branch (Karasuma Oike)
Yukinosita Kyoto Main Branch is an antique looking cafe where you can enjoy a simple pancake with your afternoon tea. The seasonally-themed [Afternoon Tea Set] is a popular and luxurious 8-item set that'll only cost you 980 JPY. Treat yourself to a moment of elegance with the carefully selected coffee or tea. Additionally, the cafe has a varied Western menu with offerings such as shaved ice made from shaving frozen fresh fruits. Enjoy a slice of elegance in this traditional Japanese cafe!
Yukinosita Kyoto Main Branch
From cafes that use Uji matcha in their desserts, to those that use refurbished Kyoto homes as shopfronts, this list is overflowing with spots that evoke Kyoto. Next time you visit Kyoto, why not try stopping by one of these cafes when you need a break from sightseeing?
Disclaimer: All information is accurate at time of publication.