Publish-date: Apr 22 2018 Update-date: May 30 2019
Like and Share us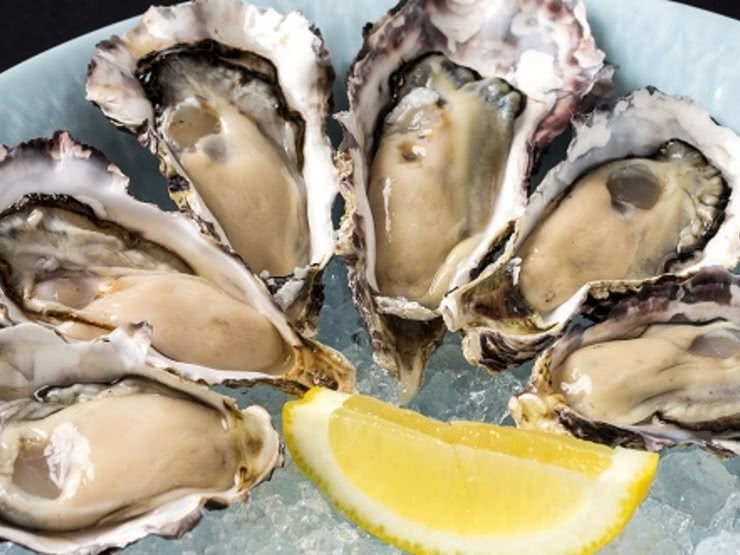 Hiroshima Prefecture faces the Seto Inland Sea (Setonaikai), the largest inland sea in Japan, and is richly blessed with marine produce. For that reason, Hiroshima is home to many restaurants that offer delicious Japanese dishes made with seasonal ingredients including fresh seafood. Here are 15 restaurants that you'll definitely want to visit when you're in Hiroshima.
1. Sushi Hiroshima Ajiroya (Matsubara-cho)
Ajiroya is a sushi restaurant located in one of the buildings facing Hiroshima Station. They are also known for their ekiben (railway lunch box meals) sold at stalls inside Hiroshima Station, among other places. Although the Kanto and Kansai regions offer Edo-mae (Tokyo-style) nigiri zushi (hand-formed sushi), each has their own philosophies on the toppings. While Kanto focuses on the art of preparing the seafood toppings, Kansai tends to place more value on the ingredient's original taste. At this restaurant, each piece of sushi showcases the freshness of the seasonal ingredient adorning the vinegared rice. One of the must-try items on their menu is the [Botan (8 pieces of nigiri zushi)] for 3,000 JPY. Enjoy sushi made with fresh seafood while looking out at the beautiful scenery from the glass countertop seating.
Sushi Hiroshima Ajiroya
2. Fune Kanawa (Ote-machi)
Fune Kanawa is a two-story restaurant on a ship floating on the Motoyasu River (Motoyasu-gawa) between the Atomic Bomb Dome (Genbaku Dome) and Peace Memorial Park (Heiwa Kinen Koen), known as the symbols of Hiroshima. The concept of serving oyster dishes on a floating boat began in the times when samurai played an active role in society. Oyster lovers will surely be delighted by the [Kaki no Kui Kiri Course (12,000 JPY)] (oyster eating course) as it features a number of the restaurant's specialty oyster dishes. They also have [Hiroshima Zanmai Course (6,000 JPY)], which consists of Hiroshima's brand beef called Takehara beef as well as seasonal fish from the Seto Inland Sea among other items.
Fune Kanawa
3. Nikutei Ichiyuku (Horikawa-cho)
Nikutei Ichiyuku is located in the center of the city where the prefectural office building and other buildings line the streets. The restaurant offers a fusion of yakiniku (Japanese BBQ) and Japanese cuisine, so diners will be sure to enjoy a wide variety of meat dishes including yakiniku, steaks, sashimi, stews, and soups. One of their must-try dishes is the [Thick-sliced Special Wagyu Beef Fillet (100g)] for 3,580 JPY. It is a high-quality cut taken from the center of the tenderloin cut of Wagyu (a type of high-quality beef), resulting in an exquisite, tender cut with less fat. Be sure to try their [Oxtail Soup in Yuzu Kosho Flavor] (580 JPY), beef tail slow-cooked for over 5 hours and seasoned with a paste made from yuzu (citrus fruit) and pepper.
Nikutei Ichiyuku
4. Torikororo Hiroshima Branch (Yagenbori)
Located in the downtown area between Hiroshima Station and Peace Memorial Park, Torikororo is known for their chicken dishes made from Nagoya Cochin (Nagoya Cochin chicken), a premium brand from Aichi Prefecture. Try their [Grilled Nagoya Cochin Thigh] for 1,000 JPY. Tender, chewy, and packed with umami (Japanese savory taste) of meat, the spices further boost its flavor. Torikororo also serves a wide variety of liquors, including ji-zake (local Japanese alcohol) from Hiroshima sake (Japanese alcohol) maker, shochu (Japanese alcohol), fruit wines, and other wines. Since the restaurant is entirely made up of private rooms, diners can drink and dine in privacy.
Torikororo Hiroshima Branch
5. Onda (Nagarekawa-cho)
Nagarekawa-cho, a town located on the southeast side of downtown Hiroshima, is known as the biggest entertainment area in Chugoku and Shikoku regions. On the 5th floor of a building within this busy area lies Onda, a kaiseki cuisine (traditional Japanese course cuisine with tea) restaurant, known for its chef that pays close attention to the traditions of Japanese cuisine, and who puts his heart and soul into every dish. The restaurant does not have a menu as they offer omakase-style (a style where the chef decides what dish to serve) service. To give the chef time to prepare dishes, diners should place their reservation at least 3 days in advance. Upon reservation, they will consult with the customer regarding their preferences in ingredients and flavors in order to prepare a meal that suits each customer.
Onda
6. Ishii (Nagarekawa-cho)
Ishii
7. Hanbe Garden (Honura-cho)
Hanbe Garden is located between Hiroshima Station and Ogon Mountain (Ogonzan), which is known as a spot to view night-time scenery. It sits in the center of a vast Japanese garden that is home to other restaurants and onsen (hot spring) facilities. The restaurant offers authentic Kaiseki (traditional Japanese course with tea) made with generous servings of seasonal ingredients. There are 6 Kaiseki, ranging from 8,000 JPY to 30,000 JPY, and require reservations. They also offer dishes and set meals that do not need a reservation, such as [Mai] (6,000 JPY), offered only on weekdays, and [Miyabi] (5,000 JPY), offered only at lunch on weekdays. Enjoy exquisite dishes and the beautiful garden views that showcase the beauty of each season in Hanbe Garden.
Hanbe Garden
8. Kissui (Ote-machi)
Kissui is a restaurant of Kaiseki cuisine (Japanese banquet cuisine with alcohol) located on the top floor (15th floor) of a hotel on the riverbank overlooking the Peace Memorial Park. The restaurant offers course style meals of colorful dishes overflowing with seasonal produce and ingredients from mountain and sea. For dinner, the restaurant offers three kinds of courses, [Yuki] [Tsuki] and [Hana] (6,000 JPY - 11,000 JPY). Even at lunchtime there are two kinds of Kaiseki available, including the highly recommended [Kissui Gozen] (2,800 JPY), which is only available on weekdays. It comes with a three-tiered, pull-out box as well as sashimi, chawanmushi (savory steamed egg custard), rice, and dessert.
Kissui
9. Mitsuki (Tanaka-machi)
Mitsuki is a Japanese restaurant located on the 22nd floor of a high-rise hotel in the center of Hiroshima City along the Heiwa O Street (Heiwa O-dori). Enjoy the picturesque view of the cherry blossoms on the mountains in spring, harbor fireworks in summer, autumn leaves of the mountains in fall, and street illuminations during the winter season. Aside from the beautiful view of every season, diners can also enjoy a wide variety of Kaiseki cuisine made with the generous serving of seafood and other seasonal produce. For dinner, the restaurant offers [5-sai Kaiseki (5-colored course)] (5,000 JPY) a set composed of seven dishes that vary every season. For lunch, they have seven kinds of [Gozen] that range from 1,600 JPY - 4,299 JPY. [Ohanami Gozen] (2,376 JPY) is recommended, as it showcases the taste of the season.
Mitsuki
10. Wagokorozukushi Oubaitouri (Ebisu-cho)
Wagokorozukushi Oubaitouri is a Japanese restaurant accessible by taking the streetcar (Hiroshima Electric Railway) that runs from east to west of Hiroshima city center. It is about a 3-minute walk from the streetcar stop in Ebisu-cho and is located on the 2nd floor of one of the buildings behind Hiroshima Mitsukoshi. The restaurant offers aesthetically appealing dishes made using seafood from the Seto Inland Sea as well as vegetables and other ingredients from the Chugoku Mountains (Chugoku-Sanchi). The head chef highly recommends the [Omakase Kaiseki] (from 6,000 JPY), an 8-dish course made with ingredients of the season. The restaurant also takes pride in their 8-piece Nigiri Zushi (2,400 JPY) and 12-piece Nigiri Zushi (hand-formed sushi) (3,200 JPY) with toppings selected by the chef.
Wagokorozukushi Oubaitouri
11. Kappo Hakutaka (Nagarekawa-cho)
Hakutaka is located at the end of the back street, too narrow to be the center of Nagarekawa-cho, an entertainment district in Hiroshima. There is a small shrine standing in front of the restaurant. The restaurant was originally owned by the grandmother of the current, third-generation owner. They serve specialties made with various fresh seafood caught from the Seto Inland Sea, where many prosperous fishing ports are located, as well as wild vegetables, bamboo shoots, mushrooms, and other ingredients from the mountains. Their menu is daily determined along with the ingredients procured for the entire business day that diners will always have something new to look forward to. Although there are table seatings in private rooms on the second floor, it is highly recommended to sit at the counter, made from one large piece of wood, which dates back to the restaurant's establishment.
Kappo Hakutaka
12. Kaiseki cuisine restaurant Hanao (Hataka-cho)
Hanao is a Kaiseki cuisine restaurant located away from the hustle and bustle of the city. It is around a 30-minute car ride away from Hiroshima's center heading to the east, or around a 10-minute train ride from Aki-Nakano Station to Aki Ward and Hataka Ward. The restaurant is situated in an undeveloped woodland area with terraced rice fields all around. The area has a sloping narrow road, and at the end of it is the restaurant, which is housed in a converted barn that stands in the grounds of the house that the owner grew up in. It has a reservation-only system, and they only accommodate a limited number of groups daily. They have two kinds of set meals priced at 8,400 JPY and 10,000 JPY. Enjoy the elegant flavors that make the most of the ingredients, and the delicate plating of their cuisine while basking in the relaxing jazz music playing in the background.
Kaiseki cuisine restaurant Hanao
13. Japanese Restaurant Kodama (Nobori-cho)
Kodama is a Japanese restaurant located around a 5-minute walk from Kanayama-cho Station, in the center of Hiroshima. The restaurant only serves their [Omakase Course], so there are no a la carte dishes. The head chef's aim is to bring out the full flavor of each ingredient by spending time and effort on each dish. Through the dishes' flavors, textures, and colors, diners can enjoy an exquisite cuisine that does not only appeal to the taste but also to the rest of the senses. Hiroshima is located in an area with an abundance of yields from land and sea, and diners at this restaurant can experience a cuisine that is filled with the charm of such produce.
Japanese Restaurant Kodama
14. Hiroshima Wanari (Ote-machi)
Hiroshima Wanari is a Japanese restaurant located around a 2-minute walk from Fukuro-machi. The restaurant offers both Japanese and Italian dishes made using ingredients grown and produced in Hiroshima. One of their dishes, the [Fresh Oysters] (2,000 JPY), is available throughout the year. The first bite is best enjoyed as it is. It should next be eaten with a squeeze of lemon. A lot of diners love [Crunchy Ondo Chirimen Salad] (1,000 JPY), an exquisite dish made of "ondo chirimen" (a Hiroshima delicacy made from salt boiled and dried young Japanese anchovies). They also have [Famous T-Bone Steak] (1,800 JPY) and [Fresh Sea Urchin Pasta] (3,500 JPY). Be sure to try them all!
Hiroshima Wanari
15. Japanese Restaurant Sambi (Kamihatchobori)
Sambi is located on the 2nd floor of a skyscraper in the center of Hiroshima City, close to the government offices and public facilities. The head chef specializes in creating dishes using local ingredients available to locals. Diners can enjoy Kaiseki cuisine made from a rich variety of produce from the mountains and the sea around Hiroshima. It includes the [Appetizer of the Season] (1,296 JPY), made using seasonal ingredients carefully selected by the head chef himself. For lunch, one of their must-tries is the [Haifu Gozen] (3,100 JPY), a set meal featuring dishes made of ingredients perfect for the health-conscious. You can enjoy colorful tableware and cooking here.
Japanese Restaurant Sambi
The strong current of Seto Inland Sea tightens the flesh of the fish, making them delicious. Some of the exquisite items you must try are seafood including tai (sea bream), octopus and anago (garden eel). In addition, the area is one of Japan's top oyster producers, something you don't want to miss out on!
Disclaimer: All information is accurate at time of publication.