Publish-date: Apr 23 2018 Update-date: Feb 14 2019
Like and Share us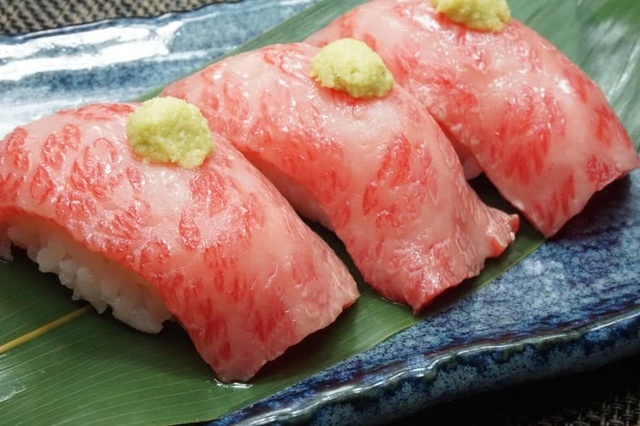 Many world heritage sites are located in Nara, but there are also a lot of good restaurants there. Check out these recommended restaurants that are perfect for a meal when you visit Nara for sightseeing.
1. Yamato no Sanzoku (Nara-shi Sanjo-cho, Izakaya)
Yamato no Sanzoku is a place where you can enjoy Japanese cuisine made with fresh seasonal ingredients and delicious ji-zake (local Japanese alcohol). The [Round Eggplant and Tofu Age-dashi] (580 JPY) is a dish made with locally grown round eggplant, fried and served with dashi (broth) that this izakaya (Japanese pub) is proud of. This dish is so juicy and addictively tasty. Another recommended dish is their [Gokai Sanzokuyaki] (720 JPY). Branded chicken Sakurahime from the Miyazaki prefecture is grilled to perfection in a hearth to create a fine texture and umami (Japanese savory taste). With so many dishes that go well with ji-zake on the menu, be careful not to drink too much!
Yamato no Sanzoku
2. Tempura Kitchomu (Nara-shi Tomigaoka, Japanese Cuisine)
Tempura Kitchomu is a tempura restaurant, tucked away in a residential area. They serve high-quality tempura in a laid-back atmosphere. Their menu is simple and consists only of [Tempura Course] (lunch 2,500 JPY, dinner 4,500 JPY). The dishes included in the course menu changes depending on the season, as care is taken to use only fish and vegetables that taste best during that season. At the end of the course meal, they will serve an especially mouth-watering dish called [Tencha]. This is a dish of seasonal vegetable and sakura ebi (sakura shrimp) tempura, with tea poured over it. It's much lighter in taste than what you'd imagine from a fried dish like tempura. They only have counter seats so you get to watch the chef as he cooks your meal!
Tempura Kitchomu
3. Oryori Hanagaki (Nara-shi Gakuen Minami, Kaiseki)
Oryori Hanagaki is housed in a building that's 50 years old, and this is reflected in its atmosphere. They only serve the [Omakase Course] (20,000 JPY) here, and they only accept 1 group of guests at lunch and dinner each, making it fairly exclusive. Reservations must be made at least 1 day in advance. The dishes in the course are made with a focus on freshness and using seasonal ingredients. The [Meat Dish] made of rare Ozaki beef and roasted over low heat is simply wonderful, as the umami of the fat spreads in your mouth the moment you eat it. For the [bowl Dish], you can sample the clear dashi and seafood. Enjoy these, and more, while dining in a spacious Japanese-style room with a view of the lovely courtyard!
Oryori Hanagaki
4. Aji no Tabibito Roman (Nara-shi Tsurumai Higashi-machi, Japanese Cuisine)
With its rare circular counter seats, diners are able to experience not just the taste and smell of the food, but they can also see and hear the owner chopping away with his knife in the kitchen. Here, they serve lunch and dinner courses (lunch 5,400 JPY, dinner 10,800 JPY) that usually change every month. There are 2 items in the courses that are especially popular - the [Egg Somen], which is a dish that took the owner over 5 years to perfect, and their [Pudding], made with special milk from a Kyoto farm, wasanbon (a type of high-quality sugar), and eggs from Tenri, Nara. The restaurant has many fans who visit from far-off places every month to try these courses. It's definitely a place you wouldn't want to miss out on!
Aji no Tabibito Roman
5. Aya (Nara-shi Takama-cho, Japanese Cuisine)
Aya is a restaurant that presents the tastes of the four seasons with a focus on fresh seafood and ji-zake (local sake) of Nara. As they strive to serve the tastiest food, efforts are taken to procure fresh fish directly from the markets. Sometimes, the chef even heads out to sea to catch the fish himself! The top recommendation here is their [Sashimi Platter of the Day] (from 1,680 JPY). It's a great way to enjoy sashimi made with fresh seafood that's in season. Pair it with your choice of over 20 ji-zake that they have in stock.
Aya
6. Ristorante La casa mia (Nara-shi Nimyohirano, Italian)
Here, you can enjoy Italian food made with local Nara vegetables and meat, seafood from Seto region, and ingredients imported from Italy. Do try their [Tagliatelle with Porcini Tossed in Seasonal Truffle] (reservations required). Their homemade tagliatelle made with Hokkaido wheat and egg yolk of Nara jidori (local chicken) is chewy and full of flavor. Paired with the aromatic Porcini mushrooms and seasonal truffle, it becomes an absolutely delectable meal. With the jazz music playing in the background and the sophisticated atmosphere, it's a great place to enjoy quality Italian food.
Ristorante La casa mia
7. Ristorante I-lunga (Nara-shi Kasugano-cho, Italian)
Located in front of the approach path to the Daibutsu-den (Great Buddha Hall) of Todai-ji (Todai Temple), Ristorante I-lunga is run by owner-chef Horie Junichiro who honed his skills in the northern Italian region of Piedmont, among other places and was awarded the Italian equivalent of a world-renowned gourmet guide. Out of the course meals (lunch 5,400 JPY, dinner 10,800 JPY) served here, the [Agnolotti dal plin], a dish well loved by the locals in Piedmont, is highly recommended. Beef, pork and rabbit meat is wrapped in pasta, providing the opportunity for you to taste a mixture of all three types of meats. The restaurant is housed in a renovated martial house built over 100 years ago, and there are European-style round tables set in the interior, giving it a very trendy atmosphere that will make your meal even more enjoyable.
Ristorante I-lunga
8. Akordu (Nara-shi Suimon-cho, Italian)
The owner-chef of akordu, Hiroshi Kawashima, honed his craft in a famous modern Spanish restaurant. With his own restaurant, he freely applies his creativity to create unique dishes that are simply delightful. The course meals (lunch 6,500 JPY, dinner 13,000 JPY) are a great way to sample the creative dishes. For appetizers, there is the [Yamato Niku-dori Liver Confit and Raw Squid, Ancient Hishio and Truffle] (chicken liver confit and raw squid, hisio (ancient condiment) and truffle). The delicious flavors of the Nara ji-dori liver and raw squid, with its lovely texture, is simply irresistible. [Miwa Yamamoto Seaweed Noodles, the Aroma of Rocky Seashore and Abalone] is a cold pasta dish of noodles with seaweed incorporated into the dough, tossed in a sauce made from abalone liver. Just a mouthful of the pasta will pack so much flavor that it gives you a sense of being at the seaside. Drop by this restaurant, located in the Nara forest, to enjoy these complicated but fascinating dishes.
Akordu
9. Washokuya Happo (Nara-shi Higashi Mukinaka-machi, Creative Japanese Cuisine)
With interiors of clay walls and decorations made from bamboo and antiques, Washokuya Happo is filled with a traditional Yamato (the old name for Nara) atmosphere. The biggest reason for its allure is its menu that's filled with dishes that preserve the tradition of Japanese culture. In particular, the [Jimono Yasai no Tempura Moriawase] (720 JPY) (local vegetable tempura assortment) and the [Yamato Ginjo Yaki] (720 JPY) (grilled vegetables and meat in sake) are exquisite dishes, made with generous servings of traditional Yamato vegetables and local vegetables that they procure every day. [Handmade Nara Go Pork Roast] (680 JPY) and [Grilled Nara Go Pork with Yuzu and Pepper] (680 JPY) are two other delicious meat dishes made with local Nara pork.
Washokuya Happo
10. Torisetsu Gakuen-mae Branch (Nara-shi Gakuen Kita, Izakaya)
This restaurant is really particular about selecting and using the best chicken in its dishes, one of which is the Kyo Aka ji-dori (Kyo Aka chicken). Their [Omakase Yakitori 5 Skewers] (680 JPY) (selection of 5 chicken skewers) is a must-try dish. Each of the different chicken cuts used is from different types of chicken that have been carefully selected from various places around the country. Himalayan salt is then used to further bring out the flavor of the grilled chicken. Drop by this restaurant with a trendy modern Japanese atmosphere and lose yourself in the delightful chicken dishes that they serve!
Torisetsu Gakuen-mae Branch
11. Buono Buono (Nara-shi Omiya-cho, Italian)
Just a 1-minute walk from Shin-Omiya Station, Buono Buono is an easily accessible Italian restaurant that spans 2 floors. The first floor is a calm and relaxing space, but the 2nd floor is a large area that can seat up to 100 diners, making it perfect for large groups that are in Nara for sightseeing. The food here is excellent as well, with the [Spaghetti with Whole Japanese Blue Crab] (1,600 JPY) being one of their standout dishes. It's a great way to enjoy the lovely flavor of the crab!
Buono Buono
12. Niku Zushi Bar (Nara-shi Sanjo-cho, General Japanese)
Niku Zushi Bar is a restaurant that uses the freshest meat to create a variety of dishes. Beef, horse meat, and chicken are made into premium meat sushi or meat sashimi. The [Seared Marbled Wagyu Sushi] (1 piece 480 JPY) and [Sashi Toro] (880 JPY) are absolutely delicious. There's also the [Niku Sushi Moriawase] (1,780 JPY), which is another must-try dish. A selection of the 3 freshest types of meat of the day is lightly seared and served on this sushi platter. It's the perfect way to enjoy the flavors of 3 different types of meat!
Niku Zushi Bar
13. Kitamachi ce magasin (Nara-shi Higashi Muki Kita-machi, French)
This is a casual brasserie that focuses on regional French cuisine. It's a place where you can enjoy your meal with good wine. Their [Lamb and Vegetable Couscous] (1,800 JPY) is a dish that the owner created by chance while traveling in Morocco and is highly recommended. The herbs and spices in the dish give it a very strong ethnic character. There are also many other dishes on the menu that are perfect for wine. The atmosphere of the restaurant makes you feel like you're in a foreign land. Drop by with your friends to enjoy the good food and great company!
Kitamachi ce magasin
14. Ristorante L'incontro (Nara-shi Yakushido-cho, Italian)
Ristorante L'incontro is a restaurant that only serves course meals for customers visiting for the first time (lunch from 2,500 JPY, dinner from 6,000 JPY). For appetizers, you'll be able to sample various items, starting with luxurious ham, in the [Home Made Processed Meat] that's been carefully made by the chef to retain as much of the meat's natural flavor as possible. You can also try [Gibier Dishes] here! Meat such as wild boar and deer procured from hunters and ducks hunted by the chief feature in the dish. This restaurant is housed in a 100-year-old machiya (old merchant's house) with a relaxing environment, making it a lovely place to enjoy some Japanese-influenced Italian cuisine!
Ristorante L'incontro
15. Torisetsu Saidaiji Branch (Nara-shi Saidaiji Sakae-machi, Izakaya)
Located just a 2-minute walk from the Yamato-Saidaiji Station, this restaurant serves up carefully-selected Kyo Aka ji-dori (local chicken) that's been slaughtered on the same morning, ensuring only the freshest chicken is being used in their variety of dishes. If you want to experience the freshness of the chicken, try the [Sashimi Assortment 5 Kinds] (980 JPY). Because the ingredients are very fresh, the texture of the meat is excellent. You'll fall in love with it for sure. It's a place that's both stylish and comfortable, so diners will feel at ease here.
Torisetsu Saidaiji Branch
How do they sound? The food is delicious of course, but many of the restaurants are stylish and have a great atmosphere too. With 15 to choose from, you'll definitely be able to find one that suits your mood on any given day!
Disclaimer: All information is accurate at time of publication.