Publish-date: Dec 19 2017 Update-date: Aug 06 2019
Like and Share us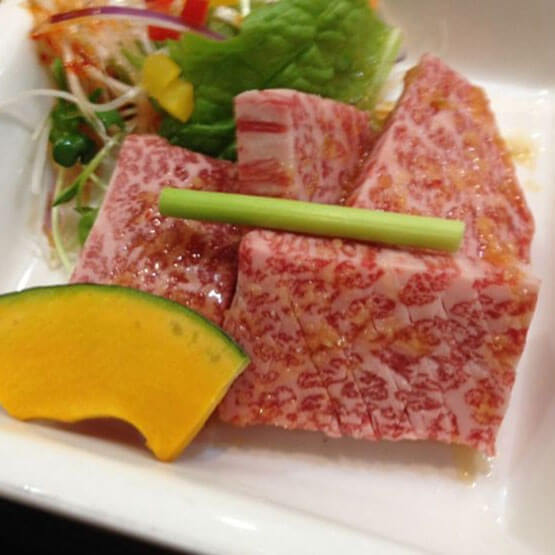 Thanks to all the restaurants of this genre lined up in Tsuruhashi, Kyobashi is known as the yakiniku (Japanese BBQ) mecca of Osaka. It offers options for all tastes and occasions: historic or hidden restaurants with traditional tastes, restaurants with a wide selection of branded beef, and even places for those wishing to enjoy top quality meat at reasonable prices. Not only do most of them have rich menus with various cuts of beef, but they also have interesting side dishes like kimchi, namul (Korean vegetables), or bibimbap (Korean rice dish). Take a look at this list to find the best yakiniku restaurant for you!
1. Kyoshoran Hanare
The owner of this restaurant used to work at Kyobashi's popular yakiniku restaurant, Shoran. After rigorous training, they decided to open their own restaurant, calling it "Kyoshoran Hanare". The only option on their menu is an [Omakase Course] (Chef's Recommendation). Note that you can only eat here with a reservation, as the restaurant is fully booked, even on weekdays! Starting with platters of fresh beef appetizers, sashimi, and tataki (minced or seared raw meat), this course will allow you to enjoy many creative dishes that combine unusual ingredients in several ways: boiled, grilled, and sometimes even stewed. An all-time favorite is the [Fillet Niku no Cutlet], which is crispy on the outside, but tender and sweet on the inside. You can sip some wine, shochu (a type of Japanese spirit), or whiskey while entertaining yourself by watching the chef, who will be cooking your next dish right in front of you. It's the perfect place for a special event, like a party or anniversary.
Kyoshoran Hanare
2. Hiryu
Open from 11:00 am, Hiryu is a popular lunch yakiniku spot where you get to order the meat cuts you prefer, such as [Kalbi], [Hormone] (offals), [Harami], [Kalbi-Hormone], and [Kalbi-Butabara-Torimomo]. Since each portion is 110g - 150g, 1 serving is quite filling, but you can [Double] it if you're particularly hungry. Their set meal includes salad, soup, and a small bowl of rice that you can refill for free. For dinner, they have the [Hormone Moriawase], which contains 5 - 6 types of offal, like [Tare Tongue], [Tecchan], and [Tsurami]. You can also enjoy the umami (savoriness) of premium beef from Saga or Nagasaki in dishes like the [Bara Mori], which is a platter of thinly cut [Shio Tongue], tender [Harami], and juicy [Pork Loin].
Hiryu
3. Itamae Yakiniku Itto Kyobashi Branch
The big show window at the entrance of Itamae Yakiniku Itto Kyobashi Branch displays the variety of carefully selected Kuroge wagyu beef that they have to offer from suppliers such as Miyazaki, Kagoshima, and Niigata. This restaurant is famous for its skilled chef, who cuts the meat in front of your eyes and serves it to you "Itamae-style". Their [Yakishabu], consisting of lightly seared shabu-shabu meat (thinly sliced and parboiled with vegetables), is one of their regulars' favorite dishes. Their amazingly tender [Tongue Steak] is another first-rate recommendation. The [Bara] of Sendai beef, as well as the [Tokusen Rosu] and [Jo Harami] of Omi beef, are thickly cut so that you can fully enjoy the umami of the meat. Their side dishes are also popular, and consist of things like fresh [Itto Salad] with daikon (Japanese white radish) and Mizuna (potherb) mustard, and [Tamago Soup]. In addition to counter seats, they also have box seats to accommodate groups of friends and families.
Itamae Yakiniku Itto Kyobashi Branch
4. Yakiniku Yacchan Kyobashi Branch
At Yakiniku Yacchan Kyobashi Branch, you can have a taste of premium quality meat from Kyushu that's been personally selected by Yacchan, the owner. Their simple menu has a total of 9 dishes, such as [Jo Tongue Shio], [Jo Rosu], [Hormone Mix], [Jo Mino (Tare or Shio)], and [Tecchan (Tare or Shio)]. The basic 1-person serving is 200g, but you may also ask for a half-sized portion. Their delicious signature dish, [Jo Harami], is thickly cut and served with wasabi soy sauce or tare sauce. The [Jo Tongue] is lightly seared on the grill, and it is highly recommended to accompany it with lemon. They only have counter seats, so it's ideal for anyone looking for a casual place to indulge in their favorite cuts of meat. Don't forget to finish off your meal with their original [Tokusei Curry Ojiya]!
Yakiniku Yacchan Kyobashi Branch
5. Aoyama
Aoyama is located in Kyobashi Sakura Street, which is a popular restaurant area that still retains a Showa era (1926 - 1989) atmosphere. They have a rich menu, including classic meat cuts and side dishes. The interior is designed as an old-school yakiniku restaurant, and they have a smokeless grill. Their thickly cut [Wagyu Tokujo Tongue Sashimi] is highly acclaimed for being sweet and smooth. Aside from the classic [Pork Loin], [Jo Aburi Liver], [Jo Bara], and [Hormone], two rare must-try cuts are the premium thigh meat, [Hiuchi] - of which there is only 1.5kg of per cow - and [Ichibo] (aitchbone).The beautiful marbling and the sweet, fatty meat is very tasty. Enjoy them together with the restaurant's special side dishes: [Ishiyaki Bibimbap], [Tamago Soup], or [Reimen].
Aoyama
6. Satsuma no Kubo
Satsuma no Kubo is a restaurant run by a renowned butcher shop that serves high-quality meat. They buy whole Kagoshima Kuroge wagyu cows and serve every single part, from the bones to the entrails. Their thickly cut [Tokusen Tongue Steak] and [Gokujo Sirloin] would make any skilled butcher jealous. Regulars recommend drizzling lemon on top of the freshly grilled tongue steak, as well as quickly dipping the sirloin in tare sauce. Other than the [Tokusen Harami] with wasabi and salt, other cuts like the [Tokujo Harami], [Kalbi], and [Hormone] are served with very little sauce to preserve the meat's umami. If you want to please your palate with these amazing flavors, come by and enjoy them with shochu, black pig, miso, soy sauce, and all the other ingredients they buy in Kyushu!
Satsuma no Kubo
7. Matsui
Founded in 1974 (Showa 49), Matsui is a well-known historic yakiniku restaurant in the Kyobashi area. Their weekdays-only lunch lets you grill the meat yourself! The often ordered [Harami Teishoku] - a set with skirt steak and 2 side dishes - and [Yakiniku Bento], which includes rib, tongue, and liver, are accompanied by salad, kimchi, namul, potato salad, tail soup, and rice. Some regulars also add the [Hormone O-tokumori 6-shu] or the [Jo Mino Karaage]. However, it's not just about the yakiniku: they also offer [Mix Chijimi] or delicious handmade Korean side dishes like [Hakusai Kimchi] and [Ishiyaki Bibimbap]. They have tatami rooms, so it is recommended for families and friends.
Matsui
8. Chochin
With its iconic big red lanterns, Chochin is a long-standing yakiniku restaurant with a solid customer base. Its famous [Hire Steak] is special because it's grilled right before your eyes! Placed on the grill, the outside gets well done, while the inside stays rare. The first bite into this large and thick 230g fillet steak is crunchy, followed with a juicy and tender texture that makes the whole experience delightful. Enjoy it with plain salt and pepper. Other classic meat delicacies like [Jo Pork Loin], [Jo Bara], [Tsurami], [Shio Tongue], and [Harami] are served with miso or soy sauce-based tare sauce, according to which one best enhances the meat's flavor. You can have free fruit at the end of the meal, which will satisfy both your stomach and heart.
Chochin
9. Hakutoen
Apart from classic beef cuts, at Hakutoen, you can also find various hakkinton (platinum pork) cuts that are cooked with shichirin (earthen charcoal grill). Their [Sashimi Moriawase] consists of a platter with several types of fresh meat, like horse sashimi, beef heart, pork uterus, raw liver, and other offal. Also, their [Buta Shio-yaki Moriawase] - with 4 types of pork cuts (loin, belly, jowl, and tongue) - and the big [Hakkinton Sausage] taste great when carefully grilled. They even have [Yaki Yasai Moriawase], which is a unique vegetable plate that includes rare vegetables like jumbo mushrooms, Kaga lotus roots, and Fushimi peppers. You can also order an assortment of 3, 5, or 10 [Namul], with classics like bean sprouts and royal fern, or seasonal products, such as zucchini and okra. Its rich beef, pork, and vegetable offerings make it the perfect option for a girl's night out.
Hakutoen
10. Tottori Wagyu Inaba no Kunimori
Tottori Wagyu Inaba no Kunimori allows you to enjoy yakiniku with its smokeless charcoal grill, which doesn't have any ducts. They offer [Olein 55] Tottori wagyu - a famous brand that dates back to the Edo period, [Daisen Ruby] Tottori pork, and [Tottori Jidori Piyo] chicken. [Olein 55] is beef that is said to contain 55% Oleic acid, which is the main component of olive oil. When grilled, the inside stays tender, and the juices give it a flavorful and delicate texture. The restaurant's top dishes are their fine [Tottori Wagyu Moriawase] and rich [Miyazawa no Tottori Jidori Piyo], both of which are low in fat. Also, don't miss their refreshing [Man'yo Gyu Tonbi Roast Beef], [Yuzu Sherbet], or [Tokusei Gyu Suji Curry] to complete your meal.
Tottori Wagyu Inaba no Kunimori
11. Yakiniku Kitchen Paku Paku
Yakiniku Kitchen Paku Paku offers a laid-back atmosphere so that guests can truly enjoy charcoal-grilled Kuroge wagyu yakiniku. Their course meal that includes 2 [O-susume Shio-yaki], 5 [O-susume Tare-yaki], salad, namul, and dessert, is one of the most popular menu items, but you may also order their dishes à la carte. The [Tokujo Harami] tastes amazing with rice, and so does the [Shio Tongue] that's rolled in sliced onions before being seasoned with ponzu. You may also like their [Atsugiri Tongue], [Akami Niku], and [Hormone] - so much umami! As for side dishes, the most popular ones are [Ugoji Soup] with dried cabbage, and [Yasai Soup], which has big chunks of vegetables. Customers appreciate the speedy service, as well as the meat plates that are carefully decorated with veggies! It's very well-known, so don't forget to make reservations in advance.
Yakiniku Kitchen Paku Paku
12. Aji Ichi
You can easily come alone to Aji Ichi - a restaurant that still retains its atmosphere from the Showa period. This restaurant is popular for offering gas stove-grilled yakiniku at a reasonable price. The beautifully marbled, soft, and flavorful [Jo Rosu], as well as the tender [Sankaku Bara], are both highly appreciated. Their super chewy [Tecchan], grilled until it's well-done, is recommended, too. You can enjoy all kinds of flavors and textures according to the meat cut, such as the [Jo Kalbi], the [Tongue Shio] that's served with lemon, the [Kimo] that's so fresh that you can eat it raw, and the juicy [Mino]. You can have fun grilling on their retro stove while munching on some sweet cabbage. Come here when you're in the mood for a nice and cozy yakiniku.
Aji Ichi
13. Mifukuen 
Founded 37 years ago, Mifukuen serves A5 grade premium Kuroge wagyu from Saga and Miyazaki. On the menu, you can find set meals with 3 - 5 different cuts like the [Tokusen Wagyu Niku] or [Kokusan Hormone Moriawase]. Their [Misuji] cut of Kagoshima beef that's seasoned with just salt and pepper is served along with sansho (strong Japanese pepper). The most irresistible cut is the thick [Tongue Shio] that is so juicy that it seems to explode with the first bite! Then, there are the [Shio Rosu Steak Atsugiri (from 250g)] and the [Shio Here Steak Atsugiri (from 150g)]. Share these rich dishes with your friends. Plus, the restaurant offers high-quality side dishes such as [Reimen], which consists of soup and handmade noodles, and [Kimchi] that has the right balance of sourness, sweetness, and spiciness.
Mifukuen
14. Yakiniku House Marucho
Yakiniku House Marucho is a family-run restaurant with good hospitality and a great reputation. It has a cozy atmosphere, and only has counter seats. The menu on the wall shows plenty of affordable options. They only serve high-quality meat, but if you can't decide what to pick from the à-la-carte menu, you may want to ask for their [Omakase Moriawase], consisting of a well-balanced assortment of meat and offal. This way, you get to taste [Kalbi], [Tecchan], [Harami], [Mino], and more, all at once! After grilling the meat with the roaster on the counter, a delicious way to eat it is to wrap it in lettuce (Korean-style). Have some delicious, spicy kimchi, while enjoying the taste of meat with soy sauce-based sweet tare sauce, and don't forget to complete the meal with rice and beer! Recommended for when you feel like enjoying top-quality meat at reasonable prices.
Yakiniku House Marucho
15. Hida Shichirin
Have some top-grade Hida beef at Hida Shichirin. Their lightly seared [Jo Kalbi] and [Jo Rosu] are so tender that they will melt in your mouth. Help yourself to the 2 types of tare sauce on your table - sweet and spicy - to season the chewy [Hida Gyu A5 Tokkyu Tokusen Tongue Saki], or the thick [Shio Tongue] and [Harami]. If you want to try cuts like the [Tongue Saki], [Negi Shio Kalbi], [Jo Bara], and [Akami Rosu], their [Tokusen Hida Gyu Course] is for you. The [Gensen Sanmi Mori], with special loin, special ribs, and premium flank, and the [Hormone 4-shu Mori], are 2 valid alternatives. They also offer side dishes to accompany your charcoal-grilled meat, like [Oi Kimchi] and [Hida Shichirin Salad]. After your meal, you'll also be served tea and toffee! Sounds nice, doesn't it?
Hida Shichirin
16. Kyobashi Sakaba
Kyobashi Sakaba is a [Senbero]-style izakaya, which refers to a Japanese pub where you can get drunk for just 1,000 JPY. The stand-up drinking counter on the 1st floor pleases most customers with their [Choi Nomi Set], which consists of [Omakase Kushiyaki 3-bon], plus a drink of your choice from draft beer, highball, shochu, and chu-hi. Alternatively, there is the [Banshaku Set], which includes the [Tsukidashi 1-pin + Speed Menu kara 1-pin + Omakase Kushiyaki 3-bon] that allows you to pick any drink you like. Considering that this evening meal also includes their [Otokogi Jockey] - a giant mug of draft beer, it is quite a good deal. Perfect for a little drinking in the afternoon, or as a cheap snack and drink after work. If you're with friends, you can take a seat on the 2nd floor and try their famous [Tonteki] or [Butaya no Karaage] while enjoying your drink!
Kyobashi Sakaba
17. Cow House
The country-style Cow House offers Yamagata beef from cows that were bred and raised in Yamagata Zao farm. Raised in a nature-rich environment, Yamagata cattle has leaner meats with moderate amounts of fat. The restaurant's signature dish is the [Shio Tongue], where the slices of tongue, as thin as fugu sashimi, are lined up on a plate. Whether you eat it raw or seared, you'll get to enjoy its great umami flavor. Their [Cow House Course] consists of 6 types of meat, such as [Rosu], [Bara], and [Jo Mino], plus assorted vegetables, kimchi, rice, and soup. It is ideal for 3 - 4 people. The wait staff will make sure to change your grilling surface from time to time, as welll as assist you with all your needs. It is recommended for dates, family outings, and girl's nights.
Cow House
18. Yakiniku Iccho Kyobashi Branch
Yakiniku Iccho Kyobashi Branch serves A4 and higher grade meat using whole cows. Their forte is definitely their [Iccho Girl Course], consisting of 33 different delicacies - from lean meat and offal, to rare cuts and side dishes - and a 90-minute all-you-can-drink plan! It says "girl", but male customers can also order it. Another great deal is their [Gyu Itto Marugoto Course], consisting of 18 types of lean meat, 15 types of offal, and 6 other dishes, completed with a 120-minute all-you-can-drink plan. Its modern Japanese-styled private rooms, which are fairly quiet, make this restaurant suitable for meetings between friends or business colleagues. Keep this restaurant in mind the next time you and your friends want to have fun drinking and eating delicious meat.
Yakiniku Iccho Kyobashi Branch
19. Iris
Iris is a nice and cozy Korean izakaya that regularly hosts many local customers. They have a variety of drinks in their menu, such as makkori and beer, as well as several à-la-carte dishes. However, each item costs no more than one coin (500 JPY), which gives this restaurant an unbeatable quality to price ratio. Enjoy the unique taste of their piping hot [Chijimi] that's loaded with vegetables, their [Iris Tokusen Karaage], which is seasoned with various spices, or their slightly hot and spicy [Tako Hoe], [Japchae], and [Namul]. Apart from authentic Korean dishes like [Chanja], [Tonsoku], and [Mushi Buta], they also honor Kansai with their [Takoyaki] that you can season with their sauce, soy sauce, or ponzu. You will definitely feel at home in this Korean izakaya, thanks to the cheerful and friendly proprietress and staff!
Iris
20. Showa Taishu Hormone Kyobashi Branch
Showa Taishu Hormone Kyobashi Branch has a design that will make you feel nostalgic for the 1930s, which was during the Showa period. The inside is decorated with old enamel signs, and the register looks like it came straight from an old tobacco shop. Their flagship products are rich, lean meats and fresh offal, including rare cuts. For meat lovers, they recommend the [Zen 60-pin Tabehodai Course 120-punsei] or the [Zen 90-pin Tabehodai Course 120-punsei]. With these, you get to taste the [Akaniku Moriawase] or [Umakara Hormone] sets - with offal like [Tecchan] and [Hachinosu], and lean meats like [Harami], [Rosu], and [Bara] - together with unlimited kimchi, rice, or salad. If you want to make a toast, the waiters will be more than happy to join you, winning all of their customers' hearts!
Showa Taishu Hormone Kyobashi Branch
21. Ju Ju An Kyobashi Branch
Ju Ju An Kyobashi Branch has both shichirin tables - suitable for small groups and girl's nights - and tatami rooms to host larger groups. The limited quantity [Sakura Yukhoe] consists of fresh horse meat served with a dense tare (dipping sauce). It's their signature dish! Another top item is their [Atsugiri BIG Rosu] - made with tender, top-quality meat seasoned with plain salt. When with friends, the [Premium Tabehodai Course] comes highly recommended. It's an all-you-can-eat course with 115 different delicacies, such as lean meat, offal, pork, bibimbap, and even dessert, to choose from. On the à-la-carte menu, you will find [Kaisen Moriawase] that has shrimp, squid, and scallops, as well as foil-grilled dishes like [Jaga Butter] or [Eringi Butter], [Doteyaki], and several other dishes.
Ju Ju An Kyobashi Branch
Disclaimer: All information is accurate at time of publication.