Publish-date: May 01 2023 Update-date: Jun 30 2023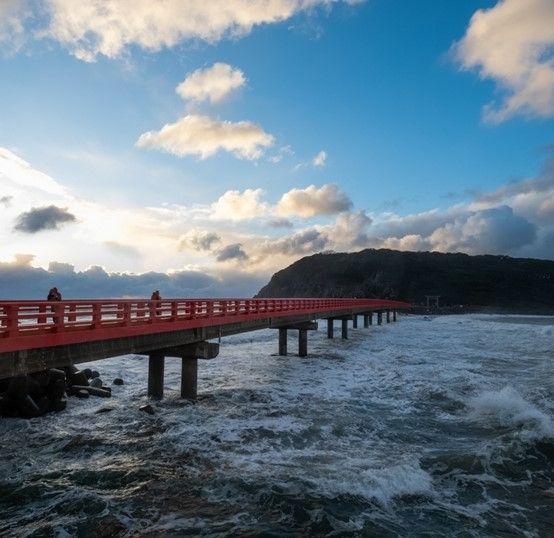 In the midst of your bustling life, you may suddenly yearn for a faraway travel destination, and Fukui could be just the place your heart desires. When you think of Fukui, you may associate it with the delicious Echizen crab, glasses, or Tojinbo, but there is much more to explore. You can experience nature with all your senses and feast on the bounties from the mountains and the sea. Let's go on an overnight wellness trip to refresh your body and mind.
Surrounded by Treesin the Forest, A Rewarding Lunch Awaits You!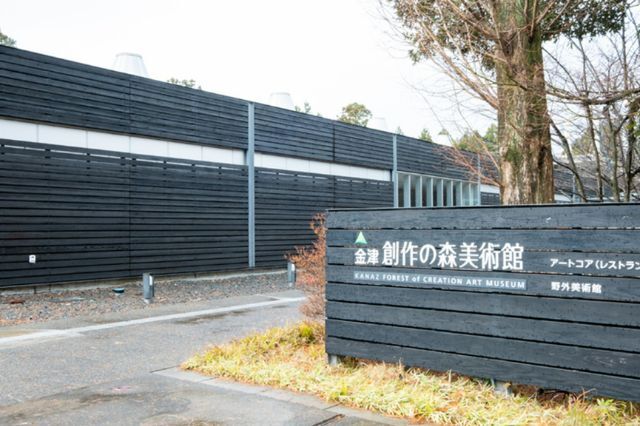 Nature will awaken your five senses.
The Kanaz Forest ofCreation is only an 8-minute drive from JR Ashihara station. You can explorethe art installations around the forest or attend various exhibitionsthroughout the year at Art Cole. You can also sign up for glass or ceramicart-making courses to experience and create your artwork. This is where you canexperience art from different angles.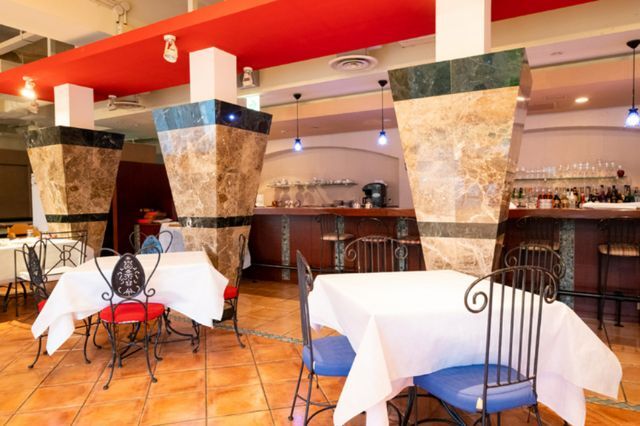 Restaurant Ambition, located in the Kanaz Forest of Creation
After experiencingnature and art in the Kanaz Forest of Creation, let's have lunch at"Ambition," where you will be surrounded by trees. After lunch, astore that displays and sells ceramics, glass, bamboo crafts, dyeing art, andmuch more will be waiting for you!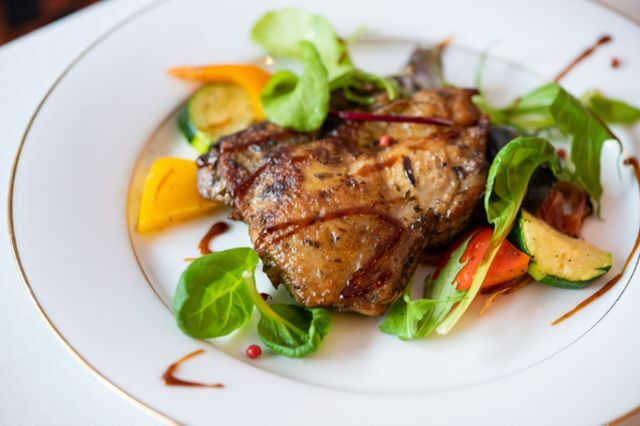 Today's Special "Roast Chicken"
For lunch, you canchoose between the daily special and a course meal based on your preferences.The roast chicken served today was delicious and aromatic. The meat was cookedto perfection and left a lingering mouthfeel. Together with the sharp taste ofbalsamic and a hint of pepper, it will not only satisfy your stomach but alsoyour heart. 
アンビション(Ambition) 
Contact number: 0776-73-4141 
Address: Kanaz Forest of Creation, 57-2-19Miyadani, Awara-shi, Fukui
A Hot Spring Street of Rural Landscape - "Awara HotSpring"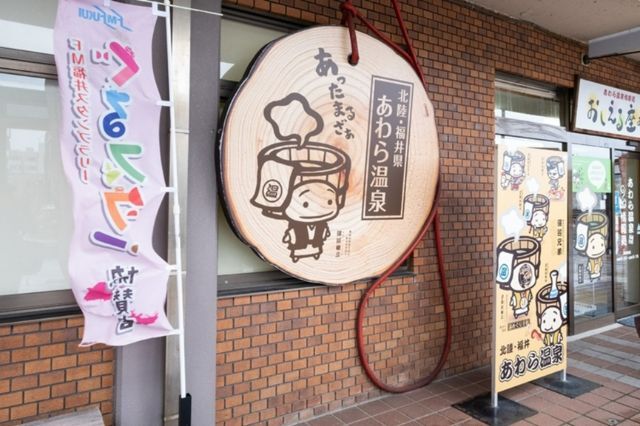 "Konzou-Kun", the third brother of the Hot Spring Tour Brothers, serves as the mascot character for Awara Hot Spring.
After satisfying yourappetite, it's time to head to the hot spring. Awara Hot Spring is only a15-minute drive away and is known for its picturesque rural landscape. It wasdiscovered by chance in 1881 during an accidental excavation. There are 74sources of hot spring water that are drawn and each hotel channels the hotspring to their respective facilities.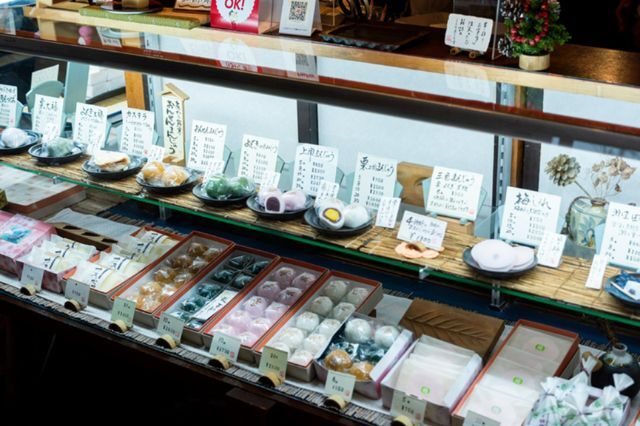 At Darumaya Sweets Store, visitors can enjoy a variety of Japanese snacks.
As you enter the HotSpring Street, you'll see many hot spring inns and street stands lining up onthe street, illuminating the night. One of the popular spots is "StreamAlley," where various local gourmet stands can be found. Among the snackand sweets stores, the most famous is Darumaya Sweets Store. Their well-knownproduct, "Donrin," is an elegant sweet characterized by its uniquecombination of Japanese traditional "monaka" filled with fruit castellaand mashed sweet beans. It's a must-try dessert when you visit this hot springstreet.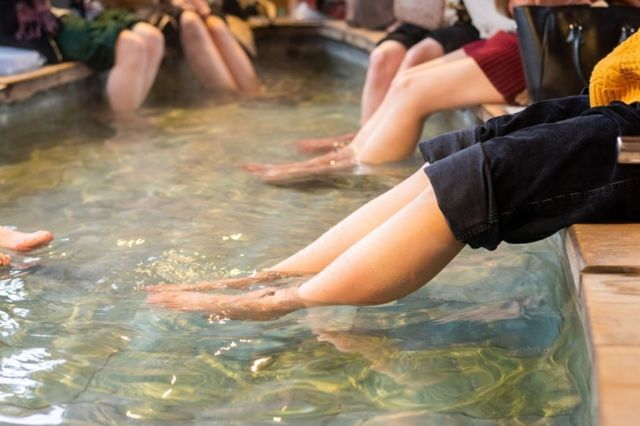 The boat-shaped hot spring tub is inspired by "tanabune," which is used for rice planting and harvesting in rice paddies.
Another must-tryexperience is the footbath hot spring. The recommended spot,"Ashiyu," is located in the plaza in front of Awara YunomachiStation. It is a free spot available to everyone and the tub is made of Hinokiwood. There are five types of hot spring water flowing in this spot. It's sucha luxurious experience for being free!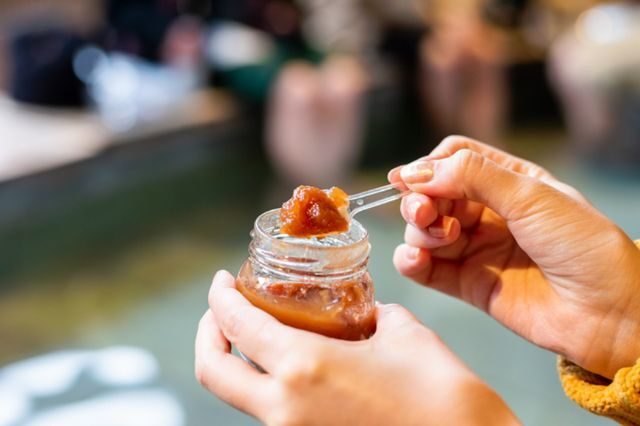 It is said that having mizuyokan in a kotatsu (a Japanese-styled table with a heater under the table) is a culture in Fukui.
The recommended snackis "Fukui Tomato Mizuyokan," made by "Kamehameha Farm andCafe" run by local farmers. This is a product developed with FukuiPrefectural University students. They use mini tomatoes,"Echino-Saurus," and tree-ripened tomatoes grown in fertilizer madefrom the shells of Echizen crabs to make the mizuyokan. As a result, the mizuyokanis full of the rich sweetness of tomatoes.
The untouched beautyof nature on the Island of God, O-shima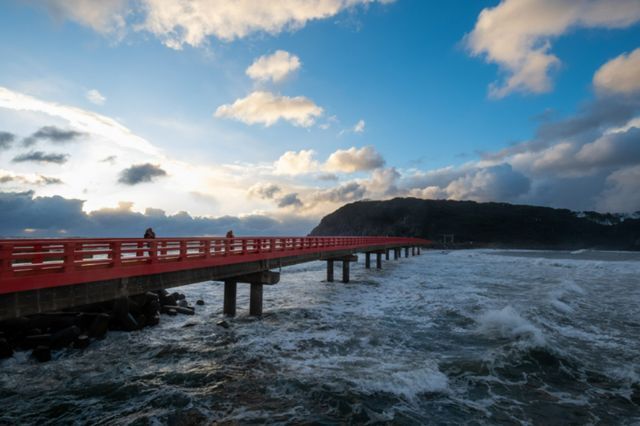 Right in front of the parking area, visitors can see the beautiful red O-shima Bridge leading to the destination, O-shima.
Come and experiencethe magnificent nature of the Sea of Japan. Being located just off the coast ofTojinbo, O-shima is an uninhabited island that has been regarded as the"Island of God" by the locals for centuries.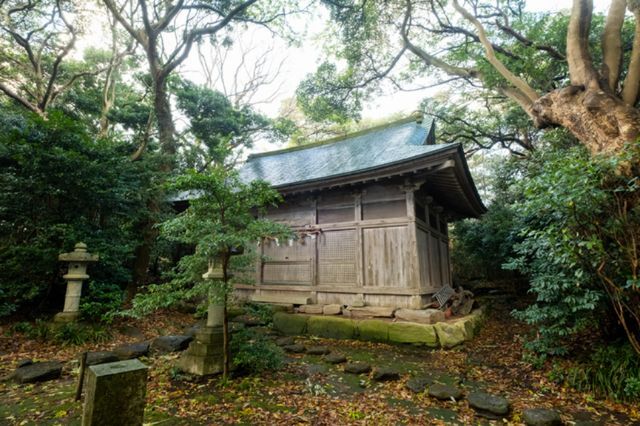 The main shrine of Ominato Shrine is located in the Antou area, and there is an Okamiya shrine as well.  
Visitors can enterO-shima through the large torii gate and climb the stone steps to reach theOminato Shrine, which was built during the Asuka Period. Despite the longhistory of fishing in the area, the dangerous conditions of the sea haveclaimed many lives. The Ominato Shrine is a place for people to pray for safetyat sea.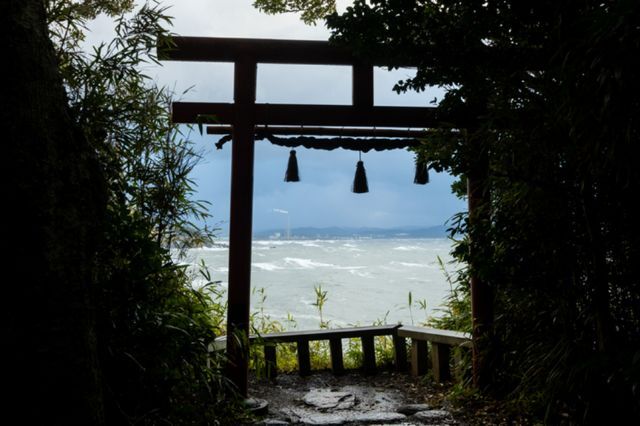 On a clear day, visitors can look back from the main shrine and see Tojinbo beyond the torii gate.
O-shima is full ofplate-shaped rocks called "plate joints," as seen in the photo, whichare tilted at exactly 45 degrees. These plate joints are visible on the westand north sides of the island. On the south side of the island, visitors cansee columnar joints surrounding the island by the sea. As they circle theisland, they can witness the marvelous views created by nature.
The rocks on O-shima are known as "Ryumon-iwa" and are characterized by their beautiful striped patterns.
The island alsofeatures a lighthouse and a variety of unique rocks, such as Uriwari-no-mizu,which is hot enough to boil water, and Magnet Iwa, which can drive magnetscrazy. These rocks are a creation of nature and provide visitors with an opportunityto feel the energy of the earth.
ボランティアガイド北まえ三国(Volunteer Guide Kitamaemikuni)
Guidance in Mikuniminato・O-shima・Tojinbo
Contact number: 0776-82-0947
FAX number: 0776-82-7392
Address: Former Kishina House, 4-6-54 Mikunicho Kitahommachi, Sakai-shi,Fukui
1,500 yen per guide
※Up to 10 persons per group
※The time and schedule is open for discussion.
Art Inspired byNature: The Brilliant Heart Museum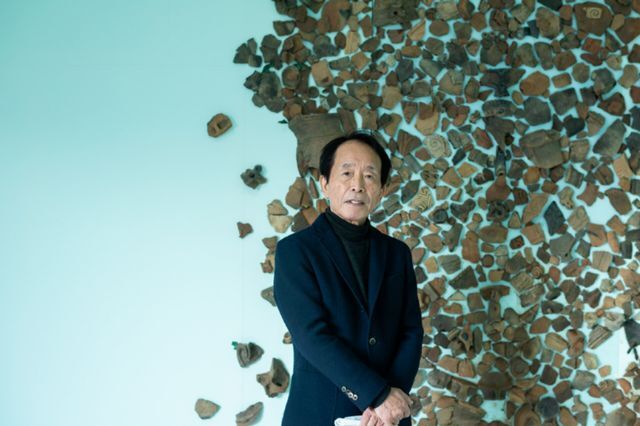 This work, "Face of Five Thousand Years," is made from fragments of Jomon earthenware that are over 10,000 years old and were collected by Mr. Seiju Toda.
After exploringO-shima, you can appreciate the island in a different way by experiencing it asart. Located within walking distance of the O-shima parking lot, the BrilliantHeart Museum is an art museum designed by the local art director, Seiju Toda,that requires reservations.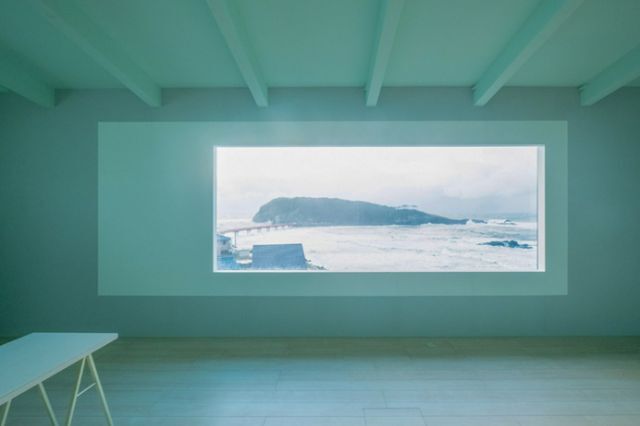 The view of O-shima from the large 4m x 1.5m window is like a painting. The scenery changes depending on the weather and time of day. 
The thousand-year-oldlandscape of O-shima is captured in this single painting, which shows aplethora of views depending on changes in lighting, sound, and atmosphere, eachone unique. It is a place where you can take your time and relish itsmagnificence.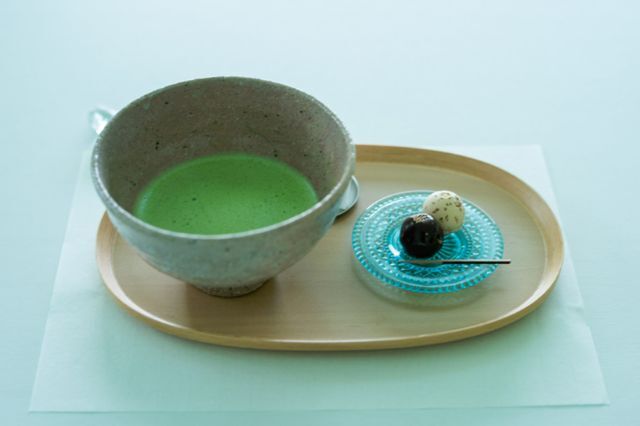 The sweets, which changed every day, are chosen and purchased from the famous local stores or well-known places from Kanazawa and Kyoto. 
Brilliant Heart Museum
Contact number: 090-6819-9956
Address: 26-21 Mikunicho Anto,Sakai-shi, Fukui-ken
※Reservation required(Up to 6 people per group)
Renovated AntiqueHouse Restaurant: Enjoy Mikuni French Cuisine at S'Amuser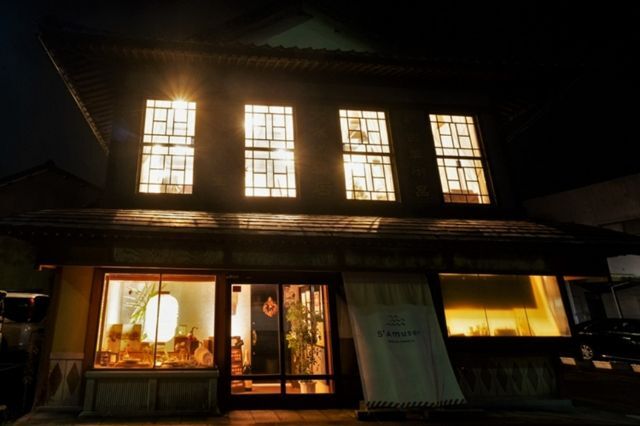 S'Amuser is a French restaurant located on Mikuniminato Kitahonmachi Street, in a renovated national registered cultural property that was formerly a carpenter's tool store.
After enjoying thesplendid nature of the area, end your day with a French dinner at S'Amuser,where the cuisine is made from abundant local ingredients. This renovatedantique house is the perfect place to sense the warmth and enjoy the happinessof seafood.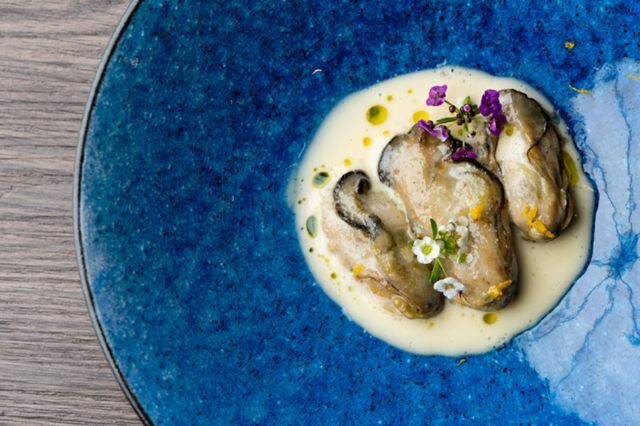 Get excited from the first course - Oyster Sauté
We ordered the"Samuse Course" (9,000 yen) and started with the "SautéedOysters" finished with a beurre blanc sauce, in which butter was the focusof the flavor, and accented with yuzu. The milky flavor of the oysters and therichness of the butter perfectly complemented the gorgeous aroma and broughtout a slight acidity.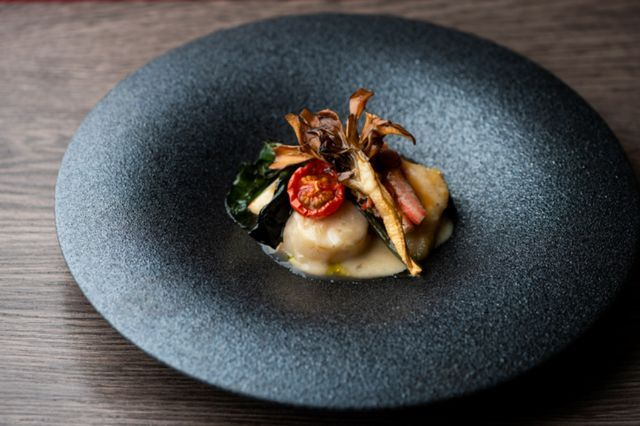 Sautéed Scallops and Sautéed Bass. The sauce is made from Mikuni seiko crab broth and anchovy cream sauce.
Seiko crab is onlycaught for a short period from November to December and is especially popularamong locals. Together with the moist-textured bass and plump, abundant-tastingscallops, this dish offers diverse flavors.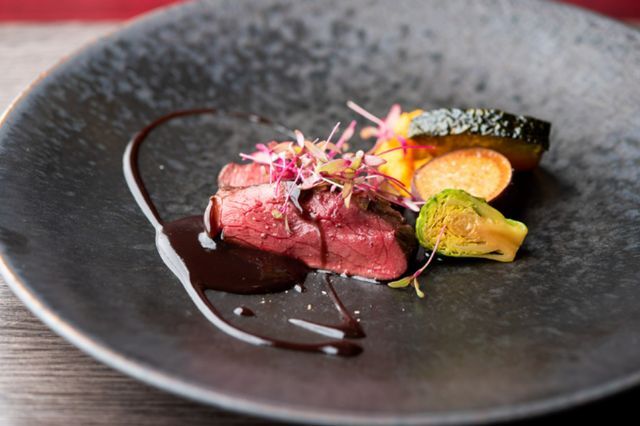 S'Amuser offers not only seafood but also mountain delicacies. Echizen deer meat with red wine sauce is also available.
Mikuni is famous forits delicious cuisine that uses not only treasures of the sea but also localnatural ingredients. While enjoying the dishes, you can feel the local chef'sgratitude towards the ingredients and appreciate the producer's effort.
セミュゼ (S'Amuser) 
 Contact number: 0776-97-9237 
 Address: 4-5-31, Mikunicho, Kitahommachi, Sakai-shi, Fukui

TNL Media Group is one of the largest integrated media groups in Asia based in Taiwan, with 10 online media, 4 MarTech companies, unique advertising networks and big data analytics platforms. The group attracts 100 million monthly page views and 25 million monthly unique visitors, primarily consisting of young elites from Taiwan, Hong Kong, Japan and Southeast Asia.
Disclaimer: All information is accurate at time of publication.