Publish-date: Nov 08 2019 Update-date: Nov 27 2019
Like and Share us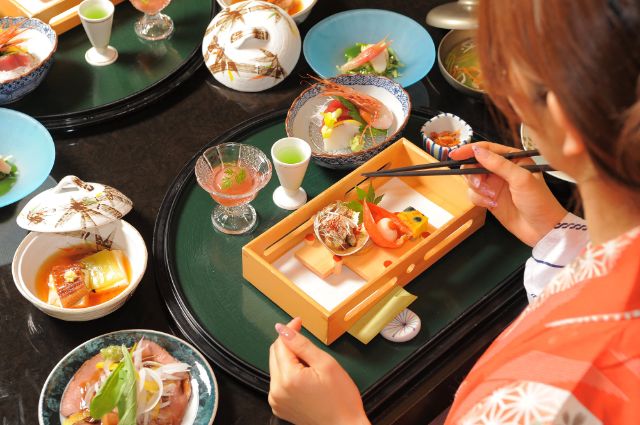 If you're interested in Japan's legendary food culture, chances are you'll find yourself at some more formal restaurants during your time in Japan. Whether trying kaiseki cuisine (traditional Japanese course cuisine), dining at higher-end sushi restaurants, or experiencing a traditional tea ceremony, most visitors to Japan quickly become aware that the way food is served and eaten in Japan can be quite unique.

Even in our home countries, formal dining can feel intimidating. In this article, we'll aim to put your mind at rest with some tips and tricks for fine dining in Japan. We'll also introduce a selection of restaurants where you can put your research into Japanese etiquette into practice!

Are Japan's Etiquette Rules Confusing for Foreigners?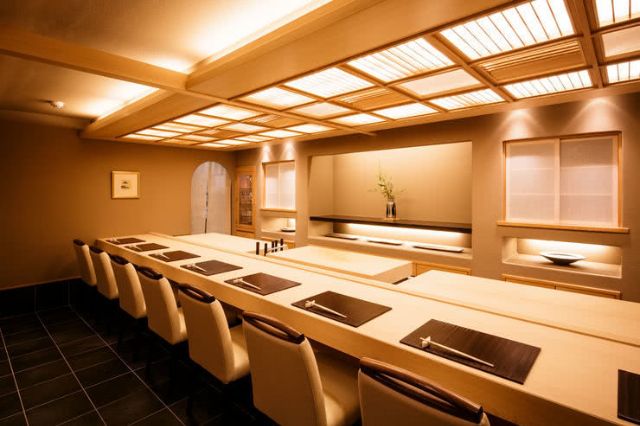 Every country has its own subtle norms of etiquette when it comes to formal dining. In America, it's considered perfectly polite to switch cutlery between the hands throughout the meal, while in Europe, people are taught to always keep the fork in the left hand. Similarly,  it's standard to pick up the rice bowl you are eating from in Japan and China, while this is considered a faux pas in Korea.

These small mistakes based in cross-cultural differences are easy to understand. For example, a very common mistake made by people from the West is seasoning their rice with condiments like the soy sauce or pickles they find on the table. Since buttering bread or adding salt and pepper to a dish is considered perfectly acceptable in the West, it makes sense that Western diners would assume they are free to add extra seasonings to their rice, too. However, try to resist the temptation while you're in Japan. It not only looks uncouth, you'll be missing out on the chance to taste the meal the way it was intended.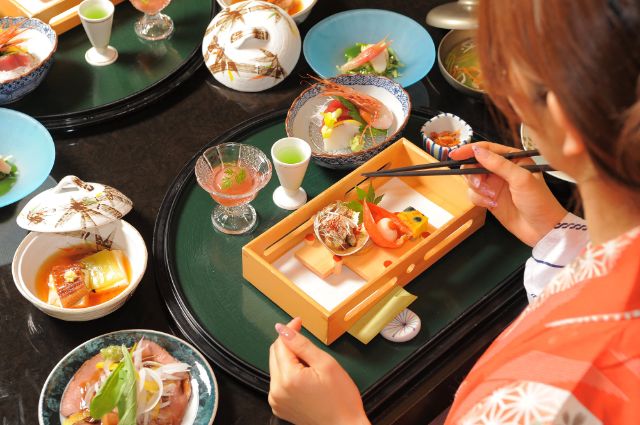 Even if etiquette rules seemed arbitrary when we were children, we all grow to understand that the reason they survive in the culture is that they keep the meal hygienic, calm, and pleasant.

So, if Japanese rules seem confusing, we recommend thinking about the reasoning behind them. For example, it's better manners to set chopsticks down on a chopstick rest because it keeps both the chopsticks and the table clean. It goes without saying that licking or sucking on your chopsticks is frowned upon because it can spread germs.

Other breaches of etiquette, such as digging through a shared bowl with your chopsticks, using them to drag a bowl closer to you, or eating side dishes without stopping to eat some rice gives off a greedy, impatient impression that is unpleasant to see. In a similar way, transferring food from chopsticks to chopsticks, or sticking them upright in a bowl of rice both bring to mind unpleasant associations with funeral practices, which hardly enlivens a meal.

In other words, while a list of etiquette rules may seem intimidating at first, considering the reasons behind them may help you remember (or even guess) the right way to act while in a formal situation in Japan.

How to Eat Japanese Kaiseki Banquets and Course Meals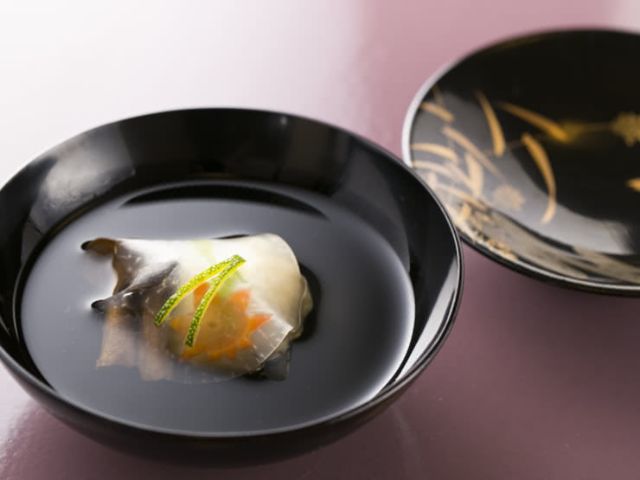 In 2019, most people are familiar with eating with chopsticks, but if you don't use them every day, it's natural that you will be less familiar with some of the more subtle social customs. The same applies for serving dishes. In Japanese fine dining restaurants, you will likely encounter a range of bowls and plates of all shapes, sizes, and purposes. There are some fundamental rules to remember that can make the experience less intimidating. For example, as a rule of thumb, foods served on flat dishes can be picked up directly from the dish, while in the case of foods served in a bowl you should hold the bowl in your hand. This, of course, is because food that needs to be served in a bowl is more likely to drip or spill.

In a similar way, the proper way to handle soups served in a bowl with a lid can confuse people who encounter it for the first time. To eat from these bowls with correct manners, gently hold the bowl steady with the left hand while lifting the lid with the right. Let any condensation drip back into the dish, then turn the lid over and place it face up on the table. Soup spoons are not part of traditional Japanese cuisine; instead, you should eat any larger ingredients with chopsticks, then drink the soup straight from the bowl. When finished, place the lid neatly back on top of the bowl again.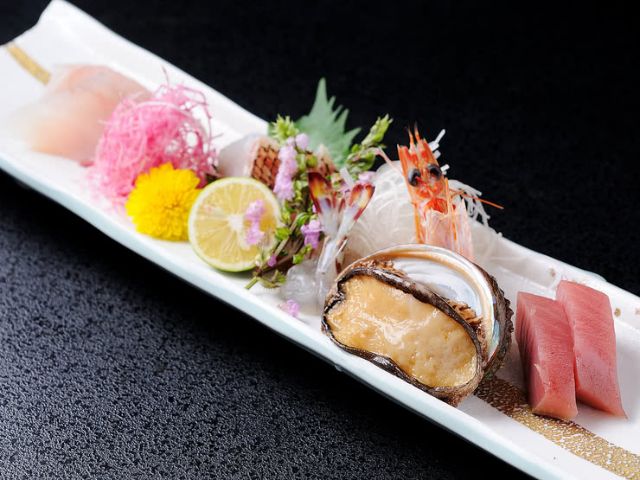 If you're presented with a number of dishes in a course meal, where should you start? While you may feel tempted to try everything straight away, in a more formal setting, the rule of thumb is to move from the most subtly-flavored foods to the richer foods, starting with the soup.

When eating a mixed assortment, remember that the goal is to avoid ruining your dining companion's appetites with the sight of messy, half-eaten foods. When eating foods like tempura, you should start with the pieces close to you. If you're eating from a platter or similar dish, move from the left hand side, taking care not to disturb the rest of the presentation as you go.

All these rules are mainly designed to avoid turning the table into an unappetizing landscape of spills and mess. If you approach your formal dining experience with this goal in mind, your consideration and good manners are sure to be appreciated, even if you don't follow every etiquette rule to the letter.

Manners Even Japanese People Ignore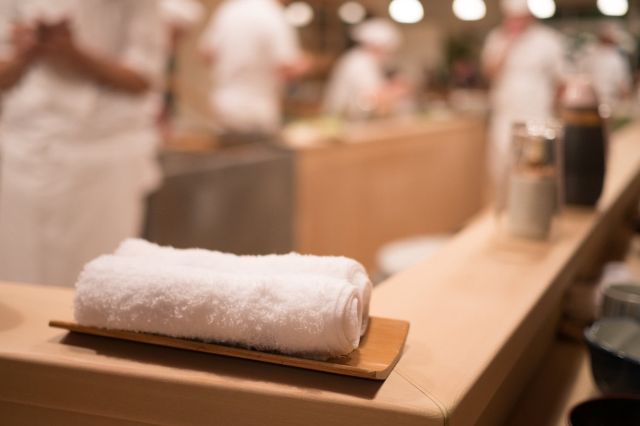 Some form of a hand towel will be provided almost everywhere you eat out in Japan, from a cloth at a restaurant to a moist towelette slipped into your bag with a convenience store bento.

Most restaurants will provide you with a rolled hand towel called a shibori. This towel will usually be warmed in the cooler months and chilled in the summer months. Some people wonder what to do with a shibori when they first encounter it, and it's not unusual to see Western people using it as you would with a napkin. This is hardly a surprising mistake. After all, most restaurants will provide a similar cloth napkin for this same purpose in Western restaurants. In Japan, however, you should simply use the hand towel for cleaning your hands at the start of the meal.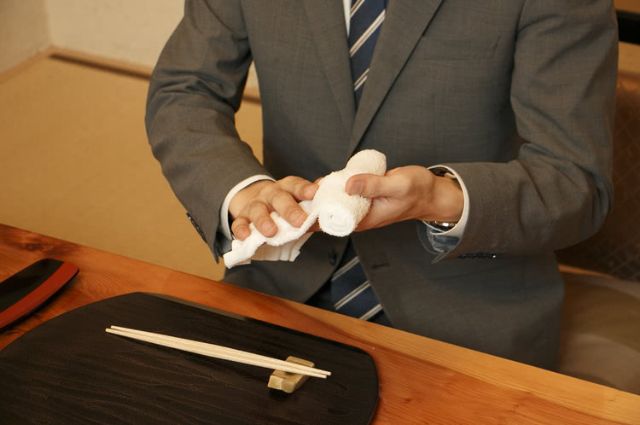 That being said, anyone who has dined out with Japanese people will know that this rule is flagrantly broken whenever it's more convenient to do so. Many people can't resist the temptation to press a cool shibori to the brow or neck on hot days, or to use the cloth to wipe the table.

Of course, minor breaches of manners are unlikely to bother anyone when you're eating out with your friends or family. Still, it's always good to know the rules before breaking them! So, to use a shibori in a formal situation, you should pick up the towel with your right hand and transfer it to your left. Unroll it and wipe your hands using only one side of the towel. When finished, fold the towel neatly so that the soiled side is on the inside, and place it back on the table.

Surprising Restaurant Systems in Japan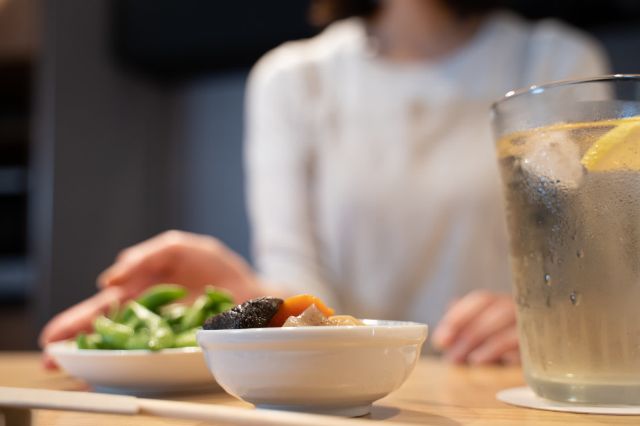 Almost everyone who has come to Japan has encountered something that catches them off guard when eating out. Whether it's a ramen shop owner pointing you unceremoniously towards the ticket machine you didn't know you had to use, or suddenly being asked to take your shoes off, it's very common to feel a little off-kilter when first dining out in Japan.

One element that takes a lot of people by surprise is the custom of otooshi, which are small appetizers served before a meal in izakaya (Japanese pub). Fans of Korean food might be familiar with a similar practice of banchan, or small complimentary dishes of kimchi and other sides. The difference between otooshi and banchan, however, is that otooshi dishes will show up on your bill!

Unfortunately, because the practice of otooshi isn't something you often see at Japanese restaurants overseas, the first time many visitors experience this practice is when they see a charge for items they didn't order on their bill. In fact, foreign guests angrily disputing the charge has become a serious hassle for izakaya owners.

One Okinawa izakaya owner decided to deal with his "otooshi troubles" by adding signs in multiple languages stating that a cover charge will apply to all tables. Since the concept of a cover charge exists worldwide, this clever choice of words caused a complete turnaround in foreign customers' attitudes towards otooshi. Instead of feeling angry at being asked to pay for something they didn't order, customers were instead pleased and surprised by the "free" service! As Japan opens its door to more and more foreign guests, these clever ways of bridging cultural misunderstandings when it comes to dining out are sure to go a long way.
Restaurants Where You Can Put Your Japanese Manners Into Practice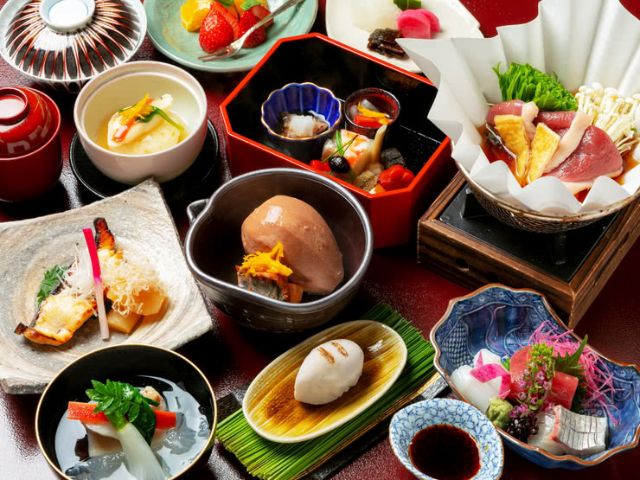 If you're curious to try a more formal dining experience in Japan, you'll be pleased to know they're not hard to come by! Here are our picks of the best kaiseki-style course retaurants in the Kyoto area where you can put your etiquette skills to the test.
Kyoto Ayanokoji Mangetu-no-Hana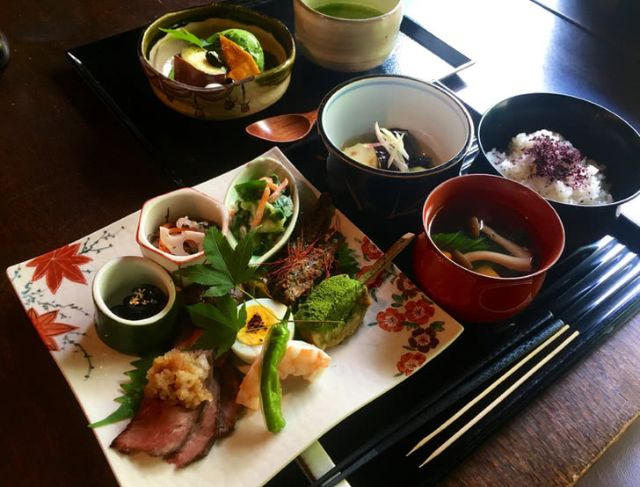 Mangetu-no-Hana is an affordably-priced restaurant serving Kyoto style dishes prepared under the guidance of Masako Yoshimura, a food specialist, registered dietitian, and Kyoto local food coordinator. A range of course meals and a la carte dishes to suit a range of budgets are available, so these nourishing dishes made from Kyoto's vegetables and high quality green tea are accessible to all.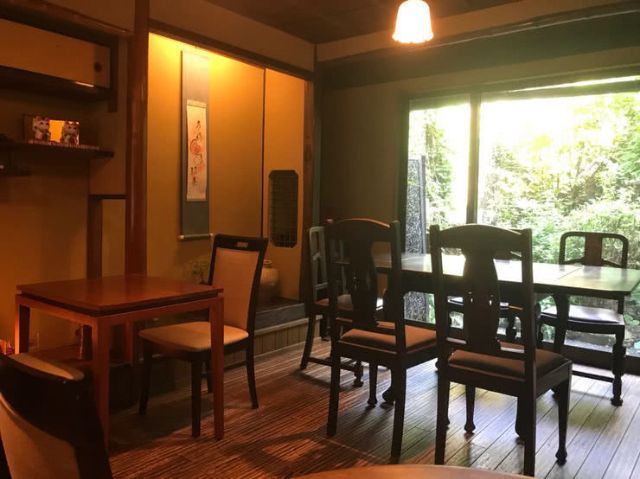 The retreat-like atmosphere and comfortable dining spaces are designed to provide a soothing atmosphere where you can relax over your meal. If you're interested in trying kaiseki style dining, this is a welcoming place to start. All-you-can-drink courses featuring sake (Japanese alcohol) sourced from all over Japan are also available, which is sure to help create a memorable time out with friends.
Kyoto Ayanokoji Mangetu-no-Hana
Open
: [Monday, Wednesday - Sunday, National Holidays, Day before National Holidays] 1F Japanese Cafe; 10:00 am - 5:00 pm, Lunch; 11:30 am - 2:30 pm (L.O. 2:30 pm), Alcohol and Side Dishes; 5:00 pm - 11:00 pm (Food L.O. 10:00 pm, Drink L.O. 10:30 pm)
Closed
: Tuesday
Average price
: [Dinner] 4,000 JPY / [Lunch] 1,500 JPY
Address
: 206-1, Ayanokoji-dori, Sakai-machi Higashi-iru, Ayazaimoku-cho, Shimogyo-ku, Kyoto-shi, Kyoto (
Map
)
More Details
 Reservation 
Yuba Higashiyamayuuzu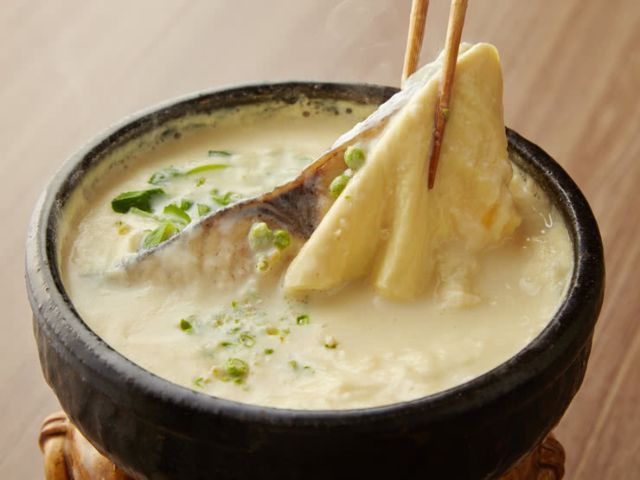 Yuba Higashiyamayuuzu is a yuba (tofu skin) specialty restaurant located in the heart of Kyoto's Gion area. If you're new to yuba, you're sure to be surprised by the versatility of this simple ingredient. The yuba and other soy ingredients served here are made from additive-free soybeans grown in Kyoto's Miyama region. Don't miss the [Yuuzu Nabe], a rich soy milk stew made with flat yuba and quality local ingredients like Miyama Kyo-Jidori, chickens that are raised only on natural feed.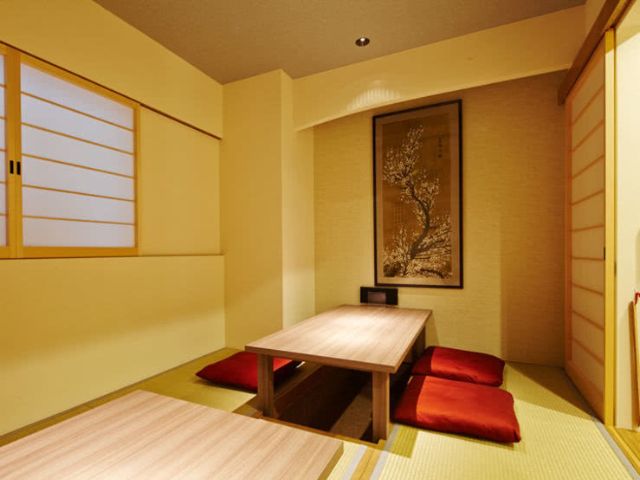 A selection of course menus priced at 5,500 JPY and up are available to suit a range of occasions. At 2,600 JPY, the reasonably-priced lunch course is an affordable way to treat yourself to a luxurious experience of Kyoto-style yuba. If you're traveling solo, you'll feel welcome and comfortable at the counter seating.

Yuba Higashiyamayuuzu
Open
: [Monday - Wednesday, Friday - Sunday, National Holidays, Day before National Holidays] Lunch 11:00 am - 3:00 pm (L.O. 2:00 pm), Dinner 5:30 pm - 9:30 pm (L.O. 8:30 pm)
Closed
: Thursday
Average price
: [Dinner] 5,000 JPY / [Lunch] 2,000 JPY
Address
: 570-218, Gion-machi Minami-gawa, Higashiyama-ku, Kyoto-shi, Kyoto (
Map
)
More Details
 Reservation 
Teramachi Yoshikura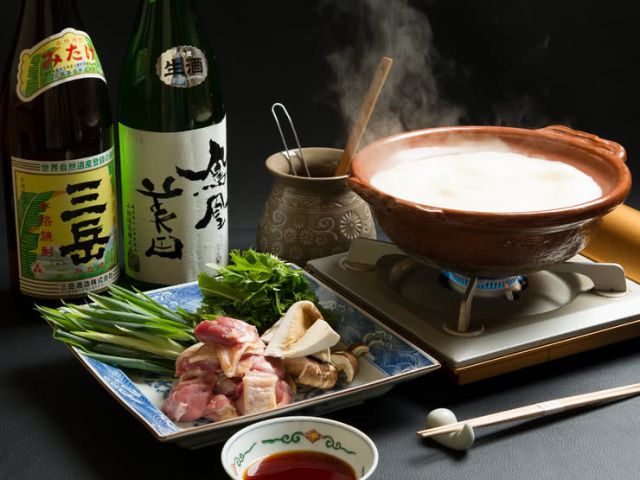 Teramachi Yoshikura is a kaiseki restaurant that serves dishes inspired by Kyoto's home style cooking. Harnessing Kyoto's rich bounty of seasonal vegetables, Kyo-Kaiseki uses careful, simple seasonings and cooking styles to highlight the inherent flavors of each high quality ingredient. Teramachi Yoshikura's recommended dish is the [Soy Milk Hot Pot]. With a creamy texture and gentle flavor that perfectly accents the Kyoto vegetables and meats, this dish is also said to have a beauty-boosting effect!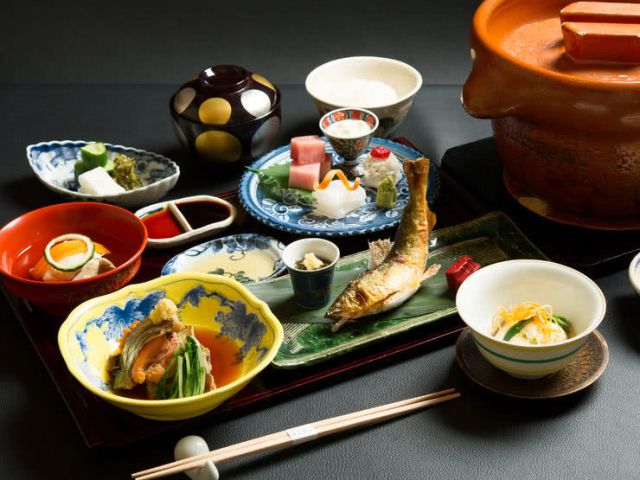 Affordably priced kaiseki courses that include sashmi and shabu-shabu (sliced meat parboiled with vegetables) are also available to choose from. For lunch, try the [Kyoto Obanzai Buffet]. Obanzai is a local style of home cooking that focuses on carefully prepared local ingredients like Kyo-yasai (Kyoto vegetables). Don't miss a chance to try Kyoto's homestyle comfort food in Teramachi Yoshikura's elegant, comfortable space.

Teramachi Yoshikura
Open
: [Monday, Wednesday - Sunday, National Holidays, Day before National Holidays] Lunch 11:00 am - 2:00 pm (L.O. 2:00 pm), Dinner 5:00 pm - 9:00 pm (L.O. 9:00 pm)
Closed
: Tuesday
Average price
: [Dinner] 5,300 JPY / [Lunch] 1,350 JPY
Address
: 1F, Corpo Shimoyama, 102, Shinnyodomae-cho, Kamigyo-ku, Kyoto-shi, Kyoto (
Map
)
More Details
 Reservation 
Kyoto Hyoto Shijo Karasuma
Located in Karasuma, the heart of Kyoto's business and shopping district, Hyoto serves high quality Kyoto-style kaiseki courses. Options include luxurious shabu-shabu courses with a unique style of dashi (broth). This "dashi-shabu" is the restaurant's signature dish, and features servings of high quality Japanese cuts of meat, including Omi beef sirloin and Biyuton pork. This brand of pork is raised on mineral-rich hot spring water on Sakurajima Island, giving it an elegant sweetness and juicy texture that's ideal for shabu-shabu.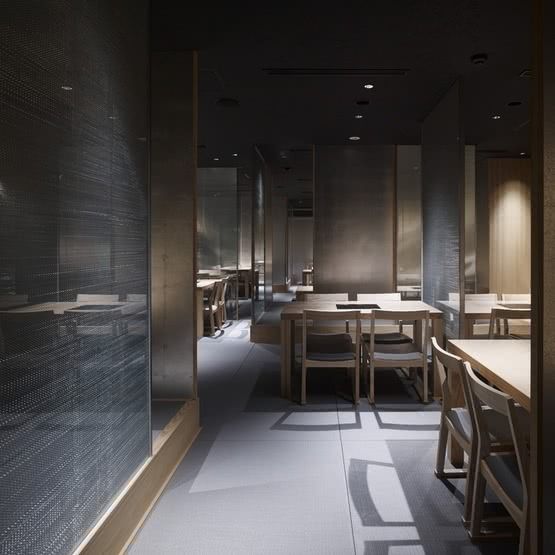 Architecturally designed in a striking, modern Japanese style, this atmospheric venue is sure to impress. Gold leaf accents and honeycomb glass add a touch of luxury that will elevate any meal. Private rooms that can accommodate up to 70 guests are ideal for business or parties.

Kyoto Hyoto Shijo Karasuma
Open
: [Friday, Saturday, Day before National Holidays] Lunch 11:30 am - 3:00 pm (L.O. 2:00 pm), Dinner 5:30 pm - 10:30 pm (L.O. 9:30 pm)
[Monday - Thursday, Sunday] Lunch 11:30 am - 3:00 pm (L.O. 2:00 pm), Dinner 5:30 pm - 10:00 pm (L.O. 9:00 pm)
Closed
: None
Average price
: [Dinner] 7,000 JPY / [Lunch] 2,500 JPY
Address
: 1F, Meirin Bldg., 550-1, Yamabushiyama-cho, Nakagyo-ku, Kyoto-shi, Kyoto (
Map
)
More Details
 Reservation 
Kyo Suiran
Housed in a historic villa in the picturesque sightseeing area of Arashiyama, Kyo Suiran is a kaiseki style restaurant with a French influence. Starting at 16,000 JPY for dinner, Kyo Suiran's kaiseki course meals combine the best of Japanese tradition with contemporary fusion elements. The strict emphasis on the seasonality of each ingredient, however, remains the core of all dishes presented here.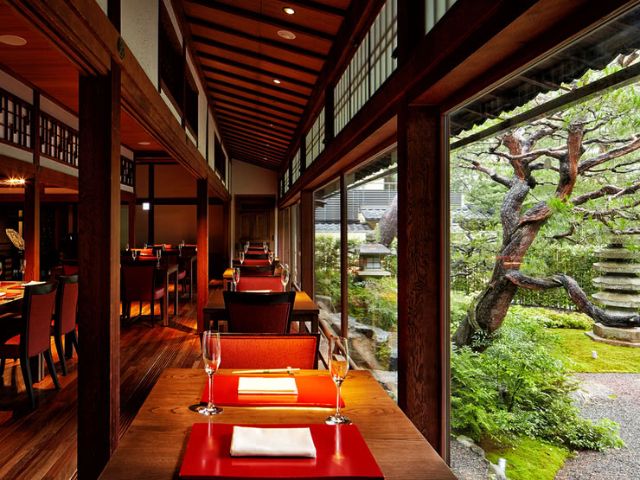 Kyo Suiran's dining spaces, with warm wood tones, traditional architecture, and a Japanese garden view, is a charming example of Arashiyama's elegant historical atmosphere. The private Shogetsu dining room can seat 6 to 12 people, and features a special chef's menu with complimentary drinks, including champagne. With a garden outlook, this room is an ideal choice for any special occasion or family celebration.

Kyo Suiran
Open
: Breakfast 7:00 am - 10:00 am (L.O. 9:30 am), Lunch 11:30 am - 2:30 pm (L.O. 2:00 pm), Dinner 5:30 pm - 9:00 pm (L.O. 8:30 pm)
Closed
: None
Average price
: [Dinner] 18,000 JPY / [Lunch] 6,000 JPY
Address
: 12, Sagatenryuji Susukinobaba-cho, Ukyo-ku, Kyoto-shi, Kyoto (
Map
)
More Details
 Reservation 
Disclaimer: All information is accurate at time of publication.