Publish-date: Dec 21 2017 Update-date: Aug 06 2019
Like and Share us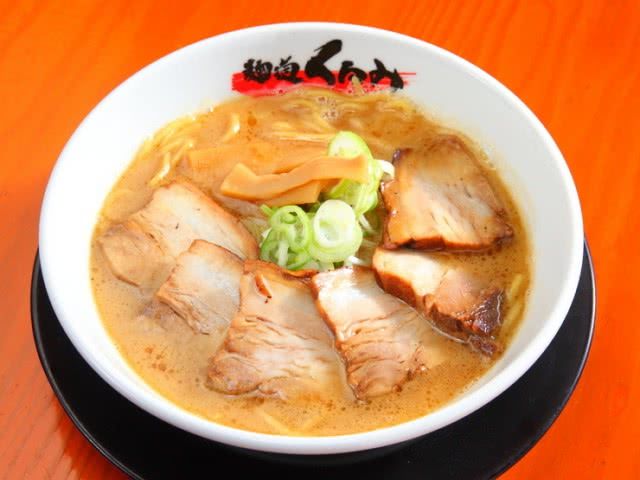 While Osaka is famous for okonomiyaki (Japanese savory pancake) and takoyaki (octopus balls), there are also a lot of famous restaurants in Osaka selling another one of the Japan's "soul foods" - ramen. Here are 15 of the most delicious ramen restaurants in Osaka!
1.Jinrui Mina Menrui
This is a famous ramen restaurant that always has lines of customers waiting to get in. The menu consists of [Ramen Genten] - noodles that use an abundance of bonito-flavored oils and soy sauce to bring out amazing flavors, [Ramen Micro] - a soy sauce ramen with simple seasonings, and the most popular option, [Ramen Macro] - a light soy sauce ramen balanced with the rich flavor of clams. Customers can choose from a variety of toppings: from succulent char siu (roasted pork) and boiled eggs, to bamboo shoots.
Jinrui Mina Menrui
2. Ramen Yashichi
This restaurant has been popular ever since it moved to Osaka from Tokyo in 2004. It has become famous for always having a line of customers outside! The classic [Shoyu Ramen] with boiled chicken soup is the restaurant's most ordered item on the menu. The full-bodied soy sauce goes amazingly well with the rich chicken. All the noodles at the restaurant are firm and homemade. Toppings for the ramen include shredded onions - a deliciously crispy twist that cannot go wrong!
Ramen Yashichi
3.Muteppo Osaka Branch
Muteppo is a popular restaurant which always attracts a long line of customers. It has 3 different ramen options: there's the [Tonkotsu Ramen] with its mouth-watering soup consisting purely of water and pork bones, the [Shoyu Ramen] with its delicious fish dashi (stock) that is only available in Osaka, and the [W Soup Ramen], where the customer can mix the soups as they please. The customer can also choose the hardness of the noodles, the amount of spring onions added, and also whether or not to add an additional boiled egg or include a separate portion of sauce. This flexibility is what makes the ramen at this restaurant so special.
Muteppo Osaka Branch
4.Kadoya Shokudo
This restaurant proudly serves up a simple soy sauce-based ramen that feels somewhat nostalgic. The in-store noodle-making room produces flat and straight noodles, which are characterized by their supple and smooth texture. The soup for the ramen is aromatic and rich, made from the dashi of chicken, pork, and seafood. The ramen can be topped with succulent Kagoshima Kurobuta char siu, as well as an abundance of white spring onions. This exquisite combination really is something special!
Kadoya Shokudo
5.Mendo Kurumi
Mendo Kurumi isn't your average ramen restaurant, due to the fact that the owner used to be a French cuisine chef! Its signature dish is the [Special Char Siu Ramen]. This smooth and full-bodied dish consists of thick pork bone and soy sauce-based soup, topped with a generous amount of homemade char siu. Their gyoza (dumplings), baked to a crisp and bursting with succulent meat juices, are also highly recommended. This restaurant kindly provides customers with: a blanket, should they feel cold; an option of having your ramen served a little less hot, and a number of products for children to amuse themselves with during their meal. These little touches are what makes this restaurant stand out from the crowd.
Mendo Kurumi
6.Menya Shokudo Masao
This ramen restaurant is the result of a famous Cantonese restaurant expanding. The eggs in their lightly seasoned [Shoyu Ramen] cannot be missed! The [Shanghai Ramen] is also highly recommended, although only 10 servings of this dish are available on any given day. The [Shantan Char Siu Ramen] is another dish that enjoys high acclaim due to the amazing quality of their Shantan soup. There is also an a la carte menu available, allowing customers to order other delicious items, such as the [Chinese Preserved Egg and Tofu].
Menya Shokudo Masao
7.Tsuruhime
This popular restaurant is proud of its menu, which is bursting with delicious Szechuan cuisine. Although it uses tianmianjiang (sweet bean sauce), malajiang (super hot sauce), doubanjiang (chili bean sauce), and layou (chili oil), none of the dishes are too spicy. Rather, they are all bursting with flavor, be it sweet or acidic. One of the most recommended dishes has to be the spicy meat miso dish, [Shanra Tantanmen (white sesame)]. The [Szechuan-style Mapo-dofu] is also available through the a la carte menu.
Tsuruhime
8.Chinese Restaurant Fuku
Customers are able to enjoy authentic Chinese cuisine at this restaurant, due to the fantastic skill of the native Chinese chef that's in charge. Ramen fans should not miss out on the opportunity of trying the [Taiwan Ramen], which contains amazing noodles with authentic Chinese seasonings. The delicious, slightly spicy soup in this dish is made by boiling minced pork with various seasonings for 2 hours. [Shaoxing Wine], a Chinese alcoholic drink, goes amazingly well with this dish, too. A wide a la carte menu is also available.
Chinese Restaurant Fuku
9. Chinese Restaurant Mansyurou
Located quite close to the popular tourist attraction, Osaka Kaiyukan Aquarium, this Chinese restaurant with over 60 years of history serves authentic, home-styled Shandong cuisine. The [Soy Milk Tantanmen] is one of the most popular items on the menu, due to its mild flavor. There are also a wide variety of other delicious items on the menu, including the handmade [Sui-gyoza] (boiled dumplings). The spacious first floor has a capacity of 68 seats in total, and the second floor is filled with private rooms that either have classy round tables or tatami mat flooring.
Chinese Restaurant Mansyurou
10. Marugen Ramen Habikino Branch
This restaurant is famous among ramen fans thanks to the chefs being very particular about the quality of the ingredients. The soup consists of over 20 different ingredients, including 3 types of soy sauce that were all produced in different areas, pork bones, bonito, and chicken stock. The special Marugen sauce is also exquisitely made. It is matured at room temperature for 15 days before use! The restaurant also makes their original noodles, which are firm, but flavorsome. The popular [(Matured Soy Sauce) Yasai Niku Soba] is filled with vegetables like spring onions and garlic chives. This restaurant is loved by both men and women of all ages. A set menu and a dessert menu are also available.
Marugen Ramen Habikino Branch
11. Kappa Ramen Honpo Sennichimae Branch
There are Kappa Ramen branches all over the Kansai area. They are popular with customers of all ages, due to their full-bodied yet mild slow-cooked [Tonkotsu Soup]. The signature dish of Kappa Ramen has to be the trademark [Kappa Ramen]. This dish includes smooth and full-bodied tonkotsu soup topped with homemade char siu. The deliciously spicy option named [Red Kappa Ramen] is also highly recommended. It uses several varieties of seasonings and real Korean chili as a base for the soup.
Kappa Ramen Honpo Sennichimae Branch
12. Ramen Ko-san
This restaurant is always thriving with customers. The soup is made from pork bones, as well as the gifts from the deep sea. Despite its dishes' rich appearances, they have a simple and enjoyable taste that leaves you wanting more. Its signature [Ko-san Ramen] is the most recommended item on the menu, owing its fame both to the unique ingredients used - an abundance of shredded daikon (Japanese white radish) and carrots - and the thick slices of succulent char siu that create an irresistible taste when combined. Customers can choose between [Sweet Sauce] and [Sour Sauce]. The [Roast Pork Selection], available via the a la carte menu, is also recommended.
Ramen Ko-san
13.Kiboken Sotokan Kawachinagano Branch
One of their signature dishes is [Tonkotsu Ramen]. The soup for this dish is made from pork bones that have been slowly cooked for a whole day and night. All the noodles are homemade and differ slightly. They are specifically made to complement different types of ramen. Some of the varieties available include the [Tei-kasui no Chijiremen] (curled noodles with little water content) and [Ta-kasui no Mocchiri Futomen] (chewy, thick noodles with lots of water). Highly recommended items on the menu include the [Tonkotsu Ramen (Large Serving of Char Siu)], with its extremely generous serving of char siu, and a dish that combines spiciness and deliciousness, the [Slightly Spicy Tsukemen].
Kiboken Sotokan Kawachinagano Branch
14. Kotan Abeno Harukas Branch 
This famous ramen restaurant with over 50 years of history has opened a branch inside the popular shopping complex, Abeno Harukas. The rich and mellow cloudy soup of the [Kotan Ramen] is very popular at this restaurant, as are the firm, fat noodles that come with it. This particular branch also has its very own exclusive menu that complements the already popular [Kotan Ramen], with 3 pieces of dim sum, small shrimp tempura, karaage (deep-fried chicken), and a dessert! This luxurious special menu is extremely popular with customers. A wide a la carte menu is also available, and it includes the succulent [Age-gyoza] (deep-fried dumplings).
Kotan Abeno Harukas Branch
15. Rairaitei Nagai Park Branch
Rairaitei is a famous ramen restaurant with branches all over Japan. It can be characterized by its flavorsome and refreshing soy sauce-based chicken soup, which is so good that most customers drink it all up! The thin yet firm noodles that are used here picks up the soup quite well. There is also a wide selection of other dishes and drinks that can be ordered a la carte, including dim sum, so the restaurant attracts a wide variety of people.
Rairaitei Nagai Park Branch
The listed ramen restaurants all use different soups, ingredients, and noodles to help make their ramen unique. Try them all and find the one you like the most!
Disclaimer: All information is accurate at time of publication.