Publish-date: May 18 2020 Update-date: May 02 2023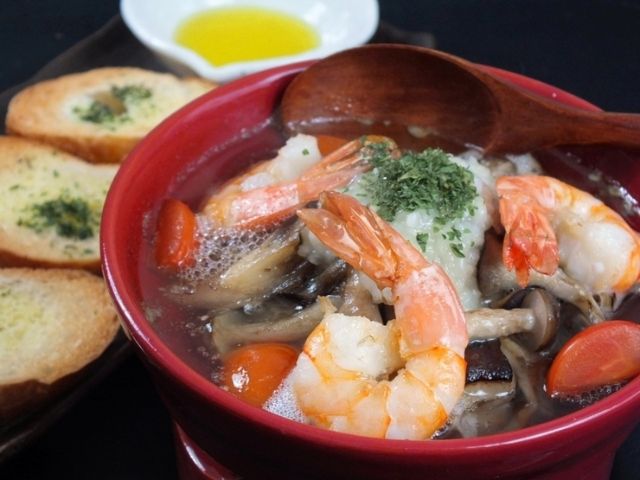 Sa-Shi-Su-Se-So. A widely known Japanese expression that summarizes the five essential ingredients of any Japanese homemade meals. The words come from the initial character of each ingredients in Japanese, Saさ・Shiし・Suす・Seせ・Soそ. If you have all these five in your kitchen, you can cook Japanese food at home. 
1. Sugar or SAto (さ)
It is recommended to add sugar first because sweetness is rather difficult to be absorbed. If salt or soy sauce is added prior sugar, it becomes more difficult for the food to have sweetness. 
PS: It is said that "Sa" can also mean Sake, rice wine often used for cooking.

2. Salt or SHIo (し)
Salt is added in the early stages to determine the taste of the broth, but recommended to add after sugar.
3. Vinegar or SU (す)
If you put it too early, the sourness will disappear, so add it while monitoring the progress of cooking. To prevent the food from being too salty, vinegar should be added after salt.
4. Soy sauce or SEuyu (せ) 
Seuyu is the old spelling, but now, soy sauce is more commonly called as shoyu. Japanese soy sauce is made from fermented soybeans, wheat, salt and water. It has a thin texture and clear dark brown color that is almost black.
5. Mi-SO (そ)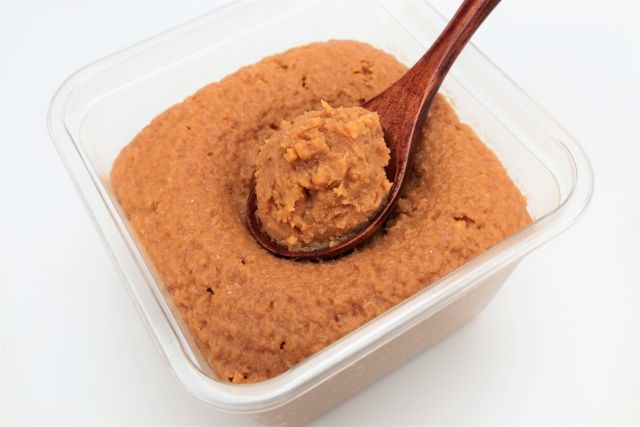 Miso is fermented soybeans mixed with a grain like rice or barley, and koji or a mold. It is important to add miso at the end just before serving so it will not get too much heat. 
P
eople usually use either miso or vinegar, and it is rare to use both ingredients together.
Let's Start Cooking: Niku Jaga
Ask any Japanese people about 
niku jaga
―they must have made it at least once in their life. It is a simple stew dish with meat and potatoes as the basic ingredients. For the meat, pork and beef are often used. To add more color and flavor, carrot, onion, and green beans can also be added. It is very easy to cook and is the ultimate homemade meal in Japan.
Ingredients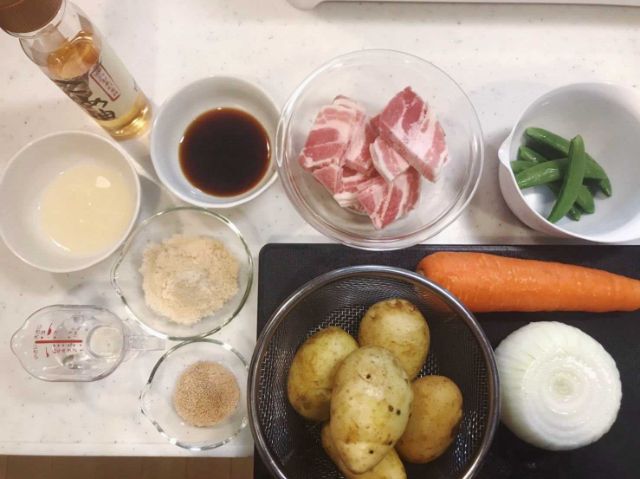 Ingredients: Thinly sliced pork or beef, green beans, potatoes, carrot, onions.
Basic seasonings: Sa-Shi-Su-Se (Sugar, sake, salt, vinegar, soy sauce).
Extra seasonings: hondashi (fish stock), mirin (cooking wine).

How to Cook Niku Jaga
1. Stir-fry pork until the color gets darker, then toss in pre-cut potatoes, carrot, and onions. 
2. Add hondashi (fish stock) and after stirring for a while, add sugar and salt.
3. For a more refreshing taste, add vinegar. Some people skip vinegar so it is up to you
4. Add soy sauce or shoyu
5. Let it boil for 10 minutes, only stir once. Simmer for another 10 minutes until the broth runs out.
6. When the broth has evaporated, turn off the heat and cover with aluminium foil or a lid. Let it steam for 10 minutes inside. The taste is further absorbed! 


Other Japanese Homemade Meals
There is 
Nimono
, which means simmered dish. Whether you are using seafood, meat, tofu, cabbage, carrot, or anything else, as long as you have Sa Shi Su Se So, you can make your food tastes Japanese. Nimono is often served at
izakaya
or at
kaiseki
restaurants. 
Check these restaurants to taste the real flavor of Japanese simmered dish, perhaps it can be an inspiration to make your own
nimono 
at home! 
Izakaya Kappo Tamura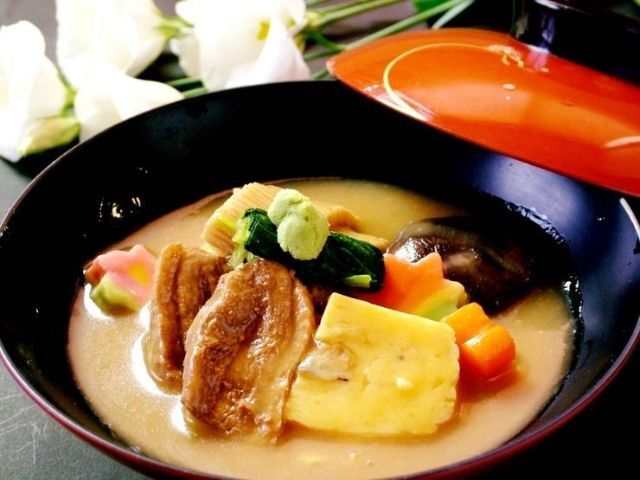 Open
:
Dinner 17:00 - 23:30 We reserve the right to refuse entry to Junior High School students at night. Lunch 12:00-14:00 (Fri-Sun & Holidays) *Lunch banquets for 2-30 people available with bookings.
Closed
:
None
Average price
:
[Dinner] 5,000 JPY / [Lunch] 2,300 JPY
Access
:
About 5 minutes drive from JR Kanazawa Station, a 2 minute walk from Higashi Chaya District, at the base of the Umenohashi Bridge on the Asanokawa River.
Address
:
2-18 Namikimachi, Kanazawa, Ishikawa
Japanese Cuisine Shunka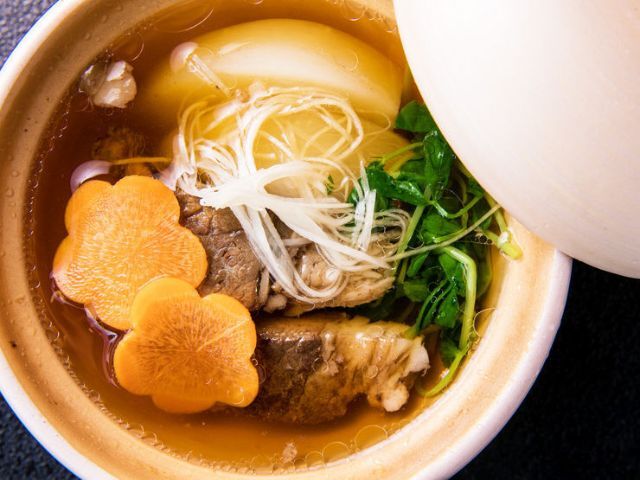 Open
:
Lunch 11:30 am - 3:00 pm *Reservations are always required / Dinner 5:30 pm - 10:30 pm *Reservations are always required
Closed
:
Irregular
Average price
:
[Dinner] 10,000 JPY / [Lunch] 8,000 JPY
Access
:
5 minutes by car from JR [Nagano Station]
Address
:
Patio Daimon, 125 Higashi-machi, Nagano city, Nagano 
Map
More Details
   Reservation   
Click here for other 
izakaya 
and
kaiseki restaurants
in Japan. 
Another Japanese homemade food is 
Miso Soup
, a savory soup full of energy. All seasoning you need isーas the name suggestーmiso. Tofu and seaweed are other staple ingredients.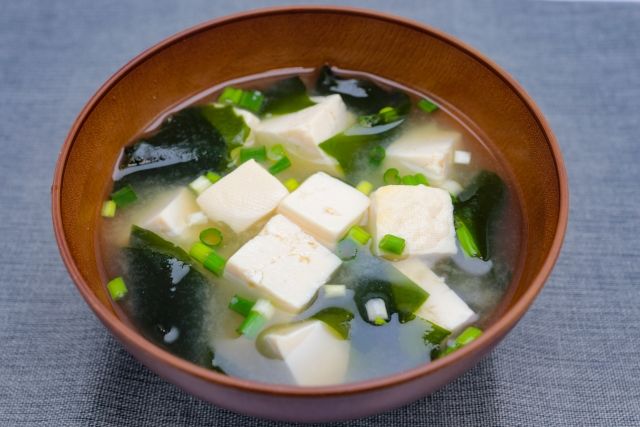 Miso soup 
is considered a side dish, which you can find in restaurants that serve teishoku, cutlet, or even at Japanese hotel breakfasts. Instant miso soup is also sold at supermarkets, but if you want the authentic one, consider buying a pack of miso an investment. Miso is sold at any supermarkets in Japan. For a starter, you can try miso soup at this cafe.
Iro-hana Cafe Shokudo
Open
:
[Weekdays, Saturday, National Holidays, Day before National Holidays] Lunch 11:30 am - 3:00 pm (L.O. 2:30 pm), Dinner 5:30 pm - 10:00 pm (L.O. 9:30 pm)
Closed
:
Sunday
Average price
:
[Dinner] 3,000 JPY / [Lunch] 1,000 JPY
Access
:
It's a 2-minute walk from Exit 3 of [Sannomiya-Hanadokeimae Station] on Kobe Munincipal subway Kaigan Line, and a 5-minute walk from [Sannomiya Station] on JR Lines, Hankyu Line, and Hanshin Line.
Address
:
6-1-17, Isogami-dori, Chuo-ku, Kobe-shi, Hyogo
Disclaimer: All information is accurate at time of publication.