Publish-date: Dec 28 2018 Update-date: Jan 30 2020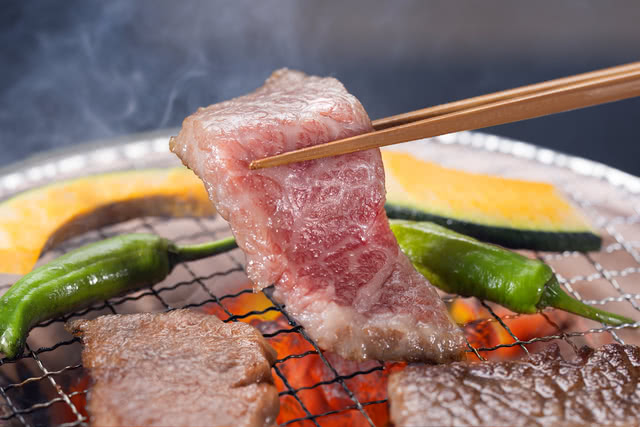 When discussing Japan's most popular dishes, yakiniku (Japanese BBQ) is one of the to-go responses. The styles and features of yakiniku restaurants vary widely from store to store, but as long as you know the basics of how to tuck into a proper yakiniku feast, you'll be able to enjoy any type of yakiniku restaurant you come across! Check out these tips on how to eat yakiniku.

What's Yakiniku?
"Yakiniku" refers to Japanese BBQ, where slices of beef or pork are grilled on an iron griddle or mesh grill. Dating back to around the middle of the 20th century, the history of yakiniku is actually quite short. It was originally inspired by Korean BBQ, which then crossed over and became widely known within Japan.
Different from grilled meat cuisine in the West, yakiniku is unique in that the customers usually cook the meat themselves. For this reason, restaurants serve items on the menu like kalbi and tongue to customers as raw slices. The tables are installed with special roasters or charcoal burners covered with iron griddles or mesh grills so guests are able to cook their meat by themselves at their seats. Special dipping sauces, lemon sauce, and other seasonings are provided in small dishes, so try dipping your grilled slices of meat in them.

Meat Cuts and Tips on Grilling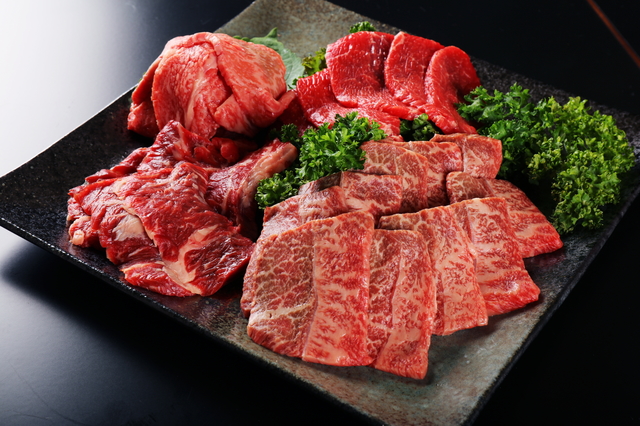 Tongue: Typically, this part is grilled on both sides, but when it's topped with condiments like spring onions, don't flip it over and make sure it's cooked through before eating.
Loin: The back meat spanning from the shoulder to the lower back. Both sides of the backbone are called the "chuck", and the parts continuing on from there are called "ribeye."
Kalbi: The meat surrounding the rib cage. Tender with umami (Japanese savory taste), this is a particularly popular cut in the yakiniku world. Sometimes it comes out pre-seasoned with sauce.
Skirt: The muscle area of the diaphragm. Tender and rich in fat with the texture of lean meat. The part touching the lumbar vertebrae is known as the "hanging tender", and is valued very highly.
Offal: The general term for intestines. If there's a high amount of fat, you can remove the excess by thoroughly grilling it.

Things to Know When Eating Yakiniku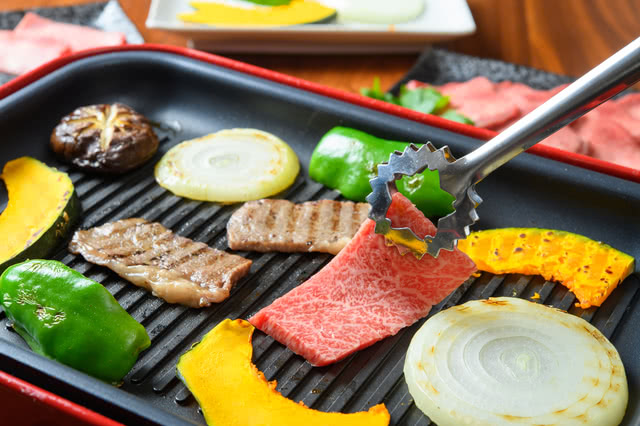 When eating yakiniku, don't cook anything straight away - wait for the iron griddle or mesh grill to heat up thoroughly first! If it isn't sufficiently hot, the meat won't taste good.
On the menu, there are a wide variety of choices like tongue and kalbi. Some of the meat comes out sliced with nothing else added to it, while other cuts have been seasoned with sauce. Typically, it's recommended to start cooking the unseasoned meat first and save the seasoned meat for later. This helps keep your mesh grill and iron griddle clean, and stops the sauce from affecting the flavor of the other ingredients.
After going through a few rounds of meat, you'll inevitably have marks from grilling the meat on your cooking surface. When this happens, you can call the restaurant staff to have them change out your mesh griddle or iron griddle for a new one.

What Kind of Side Dishes Are There?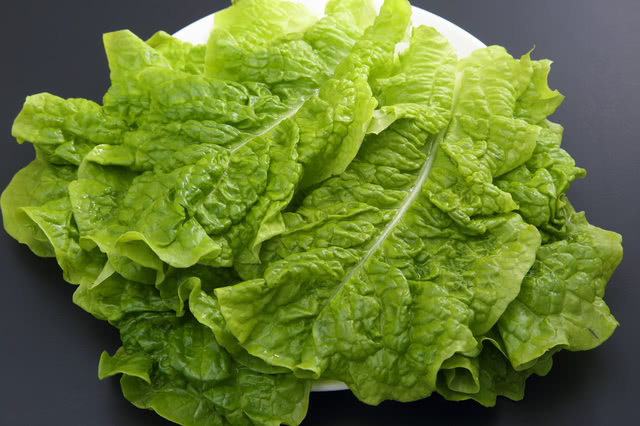 When it comes to side dishes, the one thing you absolutely can't do without is sanchu (Korean lettuce)! You wrap it around slices of cooked meat, and eat them together.
Since yakiniku was originally Korean, many of the other side dishes are Korean too. The most well-known dishes on the side menu are vegetable side dishes like kimchi and namul, the popular Korean noodle dish "reimen", and stone pot bibimbap, where rice is served with meat and other toppings in a hot stone bowl.

Popular Yakiniku Restaurants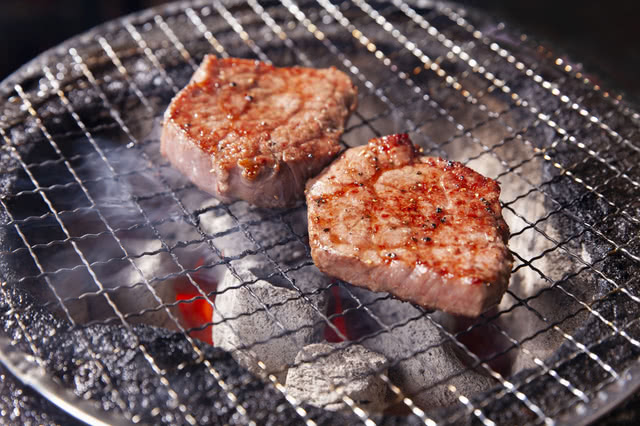 There are yakiniku restaurants all over Japan, and each place has its own specialty. Here are 5 popular restaurants in Tokyo and Osaka!

1. Gazan Garden (Kamiyacho)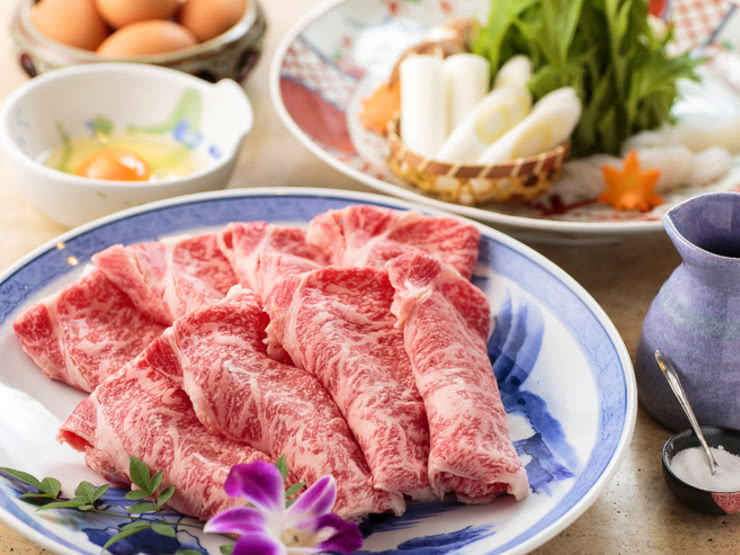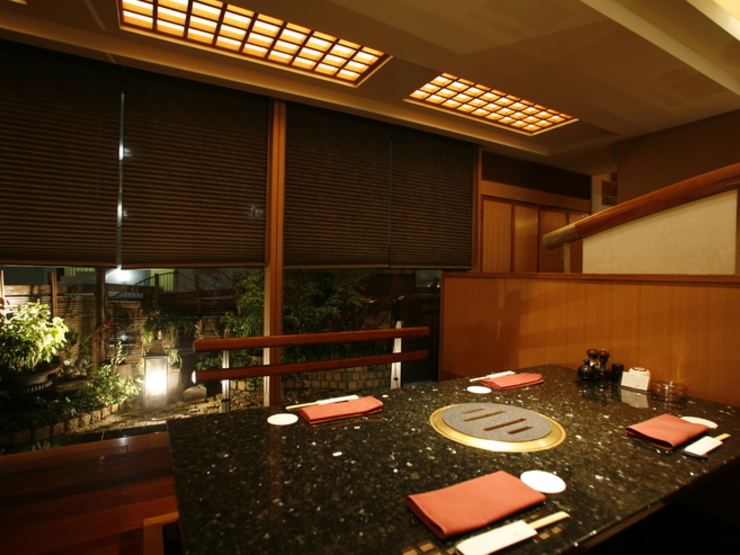 This restaurant is famous for its sukiyaki (hot pot stew) and shabu-shabu (sliced meat parboiled with vegetables), which use the Tohoku region's representative brand of beef, Yonezawa beef. They also have a solid yakiniku menu with items like [Salted Beef Tongue] (2,300 JPY) and [Loin] (1,200 JPY). The exquisite [Premium Salted Black Tongue] (5,500 JPY) is definitely something you'll want to try once!

Gazan Garden
Open
:
[Weekdays] Lunch 11:30 am - 2:30 pm (last order 2:00 pm) Dinner 5:30 pm - 12:00 am (last order 11:00 pm)
More Details
2. Yakiniku Okuu Shinbashi Branch (Shinbashi)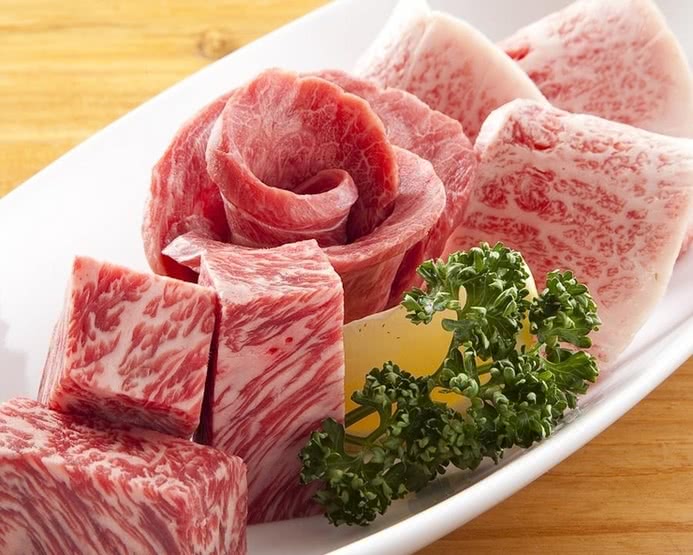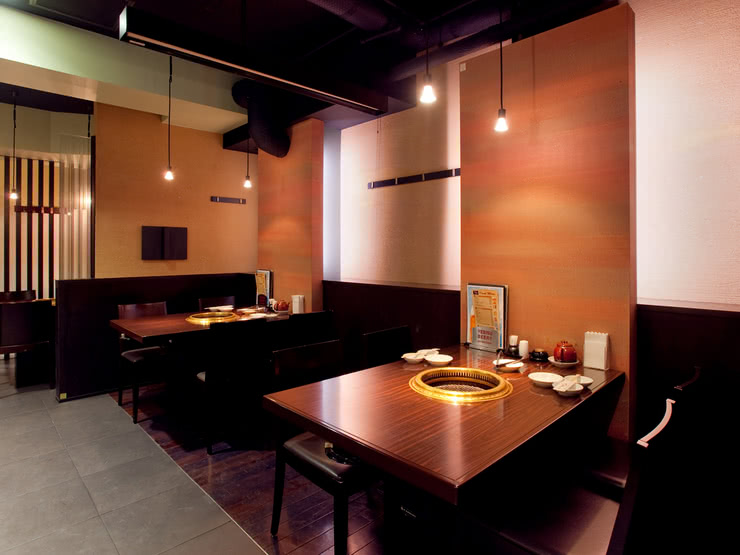 This restaurant is popular for its reasonably priced, first-rate yakiniku, achieved by purchasing whole heads of Yamagata beef, widely acclaimed meat. The [3 Kinds of Premium Wagyu Set] (4,290 JPY) is highly recommended and uses only carefully selected cuts of Wagyu (a type of high-quality beef) freshly brought in on the day. Try this dish for three different thick cuts of Wagyu meat!

Yakiniku Okuu Shinbashi branch
Open
:
[Weekdays] Lunch 11:00 am - 3:00 pm (last order 2:30 pm) / Dinner 5:00 pm - 12:00 am (last order 11:15 pm)
More Details
3. Rokkasen (Shinjuku)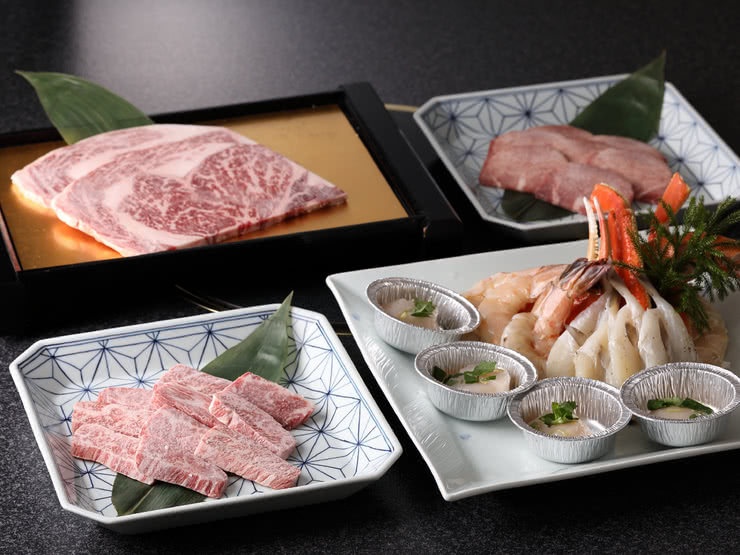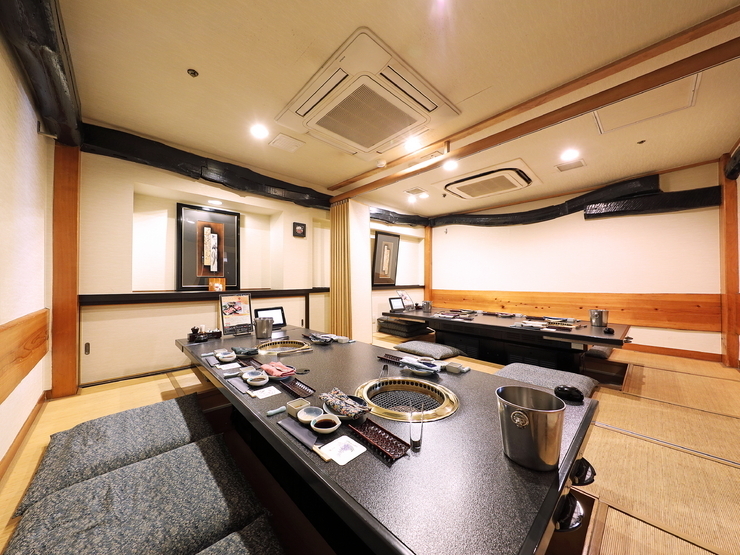 This popular restaurant is known for their use of the finest quality, carefully selected meat in yakiniku, shabu-shabu (parboiled meat and vegetables), and sukiyaki (hot pot stew)... and it's all-you-can-eat! For yakiniku, the recommendation is the [Snow Banquet] (7,130 JPY). Not only can you feast on meat like kalbi and offal, but you can also have your fill of their abundant seafood menu with shrimp, crab, and scallops!

Rokkasen
Open
:
[Weekdays, Saturday, Sunday, National Holidays] 11:00 am - 5:00 am (L.O. 4:00 am)
Closed
:
None
Average price
:
[Dinner] 8,000 JPY / [Lunch] 2,000 JPY
Access
:
2-minute walk from [Shinjuku Station]
Address
:
6F, 7F, Sunflower Bldg., 1-3-1, Nishi Shinjuku, Shinjuku-ku, Tokyo
(
Map
)
More Details
 Reservation 
4. NIKUSHO Nakata (Omote-sando)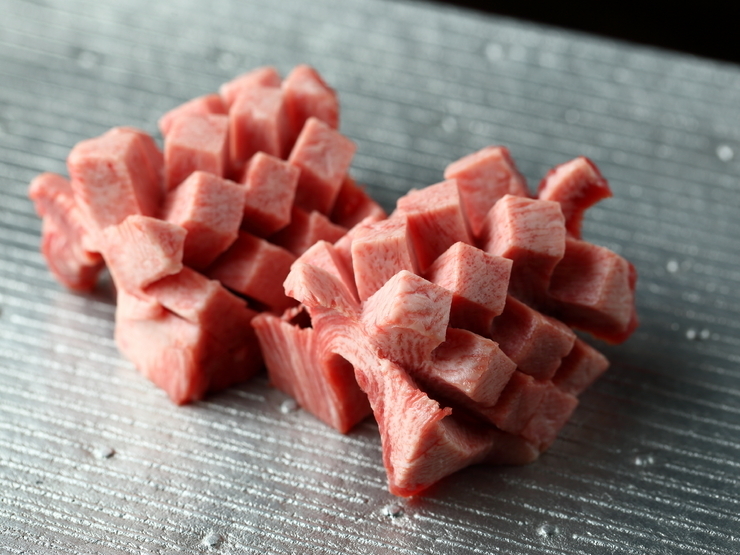 Gourmets gather at this renowned eatery to enjoy the unique way they prepare their high-quality domestic Kuroge Wagyu (another type of high-quality beef): by adding salt only. Try their uniquely cut [Torotan] (4,320 JPY) and the top-class [Chateaubriand] (8,650 JPY) with 7 different kinds of specially selected salts.

NIKUSHO Nakata
Open
:
Dinner 6:00 pm - 11:00 pm (L.O. 10:00 pm)
Closed
:
Average price
:
[Dinner] 13,000 JPY
Access
:
Walk for 15 minutes from either: [Omotesando Station] Exit A4, [Nogizaka Station] Exit 5, or [Gaienmae Station] Exit A1. 
Address
:
1F, NK Aoyama Homes, 2-2-2, Nishi Azabu, Minato-ku, Tokyo
(
Map
)
More Details
 Reservation 
5. Itamae Yakiniku Itto Tenka Chaya Main Store (Imafune)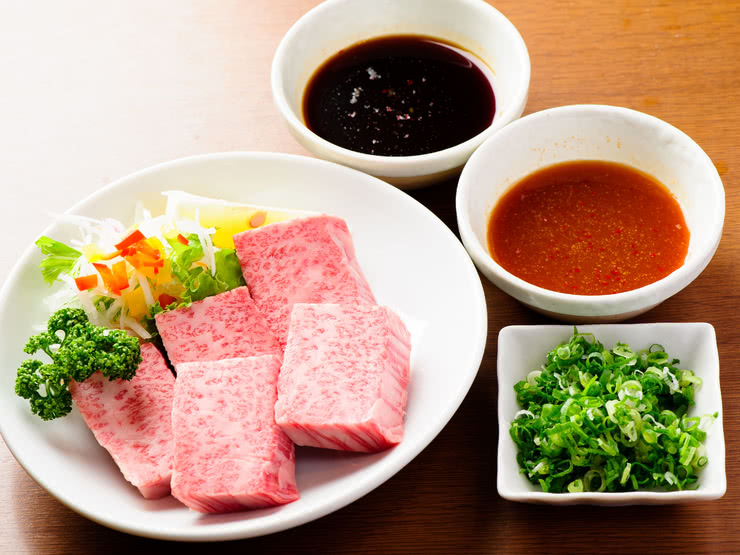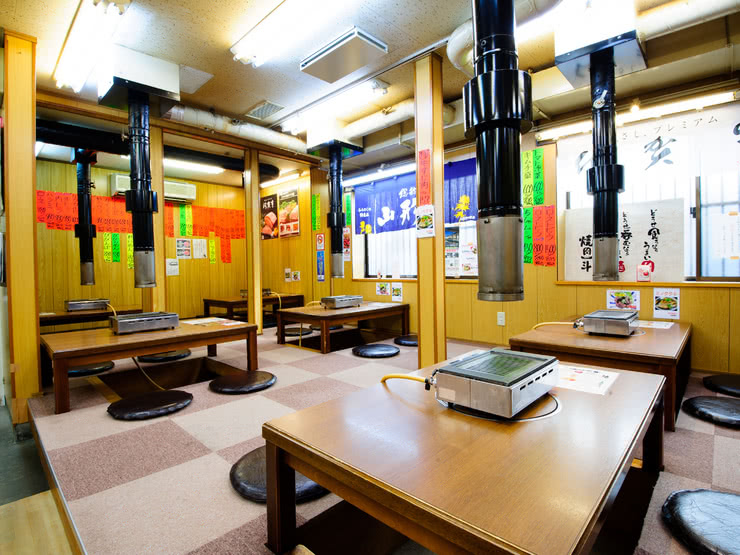 A yakiniku restaurant that dishes out first-rate domestic Kuroge Wagyu beef, Itamae Yakiniku Itto. The owner leverages his experience at a butcher's shop to carefully scrutinize the beef. In addition to the mouthwateringly tender [Beef Sirloin], other cuts can be eaten at a reasonable price, including rare rib meat cuts like [Bottom Flap].

Itamae Yakiniku Itto Tenka Chaya Main Store
Open
:
[Tue.-Sunday, Holiday, Day Before Holiday] Normal hours: 5:00 p.m.-midnight (last order 11:30 p.m.)
Closed
:
Mondays
Average price
:
[Dinner] 4,500 JPY
Access
:
1 minute walk from "Imafune Station" on the Hankai Tramway Hankai Line
Address
:
1-23-18 Tengachaya Higashi , Nishinari-ku,Osaka-shi, Osaka
(
Map
)
More Details
Yakiniku originated in Korea, but has become a staple in Japanese cuisine. Whether you're enjoying yourself in a large group, or by yourself when you just feel like eating some tasty meat, if you're in Japan, make sure to try some yakiniku for a simple yet delicious meal!

Disclaimer: All information is accurate at time of publication.