Publish-date: May 30 2023 Update-date: May 31 2023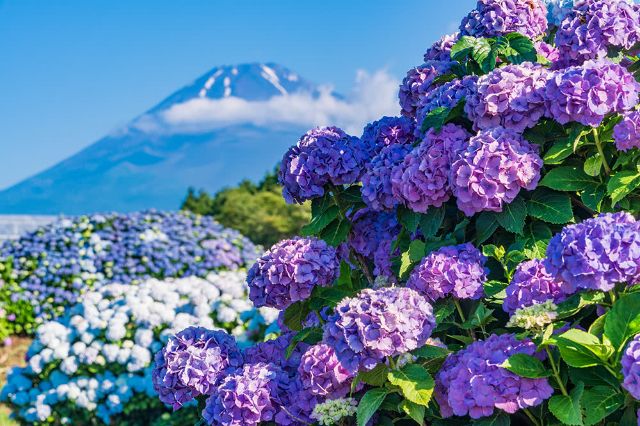 June in Japan is the perfect time to catch a view of the magnificent hydrangeas in bloom. Hydrangeas are actually native to Japan, and have become popular worldwide as wedding bouquet flowers and more. This article will introduce several famous spots for colorful hydrangeas and recommend restaurants nearby.
What Are Hydrangeas?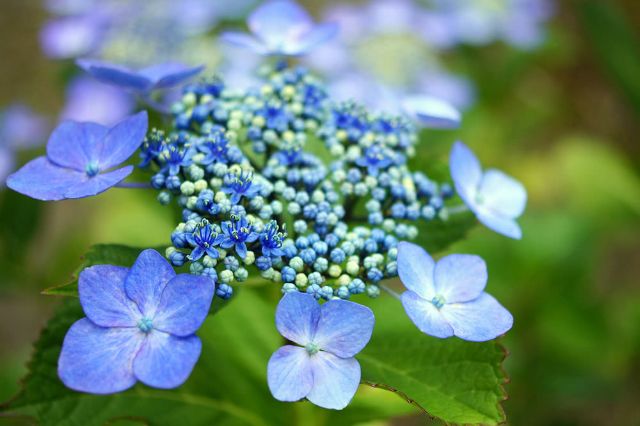 Hydrangeas are a native Japanese plant that was brought to Europe in the 1820s. Philipp Franz von Siebold, a German physician who taught medicine in Nagasaki, introduced it as "hydrangea otaksa," giving it the nickname of his Japanese lover, Taki.

However, the hydrangeas native to Japan are different from those now common around the world. The photo above is of a native Japanese lacecap hydrangea, which is characterized by a center of tiny, clustered buds. These hydrangea were then bred into mophead hydrangea in the West, and subsequently re-imported into Japan.

The best season to enjoy hydrangeas in Japan is from early June to early July. Hydrangeas are at their peak during the rainy season, which is usually from June to mid-July.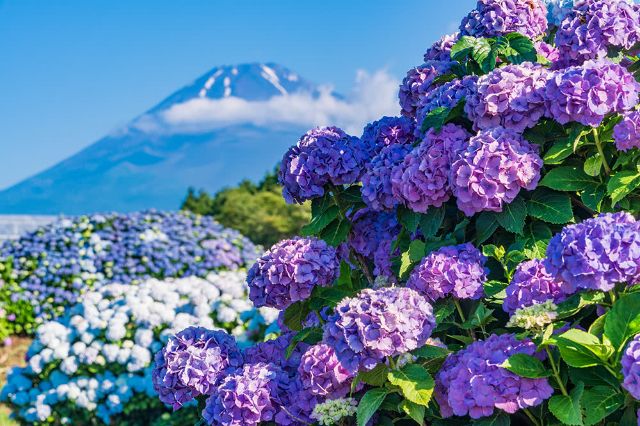 By the way, do you know which part of a hydrangea is the flower?

In lacecap hydrangea, the bud-like part in the middle is the flower, and surrounding it are actually sepals. Meanwhile, in mophead hydrangea, the sepals have grown to cover the flowers, giving them their characteristic look. Hydrangeas come in a variety of different shapes, and some even look like hearts!

Where to See Hydrangeas in Japan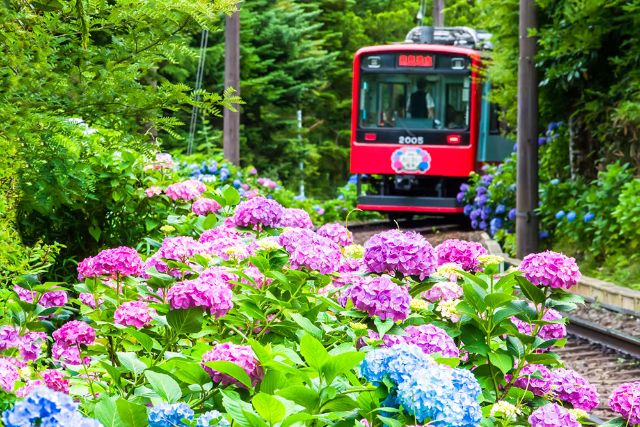 Here are four recommended spots for viewing beautiful hydrangeas:

- Hakusan Shrine, Hakusan, Bunkyo-ku, Tokyo
Hakusan Shrine, an ancient shrine in central Tokyo with around 1,000 years of history, is filled with approximately 3,000 hydrangeas that bloom across the grounds and into Hakusan Park. The Bunkyo Hydrangea Festival is held in June every year and features numerous stalls and concerts (scheduled for June 10-18, 2023).

- Hakone Tozan Railway, Hakone-machi, Ashigarashimo-gun, Kanagawa
Hakone is a popular hot spring region with easy access from central Tokyo, and the best way to enjoy hydrangea in Hakone is from the windows of the Hakone Tozan Railway. The hydrangea along the tracks bloom from about the middle of June, starting near the bottom and blooming one after another as the altitude increases. It is as if the hydrangeas are climbing up the Hakone mountains, letting visitors enjoy them until the end of July.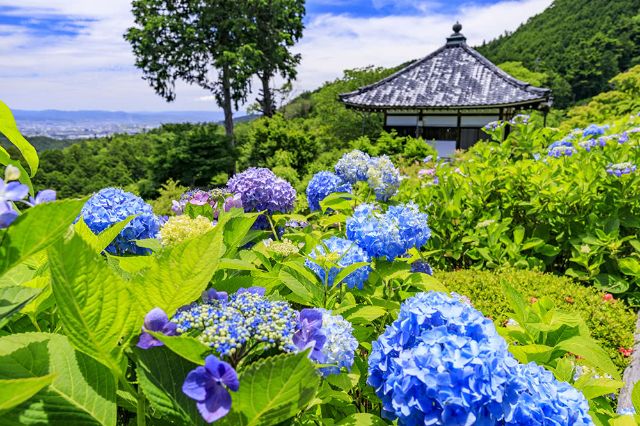 - Yoshimine-dera Temple, Nishikyo-ku, Kyoto-shi, Kyoto
From mid-June to early July, approximately 8,000 hydrangea bushes color the hillside of Yoshimine-dera Temple! The hill presents wonderful views of the Kyoto cityscape beyond the hydrangeas. On a rainy day, which the hydrangeas love, the wet flowers in the mist form a magical scene.
- Yohena Hydrangea Garden, Motobu-cho, Okinawa
The hydrangea at Yohena Hydrangea Garden in Motobu-cho, northern Okinawa, bloom from May through
 late June, making them a little earlier than mainland Japan. The garden started with a woman in her 60s planting two hydrangea bushes, and 30 years later, there are now approximately 300,000! It's a wonderful place to stroll around and enjoy about 40 different types of hydrangea and a variety of subtropical vegetation.
Recommended Restaurants Near Hydrangea Hotspots
Here are some terrific restaurants near these famous hydrangea spots, perfect for those who want to walk around and discover local gems after enjoying the flowers.
Tsukiji Mottainai Project Uoharu (Yurakucho)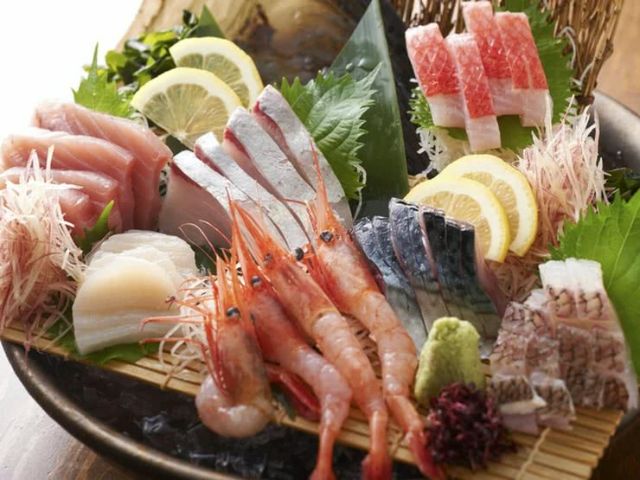 [Tsukiji Mottainai Project Uoharu] is a great restaurant to stop by when visiting Hakusan Shrine. It is within walking distance of Yurakucho Station, Tokyo Station, and Hibiya Station.

Here, seasonal fish that are utterly delicious but unappealing to buyers because of their size or appearance, like scale damage, are bought up at Toyosu Market every day and served to customers at reasonable prices.

The restaurant's recommendation is the Sashimi Assortment, which is made from fish that are purchased and prepared while fresh. The Nakare Course (4,500 JPY) is a satisfying course of clams steamed in sake, grilled and deep-fried foods, and a plate of assorted sashimi, all with two-hour bottomless drinks to boot.

Another specialty is the Robatayaki (chargrilled seafood, vegetables, etc.) with fish procured directly from the market and carefully selected vegetables. The plump, fatty mackerel is a particular highlight.
Tsukiji Mottainai Project Uoharu
Open
: [Weekdays] Lunch 11:00 am - 2:30 pm / Dinner 5:30 pm - 11:30 pm. [Saturday] 4:00 pm - 10:00 pm
Closed
:
Sunday, National Holidays
Average price
:
-
Access
:
3 minutes walk from Yurakucho Station, 8 minutes walk from Tokyo Station, 5 minutes walk from Hibiya Station, 259m from Yurakucho Station
Address
:
B1F, Shin Tokyo Bldg., 3-3-1, Marunouchi, Chiyoda-ku, Tokyo
Map
More Details
   Reservation   
Hakone Kinnotake Saryo (Gora)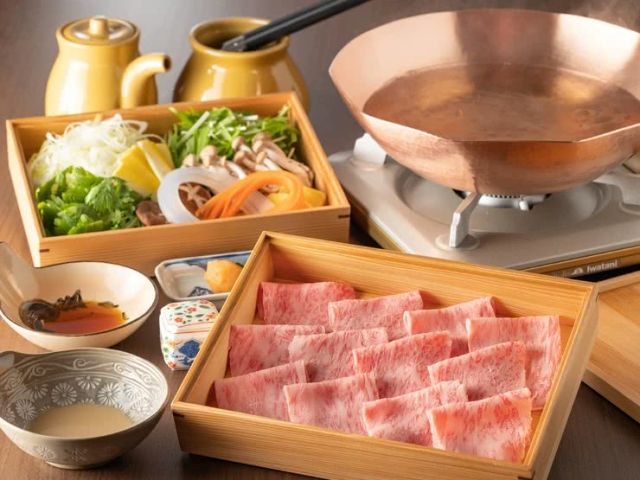 [Hakone Kinnotake Saryo] is a lovely spot for a meal after enjoying the hydrangeas along the Hakone Tozan Railway. It is a hot spring day resort run by the luxury Hakone inn Kinnotake, and serves authentic Japanese cuisine in an extravagant setting.

The Japanese Black Cattle Wagyu Shabu-Shabu Meal (from 14,300 JPY) lunch course was developed by the Kinnotake Group's executive chef, and is served in private rooms. It begins with a beautiful plate of about 14 different appetizers, followed by shabu-shabu (a kind of hotpot dish) of Japanese Black sirloin wagyu enhanced by a refined dashi (broth) taken from kombu (kelp). The rice steamed in an iron pot with refreshing myoga (Japanese ginger) and regular ginger offers a satisfying end to the meal.

Being a day spa, guests can also soak in a hot spring or relax in a bed before and after lunch. The liberating open-air bath is filled lavishly with milky water flowing directly from Owakudani, one of Hakone's most famous hot springs.

[Hakone Kinnotake Saryo] is an excellent place to stop for lunch and unwind during a busy day of exploring the many sights of Hakone.

Hakone Kinnotake Saryo
Open
:
[Monday, Thursday-Sunday] Lunch 11:30 am - 2:30 pm By reservation only
Closed
:
Tuesday, Wednesday
Average price
:
[Lunch] 15,000 JPY
Access
:
3 minutes walk from Hakone Tozan Bus "Daigatake" bus stop, about 25 minutes by cab from Hakone-Yumoto Station
Address
:
817-460, Sengokuhara, Hakonemachi, Ashigarashimo-gun, Kanagawa
Map
More Details
   Reservation   
CAMERON BARU KYOTO TOWER SANDO Branch (Kyoto)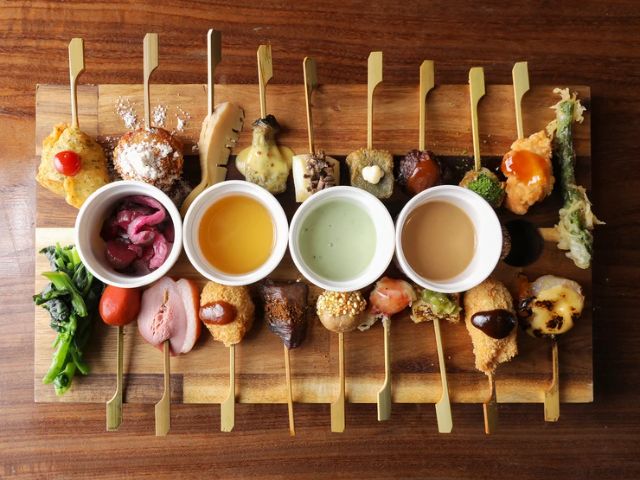 [CAMERON BARU KYOTO TOWER SANDO Branch] is just 2 minutes from Kyoto Station, making it a convenient restaurant to stop by before or after visiting Yoshimine-dera Temple. The restaurant features creative grilled skewers made with fresh seafood, meats, and seasonal Kyoto vegetables, skillfully put together by a chef trained in French cuisine.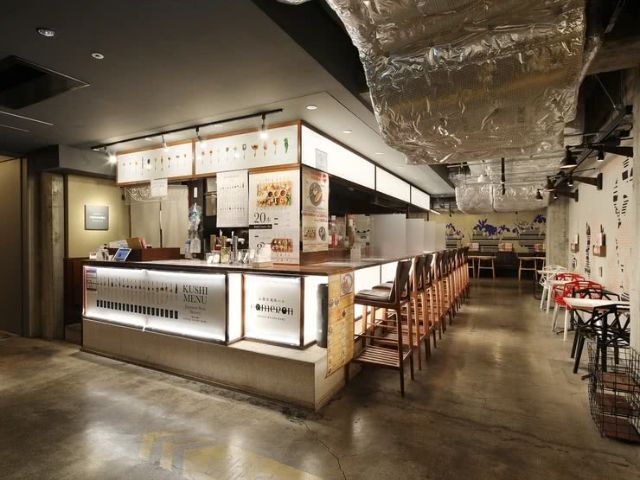 The Food Hall 20 Skewers Set (2,600 JPY) presents a variety of colorful skewers, pairing perfectly with the restaurant's carefully selected wines.

The restaurant also has a relaxed, casual atmosphere, and welcomes solo diners.

CAMERON BARU KYOTO TOWER SANDO branch
Open
:
11:30 am - 9:00 pm
Closed
:
None
Average price
:
[Dinner] 2,500 JPY / [Lunch] 1,000 JPY
Access
:
A 2 minutes walk from the Central Exit of JR Kyoto Station. On the B1 floor of Kyoto Tower
Address
:
B1F, 721-1, Higashishiokoji-cho, Karasuma-dori Shichijo-sagaru, Shimogyo-ku, Kyoto-shi, Kyoto
Map
More Details
   Reservation   
Echizen (Omoromachi)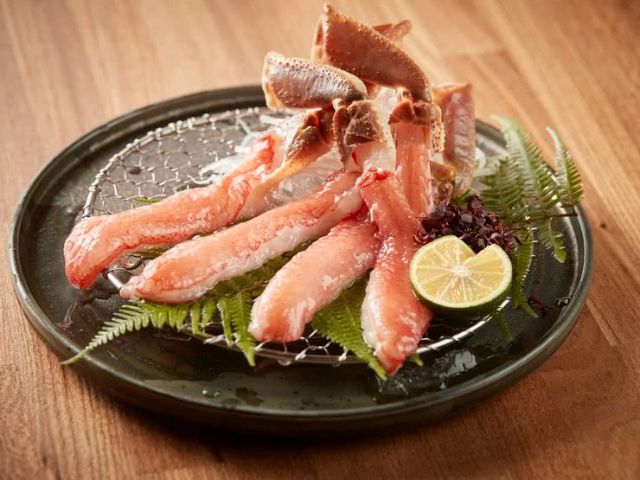 [Echizen] is a crab restaurant with a quiet, comfortable setting perfect for relishing the exquisite flavors of crab. It is located in Naha City, the gateway to Okinawa.

Their specialty dish is Crab Sashimi, which presents the essence of crab in its natural state. You can directly taste the umami of crab, together with a fresh, springy texture unique to sashimi.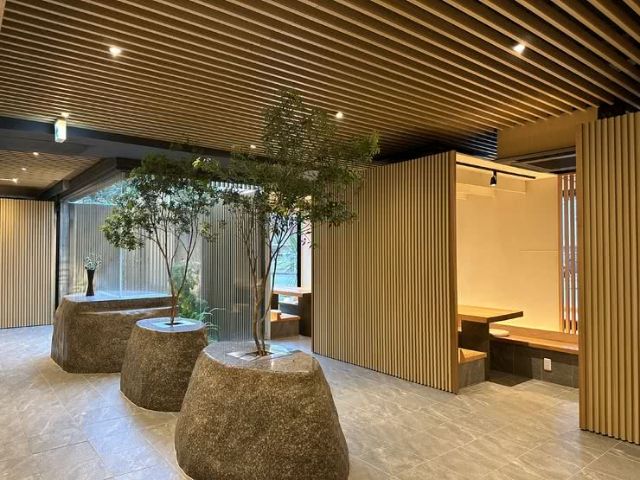 The [Clay Pot Rice with Crabs and Salmon Roe] is a sumptuous dish also packed with fresh crab. Its enticing aroma wafts up when you open the lid, exciting one's appetite.

There are also a la carte dishes of unique Okinawan seaweeds, such as mozuku and sea grapes, that offer a tasty break in between helpings of crab.

Echizen
Open
:
Dinner 5:00 pm - 11:00 pm (L.O 10:00 pm)
Closed
:
None
Average price
:
[Dinner] 15,000 JPY
Access
:
After getting off at Omoromachi Station on the Yui Rail Line, 6 minutes walk
Address
:
1F, Omoro City Court GINOZA, 4-11-1, Omoromachi, Naha-shi, Okinawa
Map
More Details
   Reservation   
From temples and shrines to spacious parks, each of these hydrangea-viewing spots grants visitors breathtaking flowery scenery. Such beauty combined with top-notch food is sure to make for an unforgettable trip!
Disclaimer: All information is accurate at time of publication.