Publish-date: Nov 08 2019 Update-date: Apr 03 2020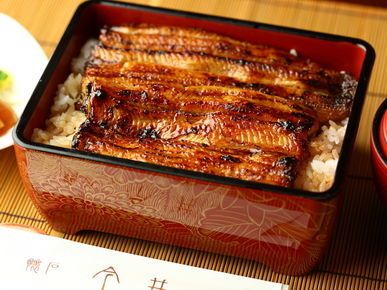 The Kanto and Kansai regions are very different in terms of culture, customs, and eating habits. Although the two places are only a 2.5 hour ride away on the shinkansen (bullet train) nowadays, in the past, travel between the two was difficult, resulting in each region having its own distinctive culture. How exactly are Kanto and Kansai different? The food culture differences between the two regions and the possible causes of these phenomena will be introduced in detail below.
1. Different Taste Preferences: Heavy Flavors in Kanto vs Mild Seasoning in Kansai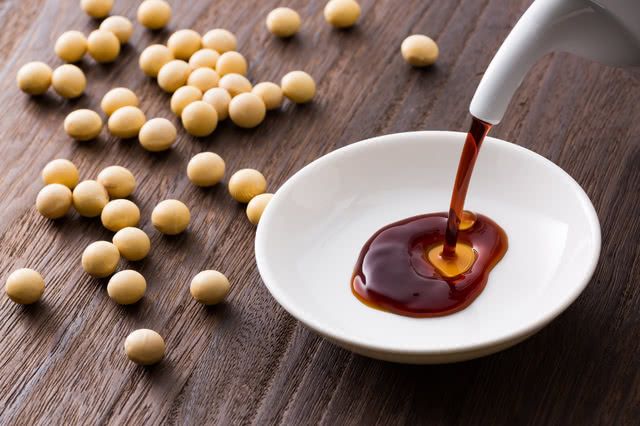 The flavoring of food in Kanto and Kansai is vastly different. Dark soy sauce with a deep color and strong taste is mainly used in the Kanto region while light soy sauce with a light color and subtle flavor is popular in the Kansai region. Don't be deceived by appearances, however, as dark soy sauce actually tastes sweeter than light soy sauce, while light soy sauce has a greater salt content because more salt water is added during brewing to make up for the reduced amount of koji (rice mold).
2. Ways to Eat Okonomiyaki
Although okonomiyaki (Japanese savory pancake) can also be found in the Kanto region, many people from Kansai have experienced cultural shock as it is eaten in a different way than they are used to. Okonomiyaki is a kind of side dish for the Kansai people, so it is not surprising to enjoy it with rice. But in Kanto, it is considered to be a main dish, so sauces, mayonnaise, and even ketchup are added. In addition, most people in Kansai will cut it into grids for the sake of convenience to eat on their own, while people in Kanto are accustomed to sharing okonomiyaki, so they will divide it in the same way as a pizza.
3. Unagi Preparation: Cut From the Back Then Steamed in Kanto vs Cut Open Along the Belly Then Grilled Over Fire in Kansai
Unagi (eel) has been a popular food in Japan since ancient times, but the cooking process differs across the east and west. The Kanto region is deeply influenced by bushido (chivalry code), in which the Japanese samurai had a seppuku (honorable suicide) culture, so after removing the head of the eel, it would be cut from the back then steamed and grilled to avoid violating taboos. The fat dripping from the eel when it is steamed gives it a soft texture. In the Kansai area, however, the eel is cut open along the belly, skewered, and grilled without cutting off the head, so the flavor is rich with a crispy texture and a charred scent.
4. Different Textures of Senbei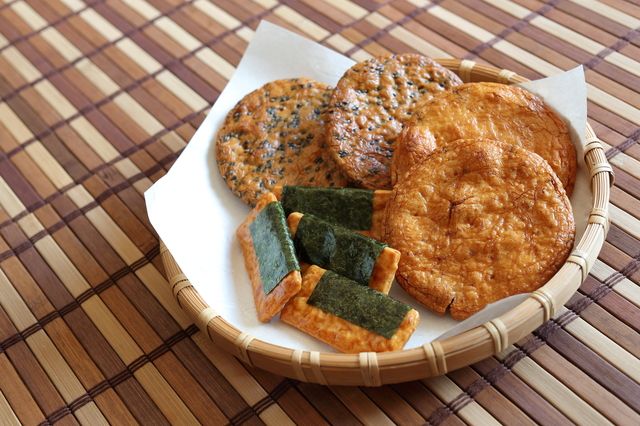 When it comes to senbei (rice crackers), senbei with a crunchy texture and dark soy sauce flavor like those sold at Soka Senbei are popular in the Kanto region. If you don't break it into small pieces, you may not be able to bite it as it is quite hard. Senbei in Kansai are mainly in the form of fried rice crackers, with [Bonchi Senbei] being representative of the region. The crispy texture is not as hard as the senbei of Kanto.
5. Sweet Tamagoyaki in Kanto vs Dashimaki Tamago in Kansai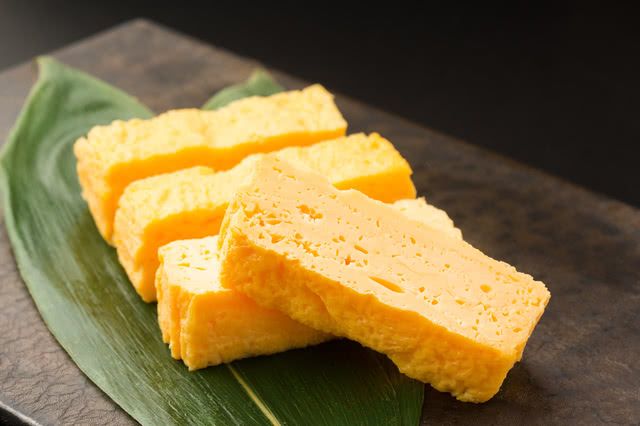 It is a tradition for tamagoyaki (rolled omelette) in Kanto to be firm and have sugar added for flavoring. Dashimaki tamago (rolled omelette with broth) in Kansai, on the other hand, are rather soft and seasoned with salt and a lot of dashi (broth). Only a little sugar is added, if any. The reason for the different ways of seasoning may be related to the taste of other dishes. In Kanto, the tamagoyaki is seasoned with sugar due to the stronger flavor of the stewed and grilled dishes they normally eat. In order to match the sweetly seasoned home-cooked food that they usually consume, dashimaki tamago is made with salt in the Kansai region.
6. Edomae Sushi in Kanto vs Hako Sushi in Kansai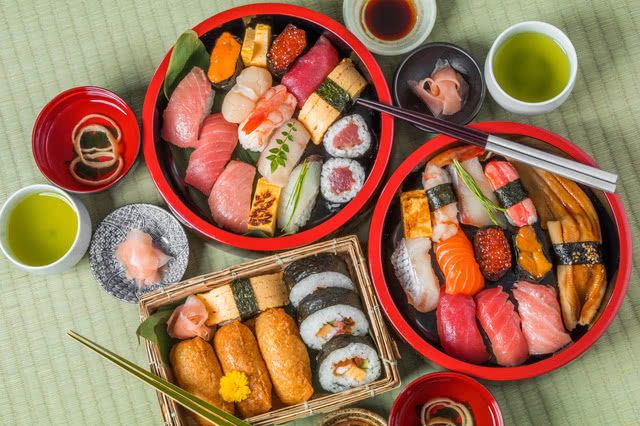 Edomae sushi (Edo-style sushi) originally referred to sushi made with seafood caught in the Tokyo Bay by Edo (former name for Tokyo). As there were no refrigerators at the time and transportation was not developed, the ingredients were processed with methods including using vinegar and salt for pickling or boiling to extend the storage period. In order to allow the impatient Edo people to fill their stomachs quickly, stalls were set up on the roadside serving seafood with rice kneaded together for their enjoyment, which is the origin of Edomae sushi. The period when the Kansai region started to make sushi can be dated back to the Heian era (794 - 1185). Their kind of fermented sushi used a wooden mold to shape the rice and ingredients over time. Frequently used ingredients include common fish such as mackerel and saury. Later, it evolved into placing vinegar rice, whitefish, thick tamagoyaki, conger eel, shrimp, and other ingredients accordingly into the wooden mold and pressing it into a box of sushi with a neat and beautiful shape, creating hako sushi (box sushi).
Here are 4 restaurants to taste the aforementioned delicacies. Give them a try the next time you visit Japan!
Okonomiyaki Kokoro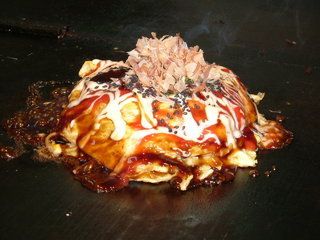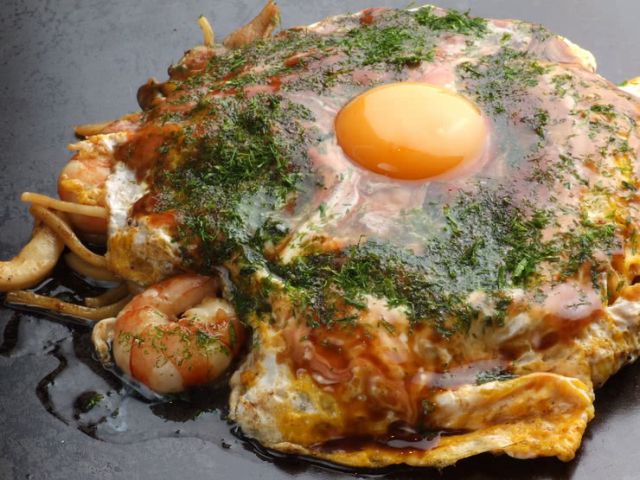 Located in the back allies of Sumiyoshi Taisha Shrine, this is a popular restaurant combining traditional okonomiyaki with a modern spin. In addition to their okonomiyaki and fried noodles, [Kokoro Yaki] is one of the delicious dishes not to be missed. Salted fried noodles and 170 grams of Okinawa pork loin are added to this dish to create a satisfying taste and portion! They generally have a wide variety of dishes, such as Kansai-style monjayaki and teppanyaki (ingredients grilled on an iron griddle).
Okonomiyaki Kokoro
Open: Lunch 11:00 am - 3:00 pm (L.O. 2:30 pm), Dinner 5:00 pm - 10:00 pm (L.O. 9:15 pm)
[Tuesday - Thursday, National Holidays] 11:00 am - 6:00 pm (L.O. 6:00 pm)
[Friday - Sunday, National Holidays] 11:00 am - 9:00 pm (L.O. 9:00 pm)
Closed: Monday
Address: 4-6-103, Nagao-cho, Sumiyoshi-ku, Osaka-shi, Osaka

Unagi Fugu Kaiseki Imai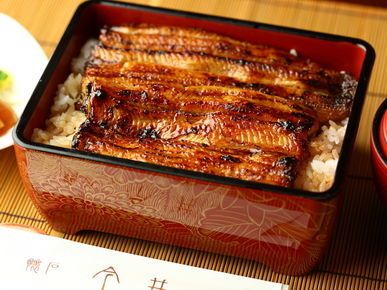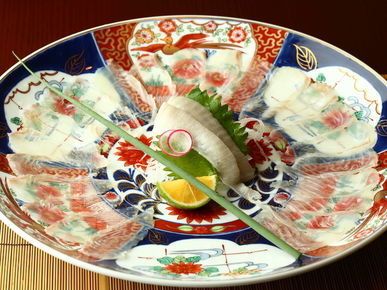 The [Specialty Unaju] (broiled eel served on rice in a lacquered box) is cooked in a specially prepared sauce and uses carefully selected seasonal eel from all over the country. The delicious special sauce is made from the brewed soy sauce of Niigata Soy Sauce Factory. The vegetables are sourced from Niigata and Nagano and their fresh fish is delivered from Aomori. They use only the freshest and tastiest ingredients from trusted locations, so customers can eat without any worries. Enjoy a relaxing meal in the serene and spacious restaurant, which is also ideal for hosting banquets or parties.
Unagi Fugu Kaiseki Imai
Open
: [Weekdays, Saturday, Day before National Holidays] Lunch: 11:30 am - 2:00 pm (L.O. 1:30 pm), Dinner: 5:00 pm - 11:00 pm (L.O. 10:00 pm)
Closed
: Sunday, National Holidays
Address
: 4-23-1, Kuramae, Taito-ku, Tokyo
Map
More Details
 Reservation 
Yuzunoniwa Umeda Branch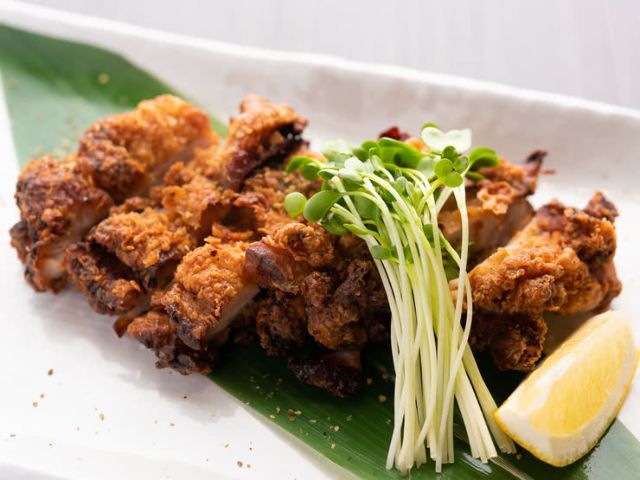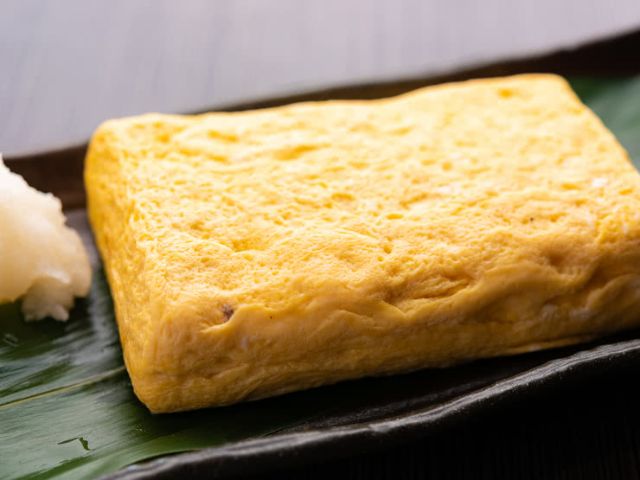 This restaurant is full of modern Japanese atmosphere with private booth seating. It is an izakaya (Japanese pub) ideal for dates, gatherings, and large banquets. Scrumptious dishes such as [Homemade Dashimaki Tamagoyaki] and [Spicy Fried Tatsuta Sakura Chicken Thighs] are all made with select ingredients that go well with alcohol. There is also a set menu with unlimited drinks. The fact that you're able to taste delicious dishes at an affordable price here makes this place special!
Yuzunoniwa Umeda Branch
Open: Dinner: 5:00 pm - 1:00 am (L.O. 12:00 am)
Closed: Irregular
Closed on New Year's Eve and New Year's Day
Address: 6F, Umeda Pal Bldg., 1-10 Komatsubara-cho, Kita-ku, Osaka-shi, Osaka

Koromo Sushi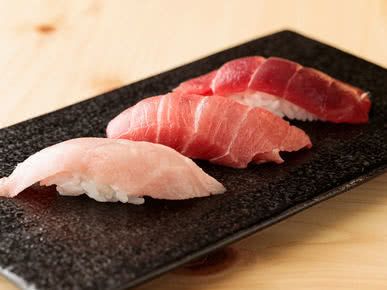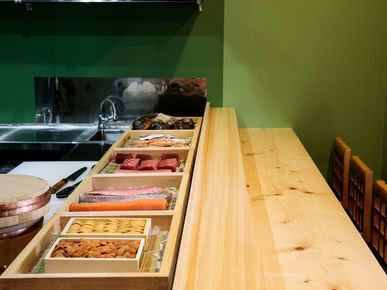 This restaurant opened in the outer market of Tsukiji in spring 2018. With only 9 bar seats, the store is filled with a homely atmosphere that makes people feel relaxed even if it is their first time here. The wooden display box on the bar is filled with seasonal seafood bought in from Toyosu Market that morning. The store mainly offers [Basic Nigiri Sushi] made with select ingredients and [Seafood Donburi] (rice bowl dish topped with seafood) which is full of a wide variety of seafood toppings. Of course, you can also choose your favorite dishes or leave it up to the chef. Depending on the stock in store, sometimes you can even order surprising ingredients like sea urchin!
Koromo Sushi
Open
:
Breakfast & Lunch 8:00 am - 3:00 pm, Dinner 5:00 pm - 9:00 pm
Closed
:
Irregular
Average price
:
[Dinner] 5,000 JPY / [Lunch] 2,000 JPY
Access
:
5-minute walk from [Tsukiji Station] on the Tokyo Metro Hibiya Line
Address
:
4-11-3, Tsukiji, Chuo-ku, Tokyo
Map
More Details
   Reservation   
The differences in food culture between the Kanto and Kansai regions are related to their respective history, geographical environment, and local customs. If you have the opportunity to visit Japan and enjoy the local cuisine, you can explore and ponder about how these differences came about while savoring the delicious food on offer!

Disclaimer: All information is accurate at time of publication.