Publish-date: Jun 30 2020 Update-date: Jul 01 2020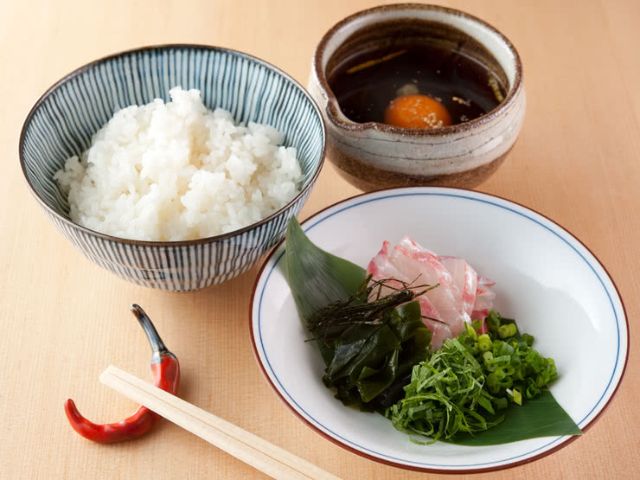 Rice is an integral part of Japanese culture. It's not just a staple food: food and drink made using rice play a vital part in Japan's traditions, celebrations, and spirituality. In this article, we'll look at how rice is eaten in Japan, cover some delicious Japanese rice dishes, and recommend our picks for places in Tokyo where you can try them for yourself!

How Long Have Japanese People Eaten Rice?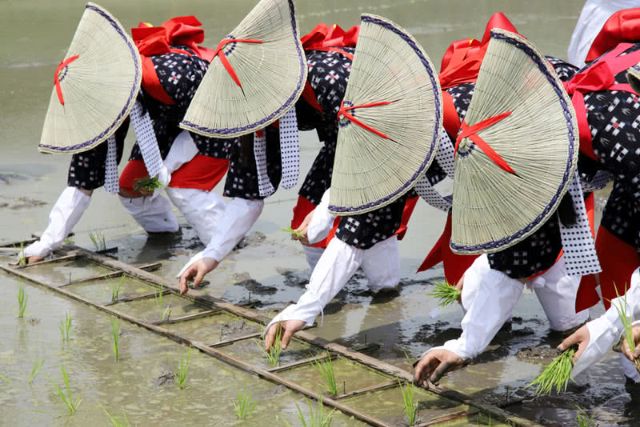 It is believed that rice was first brought to Japan from China via the Korean Peninsula somewhere between 300 BC and 100 BC. Since then, rice agriculture has been a vital part of Japan's development. Even today, the import of rice is strictly regulated in order to protect Japan's rice agriculture industry and food security.

Rice and Japanese Culture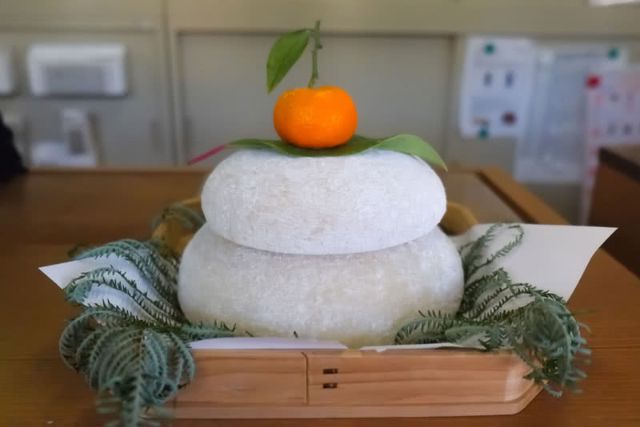 Food and drink made from rice play an important symbolic role in the traditions and culture of Japan. For example, in Japanese Shinto religion, rice and sake (Japanese alcohol made with rice) are commonly used as ceremonial offerings to the Shinto gods and ancestors. Sake is even ceremonially sipped as a rite in Shinto weddings!

Rice also plays an important role in celebrations in Japan. Sticky Japanese rice is often cooked with adzuki beans to make a dish called sekihan, which is commonly served for birthdays and other celebrations. This same type of rice can also be pounded into a dough to make a type of rice cake called mochi. For many, mochi is an indispensable part of New Year's celebrations. Decorations called kagami mochi or mirror mochi (pictured above) are found in most homes during the New Year period. Many people will also eat soups and desserts containing mochi, and even participate in mochi-making events during this time!

Types of Rice Eaten in Japan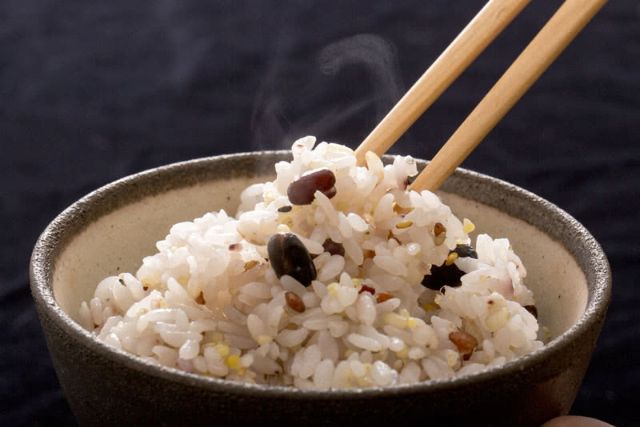 The white rice typically eaten today was not always enjoyed in Japan. Multiple theories exist on this subject, with one citing that based on historical texts, white rice appeared to have been eaten back in the Genroku Era (1688 - 1704). However, the labor-intensive process of removing the bran meant that it was a luxury reserved for society's elites. As industrialization reduced the cost of processing, the consumption of white rice began to spread throughout the population during the Meiji Era (1868 - 1912).

Today, around 75% of people in Japan eat short-grain varieties of white rice, while almost 20% eat this rice mixed with other types of whole grains such as barley or millet. Brown rice, once the most common rice choice, is still widely available in Japan but not as commonly eaten. The third type of rice commonly eaten today is called mochigome, also known as glutinous or sticky rice. This rice has a chewier texture and is typically used as an ingredient to make desserts, such as the mochi we mentioned earlier.

Rice Varieties and Brands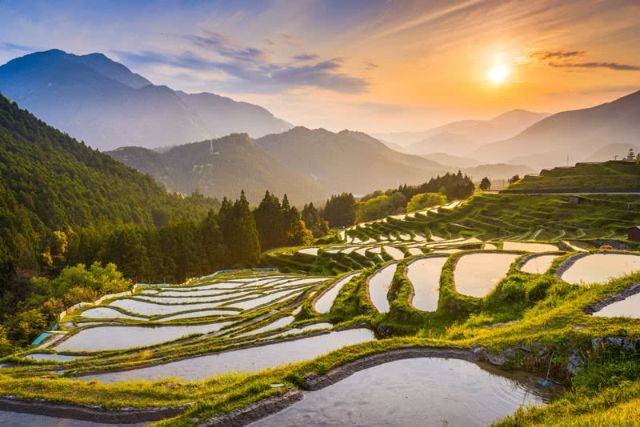 There are around 300 varieties of Japanese rice grown throughout Japan today. The most commonly grown type is Koshihikari, a cultivar first registered in 1956. This type is known for its mild, sweet flavor and pleasingly glossy look.

Koshihikari rice also has several variants. Some were selectively bred to grow in different climates, such as the cold-resistant Hitomebore variety, and others were bred to go well with different kinds of cooking. Varieties such as Akitakomachi and Hinohikari, for example, are known for being particularly well suited to room-temperature dishes like sushi and onigiri.

With so many options out there, we strongly recommend trying out multiple varieties of rice while you're in Japan!

Ways Japanese People Eat Rice
As you might imagine, as the staple of a country with such a rich food culture, the Japanese people have found countless ways to cook with rice. Here are a few of the most common rice dishes you will likely come across during a trip to Japan!

Rice in a Traditional Japanese Meal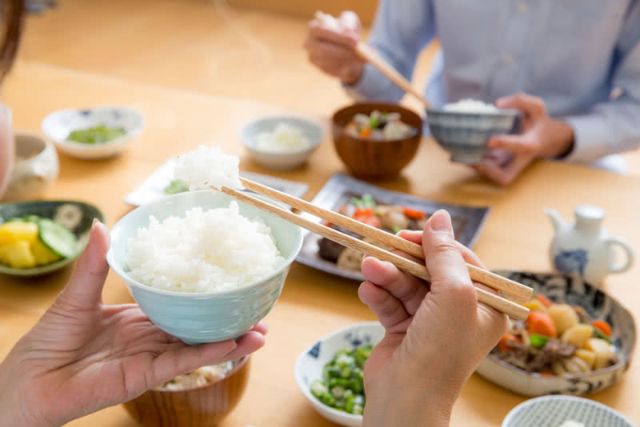 A standard traditional meal in Japan is often referred to as "ichi-juu san-sai", or "one soup, three sides". This describes a meal that includes a bowl of rice, a soup, and three side dishes which could consist of a protein like fish or tofu, a salad, and so on. In this type of meal, you'll see that rice is typically served without additional flavorings in its own bowl. Japanese people will typically eat their rice in this way to enjoy its inherent flavors.

Sushi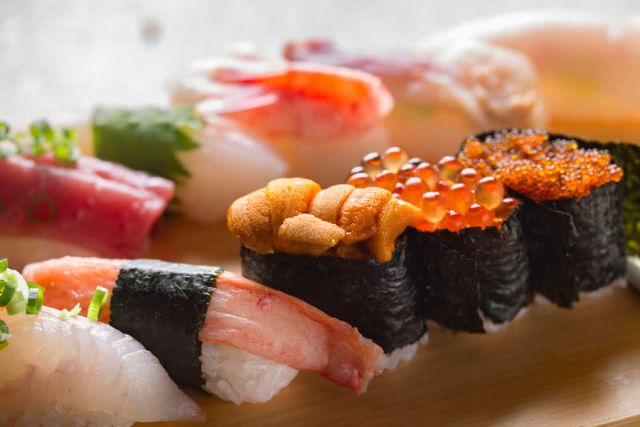 This is perhaps the most famous Japanese rice dish internationally! The rice for sushi is made by seasoning freshly-cooked white rice with a mix of vinegar, sugar, and salt. It is served at room temperature with fresh seafood and other toppings.

Common ways to make sushi include pressing the rice and topping together to make nigiri, wrapping the ingredients in a cone or cylinder shape with a seaweed sheet to make makizushi, or the gunkan-maki style pictured to the right of the photo below. This type uses a seaweed wrap to help contain looser ingredients placed on top of the rice, like salmon roe or sea urchin.

Onigiri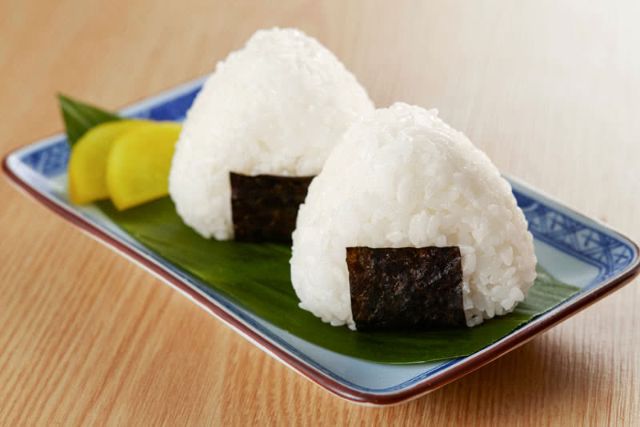 Onigiri is a common home-style food that serves as a quick, affordable, and portable meal. You can make it at home, or you can buy it from places like convenience stores in Japan, where they sell for around 100 JPY. Commonly translated as rice balls in English, onigiri can take a number of shapes, but the triangle style pictured here is the most common.

A simple way of making onigiri is to mix rice with a flavoring mix called furikake, which typically consists of small pieces of dried ingredients like seaweed, egg, or fish. It can have an inner filling like tuna salad or pickled plum, and can also be wrapped partially or entirely in a seaweed sheet.

Donburi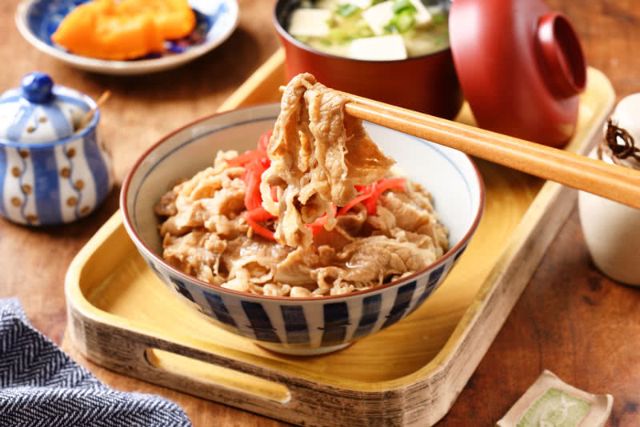 Donburi, or rice bowls, are one of the most popular types of fast food in Japan. Unlike the traditional Japanese meal that consists of a number of individual dishes, donburi are hearty, one-bowl dishes that consist of rice and toppings like beef, chicken, egg, tempura, or seafood.

Gyu-don (beef-topped rice bowl) chains such as Matsuya, Sukiya, and Yoshinoya are a ubiquitous sight in Japanese cities, and are favored by customers looking for a fast, filling, and inexpensive meal. Similarly popular is Oyako-don, which is made with a chicken and egg topping. Kaisen-don are rice bowls topped with raw seafood. You'll often find people making a special trip to Japan's excellent seafood markets to eat kaisen-don made with the morning's catch.

Mixed Rice Dishes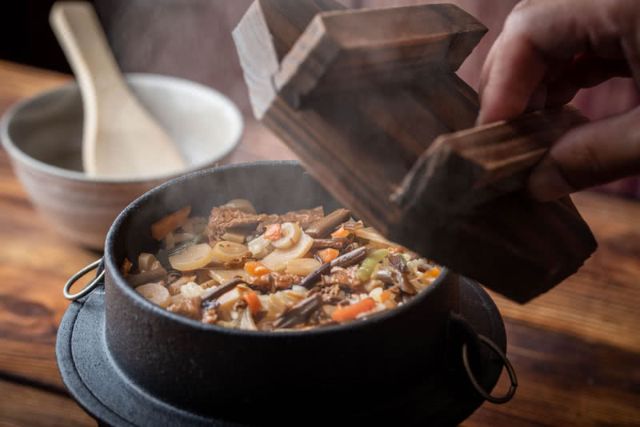 Japanese rice can be cooked in the same pot as other ingredients like meat, vegetables, mushrooms, or seafood to make a dish called takikomi gohan. Flavorings like dashi (stock) or soy sauce are also commonly added before cooking.

Kamameshi is a similar mixed rice dish cooked in an iron pot. Traditionally, people would eat this dish communally from the pot, but today individually-portioned iron pots such as the one pictured above are also available.

Yoshoku Rice Dishes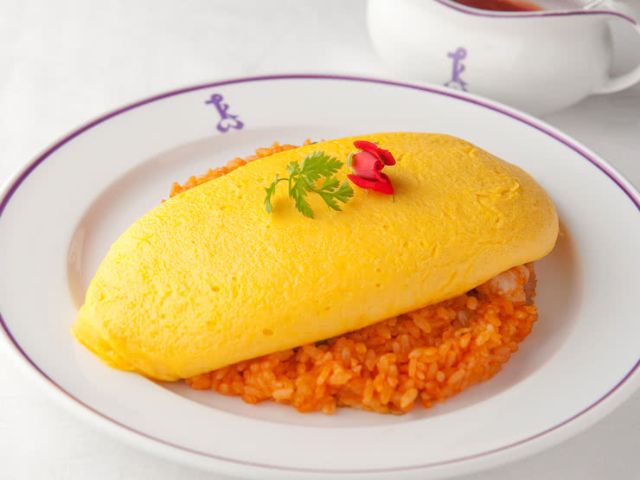 Yoshoku is the name of a type of European-style cooking that emerged in the Meiji Era. While many of Japan's classic yoshoku dishes have evolved away from their original influences, certain elements such as demi-glace sauces are still present on yoshoku restaurant menus. Because yoshoku is adapted to local tastes, Japanese rice plays an important role.

Popular rice-based yoshoku dishes include omelet rice, or Omurice, made with flavored fried rice wrapped or topped with an omelet, and Hayashi rice, which is a plate of rice served with a thick hashed beef sauce.

Rice-Based Sweets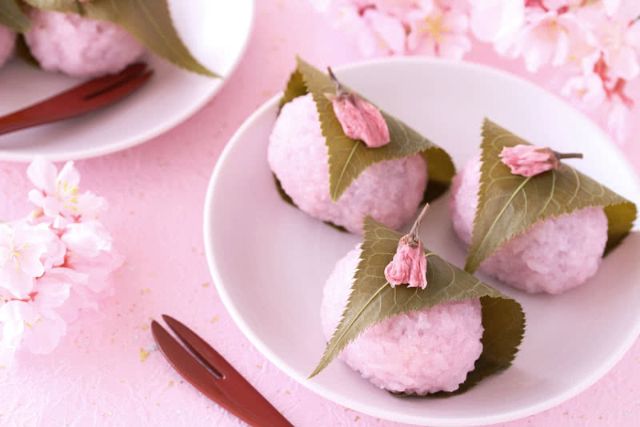 The neutral flavor of rice means that it can also be sweetened to make a range of desserts. Sticky rice is most commonly used for this purpose. Pictured here is Sakura Mochi, which is made by surrounding red bean paste with sticky rice and wrapping everything in a pickled cherry blossom tree leaf.

There's also Daifuku, a treat made by filling mochi with ingredients like strawberries and ice cream. Rice flour made from sticky rice can even be used to make chewy dumplings like Dango, which is a popular festival food enjoyed at Japan's many festivals.

Tokyo Restaurants That Serve Delicious Japanese Rice Dishes
If this article has whet your appetite, we have some great picks in Tokyo for you! From luxury sushi to cheap and cheerful donburi, we're sure we have something to catch your eye on this list.
Experience Dining WASHOKU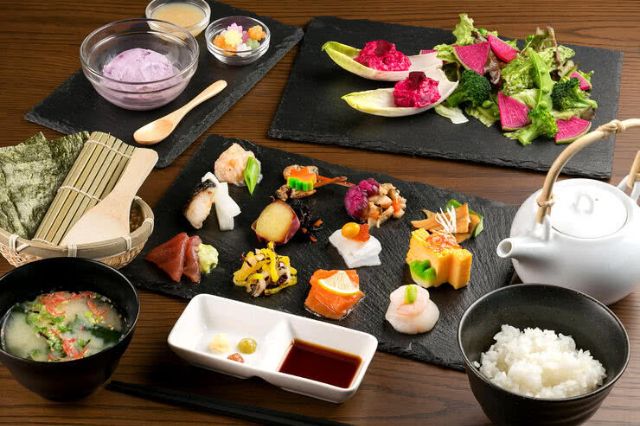 Experience Dining WASHOKU, located near Asakusa Station, serves modern Japanese cuisine in the heart of the city. This restaurant specializes in obanzai, a type of Kyoto cooking centered around the use of high-quality, seasonal vegetables. For rice cuisine, try the hand-made sushi or the dashi-chazuke (rice topped with a tea-based broth), both made with Koshihikari rice.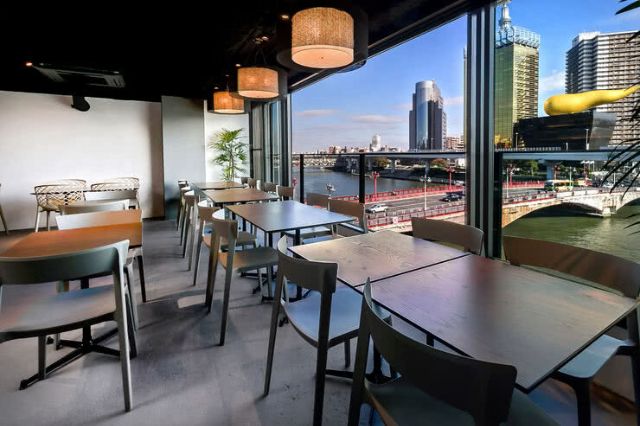 The modern Japanese design creates a stylish and sophisticated space that's ideal for parties and get-togethers. Wide windows and terrace seating gives a beautiful outlook over the Sumida River.

Experience Dining WASHOKU
Open
:
Lunch: 11:00 am - 3:00 pm, Dinner 5:00 pm - 11:00 pm
*Experience Courses 9:00 am - 11:00 am, Handmade sushi course 3:00 pm - 5:00 pm
Closed
:
None
Average price
:
[Dinner] 5,000 JPY / [Lunch] 2,000 JPY
Access
:
1-minute walk from Exit 4 of Asakusa Station
Address
:
5F-6F, 2113Kaminarimon Bldg., 2-1-13, Kaminarimon, Taito-ku, Tokyo
Map
More Details
   Reservation   
Ginza Ishizuka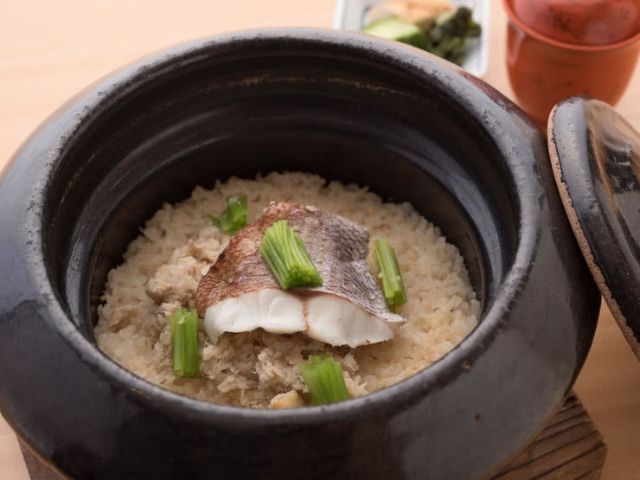 Ginza Ishizuka specializes in kaiseki, a traditional type of Japanese course cuisine. The Omakase Course (15,000 JPY) is a particularly good choice. Omakase means to leave the details to the chef, so even if you are new to kaiseki dining, you can relax in the knowledge that you're in the hands of an expert. A must-try rice dish is the Clay Pot Sea Bream Rice, which is made by cooking Koshihikari rice in a savory kelp stock with freshly-sourced sea bream.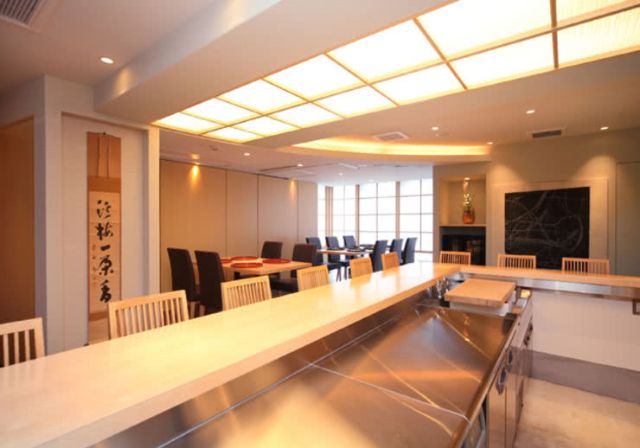 The restaurant's counter seating allows guests to watch the chefs at work up close: a fascinating experience for any lover of Japanese food. A special meal here is sure to remain as a highlight of your trip to Japan.

Ginza Ishizuka
Open
: [Weekdays, Saturday, Day before National Holidays] Lunch 11:30 am - 2:30 pm (L.O. 1:30 pm)
[Weekdays, Saturday] 5:30 pm - 12:00 am (L.O. 11:30 pm)
Closed
:
Sunday
Average price
:
[Dinner] 15,000 JPY / [Lunch] 2,500 JPY
Access
:
Around a 1 minute walk from Exit 10 of Ginza-itchome Station, After exiting the station, turn left at the FamilyMart. The restaurant is located on the left.
Address
:
5F, Habiuru Ginza, 1-13-8, Ginza, Chuo-ku, Tokyo
Map
More Details
   Reservation   
Otaru Masazushi Ginza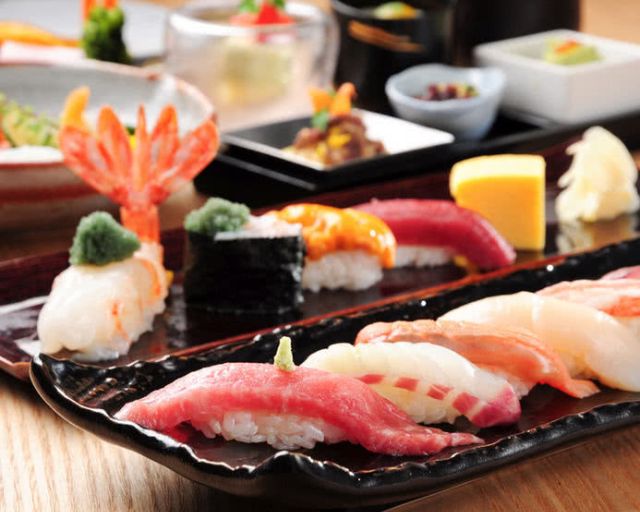 For high-quality sushi, try Otaru Masazushi Ginza. They source their seafood fresh from their own company-run seafood supplier in Otaru, a city in the northern island of Hokkaido. To see for yourself just how sushi rice complements fresh seafood, try the Otaru Set (5,500 JPY), which includes 13 pieces of sushi plus sides, soup, and dessert.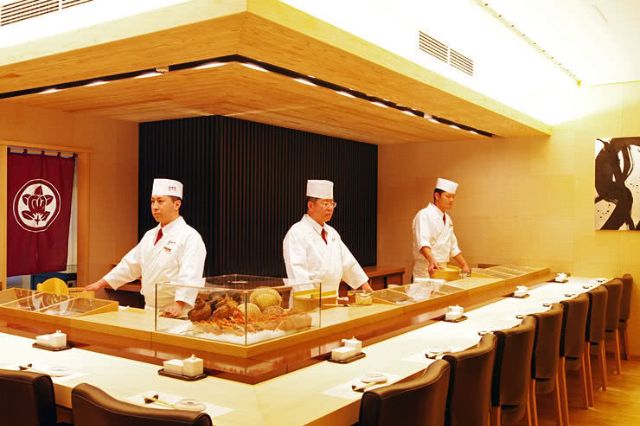 For a special meal, you can either reserve one of the restaurant's six elegant private rooms or sit by the counter and watch the chefs work their magic to create stunningly delicious and beautiful sushi.

Otaru Masazushi Ginza
Open
: [Weekdays, Saturday] Lunch 11:00 am - 3:00 pm (L.O. 2:30 pm)
[Weekdays] Dinner 5:30 pm - 11:00 pm (L.O. 9:30 pm)
[National Holidays] Lunch 11:00 am - 3:00 pm (L.O. 2:30 pm)
[Saturday] Dinner 5:00 pm - 11:00 pm (L.O. 9:00 pm)
Closed
:
Sunday
Average price
:
[Dinner] 12,000 JPY / [Lunch] 3,000 JPY
Access
:
Around a 1 minute walk from Exit 7 of Ginza-itchome Station. Around a 3-minute walk from Kyobashi Station. Take Exit 3 and head south on Chuo-dori Street. Around a 5-minute walk from Yurakucho Station.
Address
:
10F, Pola Ginza Bldg., 1-7-7, Ginza, Chuo-ku, Tokyo
Map
More Details
   Reservation   
Sekiguchitei
Sekiguchitei is a traditional yoshoku bistro tucked in an alleyway by Yoyogi-koen Station. Here you can try a high-quality version of Omelet Rice (2,000 JPY), made with beef rib and tongue and finished with the restaurant's specialty demi-glace sauce. Other yoshoku staples like Beef Stew (3,300 JPY) or Hamburg Steak (2,100 JPY) also go deliciously with a piping hot bowl of Japanese rice. Chef Sekiguchi has dedicated himself to the pursuit of yoshoku dishes that harness local flavors like soy sauce, which means that a meal here really is an experience unique to Japan.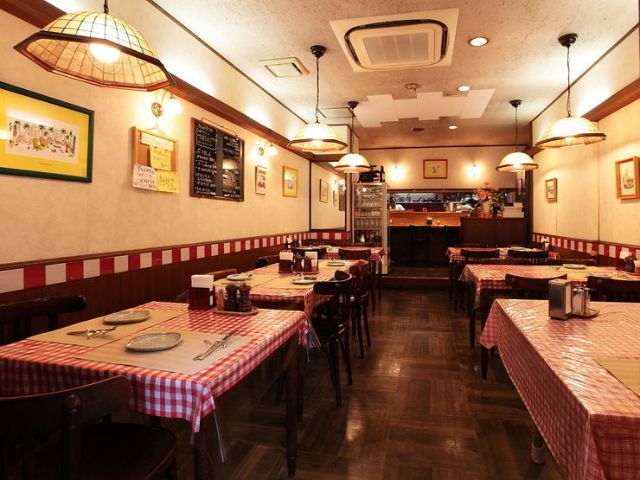 The softly-lit interior is warm and inviting. This restaurant is great for all sorts of occasions, including family gatherings. Its counter seating by the kitchen also makes this a great spot for solo diners!

Sekiguchitei
Open
: [Monday, Tuesday, Thursday, Friday] Lunch 11:30 am - 2:30 pm (L.O. 2:30 pm)
[Wednesday, Saturday] Lunch 11:30 am - 2:00 pm (L.O. 2:00 pm)
[Weekdays, Saturday] Dinner 6:00 pm - 9:30 pm (L.O. 9:30 pm)
[Sunday] Dinner 6:00 pm - 9:00 pm (L.O. 9:00 pm)
Closed
:
None
Average price
:
[Dinner] 3,000 JPY / [Lunch] 1,000 JPY
Access
:
Around a 1 minute walk from Exit 1 of Yoyogi-koen Station or the South Exit of Yoyogi-hachiman Station
Address
:
1F, Nakagawa, 1-52-1, Tomigaya, Shibuya-ku, Tokyo
Map
More Details
   Reservation   
Torito Branch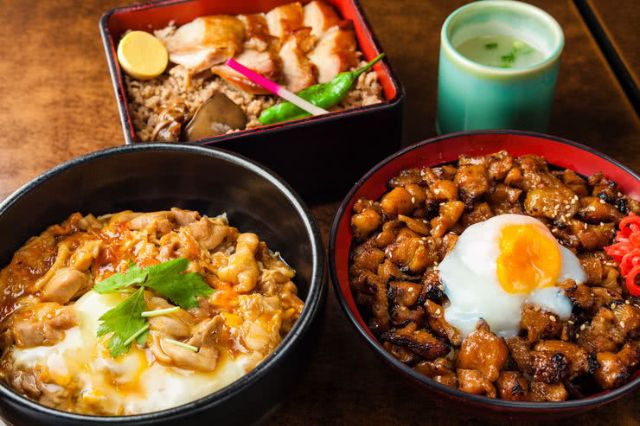 For a hearty rice-based dish, try the specialty chicken donburi at Torito Branch! First opened over 100 years ago, Torito specializes in chicken dishes. The chickens are sourced whole and processed in-store to make rice bowls, including the famous Oyakodon (800 JPY). This dish features rice, tender chicken, and a fluffy, soft-cooked egg. Its simple sauce made of soy sauce, vinegar, and sugar adds a touch of sweetness to the entire dish!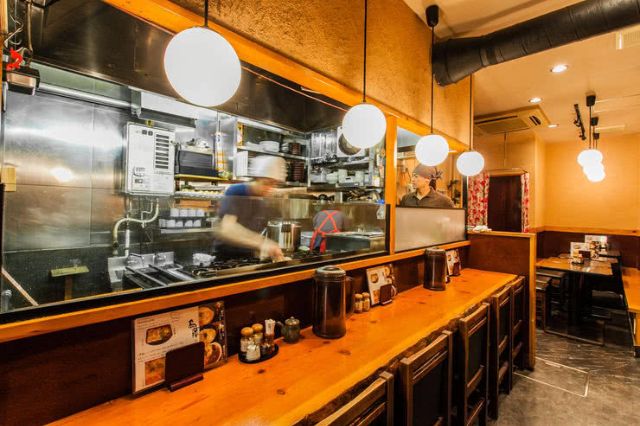 This comfortable, friendly restaurant is a great place to relax and recharge during your sightseeing adventures. Just make sure to come before or after lunchtime to avoid the crowds! You will surely feel at home settled into their counter seats or table seats.

Torito Branch
Open
:
7:30 am - 2:00 pm
Closed
:
Sunday, National Holidays
Average price
:
1,000 JPY
Access
:
Address
:
4-8-6 Tsukiji, Chuo-ku, Tokyo
Map
More Details
   Reservation   
Rice really is the heart and soul of Japanese cuisine, but for many international visitors, it's often underappreciated. Make a point to seek out some of these delicious rice dishes in Japan to really immerse yourself in the local food culture during your visit.

Disclaimer: All information is accurate at time of publication.