Publish-date: May 28 2019 Update-date: Jun 05 2020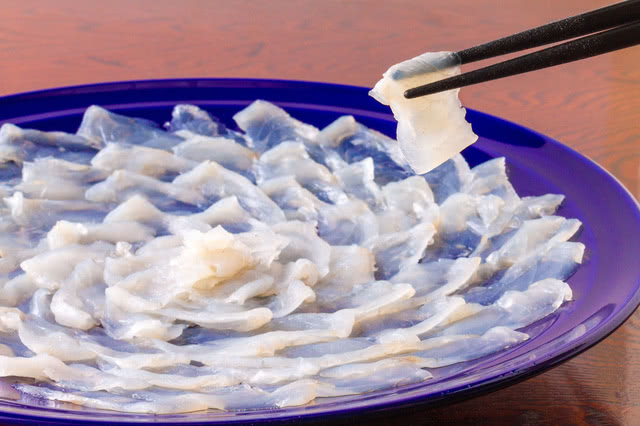 Fugu (puffer fish) is a luxury food ingredient in Japan, and can only be prepared by specially licensed chefs because of the toxins stored within its body. Acclaimed for its distinctive texture, fugu is delicious whether raw, boiled, or fried, and is sure to get you hooked once you try it. Learn some trivia about fugu before trying it at some of the recommended restaurants below. Hopefully, you'll be able to use some of the information in this article as a reference for your travels!

What is Fugu?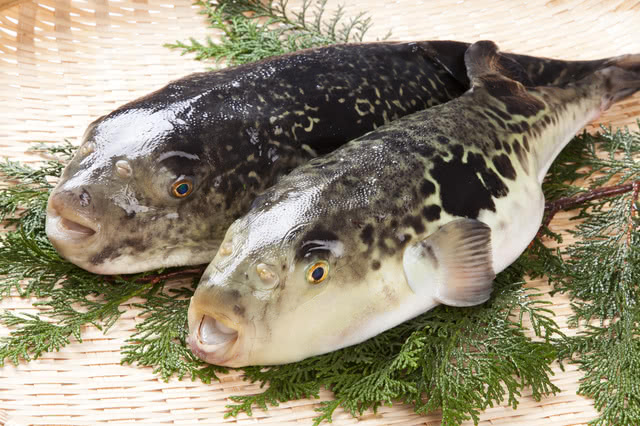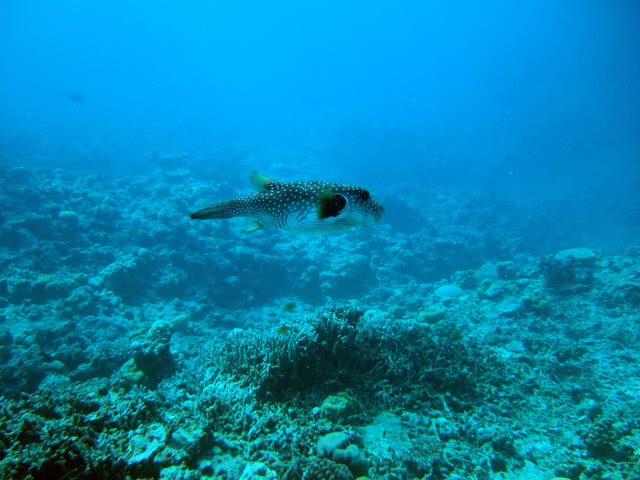 Fugu have a long and famous history as a luxury food ingredient in Japan. There are many species of the fish, with over 100 kinds worldwide and approximately 40 species inhabiting Japan. There are thorns on the surface of the fish's body, and the fish is known for puffing up when startled. Fugu are in season from September until March. From April to June, fugu begin to store nutrients in their livers in preparation for the spawning season, causing the toxins in the ovaries to become especially strong and dangerous. Since consuming the fugu's toxins can result in death, the handling of fugu requires a special license.

The History of Fugu Consumption in Japan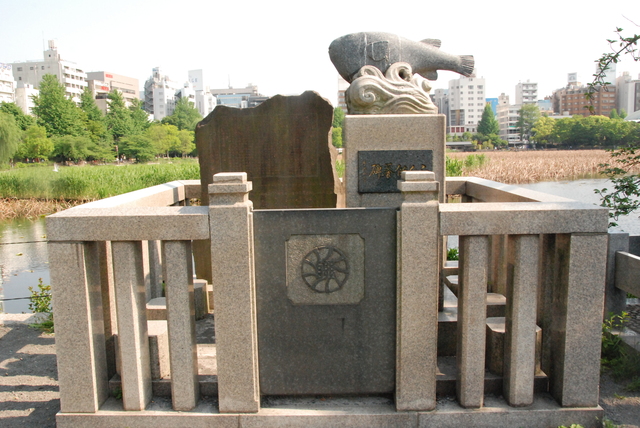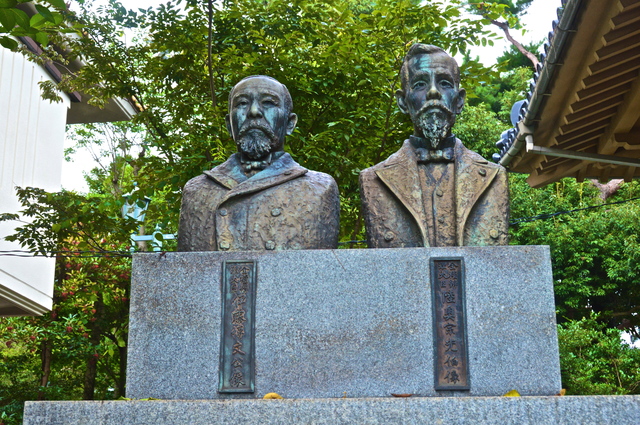 Fugu has a history within Japan that dates back many centuries, and though there are many different theories on its exact origin, fugu bones found in a kaizuka (a trash dump in ancient times, named for how mounds of kai, or clams were found there) dating back at least 2,800 years is evidence that fugu were already being fished and consumed at the time. Then, in the 16th century, a law prohibiting the consumption of fugu was passed in response to an outbreak of deaths due to the fish's toxins. Consumption became more widespread about 130 years ago. Ito Hirobumi, the prime minister at the time, praised the taste of fugu, and the prohibition law was repealed. Since then, further efforts were made to ensure the safe consumption of fugu, and in 1930, the Tokyo Fugu Ryori Renmei (Cooking Alliance) was formed. They publicized safe handling methods and lectures, which contributed to the spread of fugu consumption. In order to remember their efforts, there is a monument memorializing fugu in Ueno Onshi Park in Ueno, Tokyo. *Refer to the first image

Fugu Distribution in Japan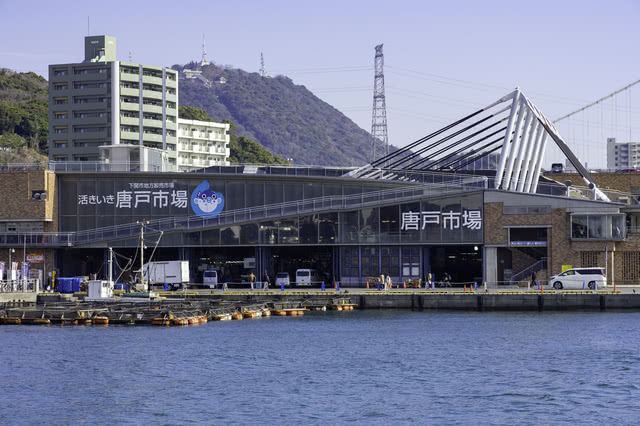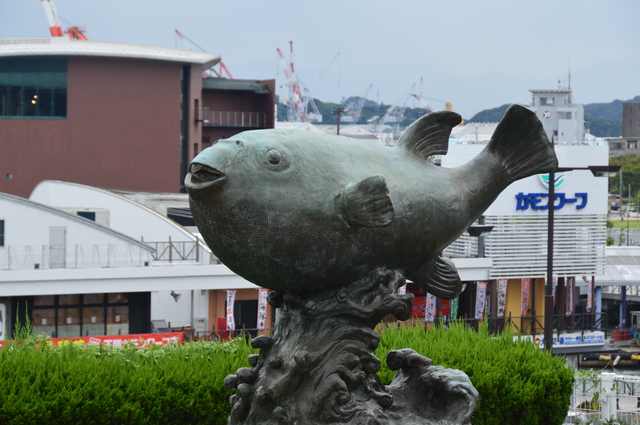 Though Shimonoseki City in Yamaguchi Prefecture is famous for its fugu, the volume of fugu caught there is actually not particularly high compared to the rest of Japan. In spite of this fact, there is a reason for the liveliness of the city, which has countless fugu restaurants and fugu processing factories lining its streets. Fugu consumption was prohibited prior to the Meiji Period (1868 - 1912), and the first city to have the ban lifted was Shimonoseki City. At present, the city has its own brand of fugu called "Shimonoseki Fugu" and it has become a distribution hub for fugu caught not only within Japan, but from all around the world.

Delectable Ways to Eat Fugu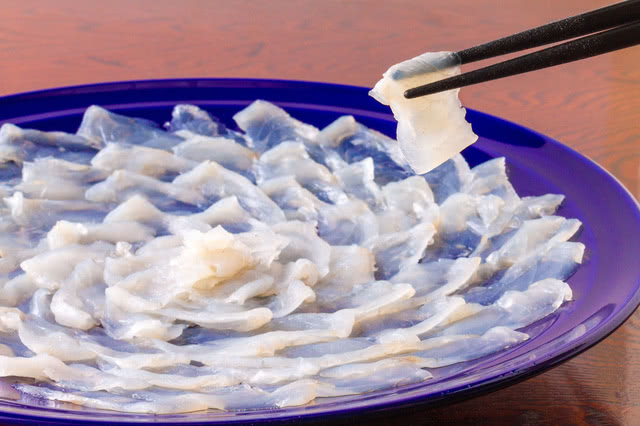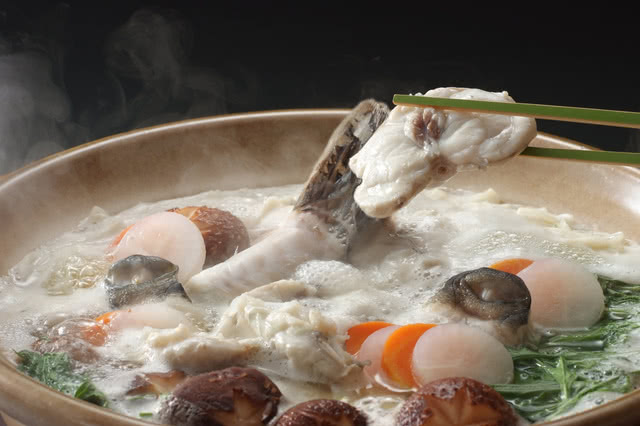 The first thing that comes to mind in regards to fugu cuisine is commonly tessa, also known as fugu sashimi. Tecchiri, or fugu boiled in a hot pot, is a favorite in cold winters, and offers a pleasant springy texture different from fugu sashimi. High in protein and low in calories, grilled fugu is great in the hot summers when looking for an energy booster. Otherwise, the plump texture of deep-fried fugu is also popular.

1. Akihabara Santomo (Akihabara)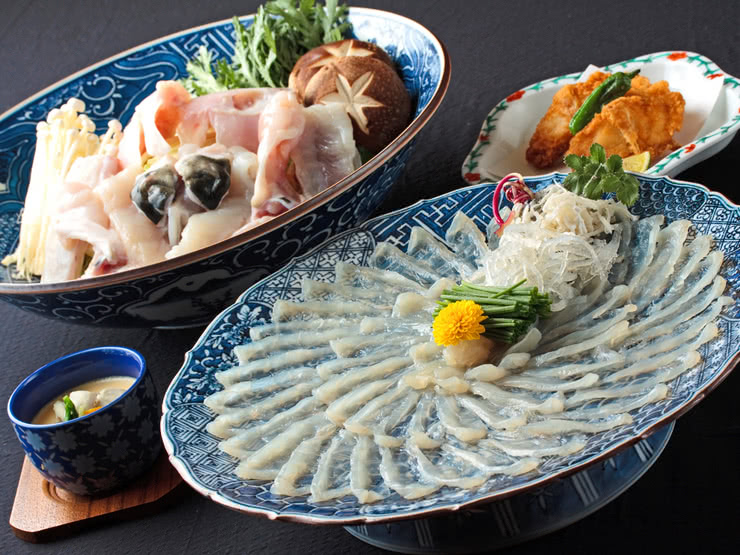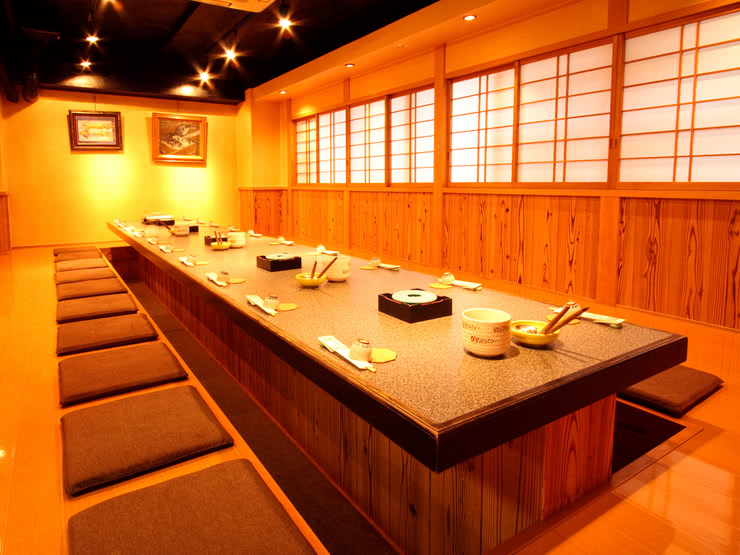 Akihabara Santomo is a restaurant which has served fugu and Japanese cuisine for over 80 years since its founding. The restaurant's interior offers a relaxed atmosphere with wood walls, sliding paper doors, and horigotatsu (sunken kotatsu table), all of which create a traditional Japanese ambience. The restaurant takes pride in its fresh fugu imported from Miyazaki Prefecture. Each fish is carefully inspected with expert eyes, so as to be served in the best possible way. The [Tiger Pufferfish Course] (8,640 JPY) offers a luxury culinary fugu experience and includes dishes like fugu sashimi and fugu stew.

Akihabara Santomo
Open
:
Normal hours: 5:00pm-10:00pm last order: 9:30pmDelivery from 11:30am-2:00pm & 5:00pm-10:00pmLunch: 11:30am-2:00pm last order from 2:00pm
Closed
:
Thursdays
Average price
:
[Dinner] 8,000 JPY / [Lunch] 1,000 JPY
Access
:
Three minute walk from Showa-dori Exit, Akihabara Station, JR Yamanoto Line/Sobu Line; or Exit 3, Akihabara Station, Tokyo Metro Hibiya Line
Address
:
15-1 Kanda Matsunagacho , Chiyoda-ku, Tokyo
Map
More Details
 Reservation 
2. Kaniyoshi (Namba)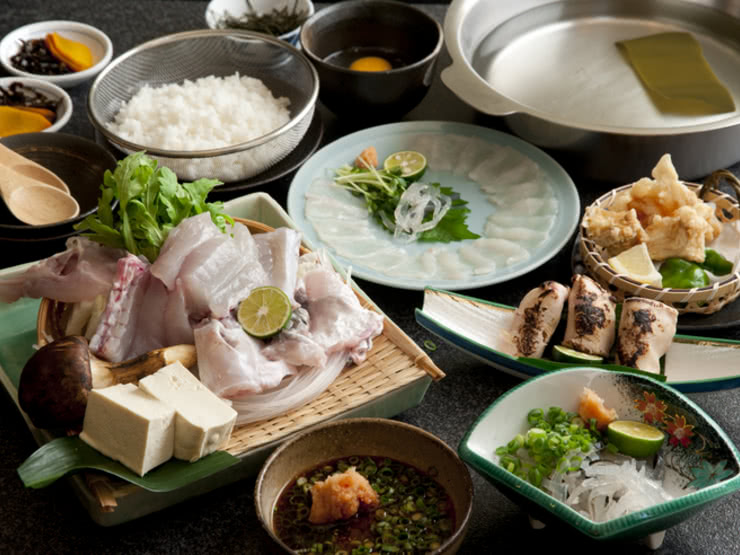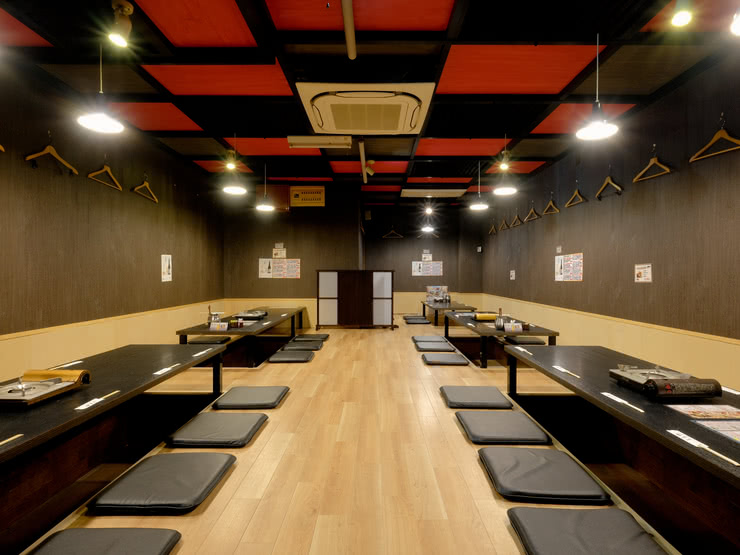 Following a renovation, Kaniyoshi reopened in 2018. In a direct contrast to the bustling Osaka shopping district, the tranquil atmosphere inside of the restaurant offers a quiet place to enjoy eating seafood like fugu, crab, and shirako (milt). Two dishes that are especially popular are the [Full Course with Shirako Dishes] (7,000 JPY) where fresh, raw shirako served as sashimi or shioyaki (grilled with salt) is offered in addition to fugu sashimi and fugu stew, and the [Premium Snow Crab and Fugu Course] that's made with snow crabs specially imported from the Sea of Okhotsk.

Kaniyoshi
Open
:
4:00 pm - 0:00 am
Closed
:
None
Average price
:
[Dinner] 6,000 JPY / [Lunch] 6,000 JPY
Access
:
1 minute walk from the exit 25 of Namba Station on Subway Midosuji Line
Address
:
B1F, Casa Ponte, 2-2-20, Dotonbori, Chuo-ku, Osaka, Osaka
3. GOZAfuku (Namba)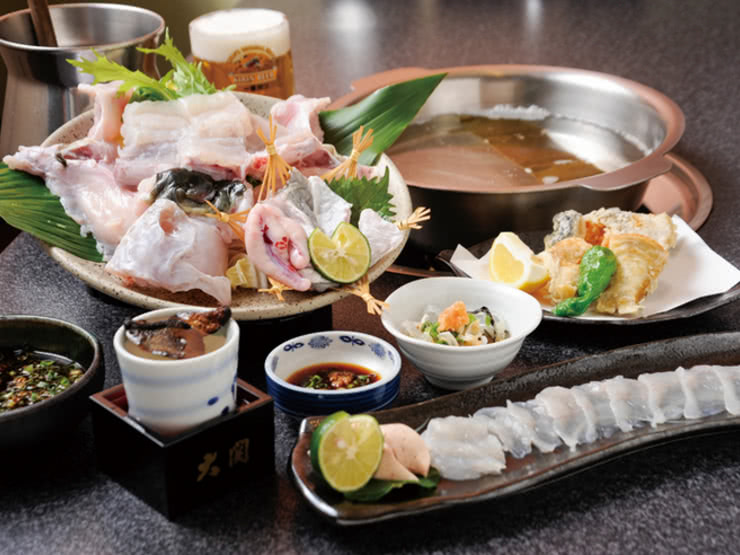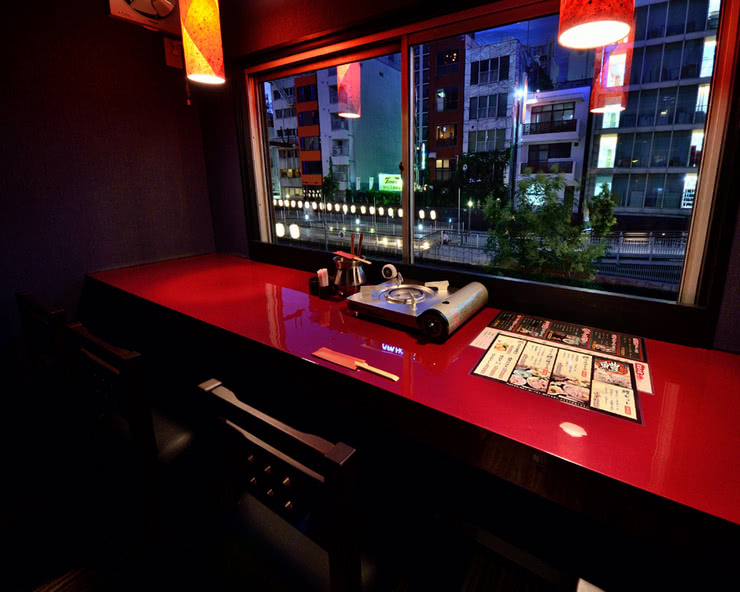 GOZAfuku is located in Namba, an area that's highly competitive when it comes to fugu cuisine. It comes particularly recommended for those looking to enjoy fresh fugu dishes. The windows overlooking the Dotonbori River provide a scenic nighttime view of the city's bright shopping district, while the tables and seats are furnished in a Japanese fashion. There are also posh counter seats that are great for couples. The many different kinds of fugu cuisine that can be enjoyed in the restaurant's comfortable atmosphere are exquisite. The tiger pufferfish, swimming in the restaurant's fish tank, is used to prepare the freshest possible fugu dishes in the highly recommended [Premium Tiger Pufferfish Course] (12,000 JPY) which includes fugu sashimi, fugu grilled on a shichirin (charcoal stove), and deep-fried fugu.

GOZAfuku
Open
:
[Weekdays] From 4:00 pm (L.O. 11:30 pm) Open at the beginning and end of the year
[Weekends, National Holidays] From 12:00 pm (L.O. 11:30 pm) Open at the beginning and end of the year
Closed
:
None
Average price
:
[Dinner] 6,000 JPY
Access
:
Walk 2 minutes from Exit 25 of [Namba Station]. Across from New Japan, facing Dotonbori River.
Address
:
2-4-5, Dotonbori, Chuo-ku, Osaka, Osaka
4. Fugu Ryori Tomoe (Kitaoji)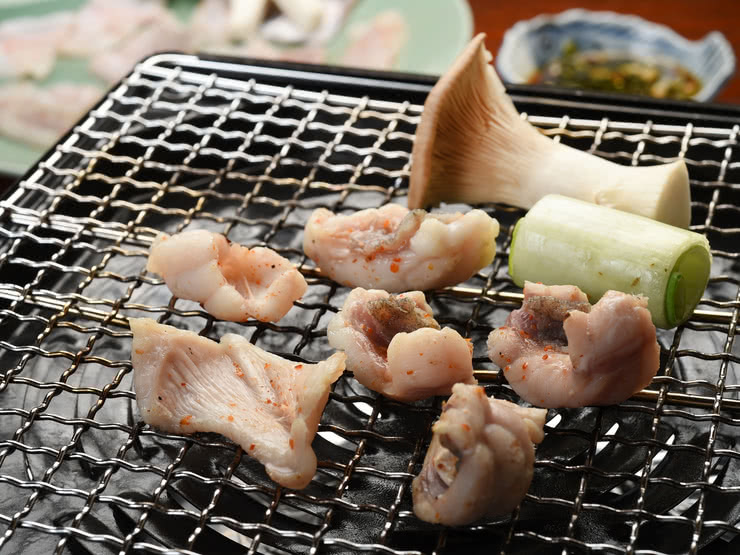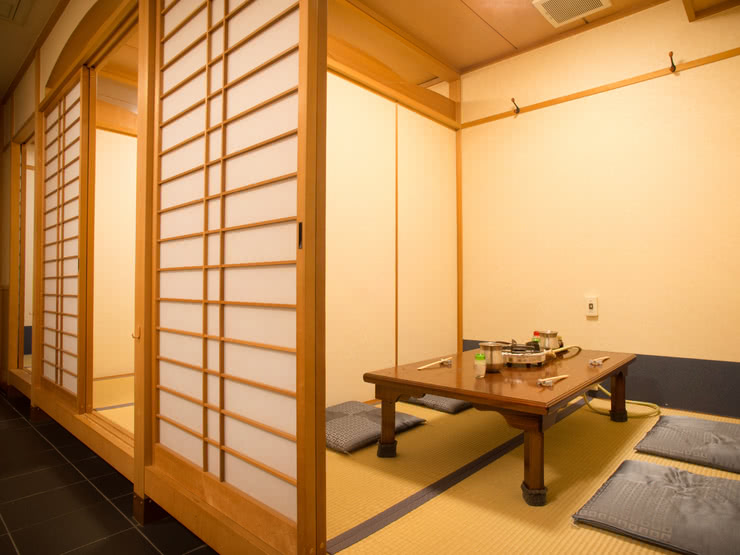 Fugu Ryori Tomoe is an iconic starred restaurant in Kyoto. A 15-minute walk from Kinkaku-ji Temple, you will be welcomed into the homely restaurant by the gentle-mannered restaurant owner and the friendly proprietess. Since the fugu is aged based upon a reverse calculation of how long it takes to prepare it, a reservation is absolutely required. It is recommended to try the [Grilled Fugu] (4,000 JPY), where you can truly savor the umami (Japanese savory taste) of the fish. Popular since the time the restaurant was founded, the [Deep-fried Fugu] (5,000 JPY) and the filling [Fugu Sashimi] (4,500 JPY) are also recommended.

Fugu Ryori Tomoe
Open
:
5:00 pm - 10:00 pm (L.O. 9:30 pm) Generally must book by 3 days in advance / Closed during summer as Fugu is not available
Closed
:
Irregular
Average price
:
[Dinner] 18,000 JPY
Access
:
7 minutes by bus from Kitaoji Station on Kyoto Municipal Subway Karasuma Line / Get off the bus at Senbonkitaoji Bus Stop
Address
:
27-4, Murasakinoshimomikoshi-cho, Kita-ku, Kyoto, Kyoto
Map
More Details
5. Fugu Restaurant Mifune (Fujigaoka)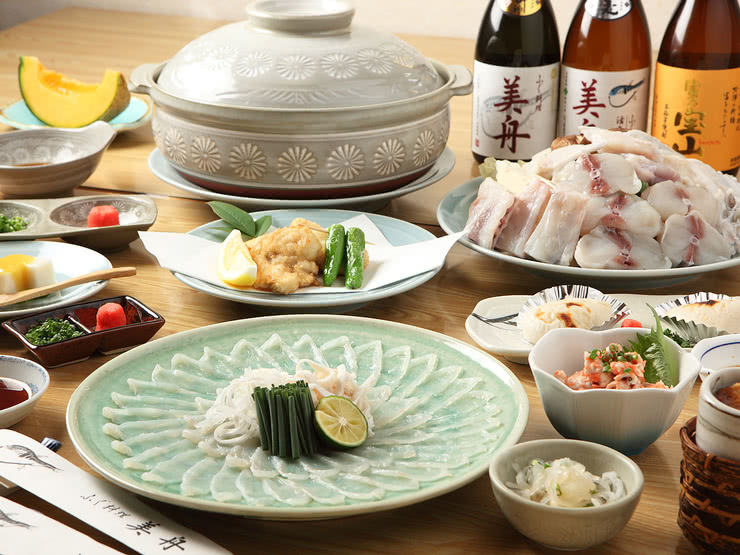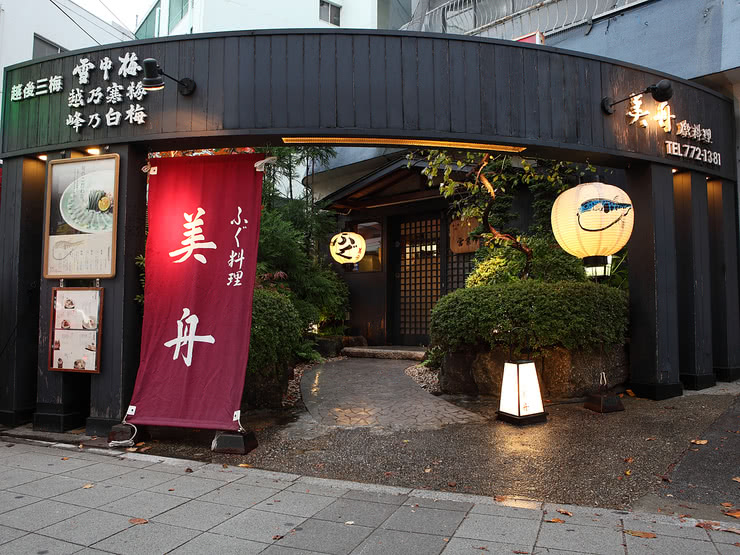 For 40 years since its founding, Fugu Restaurant Mifune has been adored by the local people. The homely restaurant is by no means unapproachable and welcoming even groups of families. With a concept of "offering customers a chance to eat their fill of fugu", the restaurant provides dishes with large portions at low costs. The quality of the fugu directly shipped from the Port of Morozaki, alongside the organic vegetables produced in the kitchen garden, are also some reasons for the restaurant's excellent reputation. A couple of recommended dishes include the [Fugu Stew] (3,800 JPY plus tax, serves 1 person), which stands out from other restaurants for its portion size, and the [Deep-fried Fugu] (2,800 JPY plus tax), which offers a chance to savor succulent sliced fugu.

Fugu Restaurant Mifune
Open
:
 [Weekdays, Saturday, Day before National Holidays] Normal hours: 5:00 pm - 11:00 pm (Last order: 10:00 pm) [Sunday, National Holidays] Normal hours: 5:00 pm - 10:00 pm (Last order: 9:00 pm)
Closed
:
Sundays
Average price
:
[Dinner] 8,000 JPY
Access
:
A 1-minute walk from Fujigaoka station on the Higashiyama line of the Nagoya Municipal Subway
Address
:
142-2 Fujigaoka , Meito-ku, Nagoya, Aichi
Map
More Details
6. Fukudokoro Sakai (Shimonoseki)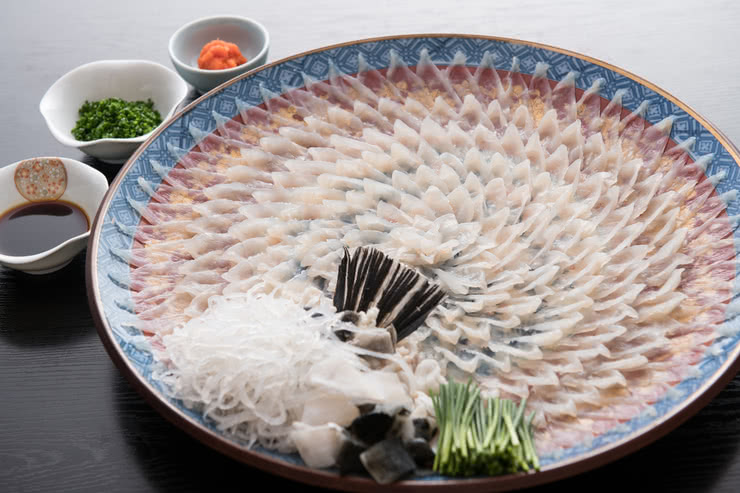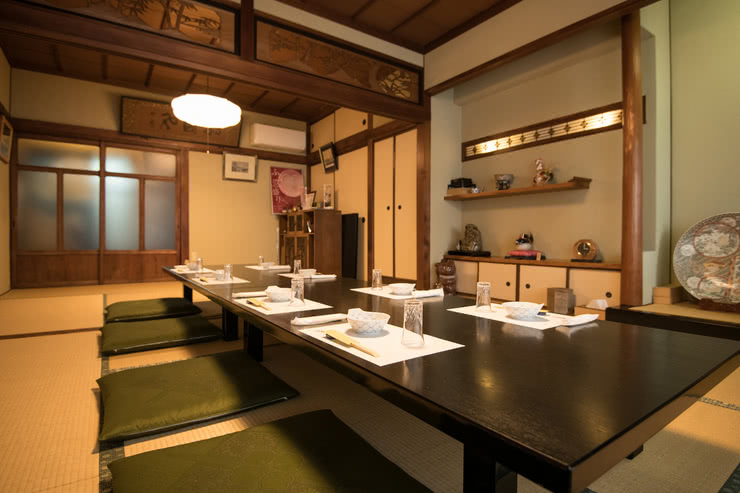 Fugudokoro Sakai is a fugu restaurant with a history spanning over 80 years. It was founded by Sakai Shoten, one of the most long-established fugu wholesalers in the city. You will have a chance to enjoy fugu at a budget price, chosen by the seasoned eyes of a wholesale dealer. In the interior of the store, decorations of traditional Arita wares and furnishings of local artistic crafts like the fuku chouchin (a kind of traditional Japanese lantern) contribute to its traditional Japanese atmosphere. Their [Fugu Sashimi] is drained of moisture to concentrate the fugu's umami, which spreads throughout your mouth with each bite. There's also the [Deep-fried Fugu] which is fried without excessive seasoning and coated with just potato starch in order to allow patrons to savor the true flavor of fugu.

Fukudokoro Sakai
Open
: Lunch 11:30 am - 2:00 pm, Dinner 5:30 pm - 9:30 pm
Closed
: Irregular
Average price
: [Dinner] 10,000 JPY / [Lunch] 10,000 JPY
Address
: 7-11, Nakano-cho, Shimonoseki-shi, Yamaguchi
Map
More Details
By now you've not only learned some facts about fugu, but also about some of the restaurants to visit in order to try some exquisitely prepared fugu cuisine. Though a bit pricy, dishes like fugu stew and fugu sashimi offer exotic Japanese flavors you won't want to miss!

Disclaimer: All information is accurate at time of publication.