Publish-date: Mar 27 2020 Update-date: Mar 28 2020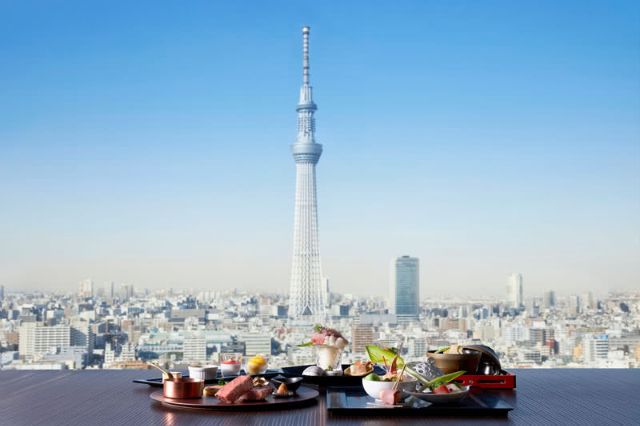 How about a full Japanese meal on the top floor of a hotel with a stunning view of Tokyo Sky Tree(R)? If that sounds interesting to you, keep reading to discover everything about Sky Tree(R) View Restaurant Ren, located inside Tobu Hotel Levant Tokyo, which is only a few steps away from Tokyo Sky Tree(R), and reachable in 8 minutes by train from Tokyo Station. Here is a thorough guide to what makes Ren so valuable, along with its fine kaiseki cuisine.

"Kaiseki Cuisine", Japan's Traditional Meal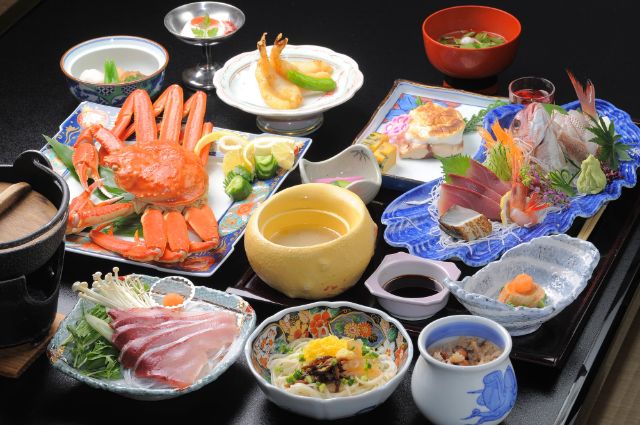 First of all, what is kaiseki cuisine? Kaiseki refers to the food served along with alcoholic drinks for banquets or group meals. Gorgeous and colorful, kaiseki cuisine is a common way to celebrate or just spend a special day. It's a historical Japanese tradition that dates back to the Edo Period (1603 - 1868). Today, kaiseki cuisine has a broader meaning, and it's a Japanese-style meal that can be easily enjoyed by everyone in restaurants and hotels as well.

Kaiseki Cuisine's Structure and Rules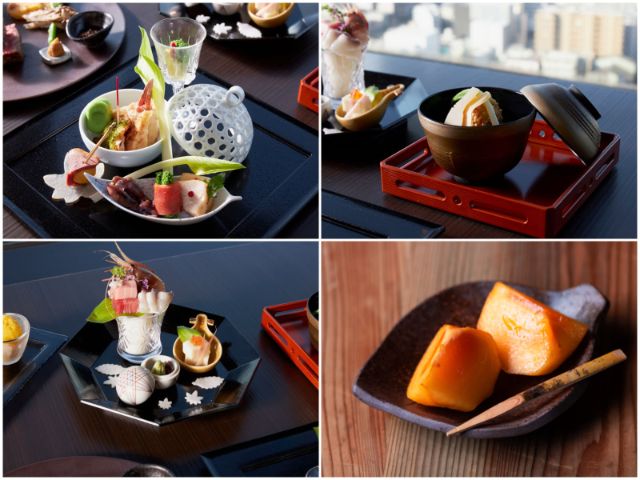 Each kaiseki meal varies according to the restaurant and the menu items available, but in general, the various types of delicacies are served in a specific order: sakizuke (appetizer), wanmono (soup), mukozuke (sashimi), hachizakana (grilled fish), shiizakana (simmered dish), tomezakana (pickles), shokuji (rice, soup or stew) and mizugashi (fruit). As you can see, there are several dishes and they're served one at a time. It depends on the number of dishes, but if you save at least 2 hours for this meal you'll be fine. Don't rush, you're supposed to enjoy each delicacy at a slow pace. At this restaurant, each plate is served right after you've finished eating the previous one.
▼
For further details about kaiseki cuisine check this out!
About Sky Tree(R) View Restaurant Ren
Sky Tree(R) View Restaurant Ren is only 3 minutes on foot from Kinshicho Station, accessible via JR or Tokyo Metro. It sits on the top floor of Tobu Hotel Levant Tokyo, facing Tokyo Sky Tree(R). From this fancy restaurant, you can see the whole cityscape of Tokyo and savor Japanese cuisine made with seasonal ingredients and French charcoal BBQ. This time, we went and tried their popular kaiseki course called [Nobori Kaiseki]! 
Click here if you're already up for a reservation!
⇒
⇒
https://savorjapan.com/0006120882/reserve/
Or, read on to find out more about the delicious food and lovely atmosphere of Ren!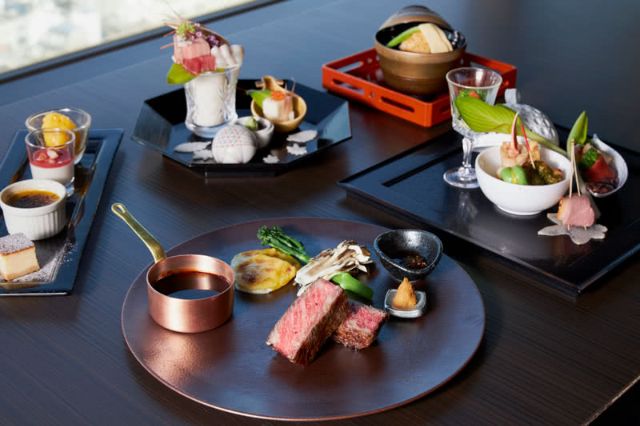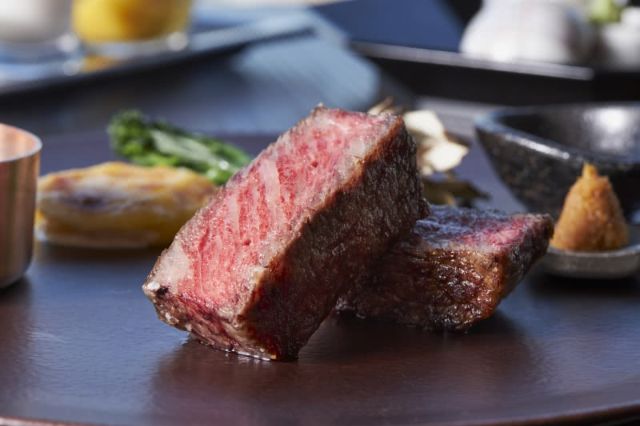 Ren's Recommended [Nobori Kaiseki] of seasonal products
I ordered the [Nobori Kaiseki], where you get to savor delicious Japanese dishes and French charcoal-grilled delicacies. 
There are so many must-eats made with seasonal products! Check out what's on the menu.
*The content of the course changes on a seasonal basis. These are the dishes served in February.

Appetizers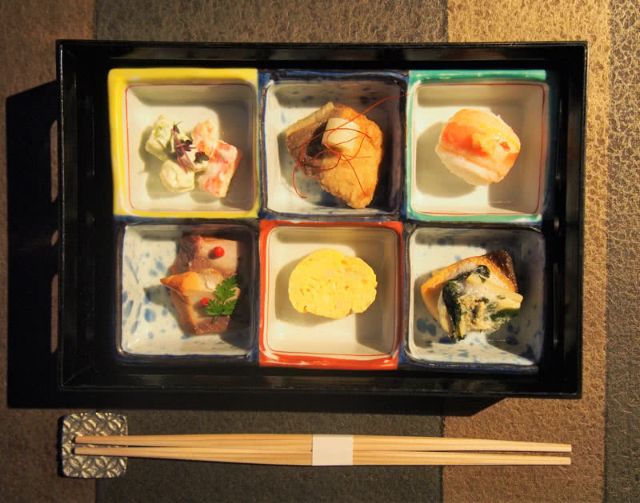 Appetizers are the first to make their appearance. Made with winter delicacies like Japanese amberjack and crab, here are the 6 dishes that was served.

[Crab Temari Sushi] (upper right)
As you bite in the firm crab meat, you'll feel a pleasant sweetness, while the light saltiness enhances its umami (Japanese savory taste) even more.

[Japanese Amberjack Namban-zuke] (upper center)
Even the inside of the fish is well soaked in vinegar, and the light flavor is well-balanced with the moderate amount of fats. It's tasty and juicy.

[Crab with Avocado Dressing] (upper left)
This is amazing, the saltiness of crab matches divinely with the creamy sweetness of avocado.

[Japanese Amberjack Wakatake-yaki] (lower right)
Wakatake-yaki is a grilling method that includes wakame seaweed and bamboo shoots as seasonings. The soft aroma of wakame accents the texture of bamboo shoots and goes great with Japanese amberjack.

[Crab Dashimaki Tamago] (lower center)
This classy dish wisely combines the original flavor of eggs with the umami of crab, which gets stronger and stronger as you keep eating.

[Smoked Japanese Amberjack] (lower left)
The smokey flavor is very pleasant, yet maintains the original umami of Japanese amberjack.

It's always the same 2 ingredients, but you won't even notice and you'll never get tired of them, as they're prepared and seasoned in different ways to offer you both sweet and salty flavors.

Soup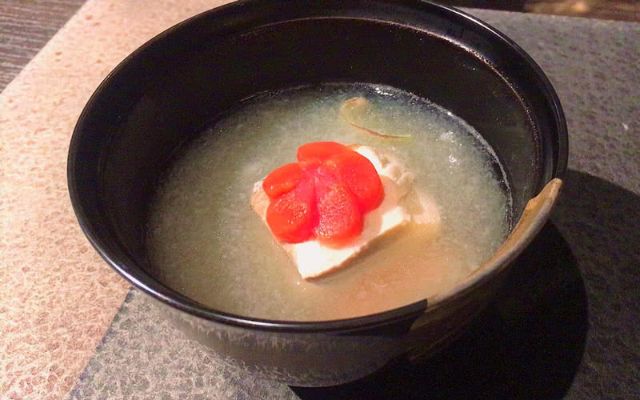 [Mizore Shitate]
Mizore shitate refers to a dish topped with grated daikon. In Japanese cuisine, this recipe is often used to make soups. It's a delicate dish that will make you enjoy the warm thickness of healthy daikon soaked in the soup. In this course, they used Japanese amberjack, crab and grilled tofu, and all the flavors are superbly combined with each other. Grab your bowl with your hands. This way, you'll be able to bring it to your mouth and avoid spilling any soup.

Sashimi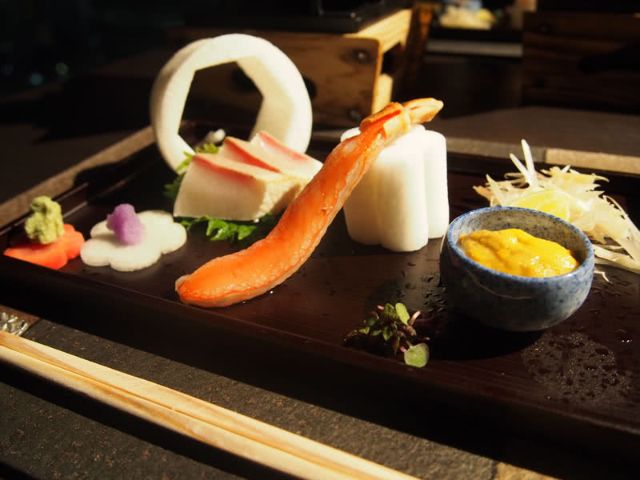 [Scorched Japanese Amberjack and Snowcrab]
Next, it's time for some sashimi (thinly sliced fish arranged on a plate). Again, winter's most delicious ingredients are Japanese amberjack and snowcrab, and this time they're served with yuba (the membrane you get on the surface of soy milk when you cook it) and raw sea urchin. This sashimi is super meaty and rich. It's a great opportunity to savor seasonal delicacies.

Kami-nabe (paper hot pot)
[Japanese Amberjack and Crab Shabu-Shabu]
Shabu-shabu is the most representative hot pot delicacy of Japanese cuisine, and now it's its turn. A hot pot is filled with simmered broth in which you quickly cook meat, fish and vegetables. By cooking the ingredients for a very short time, the texture turns out tender and the flavor stays locked inside. Each person has their own hot pot, so you can choose your preferred cooking degree. If you need advice, just 1 second is enough to keep the fish semi-raw. It lightly absorbs the broth and the overall flavor is the typical delicate taste of Japanese cuisine. Be careful not to let the small gaps cook too long, otherwise, the meat will stiffen.

Aizakana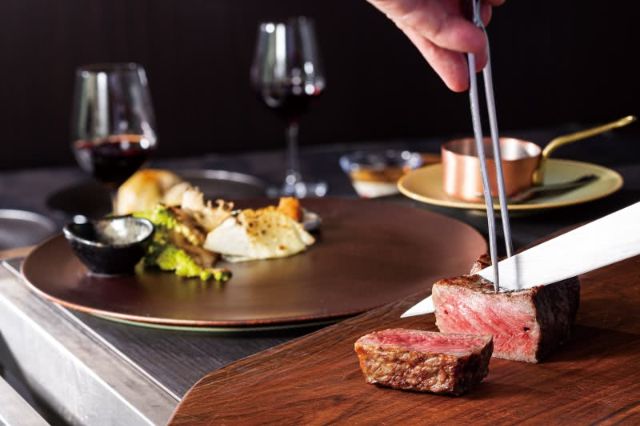 [Charcoal Grilled Kuroge Wagyu Loin]
Finally, you get to try French charcoal-grilled food, which is the specialty of both the chef and the restaurant. It's exciting to watch the meat being skillfully cut right before your eyes. It's well marbled and the texture is super tender. Plus, your nostrils will be teased by the aroma of charcoal. It's served with 3 sauces for you to have 3 different experiences: chili pepper, horseradish and red wine sauce.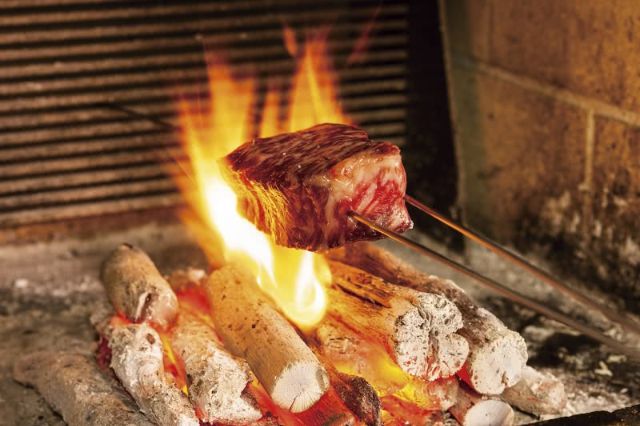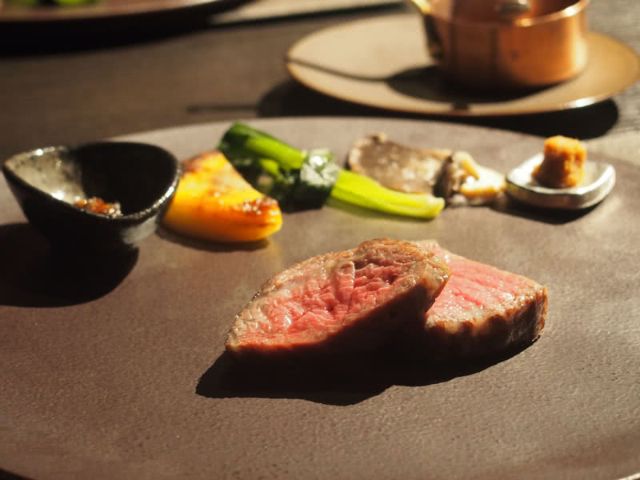 Shokuji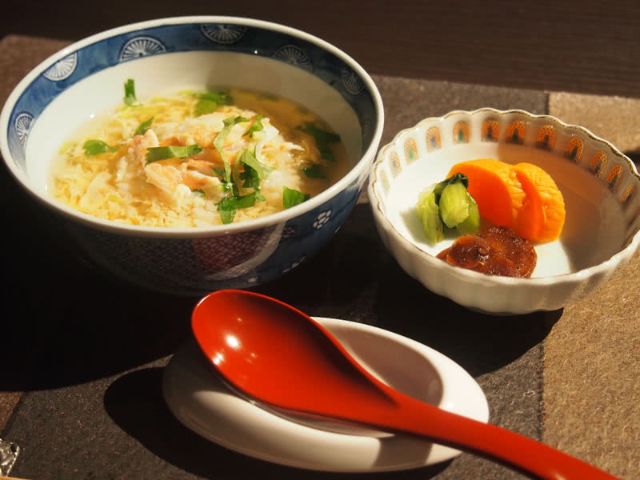 [Kakitama Crab Zosui]
At this point you'll start to feel full, but your kaiseki course isn't finished yet! Your next dish is crab zosui. Zosui is a typical Japanese dish wherein rice and other vegetables are seasoned with soy sauce or miso and simmered together. The expression "kakitama" refers to the act of pouring eggwash on top. In this course, their kakitama zosui is made with umami-rich crab.

Seasonal dessert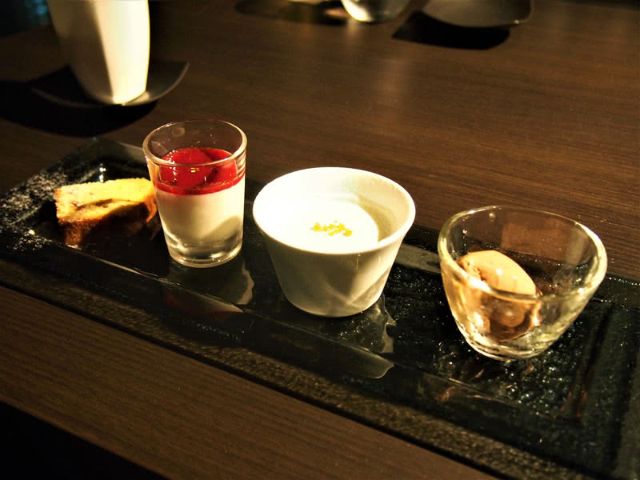 [From the French charcoal grill]
The last part of your meal is dessert. This course's sweet lineup was chocolate ice cream, pudding, coconut fromage, and fig poundcake. They're moderately sweet, pleasantly light and perfect to finish off a meal like this. Chocolate ice cream is especially recommended. It's sweet and bitter at the same time, and the rich texture is truly addicting.

Enjoy Delicious Kaiseki Cuisine while Admiring Tokyo Sky Tree(R)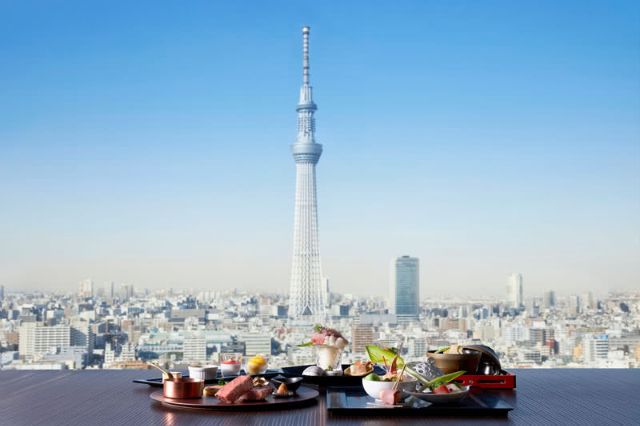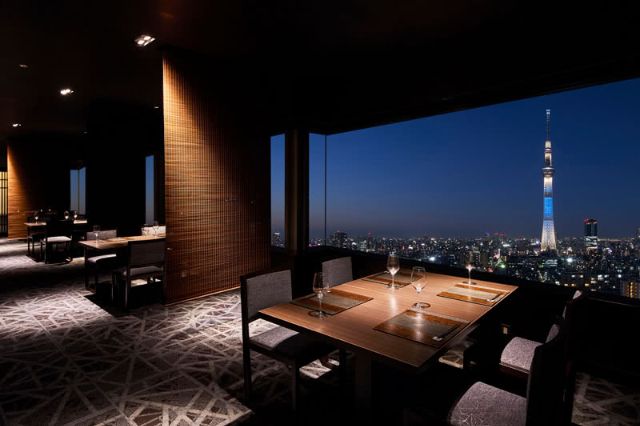 Along with your superb food, you'll be able to enjoy the full view of Tokyo. Ren is located in Kinshicho, a so-called "shitamachi" area, with evocative alleys and almost no skyscrapers. From the large window, you'll get to see the splendid Tokyo Sky Tree(R) towering the surrounding buildings in the blue sky, or the beautiful buildings shapes of the megalopolis nightscape. The view is even better after the light-up. You won't have to look up to see Tokyo Sky Tree(R), nor will you need to look down from an airplane: located at the top floor of a hotel, Ren takes pride in the fantastic full view of the city you get right in front of you. It's definetely not an everyday experience, so don't miss it.

April 2020's [Nobori Kaiseki] Menu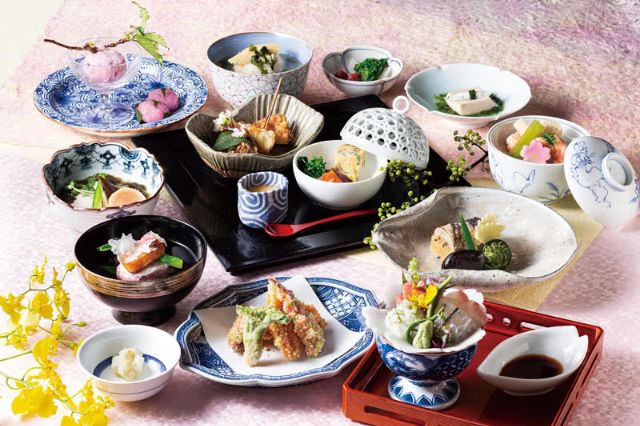 The course is made with seasonal products and the April one features its new amazing dishes as well. This April, get ready to savor luxurious delicacies like [Scorched Wagyu and Raw Sea Urchin Nigiri], and [Abalone Sakairi] (quickly roasted with sake), along with seasonal sashimi of moderately fat longfin tuna, sakura shrimps and botan shrimps, and Ren's special [Wagyu Loin Steak] as the main dish. Finish off with the enchanting aroma of yuzu of their [Shrimp Broth Ramen]. This kaiseki course will exude spring vibes from head to toe.
*The photo is just an example

Book a Table at Sky Tree(R) View Restaurant Ren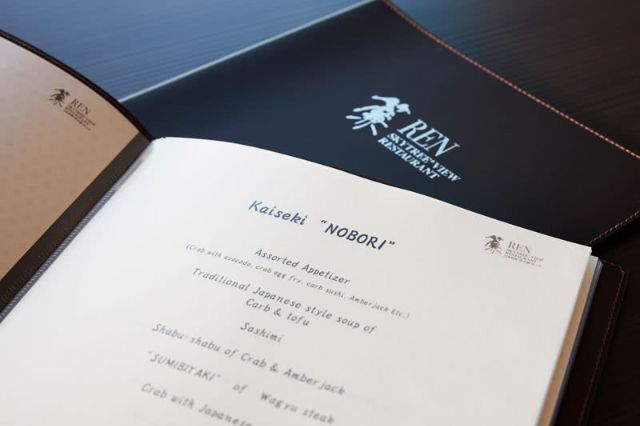 If you want to ensure your seat, you should make a reservation beforehand. Just click on the Reservation button in this article, insert your desired day and time, the number of people and your basic information and that's it! Other than an English menu available, you'll also find English-speaking staff members. They can also explain all the details you want to know about the dishes and their ingredients, so don't worry if you don't speak Japanese. Starting from the above-mentioned [Nobori Kaiseki] (11,000 JPY excl. tax), you'll be able to order many other kaiseki courses, such as the chef's recommended [Hokusai Kaiseki] (16,000 JPY plus tax) and the [Ren Kaiseki] (14,300 JPY excl. tax). If you're on a budget, go for lunch and have the [Sanrenju] (5,500 JPY excl. tax) or the [Oshaberi Kaiseki - Flower Basket Kaiseki] (3,850 JPY excl. tax).

REN SKYTREE(R) VIEW RESTAURANT
Open
:
Lunch 11:30 am - 3:00 pm (L.O. 2:00 pm) / Dinner 5:30 pm - 10:00 pm (L.O. 9:00 pm)
Closed
:
None
Average price
:
[Dinner] 8,000 JPY / [Lunch] 3,000 JPY
Access
:
3 minutes walk from A3 exit of [Kinshicho Station] on Tokyo Metro Hanzomon Line / 3 minutes walk from the north exit of [Kinshicho Station] on JR Line
Address
:
24F, Tobu Hotel Levant Tokyo, 1-2-2 Kinshi, Sumida-ku, Tokyo
Map
More Details
   Reservation   
Pretty impressive, eh? If you agree, do find the chance to treat yourself with the superb food of Sky Tree(R) View Restaurant Ren.

Disclaimer: All information is accurate at time of publication.