Publish-date: Apr 28 2020 Update-date: Apr 29 2020
Wagyu beef is one of the first dishes most travelers want to try when they arrive in Japan. One of my favorite ways of eating wagyu beef has to be yakiniku, or Japanese barbecue. Read on to learn more about yakiniku and my experience at Japanese Yakiniku Hasegawa, a unique yakiniku restaurant that beautifully melds together traditional Japanese cuisine and wagyu yakiniku into their dishes!

An Introduction to Japanese Meat Cuisine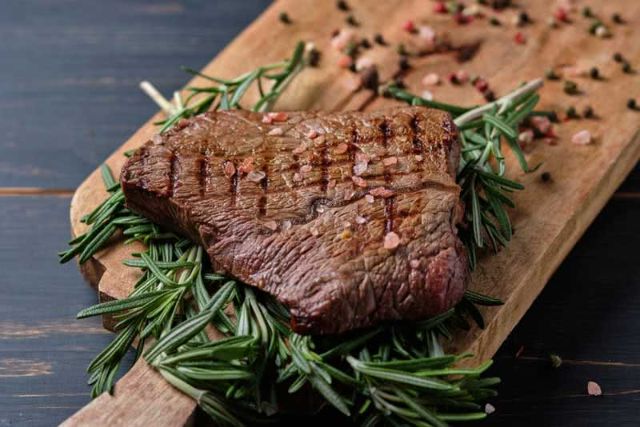 As an Italian, when I think of meat, the first thing that comes to my mind is a big, thick steak and the strong accents of herbs, which is not that common in traditional Japanese cuisine. Instead, Japan has developed its own range of delicious flavors and meat-related craftsmanship. Here are a couple of them.

Shabu Shabu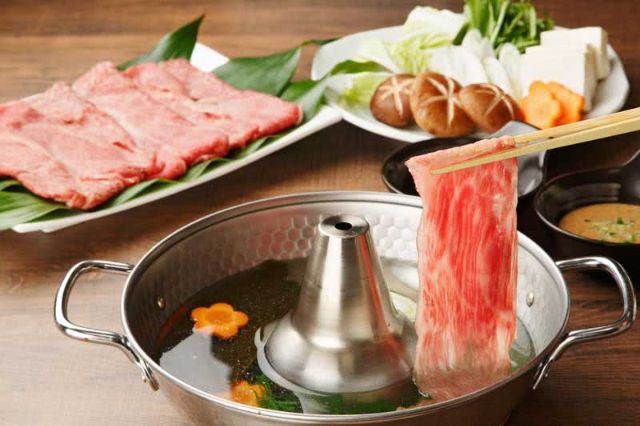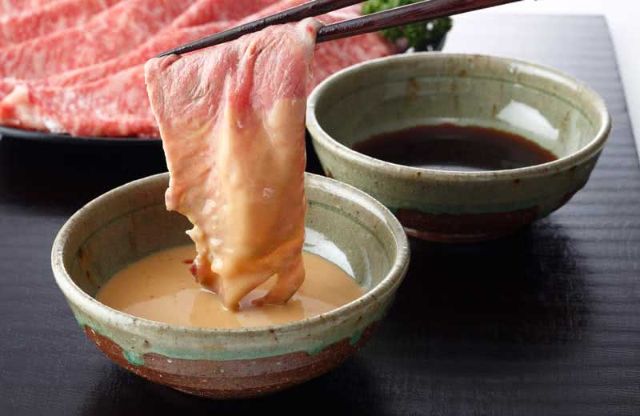 In colder months, Japanese people prefer to eat wagyu beef as a hearty shabu shabu. It is prepared by parboiling thinly sliced meat in a simple broth made with kelp soup or mentsuyu (a common Japanese noodle soup base). Once cooked, this meat is then dunked into a dipping sauce before being eaten. The joy of shabu shabu is getting to try all the different ingredient and dipping sauce pairings!

Teppanyaki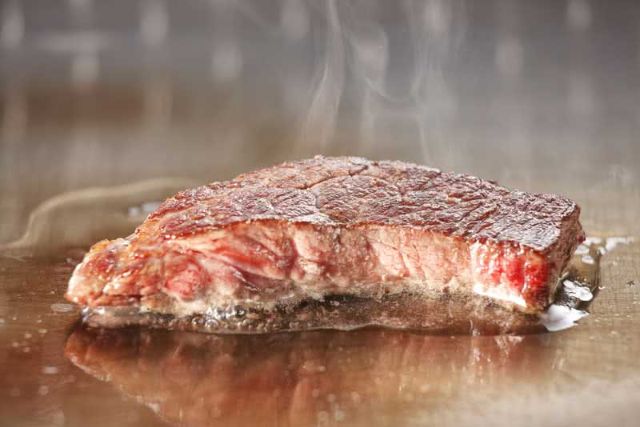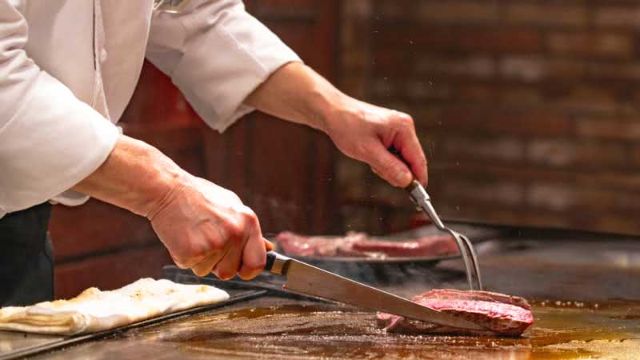 If you prefer something more aromatic, teppanyaki won't let you down. This is where tender beef (as well as vegetables if you so incline) is prepared on a sizzling iron griddle. Teppanyaki is not just an experience for the mouth but also for the eyes, because you can closely admire the chefs' performance while they're skillfully preparing the meat on the griddle.

Meat Sushi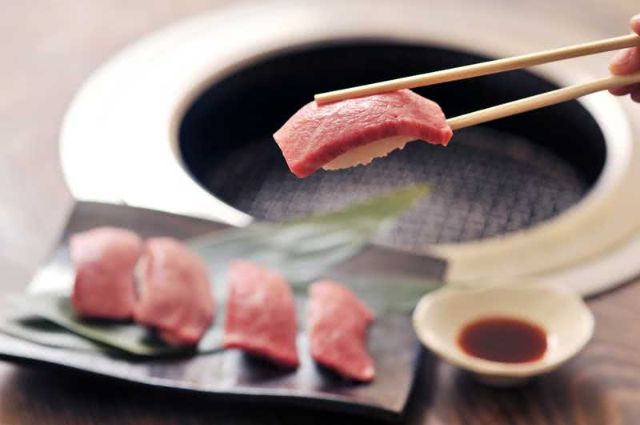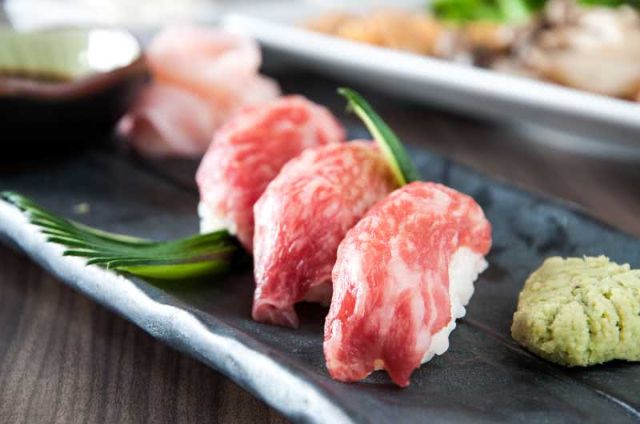 Some wagyu beef dishes are incredibly unique, drawing inspiration from Japan's most iconic foods. For example, in areas like Kobe or Takayama, where some of the famous wagyu brands are bred, it is not uncommon to encounter wagyu sushi. The meat is so high quality that it can be used raw with no problem!

An Introduction to Yakiniku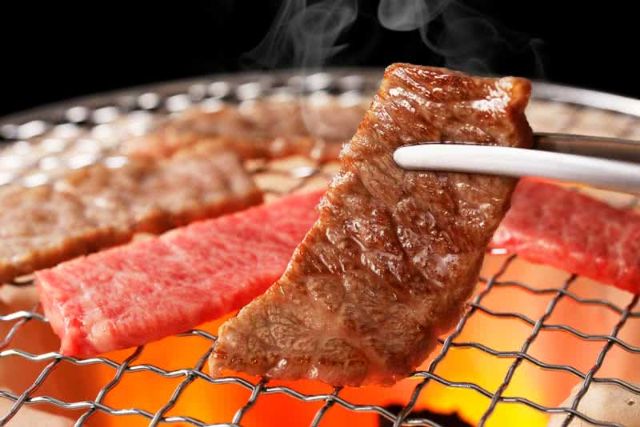 Finally, there's yakiniku, my personal favorite. This is an ideal year-rounder dish, both for chilly winter days and fresh summer evenings. It is, in my opinion, the most flavorful of all the preparation methods, with the meat carrying a smoky scent thanks to the method of cooking. This incredible taste is doubled thanks to dipping sauces you can choose from. From simple salt to bold sesame, you have so many options and combinations that you'll hardly get tired of eating this dish.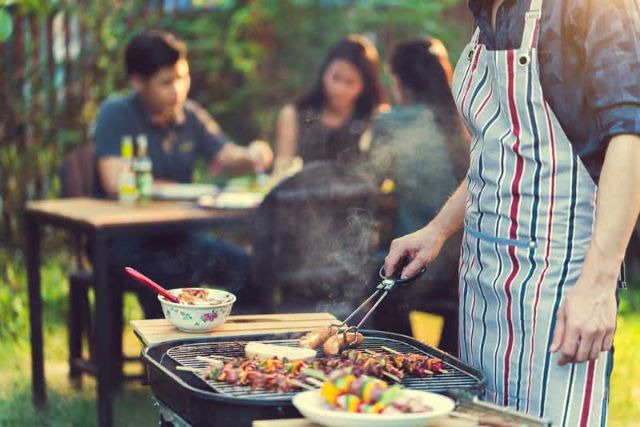 Personally, I also particularly like the atmosphere that Japanese BBQ restaurants have. While in Italy, my home country, barbecues are more of a summer custom that requires big open-air spaces or spacious gardens, in Japan it can be enjoyed everywhere, regardless of the season and with all the comforts of the indoors. Another difference that surprised me at first was how the meat was presented. Back in my country, meat for barbecue is typically served in big, chunky pieces. However, in Japan, the chef finely cuts the meat before presenting it to the customer, resulting in a barbecue experience that's generally lighter on the stomach and easier to eat.

An Introduction to Kuroge Wagyu Beef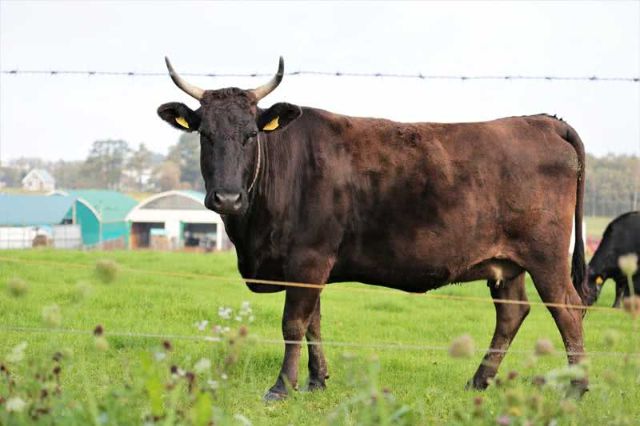 One of my favorite meats to eat with yakiniku is Kuroge Wagyu (Japanese Black Beef). Although wagyu beef is famous around the world as a Japanese delicacy, many people overseas still erroneously use Kobe beef to refer to wagyu when it's actually only one in hundreds of varieties of wagyu beef produced all over Japan. In addition, even if the term wagyu translates simply to "Japanese beef", this does not mean that any beef from Japan can be considered wagyu.

True wagyu exclusively comes from four types of Japanese breeds: Japanese Black (my favorite), Japanese Polled, Japanese Brown, and Japanese Shorthorn. Kuroge Wagyu is by far the most appreciated breed. All the highly-coveted Japanese beef brands, like Kobe and Matsusaka, actually belong to this renowned category, which is prized for its luxurious texture, rich taste, and exceptional marbling. All these extraordinary qualities are the reason why the restaurant I am about to recommend, Japanese Yakiniku Hasegawa, chose Kuroge Wagyu meat as the key point of their cuisine.
If you'd like to know more, please check the following article.
>>
All About Japanese Yakiniku Hasegawa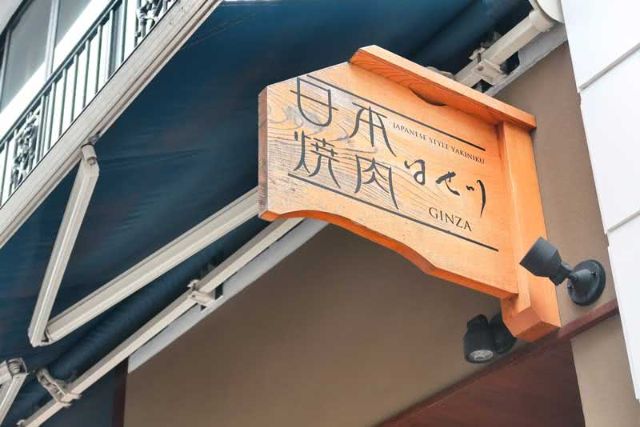 Japanese Yakiniku Hasegawa is easily reachable, just a 3-minute walk from Ginza Station. The restaurant, based on the concept of melding together yakiniku and other kinds of Japanese cuisine, offers a vast menu, with something for all budgets and tastes.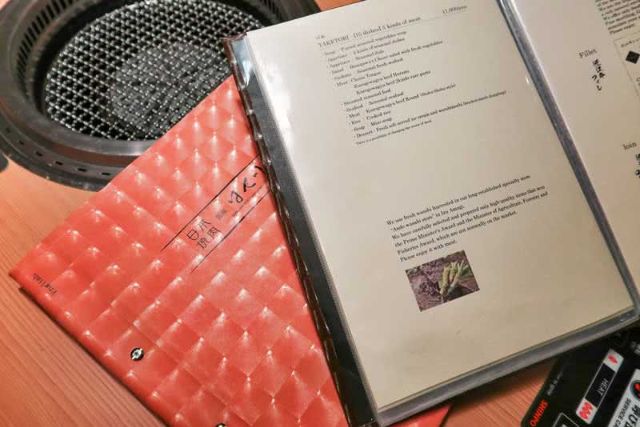 Available in both Japanese and English, the menu includes a la carte dishes such as sirloin, beef tongue, and fillet, as well as five course meals (starting at 11,000 yen), all made using ingredients obtained from local sources. One nice thing to note is that they can customize your meal according to your preferences as long as you ask in advance, such as if raw fish is not your cup or tea or you need some vegan or vegetarian options. On the alcohol front, the selection is just as impressive, with a great choice of sake and wines. If you are more of a non-alcoholic drink type of person, don't worry - Japanese Yakiniku Hasegawa has plenty of non-alcoholic drink choices available! I particularly liked the very fragrant jasmine tea they served on the day I visited the restaurant.

The Uniqueness of Japanese Yakiniku Hasegawa
1. A Menu That Combines Yakiniku With Other Kinds of Japanese Cuisine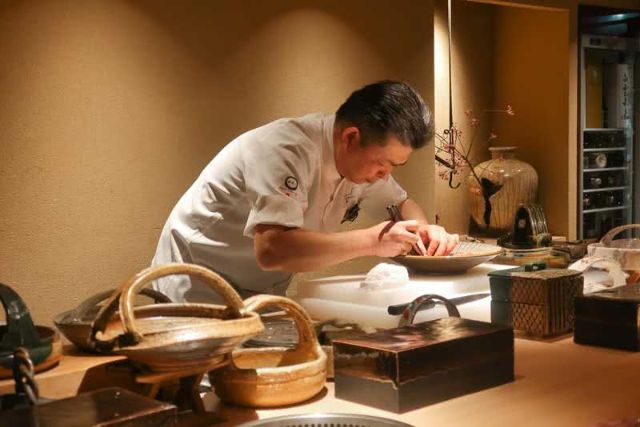 As I touched upon before, Japanese Yakiniku Hasegawa's most unique point is that it proposes a pure Japanese-style yakiniku, taking inspiration from washoku (traditional Japanese food) principles. For this reason, many of the chefs are not only meat specialists but have years of experience in other washoku genres, such as sushi or soba. This is what allows them to bring original contributions to the restaurant's menu and break the rules of classic yakiniku.

At the restaurant, I could clearly see this in their yakiniku course meals. They resembled kaiseki cuisine, which is a kind of traditional multi-course meal in Japan where you're served countless delicate, exquisite dishes that combine meat, fish, and vegetables. Each plate in the set meal that I ordered was made to enjoy the current season and was delivered to me looking like spring, with carved flowers and small butterfly-shaped vegetables.

2. Showing Their Commitment to Quality with a Vegetable Sommelier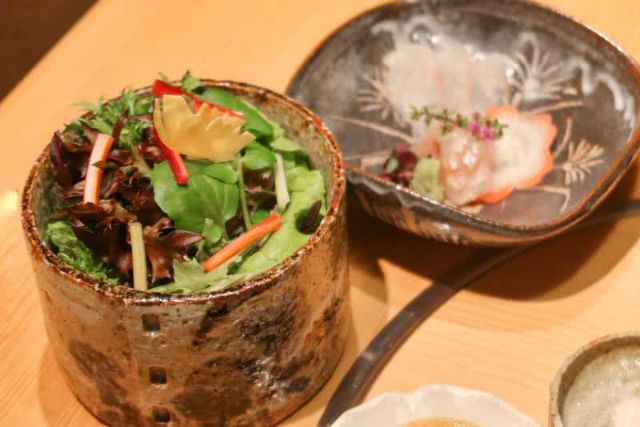 Among their staff, they also have a vegetable sommelier who takes great care in sourcing fresh and seasonal vegetables from farms across the country. Applying their vast knowledge on produce and how to best enjoy it, the sommelier is able to design well-balanced and healthy courses. Speaking of vegetables, I was very impressed by one of the course starters, the [Hasegawa's Choice Salad with Fresh Vegetables]. Because only fresh vegetables harvested that morning were used, this salad had an incredibly rich taste.

3. A Gorgeous Traditional Japanese Interior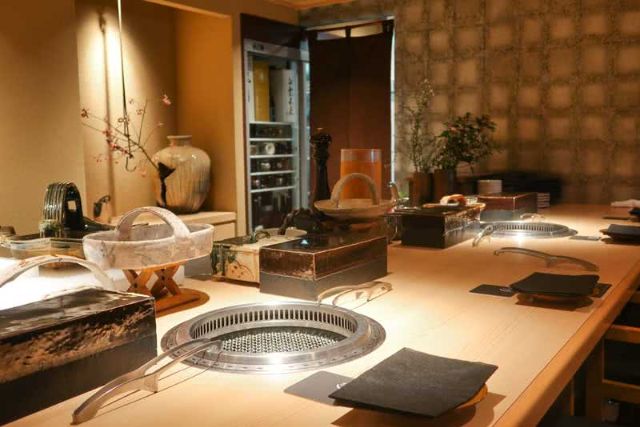 Another thing that stood out to me about the restaurant was the atmosphere of its interiors. I was impressed by how much tradition they were able to incorporate into their design, with delicate details of Japanese art found all over the restaurant. From floral settings arranged in a typical ikebana (traditional Japanese flower arrangement) way—flourishes of arched, simple flowers and austere vases—and tableware made up of Japanese traditional pottery, to the diffused lighting that reminded me of those majestic ancient Japanese houses. Everything contributed to creating a meal experience that was authentically Japanese.

Top Recommendation at Japanese Yakiniku Hasegawa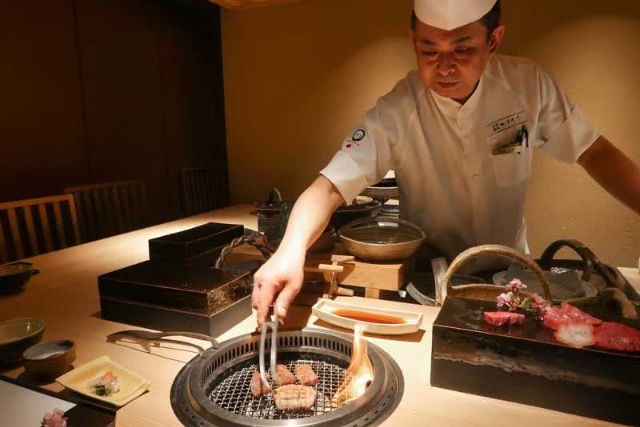 The hardest part of the dining experience when you are not familiar with another country's cuisine is figuring out what to order. It was a very hard task even for me, since everything on the menu looked great! If, like me, you are not sure what to choose, a course meal is a great option! It gives you the chance to savor many different kinds of dishes, from appetizers to the meat dishes and desserts.

This time, I decided to go with the [Yakiniku Kaiseki Course Taketori] (11,000 JPY), a comprehensive course that would let me taste all the different sides of their skillfully executed recipes.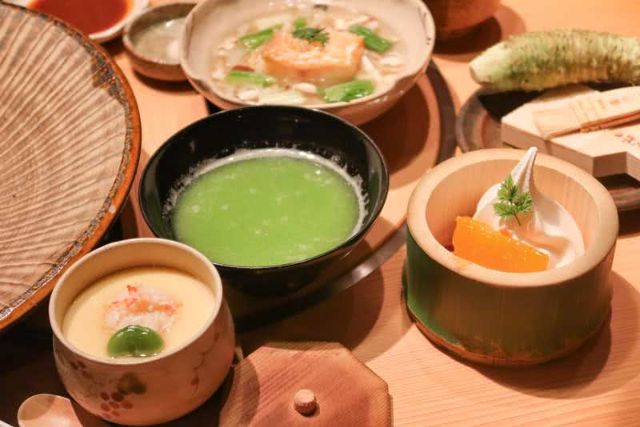 Eating through the course felt a bit like having a small trip around Japan, as the ingredients came from all over the country! My journey started with some fluffy sakura yoro dofu (grated yam hardened with agar) and simmered vegetables with tiger prawn and a rapeseed flower garnish. I then tasted the glossy chawanmushi (savory egg custard). Diving into it was like a treasure hunt, with the reward being some delightful pieces of snow crab! I even savored some fresh sashimi before the meat was ready!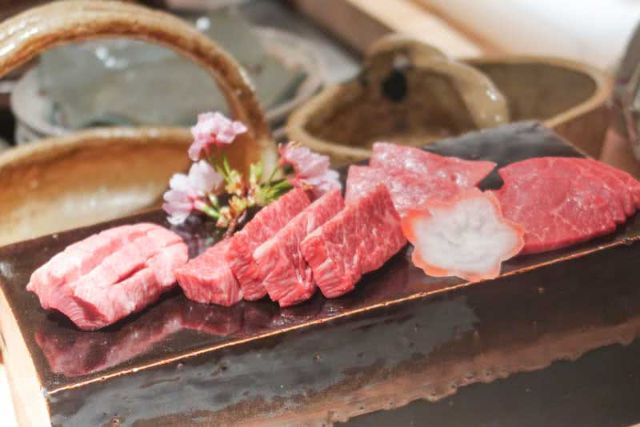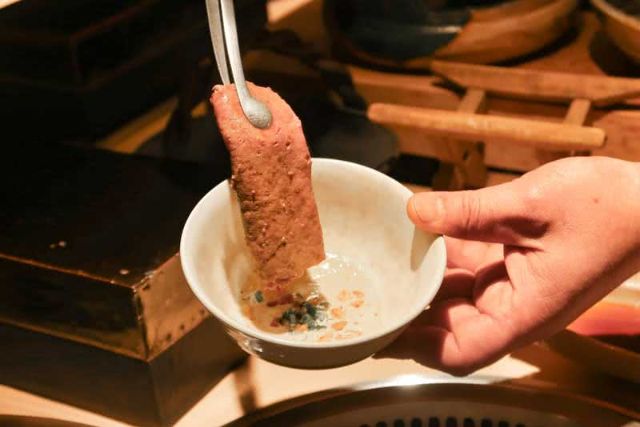 The yakiniku, aptly named [Meat: Choice Tongue, Kuroge Wagyu Beef Harami, Kuroge Wagyu Beef Rare Part], was incredibly satisfying. My first bite of the beef tongue introduced a gorgeously rustic flavor into my mouth, followed by a mild saltiness and a hint of wasabi. The harami (inside skirt), a popular cut at most yakiniku restaurants, was pure joy for someone like me. It had a rich meaty taste and was incredibly tender. The soft ichibo (top sirloin cap) slices, dipped in miso sauce, as well as the richly-flavored nakaniku (outside round) covered in salt, were equally as extraordinary. Lastly, they laid a thickly-cut slice of Kuroge Wagyu beef round (served amiyaki-shabu* style) on the grill and gave it to me with a dipping sauce made of sesame and walnuts. The flavorsome meat paired perfectly with the nutty taste.

Everything introduced in this section was cooked using a grill placed in front of me, so if you don't know how to prepare and eat any of the yakiniku, my suggestion is to ask the staff. They will be more than happy to help you as long as the restaurant isn't incredibly busy!

*A style of cooking where the beef is sliced up shabu shabu style and cooked on a wire grill.

Head to Japanese Yakiniku Hasegawa for a Taste of Pure Japanese-style Yakiniku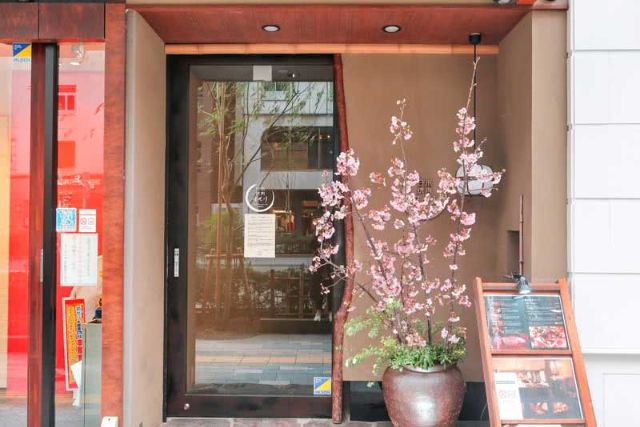 Adored by the Japanese since long ago, wagyu beef has amassed an ample fan base even overseas, thanks to its coveted flavorsome taste. The amount of technique and care poured into this Japanese delicacy is something unparalleled and should be enjoyed by anyone visiting Japan. This is even truer in the case of a purely-Japanese yakiniku. So, be sure to make your way over to Japanese Yakiniku Hasegawa in Ginza or to their branch in Omotesando in order to savor authentic Japanese wagyu and cuisine!

Accepts American Express / Diners Club / MasterCard / Visa
English menu / Free Wi-Fi / Accommodates special diets / Counter seating / Table seating / Private rooms

Japanese Yakiniku Hasegawa
Open
: [Saturday, Sunday, National Holidays] Lunch 11:30 am - 4:00 pm
[Weekdays, Day before National Holidays] Dinner 5:00 pm - 12:00 am (L.O. 11:00 pm)
[Saturday, Sunday, National Holidays] Dinner 4:00 pm - 12:00 am (L.O. 11:00 pm)
Closed
:
Irregular
Average price
:
[Dinner] 12,000 JPY / [Lunch] 5,000 JPY
Access
:
3 minutes walk from exit C2 of [Ginza Station] on Tokyo Metro Lines, or 4 minutes walk from exit A0 of [Hibiya Station] on Tokyo Metro Lines
Address
:
2F, Ginza 646 Bldg., 6-4-6 Ginza, Chuo-ku, Tokyo
Map
More Details
   Reservation   
Make sure to savor Japanese style yakiniku when visiting Japan!

Disclaimer: All information is accurate at time of publication.