Update-date: Aug 15 2023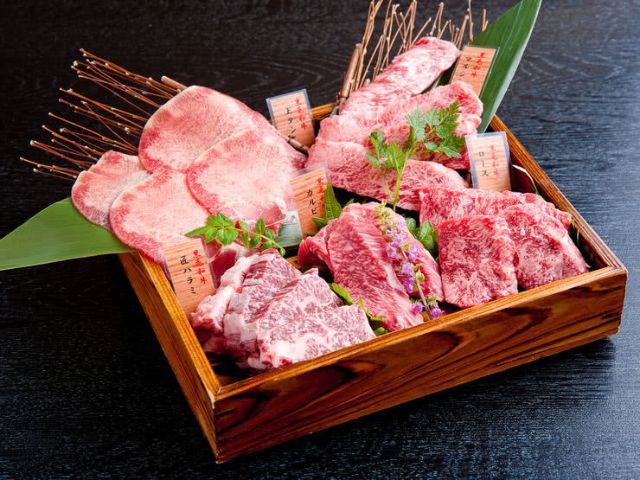 Wagyu beef is well known in gourmet circles, and this luxury ingredient can be found on menus all over Japan. But what exactly is wagyu beef, and why is it so special? In this article, we'll explain everything you need to know about wagyu, including the history behind it, important terms, and the beef grading system. We'll also suggest some of the best places to try delicious wagyu beef while in Japan!

What Is Wagyu? History, Breeds, and Culture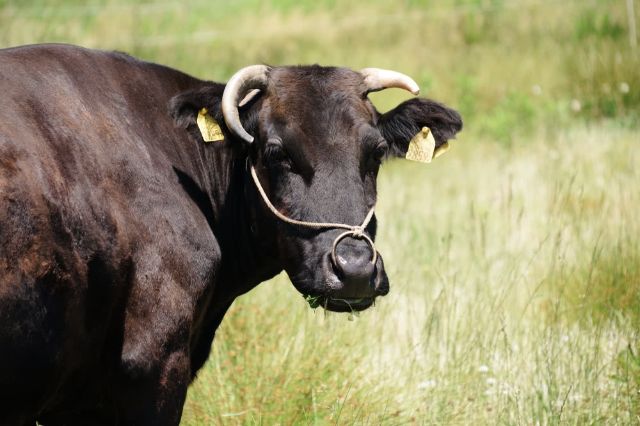 Wagyu is a type of high-quality beef produced within Japan. The name wagyu translates simply to "Japanese beef", but this does not mean that all beef from Japan is considered wagyu. This is because true wagyu beef must come from the following four Japanese breeds of cow: Japanese Black, Japanese Polled, Japanese Brown, and Japanese Shorthorn, or a mix of these breeds. By far the most common breed is the Japanese Black, called "kuroge wagyu" in Japanese. True wagyu must also be born and raised in Japan, and for authenticity and safety, must be registered in an official tracking system that both the industry and public can access.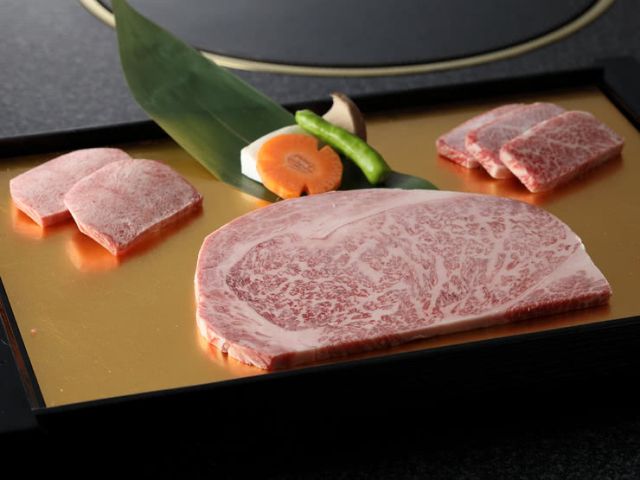 While today wagyu beef is famous around the world as a Japanese delicacy, religious and cultural reasons meant that beef was not always a part of the Japanese diet. The wagyu breeds we know today were created around the turn of the 20th century through interbreeding native local work breeds with high-quality beef cattle sourced from Europe. This selective breeding produced a type of cow that was genetically predisposed to produce tender, marbled flesh. As Japan removed restrictions on imports of beef in 1991, Japanese beef producers survived in the market by focusing on this characteristic. They distinguished themselves from often cheaper, lower-quality international competition by focusing on technique and quality, creating the culture of luxury wagyu beef we know and love today.

What Makes Wagyu Beef Unique?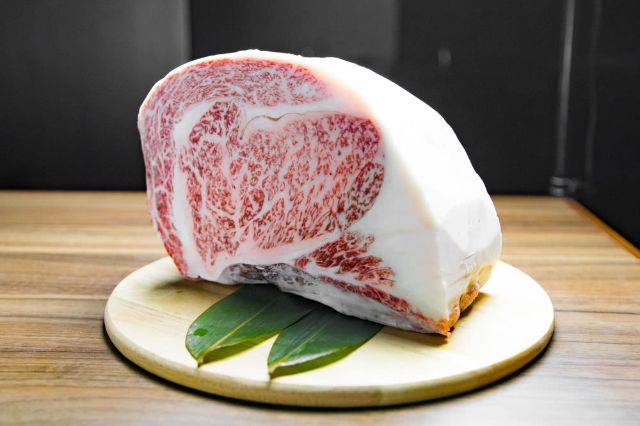 The first thing that jumps to mind when thinking about wagyu beef may be "marbling". For the unfamiliar, this term describes a distinctive, delicate pattern of intramuscular fat that is sought-after by Japanese beef producers. The marbling of fat in the muscles helps distribute flavors through the meat. When cooked, this fat melts to create a silky, tender, and juicy texture.

Since good-quality wagyu beef will have a marbled fat quantity of around 25%, compared to the 6-8% required for USDA Certified Prime beef, wagyu may seem like a worryingly rich dish. As indulgent as it is, studies have found that the monounsaturated fat found in wagyu beef is the heart-healthy, monounsaturated type that lowers bad cholesterol and delivers important fatty acids like omega-3. So, don't hesitate to give wagyu beef a try.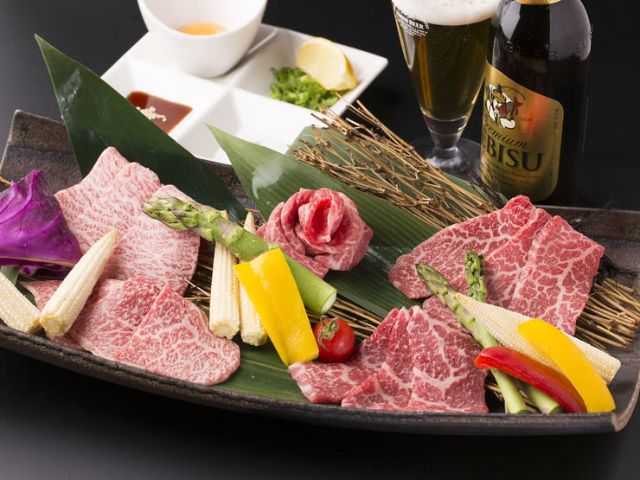 The farming techniques used on wagyu cattle also differentiate wagyu from other types of beef. Readers may have heard stories of wagyu beef farmers going as far as giving massages and feeding beer to their stock! While stories like these may be exaggerated, it's true that high-quality, nutritious feed and a stress-free environment is required to produce the most flavorsome and well-marbled wagyu beef.

The Wagyu Beef Grading System Explained
It's not unusual to spot descriptions like "A5 rank wagyu beef" on menus in Japan. Often these grades come with an eye-popping price to match, which may lead you to wonder what these ranks actually mean.

Wagyu beef grading is standardized by the Japanese Meat Grading Association, under which rank is determined by a number of factors. Wagyu beef grades are divided up into two factors: a letter grade (A to C) and a number grade (1 to 5).

The letter grade indicates the yield of the beef: that is, how much good-quality meat can be obtained from a given part. While you might think that that is more of the concern of the farmer than the customer, this yield does give us an indication of how well the cattle was raised.

The number in the ranking is determined by three factors, which are all judged visually: the color of the meat, the firmness and delicacy of its texture, and the color of the fat. Ideally, the meat will be a vivid red with pure white fat. Each of these factors are graded on a scale of 1 to 5, with one being poor and five being excellent.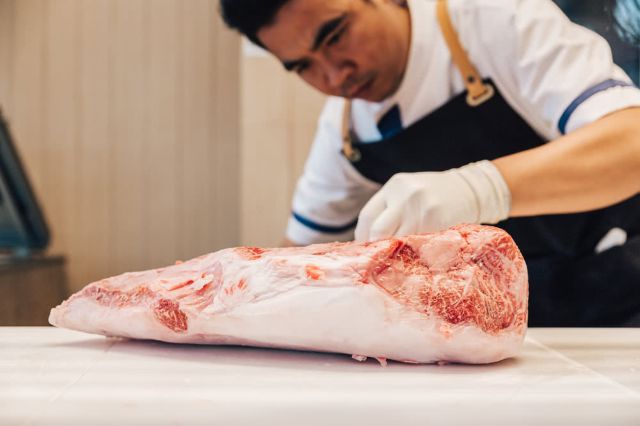 The final factor in determining the rank of wagyu beef is the marbling. The quality and amount of marbling is described with a score from 1 to 12 on the Beef Marbling Standard (BMF) score, with 12 being the best. These scores are then segmented into the same 1 to 5 rank as the color and texture elements above to determine the wagyu rank. For example, a high BMF score of anything from 8 to 12 will be given a score of 5 in the wagyu beef grading system.

The final grade of the meat is determined by the letter score and the lowest of any of the four above categories. In other words, every element of the meat has to be perfect to earn a coveted A4 or A5 wagyu rank!

Famous Wagyu Beef Brands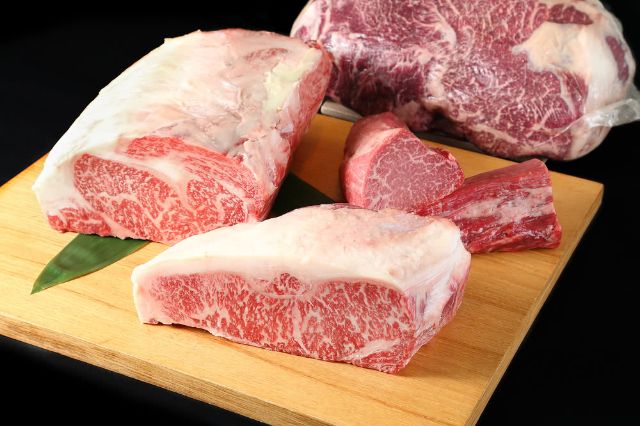 In Japan, Kobe beef, Matsusaka beef, and Omi beef are usually considered the "top three" wagyu brands. While overseas, Kobe beef is sometimes used synonymously with the term "wagyu", it is only one in hundreds of varieties produced all over Japan.

Kobe beef comes from Tajima cattle, a variety that has been bred for work in the mountainous Tajima area since medieval times. Today, true Kobe beef must have been born and raised in Hyogo Prefecture from Tajima cattle. Kobe beef is known for the sweetness of its fat that elevates the rich umami flavors of the meat.

This Tajima cow was also the starting point for many other major wagyu brands, including Matsusaka beef. This variety is produced in the Matsusaka area of Mie Prefecture, and is known for its excellent marbling and melt-in-the-mouth texture. Matsusaka beef is known for the extreme care its farmers take: in fact, Matsusaka farmers were the source of the famous beer-feeding and cow-massaging rumors. Some farms here do add beer to feed to increase the cows' appetites, and even attempt to boost circulation and ward off pests by massaging cows with a shochu (a kind of Japanese alcohol) infused concoction.

Omi beef comes from the Omi region around Japan's biggest lake, Lake Biwa, in Shiga Prefecture. This variety of wagyu beef has some of the longest history in Japan: although beef was not a common food in Japan prior to the Meiji period, records exist of this meat being presented to important shoguns as far back as the late 1500s. This meat was also marinated in miso and sold as a medicine in the area as early as the Edo period. The rich natural environment fed by the clean waters of Lake Biwa produces healthy, well-fed cattle that produce a uniquely finely-textured, aromatic wagyu beef.

Local Wagyu Beef Brands You Shouldn't Overlook!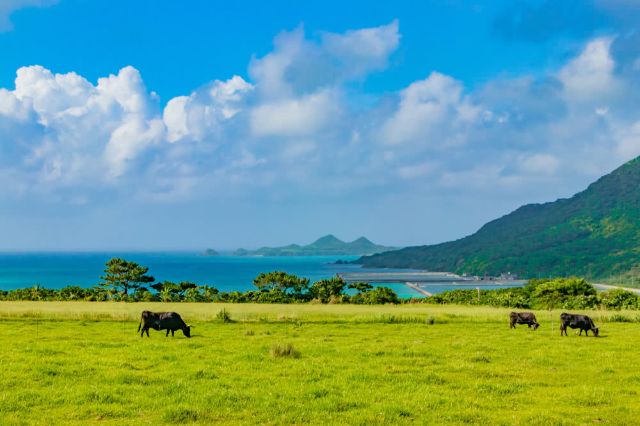 With hundreds of varieties of wagyu beef all over Japan, you could spend a lifetime trying new types. When you're in Japan, we highly recommend doing a little research into your area's local varieties. You may even discover a hidden gem!

Ishigaki beef from Japan's southern islands, Okinawa, is known for its deliciously tender texture thanks to the fact that its fat melts at a lower temperature than other varieties. Okinawa's warm, sunny climate and wide open spaces also allows cows to enjoy plenty of time outdoors, and the farmers here are known for carefully guarding the details of their high-quality feed blends.

Another island-raised variety of wagyu is Olive wagyu. Olive wagyu comes from small producers on Shidoshima Island on the Seto Inland Sea. The island's sunny, Mediterranean climate produces high-quality olives, a fact harnessed by local farmer Masaki Ishii to create a unique brand of wagyu beef. Ishii discovered a way to dry and roast leftovers from the olive oil-producing process so that it appealed to a bovine palette. The result? Beef with a rich, buttery flavor that has won admiration from chefs and wagyu fans all over the world. If you see olive beef on a menu, don't miss it!

Where to Eat Wagyu Beef in Japan?
As you can see, you'll find delicious examples of wagyu beef all over Japan. Here are our picks for some excellent restaurants serving high-quality wagyu beef from a variety of brands.

Shabuzen Shibuya Branch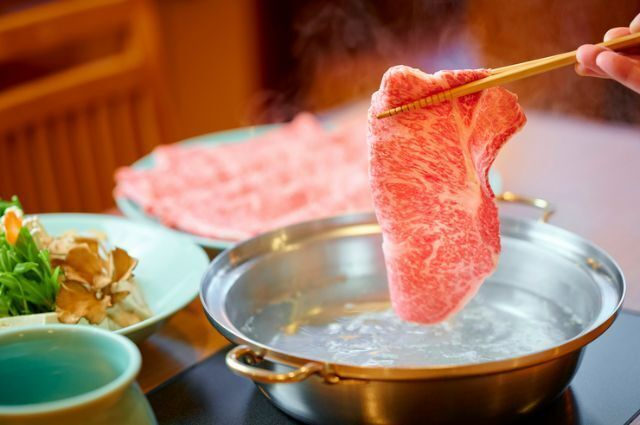 Not only Yakiniku, Shabu-shabu and Sukiyaki are also good choices if you want to try Wagyu. In Tokyo, our suggestion for good Wagyu quality Shabu-shabu and Sukiyaki is Shabuzen Shibuya Branch. Brand-name beef, including Kobe and Omi, is available for Shabu-shabu and Sukiyaki at the Shabuzen. The draw of this eatery is its unlimited supply of top-notch beef. Rib eye steak and sirloin, which have a lovely marbled texture and melt-in-your-mouth flavor, are carefully chosen by the restaurant since they are meticulous about the types of meat they serve.
Shabuzen Shibuya Branch
Open
:
Dinner 5:00 pm - 11:30 pm (L.O. 10:30 pm)
Closed
:
None
Average price
:
[Dinner] 7,000 JPY
Access
:
8 minutes walk from Hachiko Exit of Shibuya Station on the Yamanote Line, 8 minutes walk from Yoyogi-Hachiman Station on the Odakyu Odawara Line, 5 minutes by car from Harajuku Station on the Yamanote Line
Address
:
B1F, Shibuya Creston Hotel, 10-8, Kamiyama-cho, Shibuya-ku, Tokyo
Map
More Details
   Reservation   
Gyunikuzushi Kintan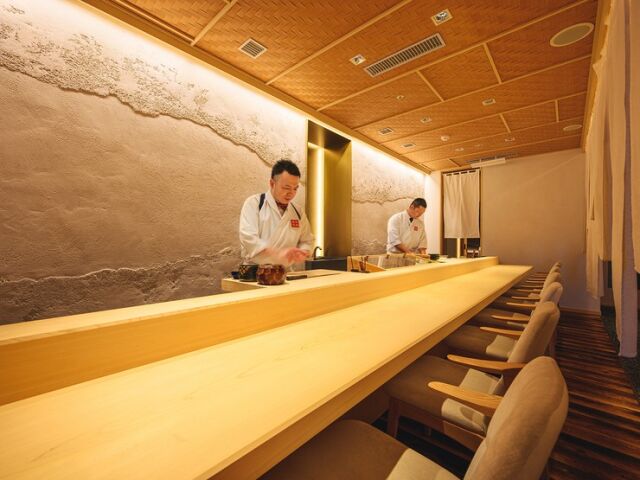 Gyunikuzushi Kintan, a beef sushi restaurant, has opened as a venue to weave fresh history and culture into Ginza's streets. The elegant area, decorated with white wood and gold, is ideal for banquets, parties, and romantic meals. Offering over 20 cuts of beef sushi made by a cooperative of sushi chefs and meat craftsmen, as well as incredible delicacies like the "Uni Dog" and "Charcoal-Grilled Caviar and Sendai Beef Chateaubriand." A handpicked assortment of Japanese sake and wine is also available. With the omakase course, you can experience the pinnacle of sushi and Japanese beef as seasonal seafood and wagyu from across the nation come together. How about indulging in a luxurious moment and savoring it with all five senses?
Gyunikuzushi Kintan
Open
:
[Tuesday - Friday] Lunch 12:00 pm - 3:30 pm (L.O. 2:00 pm) / [Satuday, Sunday, Natioal Holidays] Lunch 12:00 pm - 4:00 pm (L.O. 2;00 pm) / [Tuesday - Friday] Dinner 6;00 pm - 11:00 pm (L.O. 10:00 pm) / [Satuday, Sunday, Natioal Holidays] Dinner 6:00 pm - 11:00 pm (L.O. 10:00 pm)
Closed
:
Monday
Average price
:
[Dinner] 16,000 JPY / [Lunch] 5,000 JPY
Access
:
6-minute walk from CI Exit of Ginza Station on Tokyo Metro Ginza Line /  Hibiya Line / Marunouchi Line, 6-minute walk from Ginza Exit of Shimbashi Station
Address
:
3F, FPG links GINZA Corridor, 8-2-16, Ginza, Chuo-Ku ,Tokyo
Map
More Details
   Reservation   
Kobe and Hyogo Region Wagyu Beef
KOBE BEEF YAMATO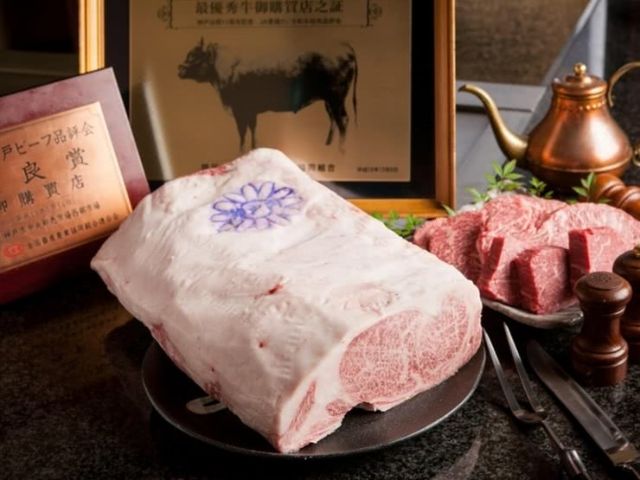 Many people look forward to visiting the many high-quality wagyu restaurants in Kobe. If you're looking for an elegant venue and top-quality wagyu beef, head to KOBE BEEF YAMATO. Its stylish, modern interior design and curated wine list set the stage to indulge in luxury teppanyaki (iron griddle) dishes. Teppanyaki-grilled Kobe wagyu sirloin and fillet steaks here can be ordered by weight, or as part of generous course menus that start from 7,800 JPY.

KOBE BEEF YAMATO
Open
:
[Weekdays, Saturday] 5:00 pm - 0:00 am
Closed
:
Sunday
Average price
:
[Dinner] 7,000 JPY
Access
:
Approximately 150 meters, 2 minutes walk from [Motomachi Station] on Hanshin Main Line
Address
:
7F, Yasutaka Bldg., 3-3-5 Kitanagasa-dori, Chuo-ku, Kobe, Hyogo 
Map
More Details
   Reservation   
Teppan-yaki Kokoro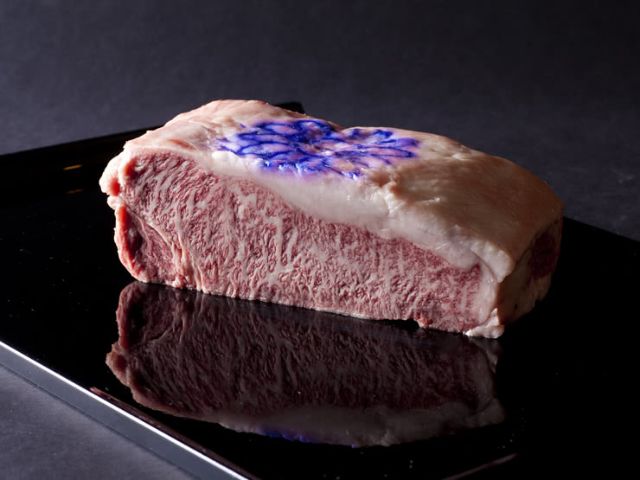 Teppan-yaki Kokoro serves high-quality Kobe wagyu beef in a stunning setting overlooking Kobe Harbor. This restaurant specializes in course menus for both lunch and dinner that feature Kobe beef and other local brands such as Awaji beef, Tajima beef, and more. If you're looking for a venue for a special occasion, your loved one is sure to be delighted by this restaurant's elegant private rooms and surprise service, where the restaurant will arrange to surprise a loved one with cake, champagne, or flowers.

Teppan-yaki Kokoro
Open
:
Lunch 11:30 am - 3:00 pm (L.O. 2:00 pm), Dinner 5:30 pm - 10:30 pm (L.O. 9:00 pm)
Closed
:
None (excludes events and private parties)
Average price
:
[Dinner] 15,000 JPY / [Lunch] 5,000 JPY
Access
:
Ten minutes by taxi (about 1,000 yen) from JR Sannomiya Station and Hankyu, Hanshin, and Subway Sannomiya Station.
Address
: 
2F, 

Hotel La Suite Kobe Harborland, 7-2 Hatoba-cho, Chuo-ku, Kobe, Hyogo
Map
More Details
   Reservation   
Matsusaka Beef (Mie)
Matsuzaka-gyu Ganso Wadakin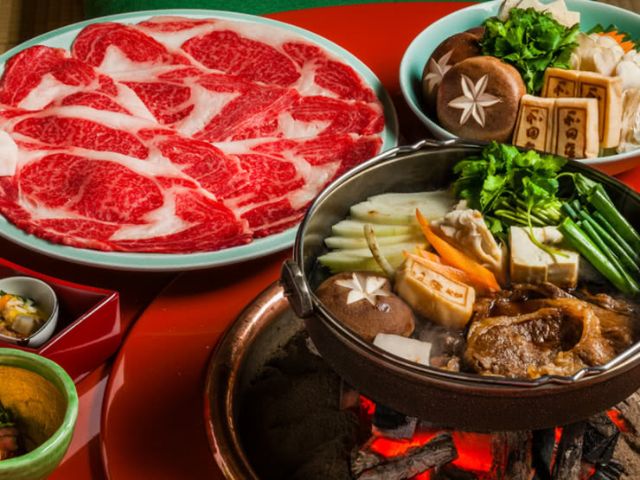 Matsusaka beef is delicious served as sukiyaki, or hot pot style. Matsuzaka-gyu Ganso Wadakin has been offering an authentic expression of this local dish since 1878. In fact, this restaurant controls quality from farm to table by raising Tajima cattle at their very own ranch! If you're new to sukiyaki, don't worry. While this dish is often cooked by customers at the table, this restaurant is known for its legendary hospitality. Expert servers will handle it all for you to ensure the meat is prepared to absolute perfection.

Matsuzaka-gyu Ganso Wadakin
Open
:
11:30 am - Last Seating 8:00 pm (L.O. 8:30 pm)
Closed
:
On every fourth Tuesday (varies by month)
Average price
:
[Dinner] 10,000 JPY
Access
:
428 meters from Matsusaka Station of JR Kisei Main Line and Meisho Line, and Kintetsu Yamada Line.
Address
:
1878, Nakamachi, Matsusaka, Mie
Map
More Details
   Reservation   
Yonezawa Beef (Yamagata)
Kato Beef GINZA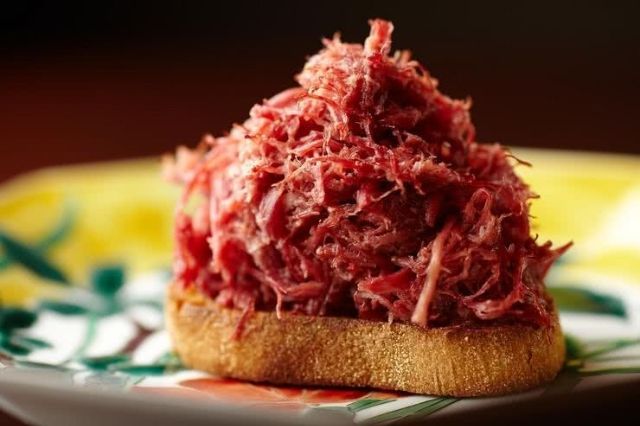 Kato Beef GINZA offers a wagyu beef experience in the stylish Tokyo area of Ginza. This restaurant specializes in Yonezawa beef from Yamagata Prefecture, which is considered one of Japan's top wagyu brands. Historically, Ginza has been home to many legendary restaurants serving yoshoku, or Western-inspired food, and Kato Beef GINZA is the perfect place to try stylish, modern expressions of this cuisine for yourself. For a unique, European-inspired wagyu dish, try the [Corned Beef]. Slow-cooked over eight hours, this tender wagyu beef simply melts in the mouth.

Kato Beef GINZA
Open
:
6:00 pm - 12:00 am (L.O. 11:00 pm)
Closed
:
Sunday
Average price
:
[Dinner] 20,000 JPY
Access
:
Three minute walk from Tokyo Metro Ginza Line, Hibiya Line & Marunouchi Line Ginza Station
Address
: 
1F, 

Toni Bldg., 6-4-15, Ginza, Chuo-ku, Tokyo
Map
More Details
   Reservation   
Ishigaki Beef (Okinawa)
Ishigaki Beef Charcoal-Grilled Yakiniku - Yamamoto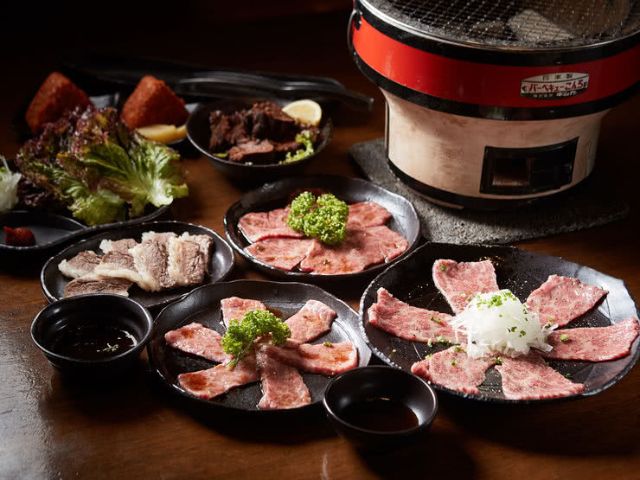 Located in the heart of Okinawa's Ishigaki City, Yamamoto is a yakiniku restaurant specializing in the area's delicious local Ishigaki beef. This restaurant's most popular item is their [Yaki Shabu], a mix between yakiniku and shabu-shabu (sliced meat parboiled with vegetables). In this dish, thin slices of Ishigaki beef are cooked rare and served with onion and a fresh, citrus-flavored sauce. This style brings out the clean and sweet flavors unique to Ishigaki beef. Yamamoto also serves another well-known local delicacy, Ishigaki pork, which any visitor to the area should also make a point to try!

Ishigaki Beef Charcoal-Grilled Yakiniku - Yamamoto
Open
:
Dinner 5:00 pm - Until sold out
Closed
:
Wednesday
Average price
:
[Dinner] 6,000 JPY
Access
:
10 minutes walk from the bus terminal
Address
:
2-5-18, Hamasaki-cho, Ishigaki, Okinawa
Map
More Details
   Reservation   
Where to Go for Yakiniku in Tokyo?
Yakiniku is one of the most delicious ways to eat wagyu beef, but its popularity has a downside. With so many options for restaurants, it's hard to know where to pick! We have you covered with our roundup of 30 excellent yakiniku restaurants that serve wagyu beef in Tokyo. We've divided our selections into different areas in Tokyo to make it super easy for you to pick out a restaurant near your hotel or sightseeing destination. Check out the full list below!
▼
Top 30 Yakiniku Restaurants in Tokyo For Enjoying Delicious Wagyu
Wagyu beef is a delicious example of the kind of quality that only true dedication to one's craft can create. We hope this guide has helped give you the background you need to enjoy wagyu beef for yourself in Japan!

Disclaimer: All information is accurate at time of publication.