Publish-date: Dec 28 2018 Update-date: Aug 06 2019
Like and Share us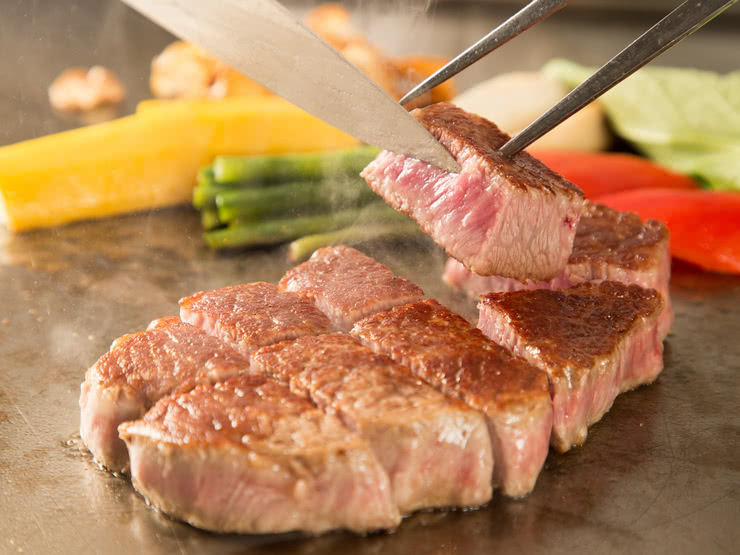 Ginza is home to many high-quality restaurants; here are 15 steak restaurants in the area!
1. Kato Beef GINZA
Kato Beef, a third-generation butcher shop from Yokohama, has finally seized the moment and opened a restaurant in Ginza! In their continual pursuit of excellence, superior Yamagata heifer beef has been settled on as the meat of choice at Kato Beef GINZA. These cattle are known for their exceptional fat quality and are procured from designated vendors. There are many options at this restaurant, but nothing beats a good old-fashioned, simple steak! Chateaubriand and sirloin, which feature as the main dishes of the course options, showcase the full extent of Yamagata beef's fresh sweetness and aroma. The chef here is a licensed meat specialist, so be sure not to skip over his delicious corned beef and hamburger steaks, either!
Kato Beef GINZA
2. RANGETSU of TOKYO
Ginza Rangetsu is a well-established restaurant in the world of shabu-shabu (sliced meat parboiled with vegetables) and sukiyaki (hot pot stew), and draws on 70 years' worth of knowledge and experience to run this steak restaurant. The prized steaks here are aged in a special case, enhancing the taste and aroma of the Kuroge Wagyu (a type of high-quality beef), and then cooked on lava rocks from Mt. Fuji. The far infrared cooking properties of these stones helps seal in the meat's umami (Japanese savory taste), making the outside crispy while keeping the inside soft and juicy. Meat can be ordered both by cut and by the gram, so diners can sample a luxurious variety of meat little by little, at their own pace.
RANGETSU of TOKYO
3. Ginkuma Saryo
Ginkuma Saryo is conveniently located only a 3-minute walk from Ginza Station and a 4-minute walk from Yurakucho Station, and the Japanese cuisine here provides diners with the chance to sample the flavors of A4 and A5-ranked Sendai beef and Kuroge Wagyu. The [A5 Specially Selected Sendai Beef Sirloin Steak] showcases Sendai beef's special quality and texture, as well as its balanced flavor. That being said, condiments like ginger, miso, and coarsely grated radish really steal the show! Be sure to sit at the counter so that you can enjoy the spectacle of the chef at work right in front of you!
Ginkuma Saryo
4. Sukiyaki Kappo Yoshizawa
This famous spot in Ginza is well known as a meat wholesaler and butcher as well as a restaurant. Heifers with good lineage and rearing as well as with high-quality meat and fat are purchased whole here. The beef is served only when it is deemed to be at the perfect stage of aging. In addition to the standard sukiyaki and shabu-shabu, the [Oil Grilled] (6,000 JPY plus tax), a thick slab of beef cooked on a special Nambu iron pan, is a great way to experience the natural flavor of the meat itself. Relax in a private room and let the skilled staff take care of everything while you savor the sensation of this unparalleled marbled meat melting on your tongue!
Sukiyaki Kappo Yoshizawa
5. Masq
Comfortable red chairs accentuate the heavy wooden tables in this relaxing, modern restaurant, which resembles a bar more than anything. The recommended choice here is the [Masq Steak] (from 6,000 JPY), dramatically prepared by the chef in a special booth! Steaks here are cooked medium-rare, the ideal way to enjoy Wagyu (a type of high-quality beef), and then brought to your table piping-hot on a ceramic dish. Sirloin steak pairs best with hot mustard, while tenderloin is best enjoyed with wasabi.
Masq
6. Ginza Wanosho
There are many famous Japanese restaurants in Ginza 7-chome, one of which is this gem, Ginza Wanosho. While the main attraction here is the seafood, brought in fresh from the market every morning, the meat dishes are profoundly impressive! An outstanding dish among them is the [Deluxe Charcoal-Grilled Marbled Sirloin Steak] (2,800 JPY), a phenomenal piece of charcoal-cooked, A5-ranked beef. If you are in the mood for seafood along with your delicious steak, then this spot will be happy to indulge you! The wood grain and silver of the interior design makes for a comfortable environment, and the highly attentive service here is another plus!
Ginza Wanosho
7. Bergman
This spot is located behind Ginza's Kabukiza Theatre, its wide windows providing views of Ginza 1-chome, and diners here can enjoy a variety of meat dishes made with domestically-raised beef while taking in the view. The prized domestic beef at Bergman has just the right amount of marbling, creating a perfect balance between the fatty sweetness and the meat's umami! Try this meat either as a sirloin steak or as deluxe grilled rib! There are also many wines available here, which pair well with the meat. Bergman's owner has personally tasted and approved of the selection, focusing on providing options that really give diners their money's worth.
Bergman
8. Ahill Ginza
Delicate French cuisine meets dynamic teppanyaki (ingredients grilled on an iron griddle) cuisine at Ahill Ginza! The meat used here is A5-ranked Kuroge Wagyu selected from across Japan. Be sure to try the refined flavors of the [Tenderloin Steak]! This meat is cooked slowly and carefully to preserve the moisture inside it, producing a wonderfully tender, umami-laden steak that has won praises from diners sensitive to fatty foods. Take a seat at the counter and watch the chef work right in front of you at the elegantly curved teppan (iron griddle). You'll have fun while waiting for your food!
Ahill Ginza
9. Teppan-yaki Miyachi
Diners here can experience both Iwami Wagyu from Shimane Prefecture as well as Kita Satsuma beef from Kagoshima Prefecture! Dry-aging, a process originating from New York, is used to prepare the meat. This process involves drying and aging the meat for around 60 days, concentrating its umami and making it highly tender. Whole top-grade Kuroge Wagyu are purchased here, enabling the restaurant to offer dishes at reasonable prices. One option is the [Assortment of Aged Kuroge Wagyu Sirloin and Tenderloin], which allows diners to sample both sirloin and tenderloin steaks in one plate.
Teppan-yaki Miyachi
10. Ginza Takenoan Main Store
The head chef here has over 35 years' experience in Japanese cuisine. He uses seasonal ingredients to create kaiseki cuisine (Japanese banquet cuisine with alcohol) unparalleled in excellence. The [Platinum Course] (7,580 JPY), with Kuroge Wagyu as the main dish, is an excellent deal, and by far the most popular choice here. This luxurious course features an A5 Kuroge Wagyu sirloin steak that has been cooked over charcoal. And what's more, it's even more inexpensive at lunchtime, so be sure to try this option! Private rooms are also available here, the perfect setting for enjoying a relaxing meal entirely at your own pace.
Ginza Takenoan Main Store
11. BISTECCHERIA ENOTECA IL MORO
The authentic Italian cuisine offered here is created using simple methods in order to highlight the flavors of the ingredients, and the star attraction is definitely the [Bistecca alla Fiorentina T-Bone Steak], a classic dish from Tuscany. This steak, made using a rare brand of Black Angus beef, is cooked on a wood fire, and is notable for its hearty amount of meat relative to fat, making for an exceptionally pleasant texture when chewing. Other featured meats include Iwate Tankaku Wagyu and domestic pork brands; only the very best meat at any given time is used here. Furthermore, BISTECCHERIA ENOTECA IL MORO also offers handmade pasta and over 200 varieties of wine!
BISTECCHERIA ENOTECA IL MORO
12. GRILL & PUB The NICK STOCK
This casual pub offers meat dishes lovingly prepared by hand. The impressive options here will have you reaching for your camera, such as the [Premium Roast Beef] (1,980 JPY (plus tax)), created by roasting a massive piece of aged beef weighing 2kg to seal in the umami, as well as the steaks, made with excellent Black Angus beef from Chicago! The carefully-selected meat options here also include Wagyu called Satsuma beef from Kagoshima Prefecture and Yume no Daichi pork from Hokkaido. Furthermore, there is a large selection of draft and domestic craft beers, as well as many classic beers from around the world!
GRILL & PUB The NICK STOCK
13. KOBE PLAISIR Ginza
Guests here can sample Kobe and Tajima beef, celebrated around the world, alongside fresh, seasonal vegetables directly procured from Hyogo Prefecture. In addition to simply prepared steaks, there are also new styles of steaks offered here. The [Kobe Beef Steak Stew] is a dish featuring tender brisket prepared with 3 days of marinating, grilling, and then stewing, resulting in a creation that you can't taste anywhere else! The large windows at the counter provide excellent views of Ginza at night, creating a romantic atmosphere.
KOBE PLAISIR Ginza
14. AZUMAN
Come to AZUMAN to sample an unbeatable charcoal-cooked steak made with A5-ranked Sendai beef! Among Sendai beef, they choose meat with fine marbling and low melting point of fat. Absolutely no oil is used in the cooking process, and any excess fat is reduced, resulting in a concentrated umami. It is served with Yakurai wasabi from Miyagi Prefecture. This wasabi is grown using mineral-rich spring water from deep in the mountains and has a bold, sweet flavor that further accentuates the meat's umami. The quiet, wooden interior is another attractive feature of this spot.
AZUMAN
15. Teppanyaki Ginmeisui GINZA
Teppanyaki Ginmeisui GINZA has a modern Japanese aesthetic, the perfect setting for savoring dishes where the ingredients' flavors have been sealed and maximized by grilling as teppanyaki. The chef here has been a devoted teppanyaki chef for 25 years, and unerringly chooses only the finest of Kuroge Wagyu, such as Kobe beef, along with top-grade domestic seafood. The highlight here is the [Premium Kuroge Wagyu Tenderloin Steak], cooked on the beautifully-polished teppan right in front of the diners! The enticing smells and sounds of sizzling meat are certain to stoke your appetite! Other attractive features of this restaurant include the specially-designed space that limits meaty smells from clinging to your clothing, as well as the option of receiving English-language service.
Teppanyaki Ginmeisui GINZA
You may have to splurge a little at these spots in the refined district of Ginza, but you will definitely taste the difference in flavor! Be sure to check these restaurants out when you are sightseeing in the area!
Disclaimer: All information is accurate at time of publication.