Publish-date: May 18 2018 Update-date: Jun 27 2019
Like and Share us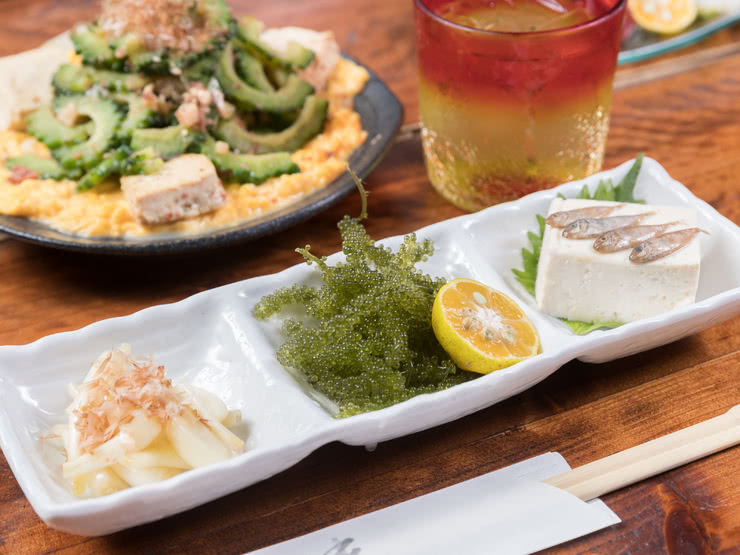 Don't you want to enjoy some local cuisine when you go on overseas trips? Check out this list of 15 restaurants in Okinawa where you can do just that. They're located near hot sightseeing spots around Naha like Kokusai Street (Kokusai-dori) and Shuri Castle (Shuri-jo).
1. Waryu Shuki Wadachi
This is a great place to sample the creative Okinawan cuisine, as well as around 60 types of awamori (locally distilled alcohol)! Local classics like chanpuru (stir-fry dish of vegetables, tofu, and other ingredients) come in a number of variations. The [Champuru with Fluffy and Melting Egg and Bitter Melon] (780 JPY) - a dish consisting of stir-fried goya (bitter melon), corned beef, and Okinawan-style tofu sitting on top of fluffy egg - is particularly recommended due to the unique style in which it is eaten: Taking bites of it while constantly mixing the toppings with the egg. Besides that, look out for the [Assortment of 3 Okinawan Delicacies] (880 JPY), which consists of Okinawan scallions, sukugarasu (Okinawan salted fish snack), and sea grapes. Also try their [Rafute with a Melting Texture, Served with Salt and Wasabi] (620 JPY) - a refreshing dish made with pork that has been simmered in awamori and salt.
Waryu Shuki Wadachi
2. Ryukyu Dining Hanafu
Come here to savor not just Okinawan cuisine, but also Japanese and Chinese cuisine made with Okinawan ingredients. Try their [Okinawa Fuchiba Soba] (Okinawa mugwort noodles), of which only 10 portions are available per day. The soba - made by adding refreshing and fragrant mugwort to the dough - creates a beautiful harmony of flavors with the soup, which is a combination of pork bone soup and skipjack tuna dashi (broth). There are many other gems like [Suchika] (pork pickled in salt) and [Tofuyo] (Okinawan fermented dish using tofu). Various types of chanpuru and pig trotters, stewed until they are tender enough to melt in the mouth, are also featured on the menu.
Ryukyu Dining Hanafu
3. Kyoudoryouri no Ryune
Here, diners can experience authentic Ryukyu course meals that follow along with the lines of the imperial court cuisine of the Ryukyu Dynasty. Many Okinawan ingredients are used in these meals, from vegetables grown in local farms to branded pork from within the prefecture. For example, taro grown in the paddies of Okinawa is used to make their [Duruwakashy]. Taro, pork, and shiitake (mushrooms) are stir-fried and mashed together with dashi and other ingredients, creating this chewy dish that's rich with the flavors of the solid ingredients and dashi. Their original version of [Rafute] (simmered pork belly) is made using white miso and served with seasonal vegetables from the island. Reservations are required to enter, which can be made up to the morning of the same day.
Kyoudoryouri no Ryune
4. Sanshin
Enjoy the flavors of Okinawa while you listen to the sounds of sanshin (traditional stringed instrument from Okinawa). Sound systems and musical instruments like the sanshin are placed in the restaurant, so you can request to perform! It's a familiar sight to see all the patrons dancing the kachashi (Okinawan dance), so even first-timers may be able to easily make friends here! They have a wide menu: from the classic home-cooked [Goya Chanpuru] (680 JPY) to creative dishes like the [Okinawan Octopus in Vinegared Miso and Wasabi] (580 JPY)!
Sanshin
5. TOUTOGANASHI
This restaurant is housed in a renovated kominka (traditional Japanese house) that was built 65 years ago, giving it atmosphere. As much as possible, they strive to procure Okinawan ingredients and products: from awamori and condiments, down to dishes and chopsticks. Their kaiseki (Japanese course cuisine with tea) (by reservation only) that consists of dishes thought up from the day's ingredients comes highly recommended. Beautifully plated appetizers, sashimi platters with a balance of red-fleshed fish, white fish, and shellfish, and homemade Okinawa soba - made from whole grain flour from the remote Okinawan island, Hateruma Island (Hateruma-jima) - are served as part of the course.
TOUTOGANASHI
6. Ryukei
Here, diners can enjoy a myriad of dishes, made using island vegetables and locally-caught seafood, with awamori. Why not have the fresh seafood of the day prepared in a variety of ways, such as sashimi, simmered, or fried? There's also a good selection of Okinawan favorites like chanpuru and tebichi. They also serve dishes from Nagoya, Aichi Prefecture, such as [Dote-ni] (beef tendon simmered in ingredients like miso and mirin) and [Miso Kushikatsu] (pork deep-fried in batter and dipped into a miso sauce), as well as spicy [Chicken Wings].
Ryukei
7. King Eilly
Okinawan food, standard izakaya (Japanese pub) fare, and alcohol are available at reasonable prices here. Try the [Goya Chanpuru] (600 JPY), which is cooked in a way that reduces the bitterness of the goya. Another representative local dish is their [Okinawa Soba] (680 JPY). It is also recommended to get the [Aged Pineapple Pork Steak] (1,380 JPY) - made with Pineapple Pork Jun (branded pork from Okinawa that are fed pineapples), which is known for its incredibly sweet fat, strong umami (Japanese savory taste), and tender meat from the acid in the pineapple. There's also fresh seasonal seafood that you can order.
King Eilly
8. Komiya Shokudo
This restaurant is housed in a Japanese-style residence, which is a bit of a rarity in Okinawa. The building was an old residence built 130 years ago in Niigata that was disassembled, moved to the current location, and remodeled. Within the warm atmosphere created by the wooden furnishings, you can look forward to creative cuisine based on classic Okinawan flavors, but with an added hint of originality. The menu includes both a la carte items and set meals. Check out their tonkatsu (fried pork cutlet) made with branded pork from Okinawa, Okinawa soba, yushi tofu (soft and crumbly tofu), and more!
Komiya Shokudo
9. DINING Hana
This eatery is conveniently located at Kokusai Street (Kokusai-dori), which is the heart of Naha. Simple Okinawan fare made with tasty local, seasonal ingredients are served here. They have many dishes that go well with alcohol, such as ji-zake (local sake) and awamori made in earthenware pots. Be sure to try the [Seared Ishigaki Beef Sushi] (6 pieces for 1,600 JPY). The searing melts the fat, allowing you to savor melt-in-the-mouth meat that still has plenty of authentic umami. The strong aroma of the sea and sweetness of the shrimp in their sea lettuce and shrimp tempura will definitely stimulate your appetite!
DINING Hana
10. Steam Dining Shimabutaya
[Seiro-mushi] - a steamed dish that is rare to find in Okinawa - is the main dish on offer here, coming with seasonal vegetables and meatballs in the [Seiro-mushi Set]. You can pick either the branded Okinawan Agu pork or the premium black pork, Shimakuru pork, as the meat for the seiro-mushi. There's also the [Goya Chanpuru with Agu] (780 JPY)], in which the flavors of the pork, goya, and egg meld together perfectly. There are many other popular dishes like the [Ryubi Pork Rafute Fried Rice] (880 JPY), made with the sweet sauce used to stew the rafute.
Steam Dining Shimabutaya
11. Ganaha
This restaurant serves a variety of dishes made with pork, which is a main ingredient in Okinawan cuisine and rooted into their food culture. They have many types of pork that you can compare, one of which is Agu pork. Their [Assortment of a Whole Agu] (6,480 JPY) includes 6 cuts of Yanbaru Shima-buta Agu, which is a crossbreed of Agu pig. This dish comes with 3 different sauces that you can try. Their tonkatsu and shabu-shabu (sliced meat parboiled with vegetables) are just a couple of the many ways that they prepare pork.
Ganaha
12. Churasantei
This popular izakaya is decorated in Okinawan blue and serves dishes made with plenty of local ingredients, centering around seafood. For example, fresh squid is used to make the flavorful squid ink sauce in their [Squid Ink Somen Chanpuru] (650 JPY). This dish not only tastes great but also it will catch your eyes! Some other popular dishes include [Semiebi] (priced at the market) (blunt slipper lobster) - known as a rare, premium ingredient - and [Masu-ni of Fish from Seas Around Okinawa] (from 1,500 JPY)] (seafood stewed in a salty broth). They have a great course meal consisting of 15 dishes of the day, along with other course meals that come with all-you-can-drink or all-you-can-eat options.
Churasantei
13. Mion
Diners can enjoy Okinawan food while listening to folk music at this popular izakaya. With fresh seafood caught from nearby waters and vegetables procured daily, they prepare a host of classic home-style Okinawan dishes that you'll love. Some examples are the miso-flavored [Nabera Chanpuru] (599 JPY) that incorporates stir-fried hechima (sponge gourd) - a traditional Okinawan ingredient - and [Kume Island Sea Grapes] (599 JPY), which is a dish of sea grapes that are eaten with a special sauce. Their dishes go great with their wide variety of Okinawan alcohol, which includes over 30 types of awamori and aged awamori in an earthenware pot. Folk music performances are held 3 times a day here: 7:00 pm, 8:30 pm, and 10:00 pm.
Mion
14. Shabu-Shabu Kou Higashimachi Main Branch
Located near the monorail and just around a 10-minute drive from the airport, this popular restaurant is extremely accessible. Their signature dish is shabu-shabu, made with ingredients from within the prefecture. The [Okinawa Wagyu no Suki-shabu] (4,200 JPY) (Okinawa beef sukiyaki and shabu-shabu), which involves dipping flavorful meat from Wagyu (a type of high-quality cattle) born and bred in Okinawa in dashi, is particularly recommended. The [Agu Pork and Goya Chanpuru] (800 JPY) - made by stir-frying ingredients like umami-rich Agu pork (a breed native to Okinawa), bitter goya, and tofu together - is another must-try. The hint of garlic in the dish helps to stimulate the appetite. You can also enjoy dishes made with extremely fresh Kume-shima Aka chicken, which is killed and prepared in-house.
Shabu-Shabu Kou Higashimachi Main Branch
15. En Okinawa
Diners can get their fill of dishes made with Okinawan ingredients at this izakaya, such as fresh seafood procured daily from markets and local chicken. One recommended dish is the [Thickly-Cut and Seared Agu Bacon] (1,480 JPY). Made with Agu pork, this thickly-cut bacon has uniquely sweet fat, and the more you chew, the more umami spreads through your mouth. Besides that, the [Charcoal-grilled A4 - A5 Aitch Bone Cut of Okinawan Wagyu] (from 3,220 JPY) is a great way to enjoy premium A4 - A5 ranked Motobu beef (Wagyu from Okinawa), which is grilled over a charcoal flame to produce concentrated umami. There's a great variety of awamori as well, ranging from the standard fare to ones that only fanatics would know about!
En Okinawa
Don't these restaurants look great? Remember to use this guide when you visit Naha!
Disclaimer: All information is accurate at time of publication.