Publish-date: Aug 21 2018 Update-date: May 30 2019
Like and Share us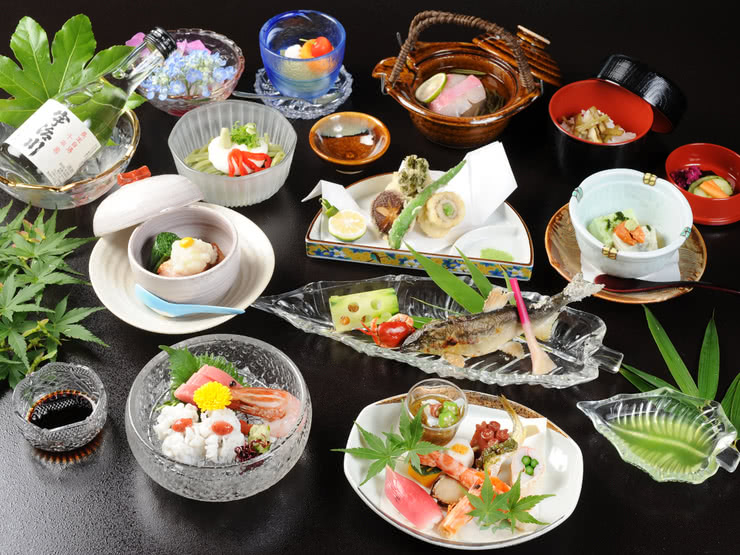 With spots such as Byodo-in Temple and Fushimi Inari Taisha, Uji and Fushimi are popular sightseeing destinations of Kyoto. There are many famous restaurants in the area, ranging from cheap and delicious izakaya (Japanese pubs) to high-end ryotei (traditional Japanese restaurants). Here is a list of 15 restaurants and izakaya to go to if you are in either of these areas.
1. Ujigawa (Uji, Japanese Cuisine)
This long-established restaurant is located at the entrance of the approach of the World Heritage Site, Byodo-in Temple. They serve Kyo-kaiseki (Kyoto version of traditional Japanese course cuisine served with tea) made by a head chef with 30 years of experience. Their exquisite dishes are not only delicious but are presented beautifully as well. One of their kaiseki courses, the [Yuba-cha Kaiseki], features dishes that you can only have in Uji. It uses Uji tea - a local, high-end tea - as an ingredient. There are various other items on the menu, including soba (buckwheat noodles) and donburi (rice bowl dishes). From the large windows of the restaurant, you can thoroughly enjoy the seasonal views of Uji River (Uji-gawa) while savoring superb food.
Ujigawa
2. Tsubame-ya (Uji, Japanese Cuisine)
At this restaurant, you can enjoy tempura made with fresh, local ingredients. For instance, [Kyo-Yasai Tempura Set] features 5 - 6 kinds of Kyo-yasai (traditional vegetables from Kyoto), allowing you to enjoy flavors that you can only sample in Kyoto. With the [Seasonal Mountain Vegetable Tempura Set], you can enjoy tempura of mountain vegetables which chefs harvested. There are, of course, options other than vegetables, such as [Tender Chicken Tempura Lunch], which comes with substantial, juicy chicken tempura.
Tsubame-ya
3. Shun-sai Dining Fuji (Uji, Creative Cuisine)
As it is housed in a renovated kominka (traditional Japanese house), this restaurant has a warm and friendly atmosphere. They avoid using ready-made products as much as possible, serving carefully prepared food. For example, the very popular [Crab Cream Croquette] is prepared from scratch, from removing the crab meat from the shell to the homemade béchamel sauce. Enjoy the delightful combination of the sauce and the umami (Japanese savory taste) of the crab. There is a wide range of dishes on their menu, including the [Assortment of 5 Sashimi], which features fresh fish that have been carefully selected by the owner himself, and the [Beef Loin Grilled on Ceramic Tile], which uses domestic beef. They also have a large selection of alcoholic beverages, including sake and shochu (kinds of Japanese alcohol).
Shun-sai Dining Fuji
4. Odaidokoro roji (Uji, Japanese Cuisine)
This modern Japanese restaurant is housed in a renovated machiya (old merchant's house). You can enjoy cuisine made with plenty of locally produced ingredients, including fish, beef, rice, and vegetables. One of their popular dishes is the [Kyoto Kamigamo Vegetables and Pork Cooked in Bamboo Steamer] from their lunch menu. This can be adapted to suit vegetarian diners, as the pork can be replaced with vegetables. They have over 10 different kinds of sake from around the country, which you can taste all at once through a tasting menu, so it's a great place to visit even if you are on your own and just want to enjoy a casual drink.
Odaidokoro roji
5. Chikurin (Uji, Kaiseki)
This restaurant is located in front of the north gate of Byodoin Street (Byodoin-Omotesando). You can enjoy a typical Kyoto atmosphere here, thanks to the Uji River that runs nearby and the garden that reflects seasonal changes. They mainly serve Kyo-kaiseki cuisine, which includes seasonal wild seafood sashimi. The dishes are not only tasty but are also beautifully presented. They have a large selection of alcoholic beverages on their menu, such as wine, ji-zake (local Japanese alcohol), and private sake brands. For lunch, you can get a Kyo-bento (lunch box), which is a great way to enjoy their kaiseki cuisine casually.
Chikurin
6. Tatsumiya (Uji, Kaiseki)
This is a long-established restaurant that first opened its doors in 1840 as a tea wholesaler. Their distinctive dishes use plenty of good quality matcha (powdered green tea) that has a superb flavor, color, and aroma. They carefully consider the compatibility of the matcha with the ingredients and cooking method, choosing the appropriate matcha out of the dozens that they stock. In particular, their [Matcha Tofu] - homemade tofu made with high-end matcha - is a superb dish with a perfect balance between the bitterness of the matcha and the sweetness of the soymilk. Additionally, other extravagant dishes make use of tea on the menu, including seasonal white fish that has been marinated in hojicha (roasted green tea) and grilled.
Tatsumiya
7. Kyoto Uji Dining Ichigo (Uji, Gastropub)
This is a cafe and restaurant where you can enjoy fresh, seasonal vegetables that have been procured directly from farms in Uji. Their menu is full of local flavors, featuring dishes such as [One Plate Lunch], which comes with 7 kinds of obanzai (traditional home-cooked dishes of Kyoto). Another superb dish is the [Kyoto-style Dashimaki], which is a rolled omelet cooked with dashi (broth) of konbu (kelp) and dried skipjack tuna flakes. They have a full cafe menu as well, with treats like [Matcha Foam Shaved Ice], which uses high-end Uji matcha cream.
Kyoto Uji Dining Ichigo
8. Seiwasou (Fushimi, Kaiseki)
This traditional, high-class restaurant comes in a refined Japanese-style home with a beautiful Japanese garden, allowing you to experience a truly special moment in an atmospheric space. The menu consists solely of course cuisine. The head chef himself carefully selects the ingredients, and there are some that he has specially requested farmers to grow for him! Each dish is carefully crafted down to the finest detail, and their brilliant presentation alludes to seasonal changes. They have a large selection of sake and wine, and they even have their original brand alcohol in stock.
Seiwasou
9. Uosaburo (Fushimi, Japanese Cuisine)
This is a long-established, high-end restaurant that first opened for business in 1764. They carefully select high-quality ingredients from all over Japan, making sure to procure the best of the current season. They do not get hung up on traditions, serving cuisine making use of new cooking methods. Their menu consists of course cuisine, where luxurious items are served one after the next. One of the best dish served here is [Guji] - grilled ama-dai (tilefish) - which is a dish that is representative of Kyoto. By marinating the fish in homemade dashi for half a day and then drying it, the umami becomes deliciously concentrated. When grilled, the skin becomes exquisitely crunchy, and the aroma irresistible. All the seatings at this restaurant are in private rooms decorated with hanging scrolls and flowers. You can enjoy seasonal views from the windows while enjoying a delectable meal.
Uosaburo
10. Doi Katsuman (Fushimi, Japanese Cuisine)
At this restaurant, you can enjoy unagi (eel) cuisine for a relatively reasonable price. It's easily accessible, as it is only a 3-minute walk from Fushimi-inari Station. The eels are prepared, and they are skewered and grilled slowly over charcoal in the restaurant kitchen. The aroma as it is roasted will whet your appetite. It is finished to perfect crispiness on the outside and softness on the inside, and it also goes perfectly with the sauce. Some of the recommendations here include the luxurious [Whole Unagi Box], which consists of an entire eel grilled and placed on top of rice served in a box, as well as the [Unagi Set] that allows you to taste unagi cooked using several different methods.
Doi Katsuman
11. Rokujo-an (Uji, Japanese Cuisine)
This store is located on Byodoin Street. On the first floor, you can get original matcha desserts for takeout from Rokujo-an, while in the part of the store called "Tensho" at the back, you can enjoy a buffet of obanzai (small local dishes in Kyoto). However, it is Rokujo-an café Momiji on the second floor - a cafe which serves Japanese-style desserts like parfaits and crepes - that comes particularly recommended. It's a great space to take a break after paying your respects at Byodo-in Temple. For lunch, they have dishes like [Creative Japanese-style Lunch], which make use of fresh ingredients and changes daily, as well as [Hamburg Steak Lunch] that is served with a special demi-glace sauce. Both of these lunch dishes come with a parfait!
Rokujo-an
12. Osaka Jubei Uji Kohata Branch (Uji, Okonomiyaki and Monjayaki)
This okonomiyaki (Japanese savory pancake) and teppanyaki (ingredients grilled on an iron griddle) restaurant is located just a 7-minute walk away from Kohata Station. Okonomiyaki is a dish where you mix ingredients of your choice in a batter made with flour and cook it on an iron griddle. At this restaurant, they mix plenty of yam into the batter, making it deliciously fluffy on the inside. One of the most popular items on their menu is the [Jubei-yaki], which uses cabbage and thick noodles as the main ingredients. They have a total of 100 seats, including table seats and booths. They also have zashiki (tatami room) seating, which are ideal for those visiting with children, as you can enjoy your meal without disturbing other customers.
Osaka Jubei Uji Kohata Branch
13. Rairaitei Makishima Branch (Uji, Ramen)
This is a famous ramen chain that has branches all around Japan. What makes them stand out from the rest is their Kyoto-style shoyu (soy sauce) flavored chicken bone soup that has lard floating on the surface. They created this soup with the aim of making ramen that can be enjoyed by people of all ages. It is popular for its refreshing flavor. You can make requests regarding various aspects of the ramen, such as the texture of the noodles, the strength of the shoyu, and even the leanness and fattiness of the char siu (roast pork), so you can enjoy ramen that is made according to your preference.
Rairaitei Makishima Branch
14. Torisei Main Branch (Fushimi, Japanese Cuisine)
This restaurant is directly managed by a long-established sake brewery that has been in business for 340 years. Housed in a renovated 100-year-old sake brewery that's full of character, here, you can enjoy food and sake at affordable prices. They have a variety of items on the menu, with a focus on chicken cuisine, such as yakitori (grilled chicken skewers) and oyako-don (rice bowl dish with chicken and eggs). It is recommended to order [6 Assorted Chicken Skewers] to start off with so that you can compare the different yakitori. As a restaurant that is operated by a sake brewery, they put a lot of effort into providing the best sake. One particular recommendation is the [Kuradashi Nama-genshu] (sake fermented at a low temperature, fresh from the brewery). It has a full-bodied, rich flavor that you will never get tired of it.
Torisei Main Branch
15. Kameya Maruhachi Fushimi Momoyama Branch (Fushimi, Izakaya)
This izakaya is located just a minute's walk away from Fushimi-momoyama Station. You can enjoy fresh, seasonal seafood delivered from the market every day. They have a wide selection of items on the menu, such as their popular [Rib Finger Grilled With Sauce] and [Chicken Karaage] (deep-fried chicken), as well as various kushikatsu (deep-fried skewered ingredients), tempura, and sashimi. As an izakaya, they also have an extensive alcohol menu, including sake. They also have a lunch menu that features items such as tempura and sashimi sets at reasonable prices.
Kameya Maruhachi Fushimi Momoyama Branch
Did any of the restaurants and izakaya listed above interest you? Make sure to check them out if you are going to Uji or Fushimi. Enjoy some delicious local cuisine!
Disclaimer: All information is accurate at time of publication.